Here is a quick CommentLuv Premium Discount Code for you lovers of engagement, traffic and backlinks.
I know most of us having been looking for a discount and here, Andy, the developer is making it possible for you to grab this wonderful plugin for less than half the price.
He is bringing the price of the developer version from $97 down to $45. That's $52 to save.
Here are 3 steps to benefit from this reduction
1 – Clear the cache of your browser.
2 – Click this unique link to go to the order page.
3 – Before you checkout, use this coupon code to bring down the price to $45.
Discount code: HELPANDY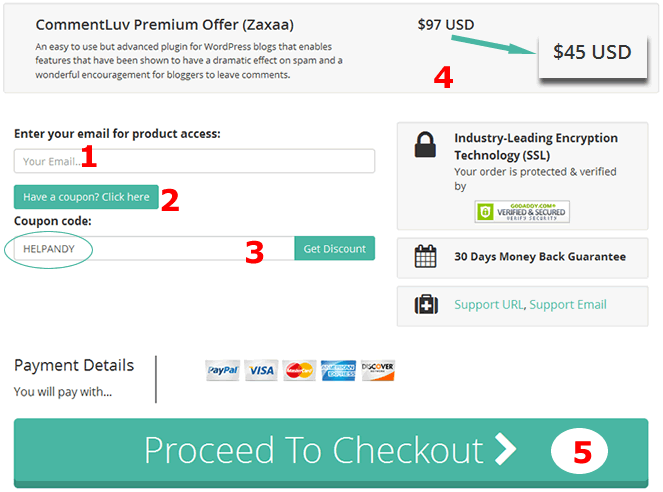 On the image above …
1 -> Enter your email.
2 – > Click that button to show the coupon code form field.
3 – >  Enter the coupon code HALPANDY and validate.
4 – > the price moves down from $97 to $45.
5 – > Click to checkout
What do you get with this CommentLuv Premium Discount Code
This gives you access to a wonderful WordPress plugin, often considered as one of the top, most recommended plugins for the WordPress platform.
Commentluv Premium is a grouping of 5 excellent plugins. Here is a brief overview of what you get with commentluv Premium.
First, with this discount code, you get access to the Unlimited edition. That means you can use it on as many sites as you have. Here are 5 plugins ;
1 – > CommentLuv Premium itself
This is the core of the plugin that has added features to help your posts go viral, get more traffic and reward your readers.
2 – > G.A.S.P.
This is the advanced version of the popular anti spambot plugin GASP. It will drastically fight spamming on your blog.
3 – > KeywordName
This feature allows keywords in the names of comment authors but only if they've made a certain amount of comments. It's a hot comment boost.
4 -> TwitterLink
This will help your readers to increase their Twitter Followers by displaying their twitter name in their comments. That's another reason why commentluv blogs see a lot of comments.
5 – > ReplyMe
This feature will send an email to users when they get a direct reply to their comments. It also notifies guest authors when someone makes a comment on any of their posts.
Click here now to grab your copy!
How will commentluv increase your traffic?
Despite Google's anger against dofollow link, it should be noted that there is a lot of misunderstanding what they want. If your blog is completely nofollow, you may run into trouble.
If all the links coming to your blog are nofollow too, you will still run into big problem. There is therefore need for a balance link profile – mixing both link types.
Commentluv will help you control this on your blog. You need to know this before hand so you don't get mixed up by under tutored users.
You can adjust comment luv to remove the nofollow tag from some comment links after certain conditions are met.
Blogs with commentluv premium get a lot of comments and engagement. The reason behind this is the link reward people get for commenting. This link will benefit them in two ways;
Direct traffic.
SEO – Backlink profile equalizer.
My personal additional bonuses
If you use this link to buy the plugin, that means I will earn a commission. To reward you more for helping me earn the commission, I will give you free copies of my own products. Here we go;
Viralbird viral traffic script.
CashDonator WordPress plugin.
NB: It's important you clear your cache before clicking my link to buy commentluv premium. This will make sure no one else gets the commission.
After your purchase, shoot me a mail.
Make money with Commentluv Premium!
You can make money by telling others about this plugin. When they buy from you, you earn commissions. This is called affiliate marketing.
To start promoting CommentLuv and earning from it is free. Simply go to this link and create a free account. You will be given a unique link to promote on your blog and social media. Click here to sign up for free.
Let me know what you think about Andy publishing a CommentLuv Premium Discount Code. Are you also going to promote it to earn commissions?
You must also note that this code is short-lived.