When I created an online business in 2011, one of the most serious problems I faced was being able to accept credit card and Paypal payments on my site. It took me a couple of days searching for the best online payment processor for my country.
Most of what I found simply had my country excluded from their lists and this was becoming so frustrating. Paypal which is obviously the most recommended online payment gateway, at the moment of writing this post does not seem to see business in most 3rd world countries.
As my search went on, I came across 2checkout and that drove me into an aha moment.
Here are a few points that attracted me to this platform which I consider to be the best online payment platform for me and most of us in 3rd world countries;
My country is in the list.
My clients can make payments using their Paypal accounts.
My earnings are wired to my local Bank Account.
My earnings can also be paid to my Payoneer account.
The platform security is very up to date.
Script integration into my site is very easy.
The transaction fees were quite reasonable.
The support staff qualified and always present.
Create your Free Account here!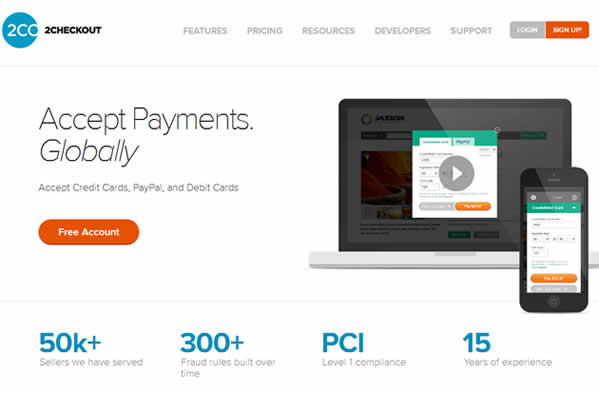 2Checkout.com is an online payment processing service for start-ups, small and mid-size businesses that want to sell locally or globally. 2co Services are available in over 195 countries. Payments can be accepted in more than 25 currencies. They can also communicate in 15 languages.
Get a free Debit Card here!
If you are from some area where access to online payment facilities is limited, try Payoneer free Mastercard. This card is helping me to withdraw my affiliate marketing commissions from ClickBank, PeerFly, CJ, and so many other platforms online.
My clients in the US pay directly to my card through the US Payment service.
6 reasons to choose 2checkout as your online payment processor!
1 – Coverage
2checkout is one of the most recommended Paypal alternatives especially in countries where online payment facilities are less developed. We cannot deny the fact that Paypal has won a greater portion of the market. One of the reasons 2co should be given a serious thought is that customers can still buy with Paypal on sites that are powered by 2co.
Apart from Paypal processing, 2co also supports a wide variety of popularly known credit and debit cards. There is a greate coverage in both geography and payment processing facilities.
2 – Responsive Checkout page
cashdonator-AdlinkMiddle The growth in mobile technology today has shifted a greater portion of the market to mobile devices. That means any ecommerce shop that does not have a responsive checkout design is almost standing for a loss. The 2checkout checkout page is responsive making possible a friendly mobile device user experience.
In addition, with 2Checkout Mobile (Download in the Apple App Store or Google Play Store), you can monitor your account details and manage your online business on the go – view sales, issue refunds and check payments on your mobile device.
3 – Recurring Billing
This is one strong feature of 2co. Recurring billing is a great way to build a steady revenue stream and create loyal customers. If your product or service is built for a subscription based billing cycle, 2checkout Recurring Billing feature is perfect for your business.
This feature supports recurrence intervals that will allow the service to bill your customer every week, month or year – you can set a sale to bill every week, 2 weeks, 8 weeks, 7 months or even every 2 years
4 – Shopping carts
eCommerce is powered by shopping carts. These are simple scripts (written in various programming languages) to facilitate the online selling and buying process. In other words, it's simply an online representation of what happens in a physically in a shopping mall.
At the moment of writing this post, 2Checkout has partnered with more than 100 popular online shopping carts and invoicing systems for simple integration.
Whatever your shopping cart, your business is definitely covered.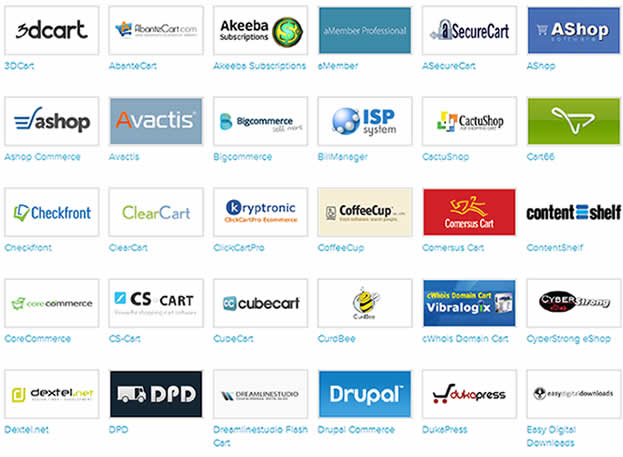 5 – Fraud Protection
This is a very sensitive area of ecommerce. What 2co does is help you to minimize risk to maximize profit. They will manage the industry security requirements needed to protect you and your customers by providing the security that saves you from worrying about fraud and theft so you can focus on your business.
Here is an interesting video that talks on how to Protect Yourself from E-Commerce Fraud.
2Checkout is committed to protecting you, your business and your customers from fraudulent activities. They offer a three-tier defense strategy to identify fraudulent activity and keep fraud from impacting your operations.  With the use of statistical algorithms and data collection techniques, they can assess more than 300 variables in under 3 seconds to identify markers of fraud.
6 – Payment pricing
2Checkout provides pricing that is easy to understand. 5.5% plus 45¢ per transaction. If you process more than $50,000 a month, you contact them for special negotiation.
Over to you…
Do you think 2co is the best online payment processor for 3rd world countries ? Share your views with us in the comment box.
If you like this post, link to it add share it too on social media. The social media tool bar is above this post.