In Part I of this series on how to create a blog that generates incomes, we saw actionable tips on how to choose a topic to blog on. You may want to check that out so you don't get confused where we are going. Be sure to join my list so you don't miss a thing.
In this Part 2, I thought it's important I share some guides on how to choose a good domain name for your blog.
Your domain name is your online identity. Its the way to your online presence. Without the domain name, it will be difficult to locate you online so choosing the right domain is crucial.
– > Before we continue …
Do you want a brand-able domain name – Your name, company name or unique word, or you want a keyword based domain name like bestwordpressthemes.com or seoconsultant.com?
NB: In September 2012, Google rolled out the EMD (Exact Match Domain) update. This actually was meant to to prevent poor quality sites from ranking well simply because they had words that match search terms (or keywords) in their domain names. This is not our portion as we are about building an authority blog that provides in-dept contents that meet searchers' intent.
10 Tips to help you choose the right domain name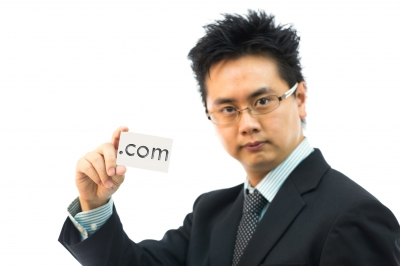 Whether you are going in for brand-able or keyword domain name is up to you. However, let me throw in some more  tips to help in your choice of the perfect domain name;
1 – Social profile availability
Social media plays an important part in blogging. That calls for the need to check with with services like KnowEm to see if the social profiles for your domain name are available. For instance –  https://facebook.com/enstinemuki and https://twitter.com/enstinemuki are all social profiles for my personal domain name enstinemuki.com. This is an important point in branding.
2 – Make it as short as possible
The shorter the domain name, the easier it is to memorize and print on materials such as business cards, handouts, etc If the name is long and complex, you risk customers mistyping or misspelling it.
3 – Make it unique
Don't get your blog confused with a popular site already owned by someone else. That's foundation for failure. If you register fivre.com, you may be directly sending traffic to fiverr.com. In the same line, avoid picking someone's domain name on a different extension except it's your personal name.
4 – Make it easy to remember and easy to type
This is very important. If people find it hard to memorize your domain name because it contains some difficult characters, you are already loosing a good portion of your marketing value. If you use only vowel or consonants, it may be difficult to read or type except you are within 3 letters. Think of a domain name like ikdfopg.com. Something like this is definitely hard to remember or even type.
5 – Hyphens and Numbers may not be good
These characters are often misunderstood. People who hear your website address don't know if you're using a numeral (3) or it's spelled out (three). In some cases, people misplace or forget the dash.
6 – Avoid Copyright Infringement
Make sure the name you've chosen is not copyrighted, trademarked or being used by another company. It could result in a huge legal mess that could heavily weigh on you, as well as cost your domain.
7 – Use an appropriate extension
Extensions are suffixes at the end of Web addresses. These can have specific uses, so make sure to choose one that's appropriate for your blog. While .COM is the most popular, there are some other top extensions: .co, .info, .net, .org, .biz, .me, etc.
8 – Use online tools to search for domains
Most often, our brains are limited. Using tools such as panabee can help in getting the right domain name.
If you're making a website for your business, this business name generator can help you find a name with an available .com domain. Clicking on the one you like most gives you more information and provides a link to GoDaddy where you can purchase the domain directly.
9 – Don't be so obsessed about selecting a domain that describes your topic.
Sometimes, it may be difficult to find a domain name that describes what you blog about. It may not be keyword rich but just a descriptive word or 2. Get something that can easily be handled and go with it.
10 – Act fast
This is the last and some what very important points. Domains are picked very fast. As soon as you find your right domain name, register it immediately. It may not be available the next minute.
Registering your domain name
Where to register your domain name may not really be an issue. However, Godaddy is a widely used registrar. You can get your domain for as low as $0.99 for the first year.
Go to Godaddy.com
Search and use a godaddy discount code
In Part II, we are talking WordPress vs Blogger – Which of these 2 CMS to use.
Thanks for being part of part 3. Please leave your comments and share this post