Blogging in recent times has grown from simply creating and publishing text to a full blown income generating business.
But sadly, many bloggers are still blogging like was done in those early days. I know some folks blog as a hobby. But how does that stop you from turning it into a business as this is easy to do?
But there are two things you can add to blogging that will transit from a mere hobby to a full time income generator and I want to briefly touch on these:
Adding a business to your blogging.
Adding Automation to the business.
Is Blogging a Business?
Well, blogging isn't business until you make it one. And there are different ways to turn blogging into any form of successful business:
Identify the business in your blogging.
Use business automation to make it efficient and less time consuming.
I like the example of my friend Amira Irfan, who is a full time lawyer. She uses blogging not to simply write about law but to create a hugely profitable blogging-law business.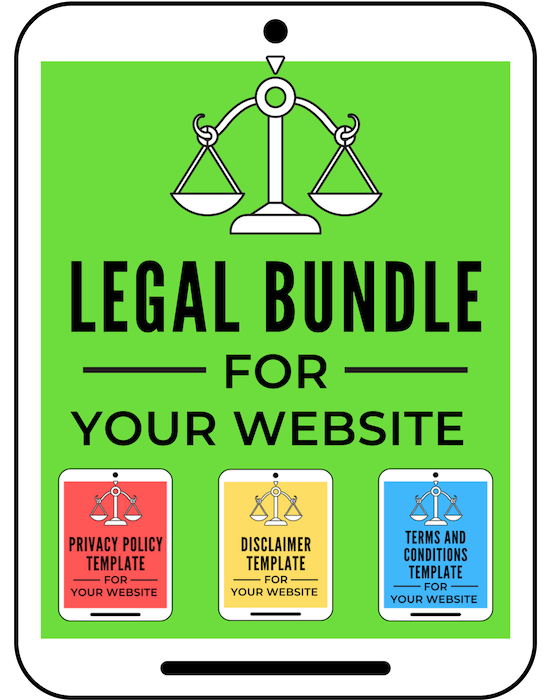 Coming up with powerful templates on how to blog legally and protect your online business, Amira serves as my good example of someone who has identified a business opportunity in blogging.
I do not know about you but if you ain't living under a bridge, and if you have a blog, by reading around, business ideas should be streaming into your brain.
As a matter of fact, you can create just any business around your blogging. Writing in itself is a profitable business. There is high demand for freelance writers today. But let's talk about automating your blogging business.
Adding Business Automation to your Blogging
Business process automation is all about the use of technology to execute recurring tasks or processes in a business where manual effort can be replaced.
In blogging, it's about capturing your readers into a funnel and allowing a set of rules to deal with them as planned, without you having to manually intervene.
To have a clearer understanding, let's begin with some few questions:
What do you do with the readers on your blog?
Do you have any Call To Actions (CTA) and how do you make them (the CTAs) stand out?
Some bloggers want readers to:
Signup to their lists
Drop comments
Follow them on social media
Click and read more
Click links and buy their products
Click and buy affiliate products
Click and buy ad space
Watch video
Etc
These are all good actions but some of them may lead to direct business. Let's look at those signing up to your list and those buying your products.
The reason is that these categories are closer to driving your business to profit. They actually capture your readers into a funnel that can be shaped and controlled by you.
But don't get me wrong. If you promote affiliate products and your readers buy from you, of course you earn the commissions but that's just the beginning of someone's business.
You just drove a lead to someone who pays you a little commission and walks away with the customer and many more opportunities.
Keeping readers on your blogger longer, commenting and following you on social media of course build your social proof. The more your blog gains authority, the more business you attract from advertisement agencies right?
But if you ask me, the best business online is that which links you with your customers and allows you interact with them.
Business automation tools for bloggers.
There are thousands of business automation tools out there designed for different businesses in different industries. But as a blogger and product creator, I'm going to discuss how I use my tool to automate my business, hoping that will inspire and help you too.
My automation tool: MailerLite
This email marketing platform has a set of super-exciting tools that help me automate different phases of my business and maintain efficiency:
I get my readers to signup to my lists: Segmentation allows me to create and manage different targeted groups.
Buyers of my products through Paypal and/or WooCom automatically get logged to my buyers list for further business.
Readers who signup on my membership platforms get logged to a segment of my list for further communications.
Readers who contact me through Contact Form and subsequently spend money on my blog (sponsored post, buy web space, hire me for an event, pay me for SEO or WordPress services, etc)
These are the four main categories of readers from my blog I log into my automation funnel and drive more sales. But how does Mailerlite help?
If your email marketing platform doesn't have an automation feature, then you'll be doing yourself some good moving to MailerLite this moment for a couple of reasons:
You have up to 1000 subscribers for free
Business Automation and Autoresponders are available in the free plan
Domain authentication available in the free plan
The live support service that's available 24/7
Integrations and API available in the free plans (So you can start automating your blogging business right off the bat).
Tons of features available in the paid plans, beginning $10/month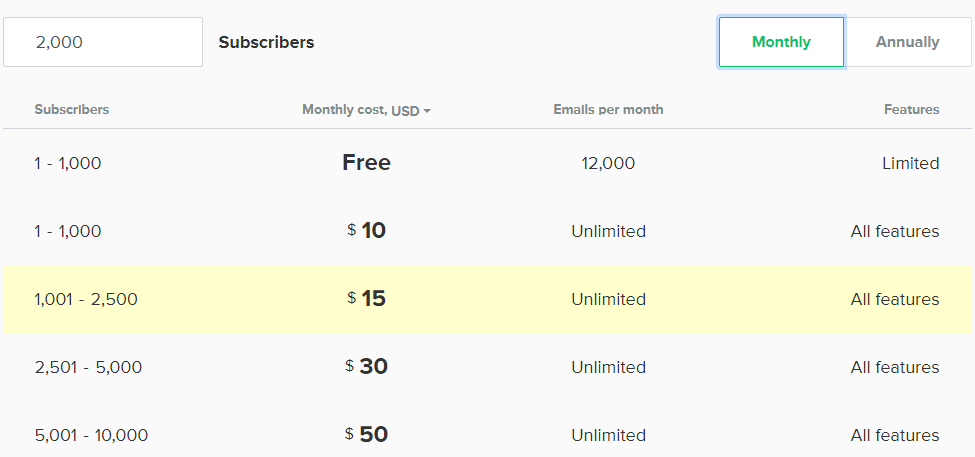 MailerLite Business Process Automation Tool
The MailerLite Business Process Automation (BPA) has five main automation triggers. These are events that set the engine in motion. But let's examine three of these in our context
1 – When subscriber joins a group
This automation process kicks in when a subscriber signs up to a list. Most commonly, bloggers use this and end at the level of sending a welcome mail. But more should be done, in my opinion. However, you should treat your subscribers according to the reason they signup to your list
2 – The exact match of a date
Set in an automation to trigger some campaigns on some exact date, maybe Black Friday or some anniversary. Mix this up with the next trigger to create a sales monster (Track subscribers who open and click the links and deal with them accordingly)
3 – When a subscriber clicks a link
What happens to a subscriber that clicks a link in your campaign?
That's exactly what this automation should be triggered to do. It goes with a list  of past campaigns you have created.
When you add the exact same link URL in any of your emails (campaigns, automations or even confirmations) and a subscriber clicks the link, this automation workflow will start.
Here is an example:
You are planning a Webinar and you mail a registration link to your list or you have a Tweet Party in the weeks ahead and you sent a link to your subscribers for details.
This automation may set in to check for the subscribers that actually click the registration link
But it should not end here. You may want to stretch it to find out if they actually signed up. This is done by integrating MailerLite registration into your Webinar app or any signup app you have in place: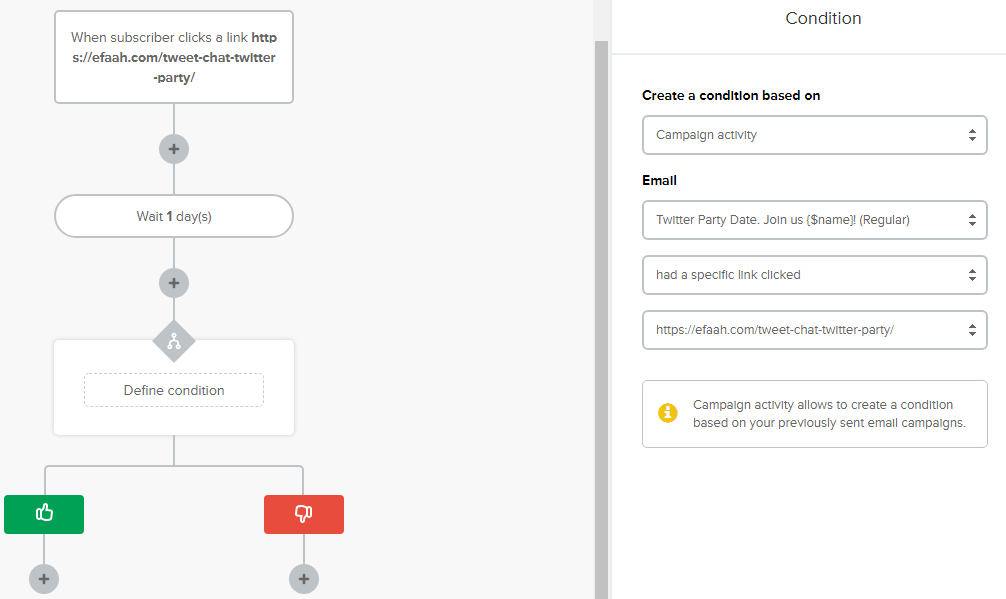 In this example above, I'm planning a Tweet Chat. I just mailed eFAAH JOB members about this event but I won't want to come create another campaign to get to those who didn't click the link in the first campaign.
Here is what I have done:
I created an automation to automatically resend a quick email to the subscribers who for some reasons did not click the link in the previous campaign.
For those who did click to read, the automation will trigger a quick message to find out what they think and if they are going to be part of the event.
Note that this can be continued, including moving the subscribers from one list to the other, creating a super targeted list of fervent and loyal readers and buyers.
Linking your Automation Tool to your blog
It should be quite easy to link your business automation tool to your blog. Basically, here are commonly used methods:
1 – Signup forms: The simplest way is adding a signup form on your blog to collect visitors data. This for the most part is done by copying HTML form tag from your automation tool to your website. But to ease the process, some tools do provide plugins for easy creation of signup forms on your blog.
2 – Using APIs: APIs allow developers to add hooks to their applications to make it easy to connect to external tools. To be able to use APIs, you should have some programming knowledge in any of the languages supported.
3 – Custom Plugins: Some automation tools create and make available custom plugins for different business environments. If you are using WooCommerce on WordPress for instance, MailerLite creates a plugin to allow you capture new WooCom shop clients to your MailerLite automation system.
While this is awesome, MailerLite has published custom plugins for over 45 different business environment including Facebook, Shopify, Prolific Works, Ninja Popups, Thrive, Popup Domination, ConvertPlug, GetSiteControl, SendOwl, ConvertPlayer, Stripe, Paypal, Leadpages, Gumroad, ClickFunnels,Slack Evenbrite, Zoom, Google Forms, etc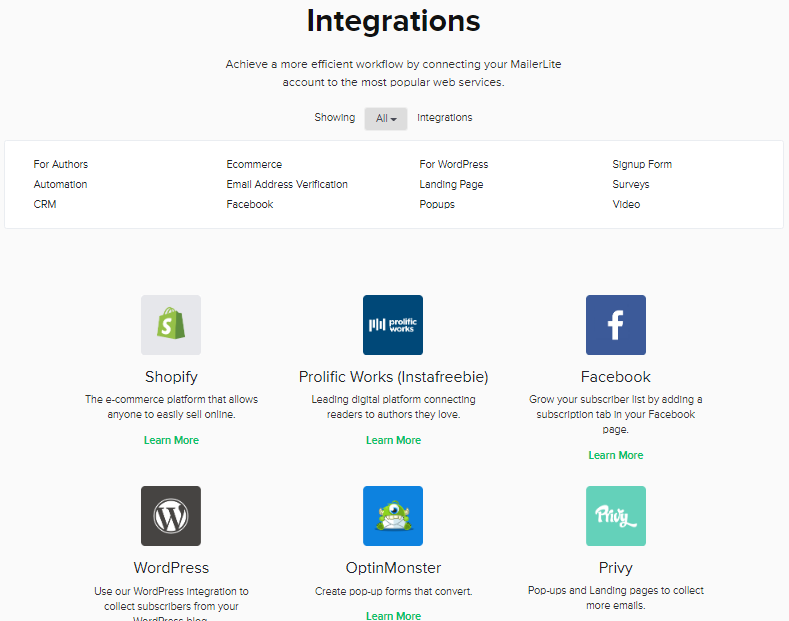 Conclusion
If you've been blogging without a business, you should set your brain to work. Add some business to your blogging and hook it up with some automation tool.
Let me know if you need some assistance. Drop a comment below let me know your thoughts.