Blog Engage is a top blogging community. Blogging communities are simply platforms where bloggers meet and share their posts, network and help each other grow. There are many of such communities popping up these days but I think Blog Engage has succeeded to distinguish itself from the crowed.
I have been on Blog Engage since end of 2012 (that was when I started blogging) and it's by far the most recommended of all blogging communities. Hang on as I prove my case 😉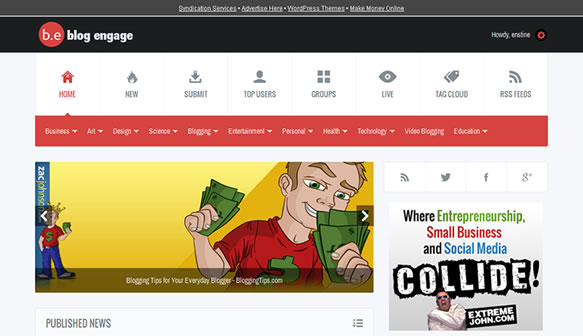 Blogging Communities – Why is Blog Engage their master?
1 – > Blog Engage is not free
While FREE is good, PAID is better. That's just it! When you spend money on something, you attache more value to it. That's one of the reasons Blog Engage will never lose its value. Everyone on it pays to be there. Everyone therefore attaches huge value to the investment made. Over 2000 paying members cannot be wrong. Blog Engage is where to meet bloggers with a spending capacity and habit. Free is good but I love to associate with people who spend real money. Traffic from Blog Engage is like traffic from buyers list.
2 – > Blog Enage is clean
If there is something we want as bloggers, it's belonging to a spam-free blog community. Not only is BlogEngage spam-free, it's a blog community with top, savvy bloggers. That's one of the very strong points of this platform. It seems to have a way of filtering its members.  Most of the top bloggers I deal with that have helped me earn 1000s of dollars online have come from this platform.
3 – > Blog Engage helps its members make money
This is the only community out of so many well known blog communities that is directly paying its members through its affiliate system. You can promote Blog Engage and make recurring earnings. All you need is join the Affiliate System for free.  You also instantly get $10.00 for joining. Click here to join the Blog Engage Affiliate Program.
4 -> Blog Engage is Video syndication

This is a step ahead of most blog communities we have today. The Blog Engage system automatically syndicates, embeds and distributes your Youtube videos to the community, Facebook and Twitter. This helps increase your video views, subscribers and comments.
5 – > The Back-office
What makes the value of any platform is not how powerful the script is.  No matter how much you put in to acquire materials – servers, office equipments, etc, if you don't have the right minds at the back-office, the whole thing becomes a waste.
Brian Belfitt, the creator of this platform is someone you can count on. I don't know how this guy manages it but he is always there to go one-on-one with each and every member of his community. My personal encounter with him has been a huge lift. Not only does Brian help promote my blog, he made sure I was well settled in his community.
— > Check out Blog Engage blog community here < —
Are you a Blog Engage user ?
If you are a member on this platform, what has been your experiences? What makes it different from other blogging communities?
Share your points in the comment box below