Sending more personalized emails to clients and prospects is a breeze with email automation. To properly streamline this process, several marketing platforms include inbuilt automation functions.

In this article, we'll take a deep dive into 10 popular email automation programs so you can select the best one for your company in terms of features and open rates.
1. Spylead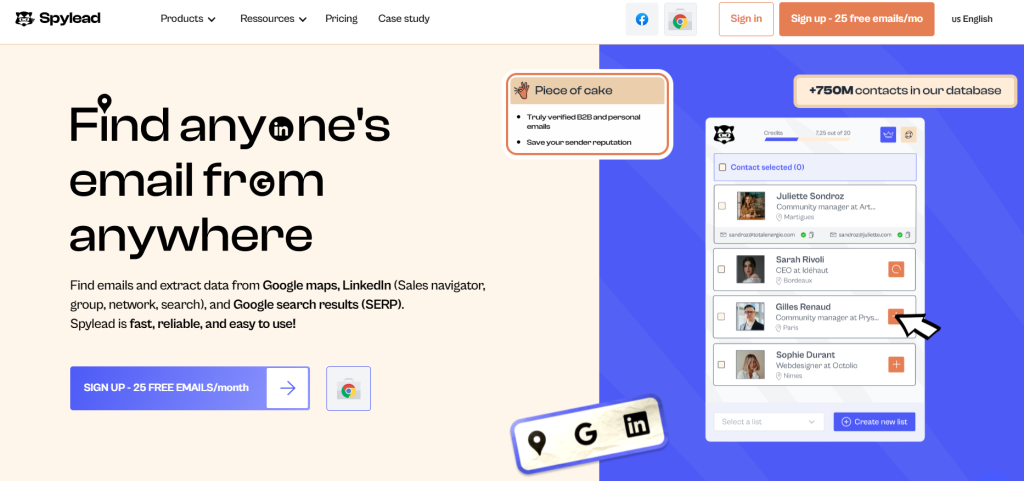 Acquiring subscriptions is the only way to gather email addresses across many services. The data is dispersed over multiple tools, and the process is inefficient. For many, this seems like the end of the road. But it doesn't have to be; discover emails and extract information through LinkedIn, Google Maps, and Search Engine with Spylead.
You can search for people by first name, last name, and email address, and the results are accurate to within 0.1%. Just one subscription, one Chrome add-on, and one centralized hub for all of your lead management needs. You can also use the LinkedIn Email Finder to locate contacts in "my network" via a search or within a LinkedIn group.
Plus, Spylead now integrates with Zapier, so you can link it to your other favorite apps and build a powerful company-wide automation strategy.
2. Moosend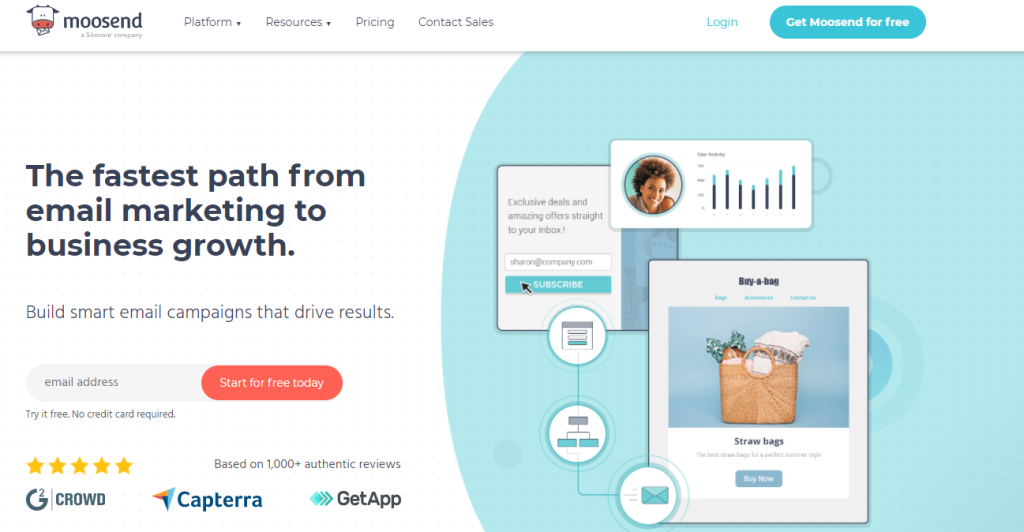 Moosend is an email marketing platform with automated customer service solutions. You can create automation processes and transactional emails using a drag-and-drop builder or pre-made templates.
Moosend integrates with Woocommerce and Salesforce to track customer activity and send newsletters. This user-friendly tool enhances your automated emails with all the necessary functionality.
Moosend is an all-inclusive email platform with segmentation. It also has a user-friendly interface for designing responsive email campaigns from scratch or with a template.
This email service gives detailed metrics to monitor campaign performance. Use the A/B Tests tool to compare two email versions to see which your readers prefer. With a 98% email deliverability rate, you can be sure your messages will reach readers' inboxes.
3. Mailchimp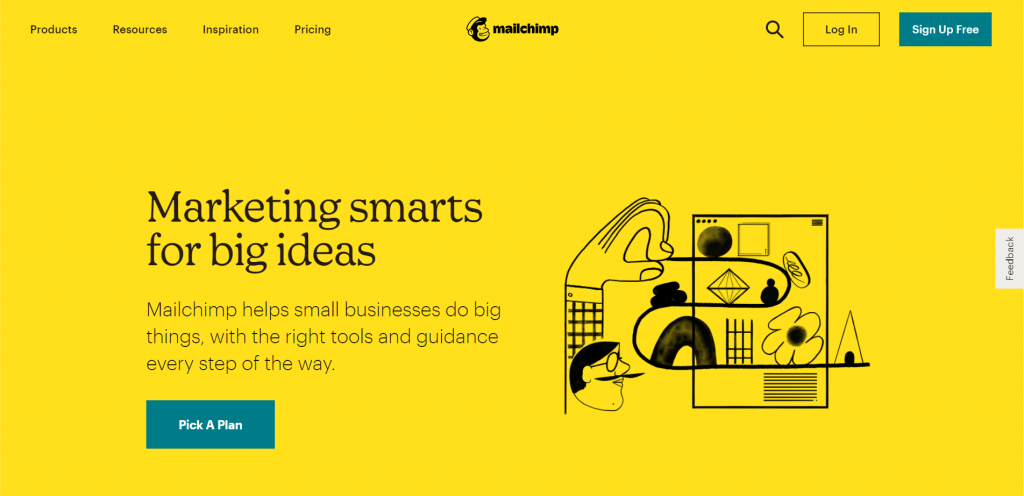 We'll now switch to Mailchimp, a powerful and widely used email marketing software, especially among online retailers. Users can automate their processes in multiple steps to reach their targeted demographic.
Providers of so-called "customer journeys" also let users tailor ads to individual customers' interests and habits with features like RSS feeds and analytics. The platform's built-in scheduling tools and ready-made itineraries are significant time savers.
This email automation platform provides features like subscriber management, a marketing CRM, and advanced analytics and data tools like Clever Recommendations and Surveys to help you get the most out of your email marketing campaigns.
4. Sendinblue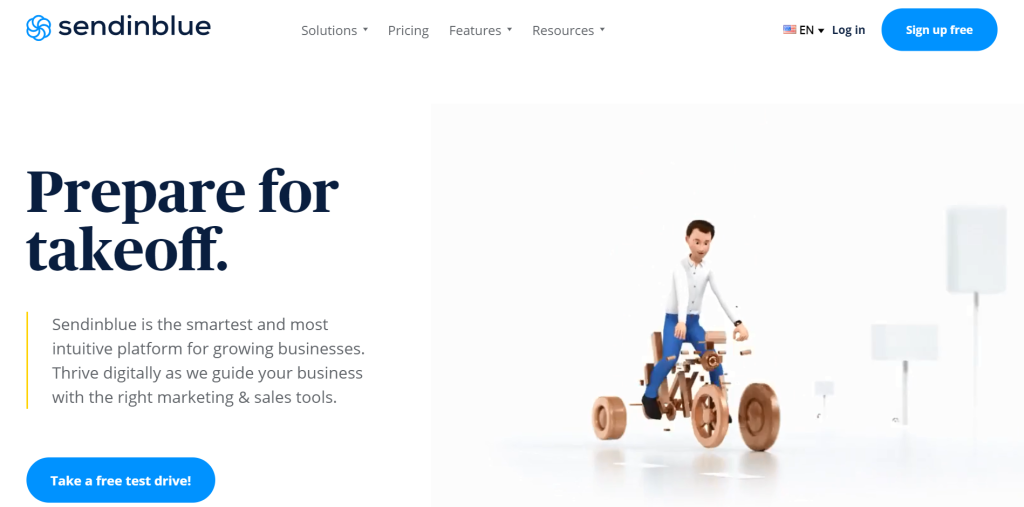 Sendinblue is a hub for managing all client communications, including email, SMS, and CRM. Therefore, the best outcomes can be achieved by using email and SMS for transactional messages. Its marketing automation features allow users to set up intricate automated sequences that boost email open and click-through rates.
The platform also includes a Facebook advertising component and an email API for expanding your subscriber base. Naturally, it has a segmentation feature that lets you customize content depending on factors like user demographics and website activity.
In conclusion, Sendinblue is promoted to businesses because of the excellent deliverability and compliance standards it upholds.
5. GetResponse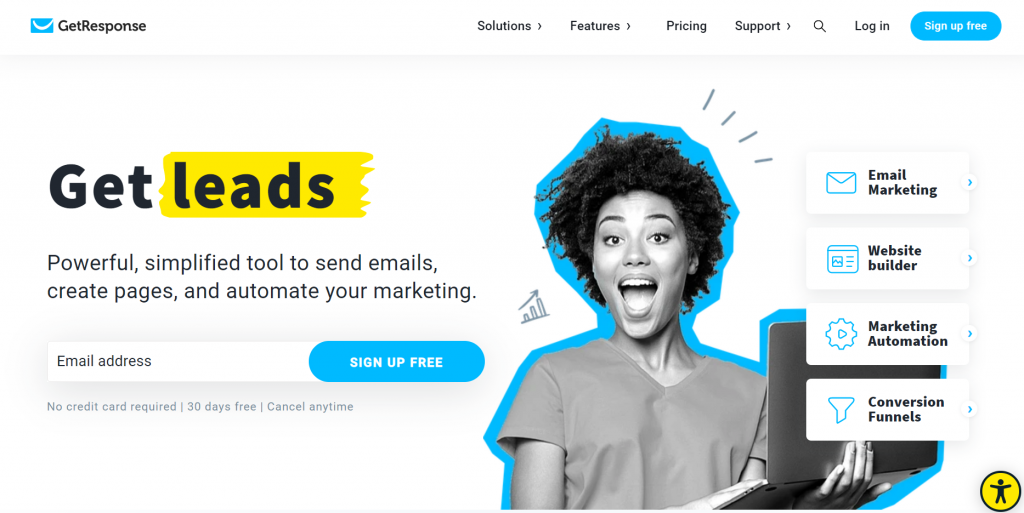 One other all-in-one marketing tool with impressive automation features is GetResponse. Features such as categorization, scoring, and website behavior tracking are part of the platform, in addition to autoresponders and transactional emails.
Aside from just email marketing, GetResponse provides a business website and tools that make webinars easier, such as polls and surveys, as well as the ability to share your screen.
You can also advertise your material in an automated and efficient fashion with the help of the lead magnet creator that this platform offers its users. Finally, it can supplement your paid advertising initiatives by means of its online ad maker.
6. ConvertKit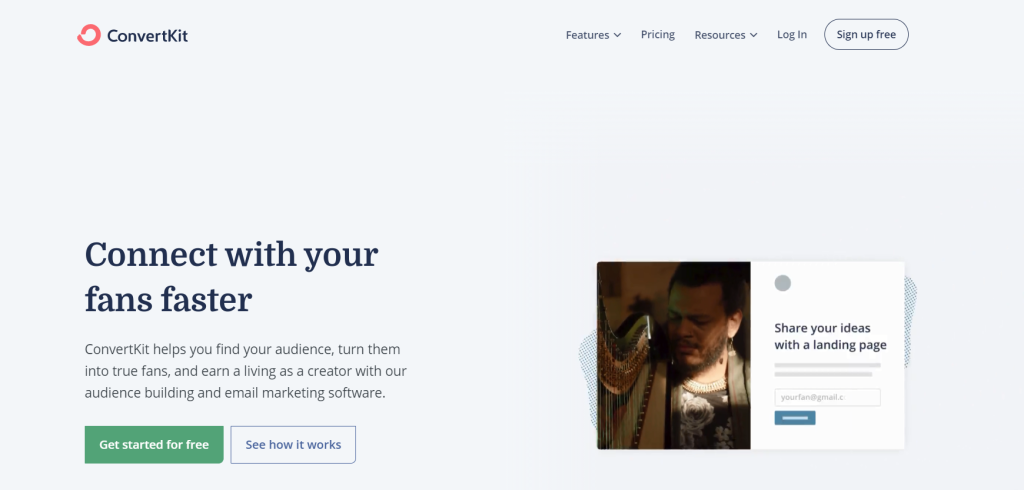 When it comes to automated emails, ConvertKit has you covered there, too. The process of creating and modifying drip campaigns takes only a few clicks. In addition, you can manage who participates in your processes by adding or removing subscribers using the tagging systems.
You can increase your reach by integrating ConvertKit with other platforms and apps via Zapier, such as Shopify. ConvertKit has all the tools for creating elegant, mobile-friendly emails in this marketing suite. Overall, it's a fantastic tool for email marketers because of its excellent deliverability score.
7. AWeber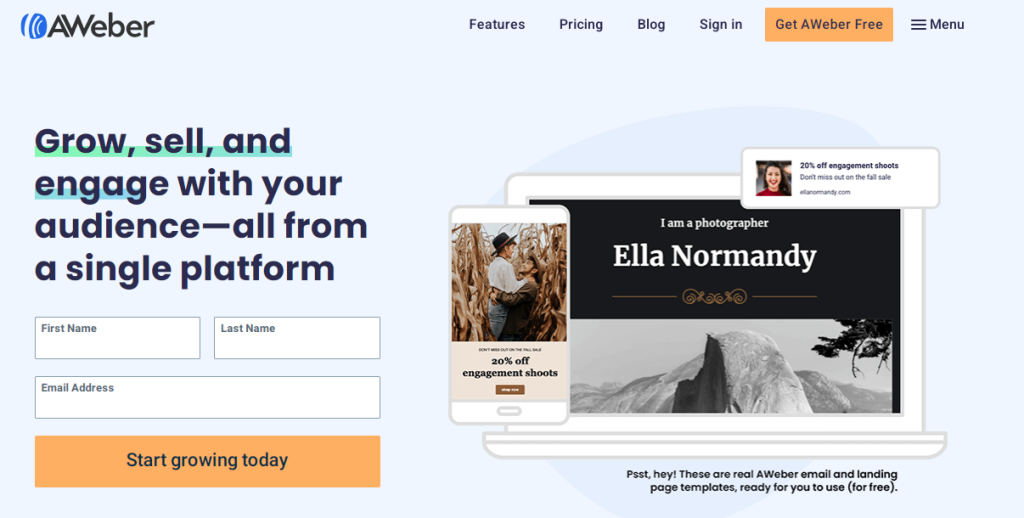 AWeber guarantees progress for micro- and small-scale businesses. From a Canva-integrated email editor to landing pages and other list-building materials, they provide vital email marketing capabilities that small businesses and independent marketers need to streamline their email marketing strategy.
Specifically, it allows you to automate tasks like sending autoresponders and activated campaigns to your target audience. It's simple to plan highly targeted initiatives using the segmentation tool and then watch as they begin to provide results.
Lastly, this system is simple, particularly in regard to creating emails. You can get ideas for your email marketing campaign by looking at already-written examples.
8. Cakemail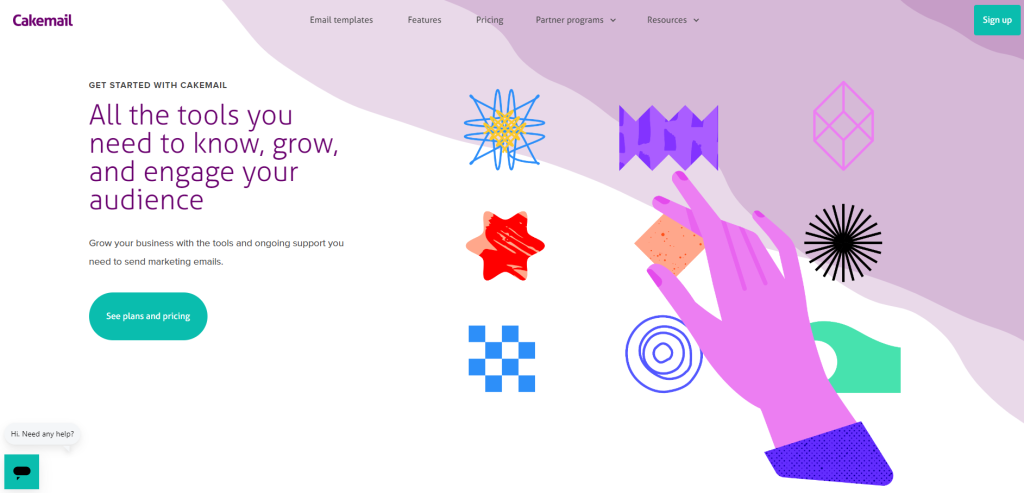 Cakemail should be on your shortlist if you are looking for a low-cost service for email marketing that offers some fundamental automation features to get started cultivating a relationship with your target audience. You can easily create and track automatic email sequences with Cakemail's automation builder, which can be used for onboarding and welcome campaigns.
You can also use SMTP to schedule transactional emails and develop your mailing lists using sign-up sites and a specialized import tool for contact information. Both of these features are available through SMTP.
9. SendPulse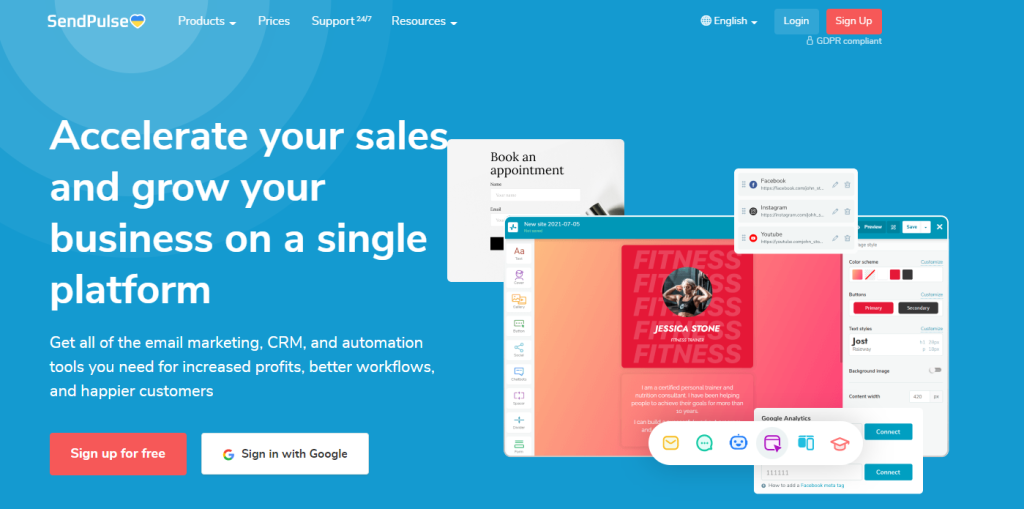 SendPulse is an all-in-one sales and marketing platform. Users can create highly targeted email campaigns and oversee all aspects of lead creation with the help of this CRM solution. But what will happen when robots take over?
Using the information gathered from your site's visitors, Automation 360 will automatically and precisely send out emails. To keep in touch with your subscribers, you can use chatbots to set up a steady two-way flow of information.
10. Sendloop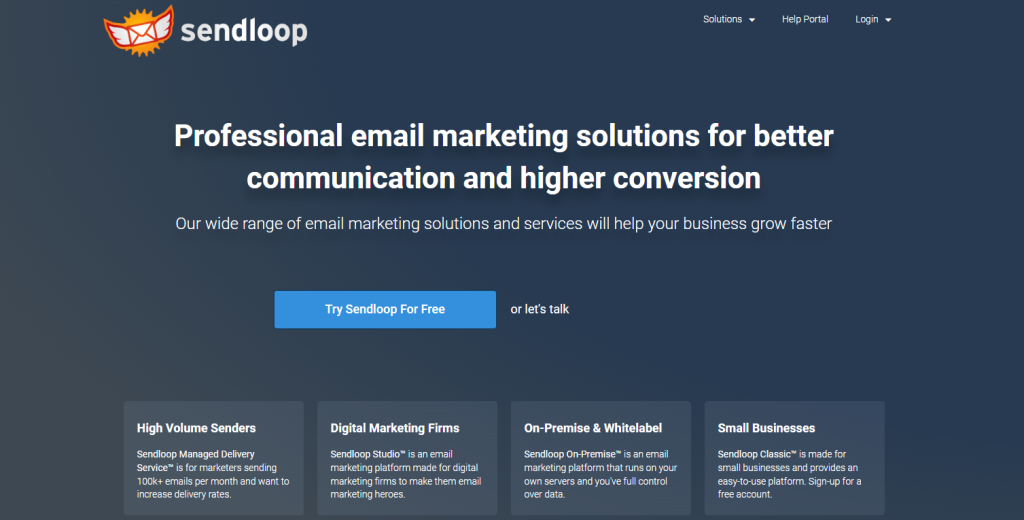 Sendloop is another option for small and medium-sized businesses looking for simple automation features like autoresponders. The software supports multiple user logins, allowing groups to coordinate more effectively.
This program claims to be able to verify your email list and use dynamic content to personalize your messages to each individual.
11. Selzy

Selzy is a young email marketing platform that is newbie-friendly and targets specifically small and medium-sized companies. The platform offers a forever free trial with up to 2000 contacts in the list and 15000 emails sent each month. It has a simple drag-and-drop email builder with 100+ free templates to create picture-perfect newsletters in the nick of time. Selzy also offers a massive amount of features like automated list hygiene, A/B testing, detailed but digestible analytics, and even some help from experienced email marketers depending on the plan.
Final Thoughts
Email automation can be simplified in numerous ways. Discover the optimal answer for your business's specific situation and watch your conversion rate soar. If you ask us, Spylead is the best option.