I recently came across a free traffic and content sharing tool and it's beginning to get me addicted.
We have many of these curation platforms out there but what makes zest.is stand out is the team behind it.
I have said a couple of time that the strength of a platform isn't in its coding. It lies almost completely on the team that runs it and Zest may soon take over leadership in the industry.
Many content gathering tools have disappointed curators and consumers. They focus on volumes and let anything in. But Zest is all about quality that goes through manual approval.
Their content moderation process ensures the best quality possible. Zest is described as "a high fidelity marketing content stream, co-distilled by a tribe of Marketers"
The tool will allow you "Transform Your Browser Into a Powerhouse for Consuming Marketing Knowledge"
Zest for Content Marketers
This is a new gem to take your content to a highly filtered, elite community of Marketers.
First, get a free account here.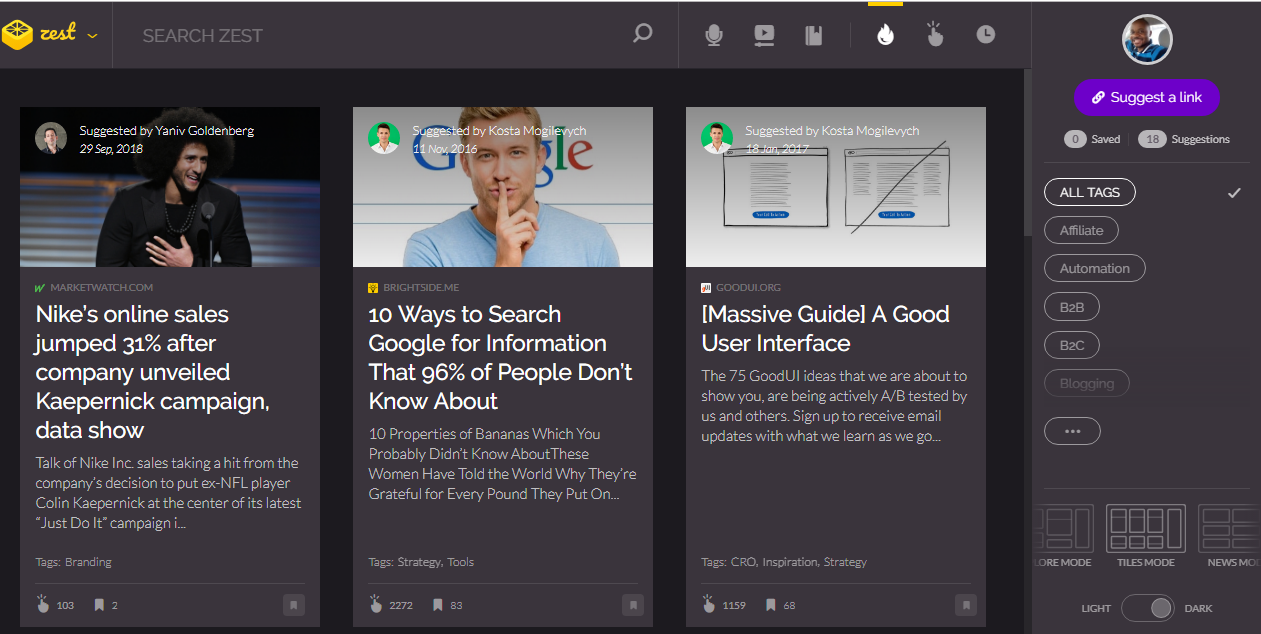 You may want to give yourself a couple of minutes to understand the concept of the platform. But it's pretty straight forward.
Suggesting Content
Simply click "Suggest a link" Button.
Grab the url of the link and paste in the box: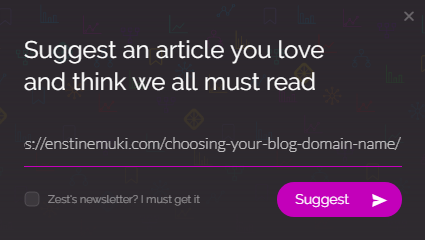 Don't worry about tagging or categorizing the content. The Zest Team, in the manual approval process will place the url in the most appropriate category.
You'll have to wait for your suggestions to be approved. So don't be in a rush. That's what makes the platform different.
Once approved, you are going to be sent a mail: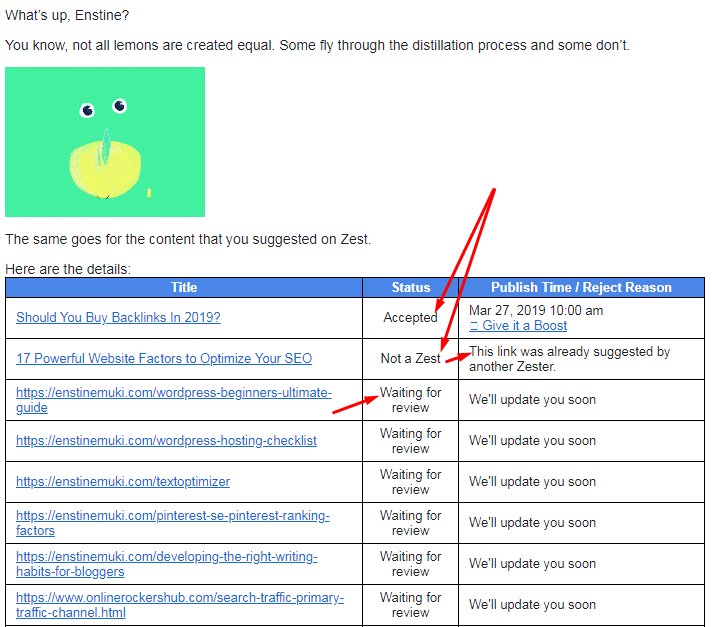 7 reasons your suggestions will be disapproved
Not all suggested articles are found 'zesty' (nice sexy term)
I have been reading around and found some reasons suggested urls may not be zested:
1 – Already submitted: If you submitted a url that had been zested, there is no chance of having it approved again. No duplicates allowed.
2 – Thin content: Zest tribe members have a particular likeness for long-form, stellar content filled with useful details.
3 – Non English version: Content in a different language won't be approved at the moment.
4 – Outdated or irrelevant content: Your content must be Trustworthy Actionable Relevant and Timely (T.A.R.T.)
5 – You are trying to sell: Trying to sell something in the community is simply not allowed. The community is not looking to be sold. If you want to sell, go try out Pinterest.
6 – The link is broken: You have to double-check and make sure the submitted url is not broken.
7 – Adult, Criminal, drug, etc: I have not seen content in any of these categories. If you submit this, chances are that it won't be found zesty.
Content Types
Text
Audios
Videos
Sourcing content
Zest is an amazing source of actionable, insightful content tagged in different categories.
Use the tool bar to search, sort and filter content:

Once you found great zested content, you may want to:
Save it for later
Share on Facebook, Twitter, LinkedIn, Slack, Trello or send by mail to a friend.
Does Zest really drive quality traffic?
The best way to find out the answer to this question is to try it yourself. But my stats are beginning to speak: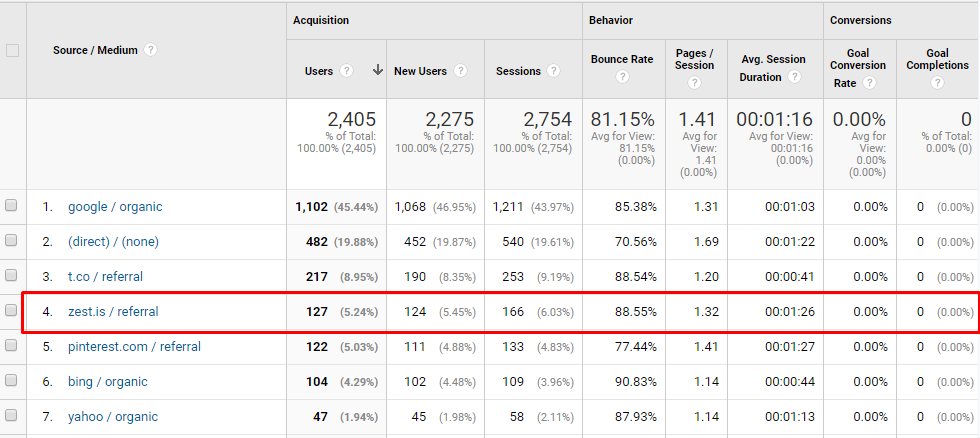 … which is why I will keep using and recommending the tool.
Boosting with Zest Paid option
There is an option to boost your url with Zest but I think it's still being carefully implemented. I look forward to it.
Are you trying out this tool?
Let me know what you think this content syndication platform.