iStonsoft's Word to PDF Converter, the solution to manipualating digital documents
As an entrepreneur, one of the challenges I used to face was being able to digitally move my invoices and some important documents to my clients and not worry about unauthorized changes.
One other very big issue I used to face is that of some of my clients telling me they ain't able to open my invoice due to system incompatibility. This pushed me into looking for a quick solution -> Word to PDF converter!
Using PDF files has become a very common practice. The fact that PDF format is compatible with any operating system makes it a universal word processing application. This is one of the major reasons why PDF format has become so popular over the years.
One other reason that makes this format more popular is the security possibility. Any PDF file can be protected with passwords at different layers, thus preventing unauthorized access.
Given that my invoices and other documents, including business proposals etc are processed in MS Word, there was therefore the urgent need for a Word to PDF converter.
PDF format allows you to secure access to your document at different levels:
Opening a PDF file
Copying the file
Making any sort of changes to the file, and
Taking a print out
With these different layers of security settings, the PDF format has become an essential tool for storing and transferring important data. Due to its popularity and high demand, there came the need for application developers to come up with a Word to PDF convert.
Of course, once a Word document has been converted to PDF, it makes secured distribution more practical.
What is the Need to Convert a Word File to PDF Format?
There are 2 main reasons to convert your word document to PDF formats. One of these is data security.
Every Word document can be easily modified once access. In order to ensure that your invoice or some critical document that has to go from one reader to the other remains intact, the fastest option is to convert it to PDF format.
While this may not be 100% protected against data alteration, it's a major step towards maintaining the originality of your document.
The second reason you need a word to PDF converter is cross platform compatibility. Word documents are largely operating system and application dependent. To grant more access to a larger portion of your readers, you'll have to convert your Word document to PDF.
How can you convert a MS Word File to PDF Format using this Word to PDF Converter?
The process of converting an MS Word File to PDF format is quite simple. All you need is a good Word to PDF converter. These are the applications which are designed to change the file format from Word to PDF while maintaining originality in terms of content and image quality.
It might sound a very simple process, and it certainly appears to be when you are converting word files to PDF using professional tools.
iStonsoft Word to PDF Converter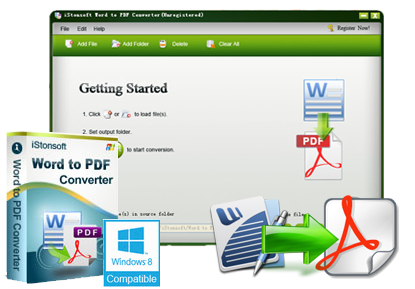 Talking about converting MS Word to PDF, there are many applications available. However, when it comes to maintaining the integrity of your valuable data, you need to be absolutely sure that the software you are using is reliable. This is where iStonsoft Word to PDF file converter comes into the picture.
This particular application will handle your Word files conversion to PDF format without causing any distortion or data loses. Most of the converters available in the market tend to change the alignment and the entire document formatting.
Often times, they tend to fill converted pages with junk characters and even degrade the quality of any graphics found in your documents. iStonsoft Word to PDF file converter is something I have personally tested and found none of such weaknesses.
What makes iStonsoft Word to PDF Converter the industry leader?
Easy of use: With the help of this application you can easily and most importantly, accurately convert Word files to PDF format.
Document originality is not tampered with – no image distortions, no strange insertion of characters, no alteration in formatting, etc
System requirements are minimal and it fully runs on, Windows XP, Windows Vista, Windows 7 and Windows 8 and there is a version for Mac OS X 10.6 – 10.9 or later.
It's a perfect tool to convert Docx to PDF and also the easiest way to create a PDF document from a Word file.
Summary!
Let me wrap up here by giving you a brief summary of this easy-to-use Word to PDF Converter:
Convert Word to PDF: It can easily convert Word file to PDF format. The output file can be opened by all the PDF Readers.
Easy to Operate: This application runs on GUI interface, which means you simply need to follow the instructions and click few buttons. The conversion will be done in no time.
Personalized Out: It allows you to personalize the output by letting you set the page margin, title and also add various security parameter.
iStonsoft Word to PDF Converter is being used globally because of its flexibility. To know more about this application check out its details on it site mentioned above.
H3: Alternative Way to Convert Word to PDF
In case you don't want to download any software, you can convert MS Word files to PDF online from your browser using a Free Online PDF Creator. In fact, this web tool allows you to convert MS Word and any other printable file format to PDF for free.
The entire conversion process is done in 2 steps:
Upload your DOC or DOCX document
Download the converted PDF file to your computer
Are you using any of such converters? Let me hear what you think so please share with me in the comment box.