In business and in life, your responsibility is to manage productivity and find ways to reach your goals and potential. A business could be larger than it is presently, but productivity can be lost or compromised in various ways, and we all have responsibility for productivity.
Productivity in this busy lifestyle is becoming very demanding, and you came here because you are looking for a way to improve your productivity in just a few simple steps. The goal is to reduce time and improve quality.
By using tools and techniques, including scheduling your work so you can do every task more efficiently, you will be able to boost productivity and achieve your goals. One of the best ways to that is to summarize and analyze meetings with an AI assistant.
Instaminutes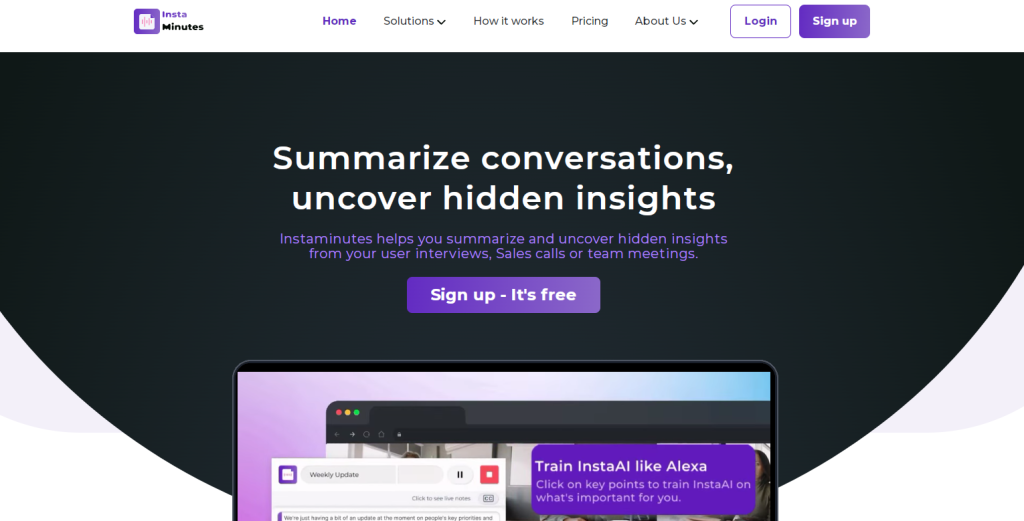 Instaminutes is an excellent option for any business with many meetings. You will especially like this tool if you want to have meeting summaries at your fingertips. Using summaries, you can have an overview of your meetings whenever you want.
To speed up your process, you can simply attach your preferred content management systems, emails, and communication tools all in one. But, at this point, you must be wondering why Instaminutes is so successful with its meeting summaries. 
Instaminutes uses an AI agent to help you write engaging and meaningful documents by instantly defining key descriptions and details. You will be surprised to see this AI in action.
Features
A key part of productivity at Instaminutes is the ability to produce meaningful, tangible outcomes. It is especially useful for generating personalized reports that answer many questions for your client, all in an instant.
Users can input any platform and have summaries of everything that goes on, allowing you to get everything done efficiently. Google Meet is a prime example.
But what do you get with such summaries? You will be able to have detailed insight into your team's communication and the business's success. This can help you quickly find patterns that are already changing your daily habits.
Through the built-in information dashboard, you can see who talked when and how much, and you will be able to see every important moment. From these insights, you can also see how much longer you spent on something and exactly how productive you are.
At some point, you will have a lot of such summaries, and we are sure that it will be a little too much to go through at some points. These summaries, however, can be a valuable resource for managers to figure out what went on in the productivity arena.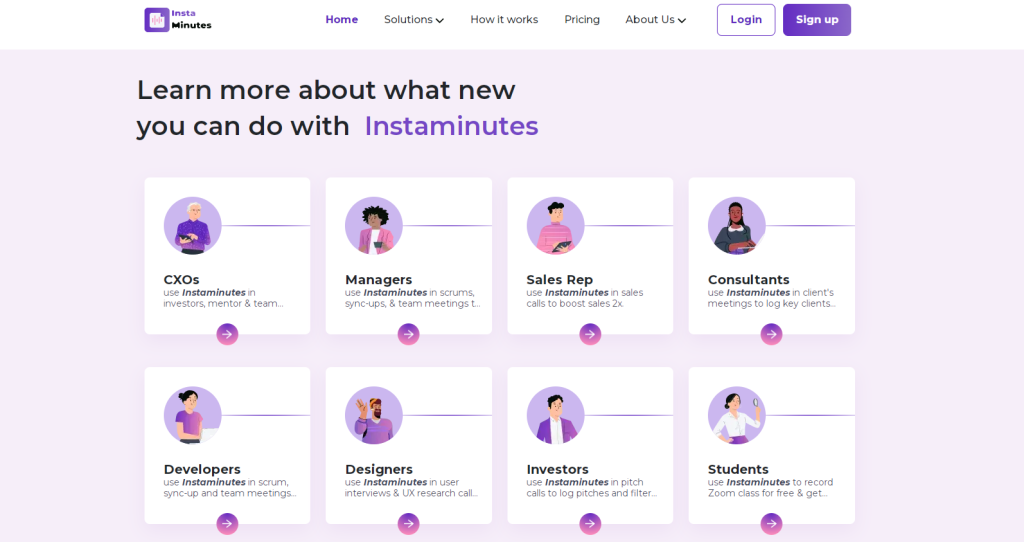 Because of this, you will be able to give advice to your team on how to improve or how to improve their productivity. But don't worry because this tool will allow you to filter summaries based on specific people or based on specific keywords and topics.
As you can see, there is a lot you can do with Instaminutes, and you can do it all without any coding knowledge. This means you can make the most of it by improving your productivity.
Pricing
Instaminutes has several attractive pricing plans for you, and all you need to do is choose the one that suits you and your needs best. The last tier is by far the best one for bigger businesses.
It offers 300 hours of notes, 10 user seats, but as you would expect, it is more expensive. But, still, at only 449$ as a one-time purchase, it is one of the best productivity tools for this price range.
Conclusion
To make your productivity skyrocket, you can use Instaminutes and increase your output. As soon as you sign up, you can start using the platform to boost your productivity.
It is essential to be productive and do all your work in the shortest possible time, but not lose out on quality. It is also important to organize your work so you can focus and not be bothered by the many tasks you're juggling at once.
Doing it right is crucial if you have meetings and want their summaries. Because of that, we would like to encourage you to try out Instaminutes! You will be surprised by how good it is and how it boosts your productivity. Make the most of it.