Want to start a profitable online blog—without the overwhelm?
Want to grow your blog audience—without the guesswork?
Want to get more traffic and more subscribers?
Today, we are meeting Sue Anne Dunlevie of Successful Blogging. She is here to help you. She works with beginning bloggers who are starting or growing their online businesses—and who don't want to get caught up in the procrastination trap with their blogs.
Starting Out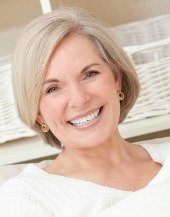 Sue told me she was "that kid" – the kid who sold the most Girl Scout cookies in her troop and who won the bike for selling the most in the school fundraiser.
She always had the gift for sales, but women didn't go into a sales career back in the 70's when Sue Anne went to college.
So she became a teacher. But when one of her friends was able to get a job in sales in the early 80's, she jumped on board the bandwagon. She's sold linens to hotels, copiers to small business owners and medical equipment to hospitals and wholesalers.
So when it became clear to her that she had a certain talent that didn't always come naturally to others, she began coaching others on how to get clients and sell their products and services – with integrity, with success and without the pushy, sleazy vibe.
What Bloggers Talk About When No One Else Is Listening
When Sue started coaching beginning bloggers, she heard that they were putting time, blood, sweat and tears into their content, but weren't seeing the pay-off in dollars.
Sue Anne said "They were asking themselves questions like:
Can I make money blogging?
How can I sell my own products and services without feeling pushy?
How can I persuade someone to work with me?
I wanted to be able to help them solve these frustrations".
Ways To Make Money Online Without Selling Your Soul
Sue Anne believes that smart bloggers who want to be successful need to be able to communicate, connect, create anticipation andbe able to persuade others to build their business online.
Successful Blogging is just that – a thriving community of entrepreneurs who want to become more successful and more profitable.
Whether you are a coach, a consultant, a freelancer or sell your own information or physical products, you can learn how to communicate and connect repeatedly with your target audience by talking their language, solving their problems and giving them the right solutions.
Free Gifts For You!
Free Infographic: How To Make Money With Your Blog In 5 Easy StepsFree Checklist: 51 Ways To Launch (Or Relaunch) A Hot Blog
Recent Posts On Successful Blogging
Start A Blog Like These Top 50 Successful Women Bloggers
How To Start A Blog And Make Money
How To Get Traffic To Your Blog
Connect With Sue Anne
Email at sue@successfulblogging.com
Sue's book "Stress Management Decoded" is available on Amazon
Time to interact
If you have any questions, ask Sue in the comment box below. She's surely going to be here to respond. Drop any comment to interact with her.