Do you know that traffic to your blog is being locked? I will show you where and how to unlock it with content locker for WordPress.
Once your traffic is unlocked, you'll see a rush for your articles.
Each an every visitor to your blog is supposed to trigger a flow of more traffic to your blog but because we are not giving them the means to do it, we are somehow locking the flow of that extra traffic.
Here is what I mean…
The next visitor to your blog should be able to pull his Twitter and Google+ followers, LinkedIn and Facebook friends to your blog before leaving. To do this, we have to help him by giving him the right tools.
I know we have social sharing tools left, top or bottom of our posts but that's probably not strong enough. What do we do then to encourage more of our visitors to share our posts on social media? What do you think should be done to (kind of) compel the visitors to share our posts on social media?
Yes! Something like that…
Or let me say reward them
That sounds more reasonable 😉
Ok here's how…
We are going to use a content locker for WordPress specifically designed for this purpose. We will lock a small portion on the body of the blog post. That portion should contain something very hot that our visitors most want to have access to. I'm thinking of something like a discount code, special link to some information, link to download some stuff, some video, etc
Our visitors will then be expected to do some social media action (Tweet, Like, Gplus,etc) to access (unlock) the information.
Now let's see a clean example:
Thanks for clicking the social media button.
Your discount code is: unlock18
Click the "Add to Cart" button on this page. The enter the coupon code in the field "Got a coupon code?" and apply.
You know I just published an ebook to help all bloggers make money with Affiliate Marketing. It's an excellent resource you can get for $27
But for the sake of this demonstration, you are able to get your copy for $9. Use the social buttons above. After sharing or tweeting, the discount code will be unlocked. Go to the sales page here and apply on checkout.
How about that? The hotter the locked content, the more tweets, likes, etc you get. That's it 😉
Using social locker, a top content locker for WordPress!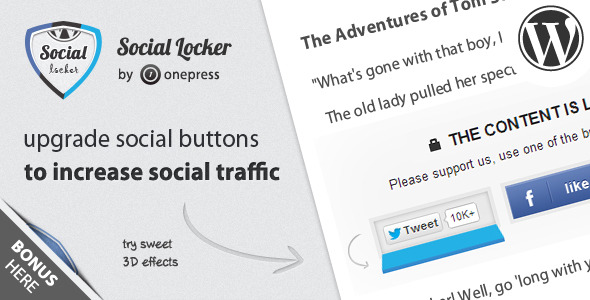 The beauty with this plugin is that it's very flexble. For each social action, you can specify the url and message to go with it. For instance, you set the tweet to be tweeted, the url to be liked, etc.  So social locker is the recommended premium piece you need.
Download Social Locker free trial!
Matthew Woodward uses this same plugin to unlock huge viral traffic to each and every article on his blog.
Each article he publishes has a pdf version. To access and download it, you need to unlock the link by either tweeting, liking, or sharing the post on Google plus or LinkedIn. That's pretty awesome!
The crazy thing is the ease with which to use this plugin. Also included are detailed stats on how much social action each locker gets.
You also have options to set an expiry date, number of days for the locker to reactivate, etc.
Here is the point…
If a visitor uses the locker once to unlock content, the locker remains disabled on that specific post on his browser.  However, from the settings panel, you have several options. You can set the locker to reactivate after X days on specific posts or remain disabled forever once unlocked.
Some people think they are smart
Some visitors will try to view the source code of the page to dig out the locked content. Well, Social locker is wiser. The locked content is as a matter of fact locked. Even the source code does not reveal it. Besides, the locked content is SEO friendly. It's not hidden from SE as part of the blog post.
Have you used this content locker plugin before? Are you using a similar plugin? What's your experience with it?