Creating great content ideas is quite hard without any visual aid. Even with all the research, brainstorming, topics, and keywords, you still need to find a way to piece it together. To do that, you must find the right tool to organize your ideas and work. Say hello to ContextMinds, a digital whiteboard with AI-generated keyword suggestions and more.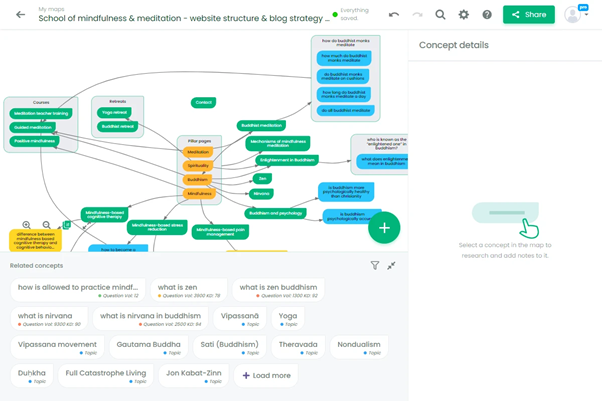 ContextMinds helps you organize, research, and visualize content ideas and keywords with intuitive mind maps.
You can take advantage of endless AI-generated topics, SERP results, academic research, and keyword suggestions.
With this tool, you get a virtual whiteboard that helps you organize content ideas into
With ContextMinds, you can use a virtual whiteboard to organize your content ideas into boards, outlines, and mind maps.
You will get keywords and AI-generated topics in real-time and stats on keyword difficulty and search volume.
You can drag and drop suggestions anywhere on the whiteboard and group them.
The AI research assistant helps you do in-depth research by clicking on any keyword or topic.
With ContextMinds, you will discover SERP results, related academic papers, AI-generated paragraphs, and keyword metrics.
You can add any resources, such as images, mind maps, and videos to pinned notes. This way, you will never lose track of your research.
It has a Saved Notes feature that keeps all your documents, mind maps, and videos organized in your saved notes.
You can also share your mind maps with teammates or clients. So, everyone stays informed on content strategies, site maps, and visual outlines.
Export your map as a PNG, PDF, SVG, or text document so your team can access it anywhere at any time.
You can also share links anyone can open, even those without a ContextMinds account. However, if they want to copy and edit the mind map, they should create a free account.
The power of AI lets you find keywords and topics from any previous maps and access all resources and pinned notes.
All related keyword and topic suggestions are available to your team and in your workspace.
It saves all content ideas so you and your team can always revisit keywords and topics.
Final Words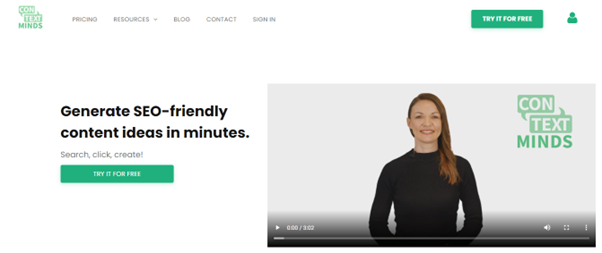 This tool helps you generate SEO-optimized content ideas in just minutes and will keep everything organized in one place.
It lets you share links to your mind map with anyone and saves and learns anything you create.
It is there to help you visually organize content ideas and AI-generated keyword suggestions. You can create visual mind maps for blog or web content with keywords and AI-suggested topics.
ContextMinds is ideal for content creators, bloggers, and marketers and is an alternative to Miro, Frase, and Writer Zen.
It is the perfect visual aid tool for creating great content ideas and piecing all your research, brainstorming, keywords, and topics together. It helps you do in-depth research, saves your work, and strengthens the team bond. ContextMinds and its powerful AI will help you make a successful content strategy each time.