Youzign is an easy-to-use online graphic editor and web based platform to easily design and create all kind of graphics.
It's a revolutionary online graphics software that allows you to create amazing Facebook Covers, Video Graphics, Flyers, Infographics, Business Cards, Youtube Channel Art, Banners, Headers, etc.
Whatever design business you are into, this online design tool has you covered. It's online so you don't have to download and install anything. Online means you can access your graphics anywhere anytime.
It has no monthly charges so you can build a complete flourishing business on it. I'll discuss this in more details below.
If you are blogger, this tool makes things quite easy for you. You are able to create stunning designs from over 720,000 free images and 100s of templates.
For WordPress bloggers, all you have to do is install the plugin and access your designs and images from within your dashboard.
-> Checkout Youzign now
Online Graphic Editor ~ Video presentation
Here is a video presentation that takes you through the fascinating features and uses of this platform
Youzign is also a wonderful online photo editor with tools to add text and beautiful transparent graphics to your pictures.  Besides using it to design graphics for my blog and social media, it's been my favorite online picture editor.
The online graphics tool for everyone
Since Youzign allows you set custom sizes for your own designs, you can virtually design anything. This include but is not limited to:
Web banners (rectangle, leaderboards, etc)
Sales pages for your website or forums.
Buttons, call-to-actions, guarantee boxes.
Postcard and invite cards.
Website and application mockups.
eBook cover designs
Infographics
Video graphics such as lower-thirds
Facebook covers, Twitter covers and Youtube channel arts
Etc. With Youzign the sky is truly the limit.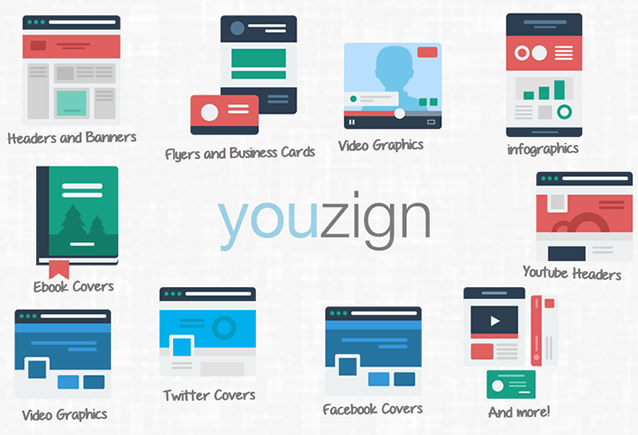 How flexible is Youzign?
Youzign is a complete graphics design platform with all the tools you need to create stunning graphics for your online or offline projects. Before we watch another video where Bertrand walks us through the platform, here are a few points about its features;
Pixabay and IconFinder integration. 750,000+ free images right at your fingertips.

You can save your graphics with transparent backgrounds
Use your own (desktop/system) fonts or Youzign's preloaded huge source of open source fonts.
Auto-save feature.
Unlimited undo history.
Keyboard shortcuts, move to front, move to back, center, flip and lock layers, duplicate and opacity control and more.
Simply click, drag, drop, edit and see your changes in real time.
Upload your own images.
Instant Image Cropping with rotation or different shapes.
Customize graphics instantly. Easily edit the colors of any of the built-in graphics.
Instant Background Removal and built-in background patterns.
Filter effects such as black and white, vignette, polaroid sepia and more.
Etc
Now, here is the video walk-through by Bertrand

With this online graphics editing tool, create awesome designs in 3 simple steps;

My experience with Youzign online graphics tool!
It's amazing how easy it is to find images, tweak them for use anywhere. Here is just a bit how I created my Facebook cover;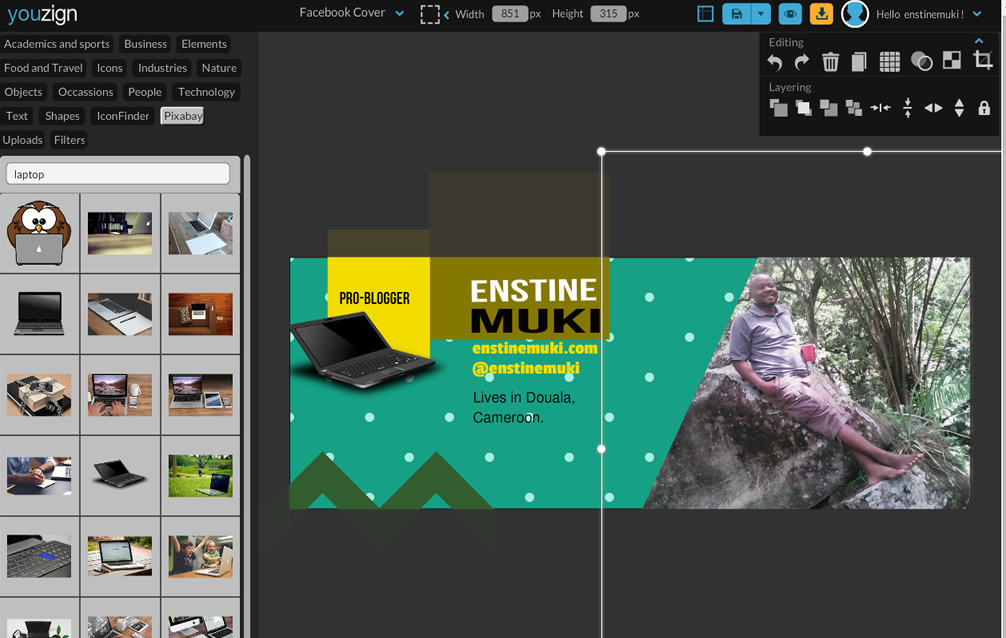 As I write this post, this is my current Facebook cover. It was fun creating it using this online tool. You noticed how easily I found unlimited images from Pixable. Just by keying in "laptop", I was presented with stunning graphics with transparent background. All I had left was drag and drop where ever I wanted.
You also noticed I uploaded my own picture from my desktop. This is cool isn't it? Yes, that's me having fun, surrounded by nature.
I also did my Twitter Cover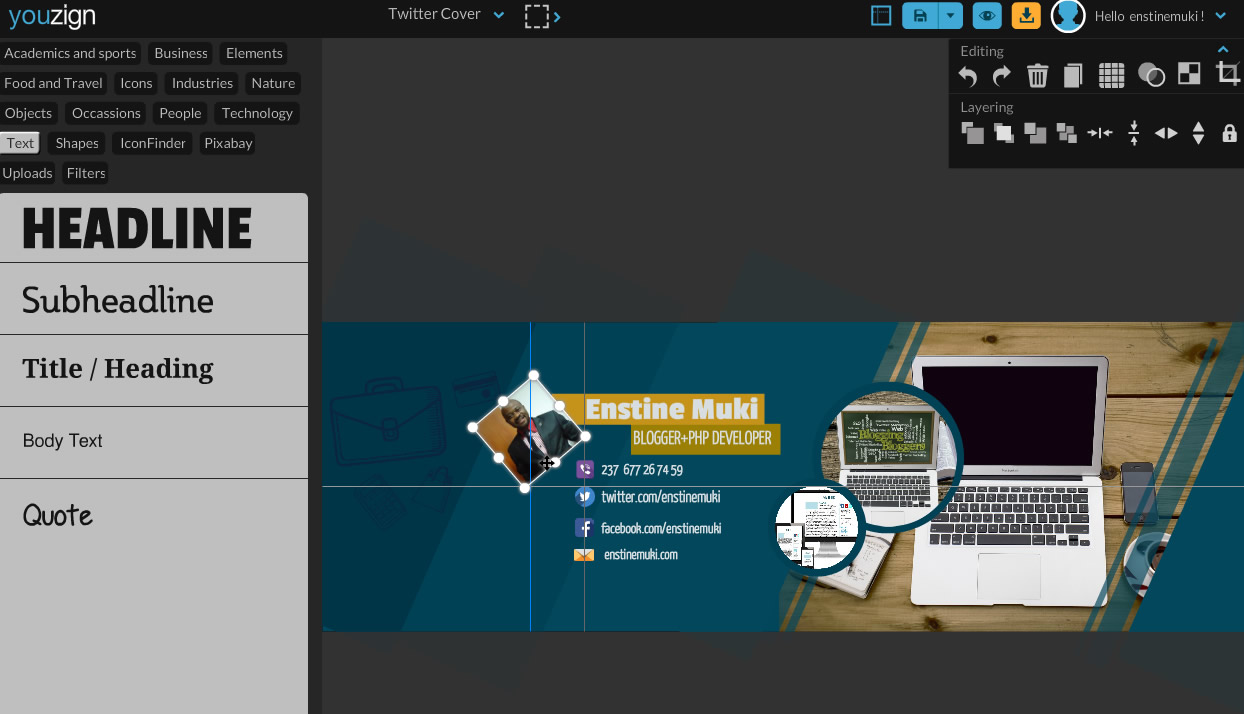 The beauty about this online graphics design tool is the simplicity. You don't need any photoshop skills. All you have to do is drag and drop objects. With a little bit of creativity, you are able to come up with exceptional designs for your projects.
Creating professional logos with this tool is as well simple. But you may choose to hire logo designers and get your job done quick by professional designers.
Creating your own business and making money with Youzign
There are two ways to make money with Youzign;
The first and quick way is to promote it as an affiliate. Now guys, this is crazy. The conversion is amazing so you won't waste any more time to start promoting this app.

19.41% conversion rate is exciting. There are  two things to do now to start earning commissions;
Click here and purchase your own copy. This is not a requirement but I think it will help you in promotion. Your conversion will be higher if you promote from a practical experience.
Click here to sign up as affiliate on JVZoo. It's absolutely free and you get up to 50% on sales.
How to promote as affiliate!
There are many ways you can promote this high converting product and make consistent sales. One of these is to create review posts. You can also drop banners on your blog and share your affiliate link with friends. Affiliate marketing is a profitable business. You are able to earn 6 figure income just by promoting others products and earning commission. Check out this post for more on Affiliate Marketing free training.
Secondly, you can use this graphics tool to create and sell designs. Here is an opportunity to create a thriving online business without buying complex software or spending huge sums on office equipment. All you need is one time purchase and investment of less than $100 and you are good to go.
Where can you sell your products and how do you get customers?
It's easy. Sign up to Fiverr for free and you'll soon start getting orders. Check out this picture how graphic design business is booming on Fiverr;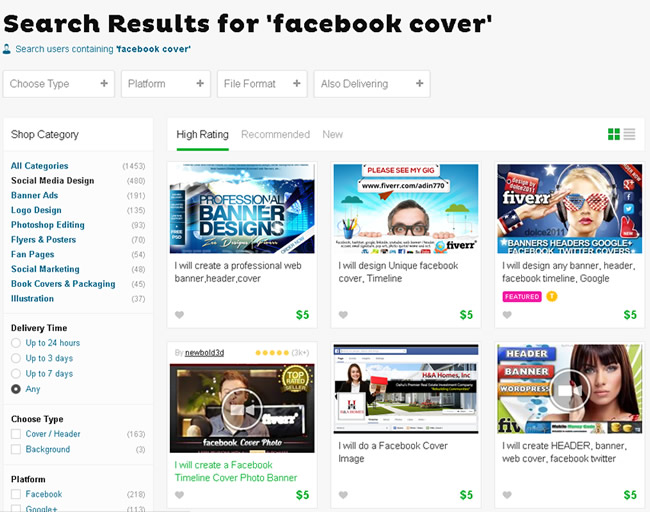 What about having tens of orders per day? You can make a huge earning by creating and selling Facebook covers, book covers, Twitter covers and backgrounds, etc. To boost your interest, see this image;

This guy has 3100+ reviews and 51 orders in Queue. As I write this post, more orders are coming in. All you need is a software to create these designs in minutes. Youzign is the online graphic editor you need to start your business.
Click here for more.
Let me know what you think about Youzign. What other tools are you using to design your graphics? Share your points in the comment box below.