In today's difficult SEO, one of the the seo tools you need is a reliable backlink checker. What this will do is keep an eye on your backlinks and send you an alert whenever there is a change.  This is one of the best ways to avoid the next Google penalty distributions.
MonitorBacnklings.com is a tool I have been using for the past couple of months and because of its results, I have decided to talk about it in this review post.
This seo online tool has a couple of facilities but in this post, I will be dwelling more on its backlink checker and monitor.
3 ways this Backlink Checker and Monitor is useful!
It checks every day for new links pointing to your website and lets you know as soon as that happens. An e-mail will be sent to you with a link to that article so you can thank the blogger or ask for feedback from his readers.
You know how much efforts you put in creating valuable links pointing to your site. Some of these links you got through expensive guest blogging activities. What if one of these sites you link from removes your valuable link after just a short period of time?  Monitor Backlinks will let you know almost instantly!
Do you want to keep an eye on your competitors' link activities?  They are constantly spending valuable time and resources to find new websites that will link to them. This backlink checker will monitor their activitis and send you an e-mail every time they get new backlinks.
NB: If you decide to upgrade to Pro account for more benefits, use this unique discount code to save up to 50% : OFF50NHT9WYWU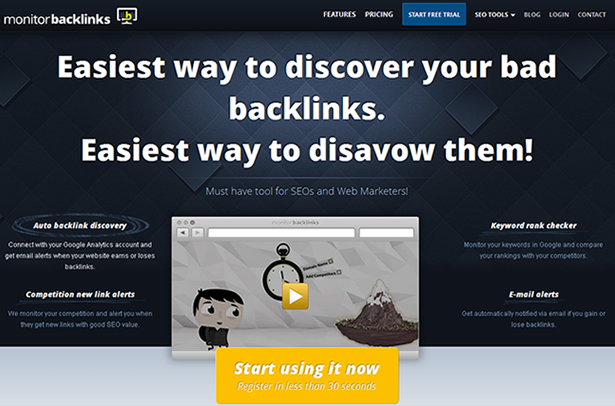 3 steps to get started with MonitorBacklinks.
Getting started with this tool is incredibly easy. Just follow these 3 steps;
Step 1 : Go to this link and create a free trial account. This will take you to your dashboard.
Step 2 : Add links or domains – you have 3 options;
Add links manually.
connect your Google Analytics.
Import links from file.
Step #3: If you choose to sync your dashboard with Google Analytics (recommended), you will be prompted to add in your competition.
NB: Once you add your links or domains to the tool, it could take up to 24 hours before you see results.
What do you get on a typical report?
I thought I should let you know some key elements that feature on a typical backlink report. These are;
Link status – nofollow or dofollow.
Google index status (Whether the link is indexed by Google or not)
The page where you get the link.
The page that the page points to (on your blog).
Link Anchor Text.
PR of the domain where the link is located.
The country and IP where the site is hosted.
Etc
Let's watch this video

Some other MonitorBacklinks.com facilities
Free backlink checker: this helps you get an overview of any website backlinks.
Redirect checker: See if your page redirect and where it redirects too. This will also tell you if it's good for SEO or not.
Unique domains: If you use Google Webmaster Tools and export your backlinks or other 3rd party tools like Ahrefs, Majestic SEO or Moz, you may need to just get the total number of unique domains or a list of only 1 link / domain.This is where this tool comes in handy. Just upload the list of URLs and you will get the total list of domains, list of 1 link / domain or even remove duplicates.
That's it! Now, you are able to know the backlinks changes that affect your blog on daily basis. Just go grab the free 30 day trail to discover the tool in greater details.
I'd also like to hear from you if you are using this tool already. Leave your feedback in comment box.