NB: I just added the 10th post idea below. So keep reading

Not every blog post on your blog has the money making capacity. I know you can scatter banners and Adsense on every article and stand a chance of making some small money.
There are however some posts that are carefully crafted with the objective of making money. So if you want to make real money from your blog, here below are some ideas to help transform it to a money making tool.
As a money making blogger, I have experienced these post ideas. I have made money with them so that's why I want to share with you the ideas and how you too can generate real income from your blog.
These ideas will work for you no matter your niche
It doesn't matter in which niche you are. Every blog can make money. I have had questions from readers who have not been able to generate some income from their blogs. Most of them blame it on their niche but after talking with me, they are beginning to see results. I will share with you some screen shots below.
Here is the point!
There is absolutely nothing that can stop your blog from making enough money. As a matter of fact, your only stoppage is you. Your blog is ready with all it has to generate the income but you have been standing on its way with the wrong mindset.
You think you can't do it because some folks told you "it's hard". FYI, there is nothing easy. Even while eating your best meal, you have to be careful.
Show some love and save this on Pinterest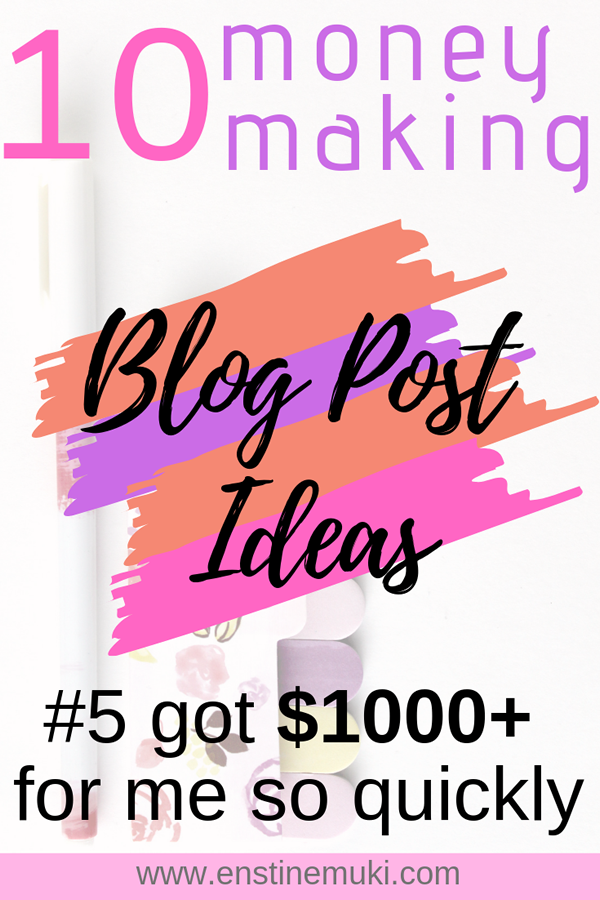 Before you even start to make money …
The money you need from your blog comes from real people like you who read your blog. There is never a magic button to generate income. You must get readers to cause actions that finalize payments.
What I mean is traffic. Period!
No readers, no money!
There are only 3 things you must focus on as a blogger. Without these, you are as good as not having a blog. Everything else turns within these 3 things;
Developing the right Content.
Building your community.
Driving targeted traffic.
Once you have these 3 put together, you will be able to apply some monetizing techniques and see results.
10 money making blog post ideas to generate income from your blog!
Now you have some traffic and you want to be able to monetize your blog like a pro. You are tired of some $10/month from Adsense.  You want to be able to count 4, 5 or 6 figures. Follow these 3 ideas closely. Practice them and see how you make the money.
So here are our  money making blog post ideas
1 – Problem solving blog post!
This money making post idea is capable of generating income for you over and over again, for a long period of time. For the most part, it's always hard to come up with such content, so utilizing a tool like Frase to help you guide your content to be answer-focused and SEO-friendly is always a good idea.
What you have to do here is to identify a problem and provide a solution in 2 different ways;
Show your readers how they can salvage the situation themselves.
Propose a paid solution.
It's actually not that hard. Let's see this example;
If you identify a certain computer virus that's damaging Windows 7 for instance, you can write on how to manually remove the virus and keep your PC safe.
Whatever procedure you propose will be good for a fraction of your readers. Most will still not want to mess around their system registry. So any offer to click and get rid of that viral infection will be jumped on. So this is where you make the money -> Affiliate Marketing
Your post should generally be on how to manually remove the virus. Then look for an app that will kill the virus with simple clicks of the mouse. Describe how it works and link to it through your affiliate link.
If this is well packaged, you shouldn't be far from 3 – 5% conversion rate. How about that?
2 – Sponsored Blog posts!
In sponsored blog posts, you get paid (cash or items) to publish an article on your blog, written by you or by the advertisers.
I have made thousands of dollars with sponsored posts in recent times. While this post idea can really generate instant earnings for you, it's not the best path for long term earnings. You get paid just once while the advertiser enjoys the long term SEO and traffic benefits.
Each time I look into my GWT account, I see reasonable flow of traffic from Google to sponsored articles. Such keywords as "productname review" keep driving traffic to those review posts.
Of course, a huge portion of the traffic ends up on the advertisers product page. That's actually want they want. That's the reason they pay you to publish that post:
They get instant traffic from your community as soon as you publish the post.
They promote their brands in your marketplace.
Then in the long run, they start getting more targeted traffic from Search Engines through the post on your blog.
If you are good at this, some advertisers will keep coming back to you. They know it when your blog keeps sending traffic to their pages.
If they get that much traffic from you in a long run, watch as they come back to pay you again for another review and the best part of it is that you can always charge higher when they come back. Yes! If  your traffic has increased, the value of your blog too has changed 😉
Is it difficult to get these advertisers?
I know it's not easy to find advertisers. That doesn't mean it's impossible. Sometimes, you go out contacting clients and no one is responding to your mails.
One of the reasons is that you and your blog are not ready.  You have not done any reviews before. You have no experience and they can quickly know that. They have actually visited your blog but didn't find any product review article.
You have to start training yourself to be able to write awesome product review posts. The more you write, the more you get contacted to write and the more you make the money.
How do I train myself Enstine?
I knew you were to ask that question. It's so simple! start by doing the next blog post idea – review affiliate products 😉
NB: I have helped many start making money from their blogs. If I do it, you too can. Be encouraged and launch into the deep;

3 – Affiliate Product review Blog Post
This is the hottest way to arm your blog and make it a real money making machine. It's the best method for long term recurring earnings.
Now, if you find a product that's useful and you think your readers will love it, check if there is an affiliate program for that product. If there is any, write an unbiased review and link to it with your affiliate link.
Don't just do a feature-based review. It's good to highlight the features of any product but a better approach is to show your readers how the product can help solve the problems.
A product may have 20 features but fail to be as useful as another competitive product with just 5 features. If you have used the product before, show how it helped you.
You may want to start by reviewing the tools you use on your blog.  Show how these helping your blog grow. That will boost your conversions.
— > See the tools I use here
For long run traffic, don't neglect SEO. Do your keyword research and work a bit harder to take your review posts to Google page 1. That's how to make sure you get the kind of traffic that converts in the long run.
The best to focus on are products that pay recurring commissions. That means you get paid over and over again per sale you generate once.
If you get paid $33 commission per sale and you make 10+ sales, that's $330 per month from just one product. If you do SEO friendly reviews for many more products, you'll be able to make more money. That's how the bigs guys make huge money online daily.
Do you want to even boost conversion, make more sales and more commissions? Just get to the product owner and ask for a custom discount code for your readers. That's a powerful tip to boost sales.
4 – Product comparison blog post!
Did you ever think of this?
Compare more competitive products and link to them with your affiliate link.
Here is the point… people want to buy the best. For instance, they want the best Webhosting company. They have heard of iPage, Hostgator, BlueHost, WPX Hosting, etc. Can you help them see the differences between these companies?
To write a successful comparison blog post;
You must know what clients want.
You must know the different features of the different products compared.
You must know the extent to which these features meet the demand of the clients
Show their weaknesses and strong points.
Share some experiences others have had with each product.
Price is a factor but it's worthless to buy cheap and not get the value we want.
Etc
Bringing out these details will help your readers in making the right choice. Of course, as they buy through your affiliate links, you make commissions.
5 – Product alternatives blog post!
This is one of the powerful money making blog post ideas that can really help you make instant money.
While in point #4 above you are comparing different products, in this case, you are listing alternatives to a popular product.
This can be very useful if a company folds up. Its clients generally will get frustrated and start looking for an alternative. This is where you come in and offer something that has value.
There are 3 ways to make money with this blog post idea;
Link to those alternatives with your affiliate links.
Get those alternatives to pay you directly to be listed on the blog post with others.
Sell banner space on this blog post.  Besides being listed as an alternative, some companies will be interested in placing a banner on the 'alternatives' blog post. (This will also work for Comparison blog post above).
I had experience with this blog post idea generated over $1000 for me when WebMeUp got closed. I created this alternatives post initially with few alternatives.  The article got to Google page 1, position 1 for the keyword 'WebMeUp Alternative'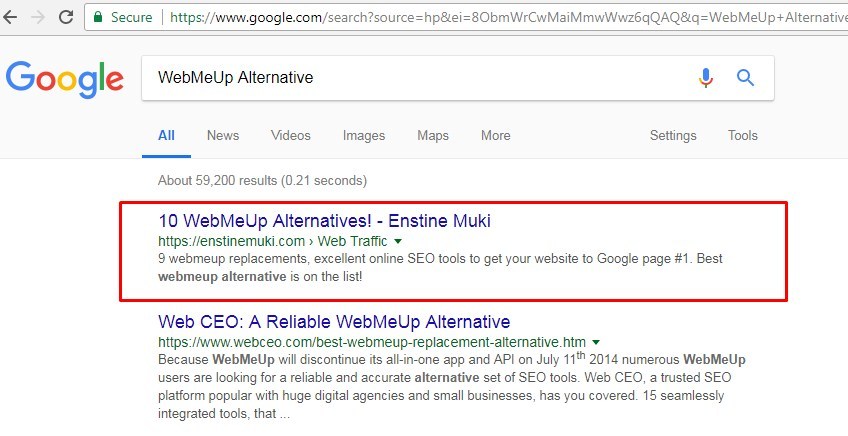 This of course brought in very targeted traffic, attracting the attention of alternative SEO tools owners. Most of them ended up paying to be on the list and to be reviewed separately.
6 – 'My Tools' Blog post!
I have seen this on a couple of blogs and this is helping the bloggers make some additional money. All you simply have to do is create a blog post or page listing the different tools you use on your blog.
Show your readers how these tools are useful to you. Link to them with your affiliate link.
To boost sales, ask for unique discount for your readers. This has always worked with very positive results.
7 – Product launch blog post idea!
This is another crazy post idea that can pump money to your account so quick. Though this is similar to affiliate product review post idea above, I want to consider it a different strategy.
Product owners are creating and launching new products daily. Bloggers are also in the business of creating products. You have to learn to take advantage of new product launches, announce them on your blog as early as possible.
While this can quickly generate sales, it has some SEO advantage. Your content gets listed among the first (while competition is low) and this gives you a greater chance to pull traffic from search engines. Of course, you should link to these product page using your affiliate links
8 – Top X products in the industry!
Now this is similar to comparison post idea above but with some differences. In the comparison post, you compare products, pointing out their differences, showing how one is more useful and how the other is a waste or a bucket of gold. You highlight the weak and strong points of different products, helping your readers to make the most appropriate choice.
The Top X products post type may not require you looking into some details or differences between different products. You may just want to list the products you think are the best in some industries, giving out some details of course. Something like this;
Top 5 SEO tools to consider in 2018…
Top 8 WordPress Hosting Companies…
Top 10 WordPress Training Courses…
Top 7 responsive and Mobile friendly WordPress Themes…
5 exceptional tools to manage your ….
Etc
It's simple to make money with this blog post idea. Just link to the listed products using your affiliate links.
9 – Coupon or discount code blog post idea
Coupon Codes blog posts are common these days. What happens is this:
You signup to an affiliate program.
Strike a deal with the product author for a unique coupon code.
Do a blog post on how to apply the code and buy cheaper.
Some of  these affiliate marketing platforms get the discount codes tagged to your affiliate account. That means you don't need both your affiliate link and the code to earn the commissions. Once any buyer uses your unique code, you get the commission irrespective of the affiliate link used.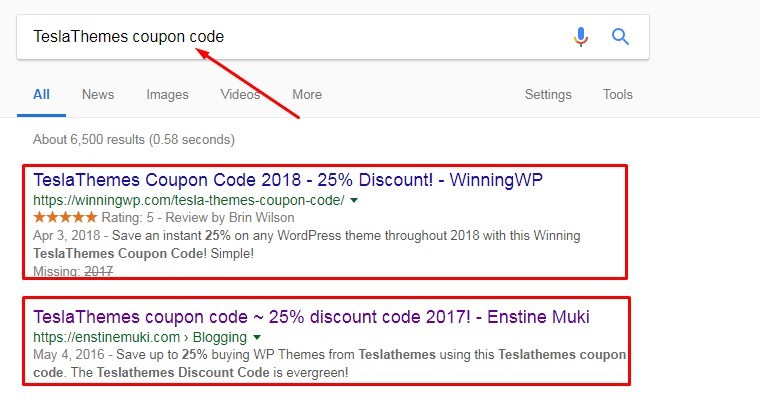 Many online buyers these days search for product discount codes before validating their orders. This is because most shopping carts provide that facility and this helps buyers save some money. Taking advantage of this can help you make some real money.
10 – Negative Reviews
Something many bloggers don't really know is negative marketing. It's simply about telling your readers "this product isn't that good. Here is a better option"
But it has to go with doing a lot of research to help your readers make a better choice based on the satisfaction and fulfillment they get from buying the recommended products.
I have written a dedicated post on 2 ways to make money with egative reviews here so please check it out
I know there are many other money making blog post ideas we can think of. However, you probably should try any of these if you want additional money making capacity added to your blog.
Blogging is my full time job
Now, I just shared with you some of the article types I create to money from home. As a matter of fact, there are several other ways you can earn extra money online working from home. But blogging gives you a larger surface. As a blogger, you can make money taking surveys or even freelance writing.
If blogging isn't going, there are many other ways to make money online. But for anyone who wants to know how to make money blogging, I would recommend to get into blogging for money.
As a matter of fact, people blog for different reasons. But if you want make money from blogging, I mean a real income, you have to focus on it and grow its money making capacity.
How do I get paid as a blogger?
The ways I get paid depends on monetizing model. Generally, many pay via Paypal. But for bloggers in areas where Paypal isn't covering, other options like Payoneer, Bank Transfers, Western Union, checks, etc.
This happens to be one of the biggest drawbacks many bloggers from African countries face. Beside the Paypal limitations, some blogging platforms don't allow access from these countries due to uncontrolled levels of fraud and financial insecurity.
Ways to make money fast
There are many ways to make quick cash online but blogging isn't one of them. You have to give yourself time to build a steady community. Grow your blog traffic and your earnings will increase with time.
Many other methods to make money fast are short-lived and can only generate cents. But if you want to earn a steady income online, you should not give your attention and resources to anything that promises to help you make quick money online.
It will only end up burning your time and other resources, leaving you frustrated, disappointed, angry and broke.
There we go.
So leave your comment and let me know what you think about these blog post ideas – Which of them are you using to make money from your blog.
Also give the post a lift by sharing it on social media.
Save on Pinterest for later: