Sometimes you meet a person who simply stops you in your tracks.
This is what happened when I met Lorraine Reguly.
The more I learned about her, the more awed by her I was!
I was impressed with her many abilities,floored when I read about some of the things she has to overcome in her life, and totally stunned at the amount of success she has experienced in less than three years online.
I thought, "This is definitely someone who I'd love to have in MY corner!"
Naturally, I wanted to feature her on my site so that YOU could meet her, too, as she has a LOT to offer, both personally and professionally and before we get into her details, check out the awesome bloggers I have featured in the past here.
So who the $@%* is Lorraine Reguly?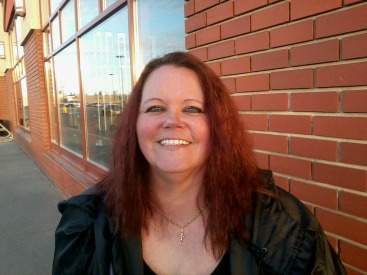 In a nutshell, Lorraine is a writer, an editor, an author, and an entrepreneur.
She runs Wording Well (a business she founded), and is one of the most helpful and inspiring people I've ever met. Not only does she help others by offering freelance writing and editing services, she helps others create ebooks they can sell. She even helps turn them into print books!
In addition, she offers both personal and professional coaching, mentoring, and consulting services.
To top it all off, she's constantly providing a ton of value to others for free on her blog.
But that's not all…
What are some of Lorraine's accomplishments?
Professional
On a professional level, Lorraine is a certified English teacher-turned-freelancer who has written for top blogs (such as Problogger, Make a Living Writing, Mad Lemmings, and Kikolani, to name a few).
She has written many articles that have hit the #1 spot in Google Search.
(Seriously. Her top three are about suicide, false teeth, and a letter to her son. Wherever you are, try Googling these topics, and you'll see articles from Wording Well show up, as Wording Well used to be called Lorraine Reguly's Life before she moved and switched her blog!)
She's received medals, certificates, and awards.
She's been featured in many expert round-ups across the web.
And she's helped a lot of people… many of them for free!
Personal
On a personal level, Lorraine has endured many hardships. She was raped when she was a virgin, then subsequently got involved with drugs and prostitution. She's also a single mother who was in a major accident that nearly cost her a leg, she nearly died when her appendix burst, and she was shunned by society (including her only son) for some of the things she did.
But she survived.
And got her life back on track.
She started blogging in 2013. She began using social media then, too.
Since then, she's accomplished more online than anyone else I know.
She learned about self-publishing. Then she published an ebook, Risky Issues. Then she made it available in print.
Then she helped a blind man publish one, too (Leading You Out of the Darkness Into the Light: A Blind Man's Inspirational Guide to Success).
Lorraine contributed to two anthologies and won the only writing contest she ever entered.
She also grew, as both a person, and as a blogger.
She even re-connected with her son, and is currently writing a book for him, Letters to Julian. She has published one letter already.
She's also writing a book to help those who have suicidal thoughts, as she once tried committing suicide herself.
Her published books are now in her local library. They are also being sold in a bookstore in the city in which she lives.
What Can Lorraine Do FOR YOU?
Lorraine answers questions about blogging, writing, and freelancing via her blog posts on Wording Well. She is in tune with her audience and genuinely cares about them, to the point where she even asks for their input!
Lorraine is sort of a "Jack (or Jill) of all trades" and so can be hired to perform any or all of the four different services she offers.
Wording Well offers four services that can help you and YOUR business thrive:
Writing (including crafting sharable, web-optimized blog posts for your website)
Editing (Lorraine ensures your words and works are comprehensively composed and proofread to perfection!)
Coaching/Consulting (personal and professional)
Assisting you with self-publishing (Lorraine can help you become an "official" author and earn passive income though ebook and/or print book sales!)
Depending on your needs, Lorraine Reguly can really do a lot for you!
Lorraine is one of the nicest, smartest, and talented people I've met, and I know that you'd benefit from knowing her, too. Please drop by Wording Well and/or Laying It Out There, and get to know Lorraine.
You won't regret it!
As thanks for visiting her sites, Lorraine will give you one or two free ebooks (one from each site, depending on your interests).
Grab your copy of 20 Blog Post Must-Haves.
Grab your copy of 10 Stimulating Story Starts (and a bonus short story).
So be sure to pop by and visit her. Tell her I sent you, too. 😉
And if you have any questions or comments for her right now, please voice them in the comment section. She will be by at some point to reply to everyone!