I took a break but I' back!
Every Thursday, I talk about someone here (I mean on this blog). For the past couple of weeks, I went on a short break. But my Thursday series will never completely die out. The simple reason is that there are lots of awesome bloggers out there and I'll keep talking to you about them.
These are not just people picked under a bridge. They are wonderful boys and girls you should connect with. My excitement is the fact that they are my friends. I know you can gain something hanging out with them.
But why am I running this series on my blog?
Blogging is awesome and I keep meeting new people everyday. That's the success point of the activity. The more savvy bloggers you connect with, the more your chances to grow your business. So I want you to also meet these leaders so together we can build a thriving community of successful bloggers.
The second reason I do this is to promote my friends. I know by featuring them on my blog, I strengthen our relationship, give them more exposure and a chance to acquire more clients.
Listen guys…
If there is anything I can do to help you get to the top of the ladder, I will do it even at midnight and my wife won't complain.
In the past, I have featured tens of extra-ordinary bloggers. Check them out here. Let's meet the guy of this week.
Meet John Vanderlaan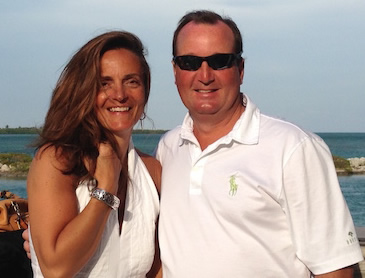 John lives in Connecticut USA with his beautiful wife Maria and 3 children. He enjoys traveling with his family and spends part of the summer in Cape Cod and part of the winter in the fabulous Florida Keys.

He also enjoys playing golf with his two sons, both of which are highly ranked amateurs playing collegiate golf at Florida Southern College.

Success in Offline Business

At 50 years old, John has the distinction of never having worked for anyone but himself and has been very successful in a number of businesses, both online and offline.

Just out of high school, he started his own Mobile catering business, following in his father's footsteps. He would eventually take over his father's business and go on to grow that into a multi million dollar company.
He then had an opportunity to purchase a very small bottled water business and he knew that this industry was poised for growth. After buying the bottled water business, he focused on growing that business and was able to double sales every year.

It was during this time that his first son was born and the toll of running two businesses was beginning to show. He remembers leaving his house every day at 4am and returning each night, sometimes as late as 10pm, not seeing his son for days at a time.

He arrived home late one night and went into his son's nursery and just stood there looking at him asleep in his crib. It was that night that he realized that something needed to change, or he was not going to see his little boy grow up.

He put a plan into action to extract himself from both businesses and used some of the money to invest in real estate. He was very successful in this venture, but he still wanted more time with his family.

Success in Online Business

In 2007 John started his first website with SBI. It was a big learning curve, but he was motivated to make it work. He taught himself html and rapidly progressed to build a second niche site around another one of his passions.

He made a typical beginner mistake and did not have a good plan for monetization of these sites. He settled on Google Adsense and quickly began making $100 – $200 per month. It wasn't bad, but not exactly what he was trying to do.

John learned from his mistake and began to learn everything that he could about affiliate marketing.

He started building niche sites and making money with the Amazon affiliate program.

After building a number of successful niche sites, he decided that he wanted to help others learn to do what he was successful at.

He knew that to be successful in the "make money online" niche he was going to have to identify a problem that his prospective readers face and offer them a solution.

As someone that had spent years in this niche, the biggest problem that he faced was avoiding all of the scams online.

When he began online, it seemed like there was another scam artist around every corner.

So he decided that he would focus on helping beginners to find legitimate ways to make money online and avoid spending their hard earned money on scams and the "next shiny object".

John has been very successful and now has a loyal following of students that he has helped.

His top recommendation for his readers interested in making money online is Wealthy Affiliate and he prides himself on the fact that he has not had one unsatisfied student.

Conclusion

John has a passion for making money online and sharing his knowledge with others. He loves working from home and can't wait to get up in the morning to start another profitable day!

He also loves to get social!

Connect with John:

Interact with John here
Drop him a comment. He will be here to respond. Share this post on social media. Let's show him some luv.