Recently, I was introduced to a training platform called Joballo.
I took a closer look, visited the office site here in Douala to find out more.
The reason of my action was to find out if this is another training platform like many others we have out there or there is something unique.
Plus, they claim every student on their platform benefit from free funding running up to 1000,000 FCFA. This is something near $2000 and you agree with me it's not chicken change.
In this post, I want to quickly share with you what I think about Joballo Academy, their training courses and the famous 1000,000 free funding promise.
[thrive_link color='blue' link='https://enstinemuki.com/joballo' target='_blank' size='medium' align='aligncenter']Create A Joballo Account[/thrive_link]
Joballo Digital Academy Scam or Legit & 1000,000 Funding
Now, there are five main points I want to point out about Joballo. We are going together to reason out based on these points of this is something you should try out. These are:
The team
The courses offered
The 1000,000 funding claims
Joballo Affiliate Program
The business registration and administrative approval
1 – The team
I have said a couple of times that what makes the success of any business is the people on board. Joballo happens to be the brain child of some young Cameroonians I have known and met on several occasions: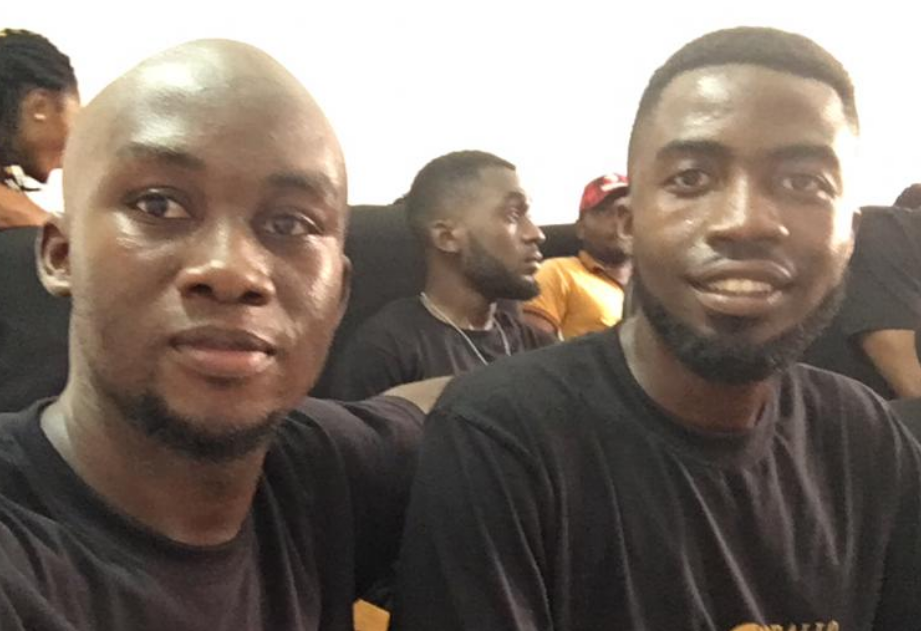 These guys are successful online entrepreneurs who have at one point benefited from my coaching and guide. I have personally collaborated with them on some projects and have had the chance to view some of their Google Adsense accounts with real earnings.
They have success stories in Blogging, Freelancing and Forex, which are the three main courses on the Joballo course board.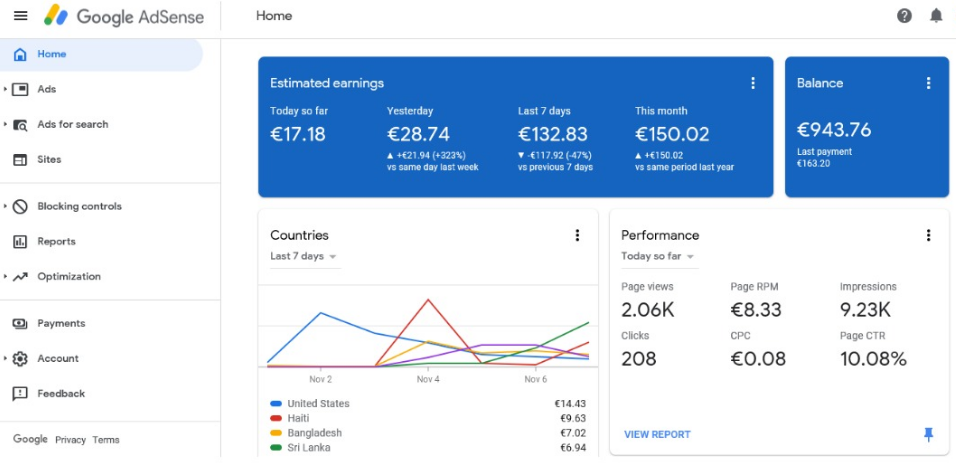 2 – The courses on Joballo board
At the moment, the platform is going public with three main courses meant to create professional and self-employed online entrepreneurs.
These three on-demand video courses include:
Blogging Mastermind (French and English)
Forex Mastermind (French and English)
Freelancing Mastermind (French and English)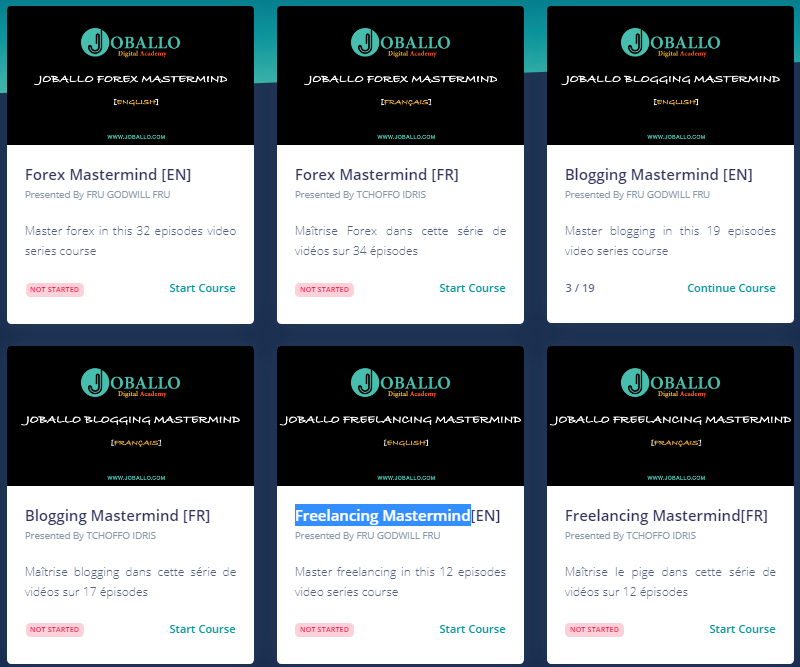 Once a student signs up, the courses are all available for you at your convenience. What you get at the end of the training is not skills to become a good job seeker. The courses are actually oriented to build you up to become self-employed.
Speaking with the founders, Joballo is a full-blown video training platform in the making, available for course creators worldwide to submit their products and benefit from the wide exposure of the market.
Knowing how Google and Facebook kicked off, this may grow up to becoming an industry giant from Cameroon.
3 – 1000,000 FCFA free Funding
This is the platform's value proposition and something that may attract students who may not be interested in the courses.
The reason is that the funds are made available to everyone on the platform, irrespective of whether or not you take the courses. I did a quick Joballo video here you may want to check out.
The funds are paid in tens of thousands, gradually until it hits the 1000,000 mark. Withdrawal is possible (Mobile Money, Orange Money, Bank Transfer and Bitcoin)  as soon as your account receives the funds. You don't have to wait till you hit the target amount. It's up to you to accumulate your funds.
Why is this exciting?
Many training platforms out there give you the knowledge and then throw you out into the job market. Some empower you with business creation skills but there is one big factor that's missing: Funds
Let's take the blogging course for instance. If you take this course, at the end of it, you'll need funds for:
Domain name registration
Web hosting
Premium themes
Premium plugins
Etc
Many students do find it hard to raise funds to setup their digital agencies. That's where Joballo's 1000,000 FCFA non-refundable funds come in.
The idea is to training students and provide funds for them to be able to effortlessly create their own businesses.
Remember you do not have to wait till the end of your course to get the funds. The full amount is paid in bits over the course of time. As you study, each time you receive an amount from the 1 million pool, you are able to withdraw and invest.
Where does the 1000,000 FCFA come from?
This question will definitely popup at some point. I was curious as well. But I soon understood where this comes from.
The company is generous. They put back up to 50% of the course fees to the hands of their students in two ways:
The 1 million pool
Affiliate platform (see more below)
Their algorithm is designed to split signups into different target groups. Each time a target group fills up, a split will take place and everyone in the system will be rewarded with 10,000 each. As a student, you keep receiving multiples of 10,000 upward to 1000,000 XAF.
Here is an account that has received 20,000 XAF from two splits: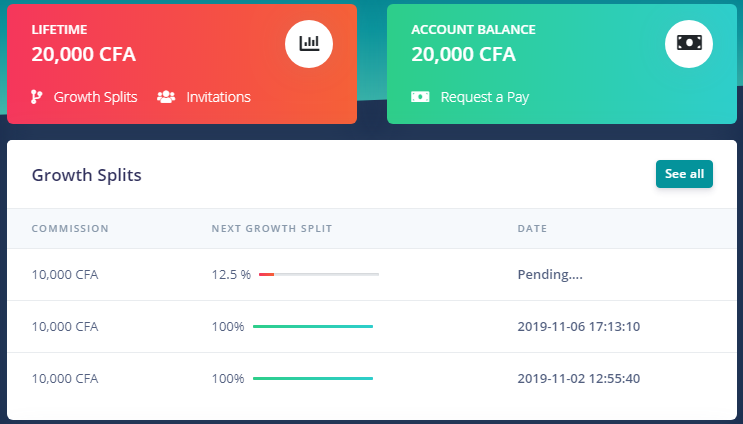 Note that everyone on the platform is part of the funding exercise. You don't need to refer or bring people on board to be funded. While the company spends on advertisement and while affiliates pull in sales, you all benefits from the company's revenue.
4 – Joballo's affiliate program
Affiliate Marketing is a massive way to make money online. Companies have understood this strategies is most effective and long-term driven.
Joballo is not left out. They have an affiliate marketing program that's yet to be developed. While the tool box is empty at the moment I'm writing (No banners, no swipe copies, etc), it pays up to 20,000 FCFA per signup.
What that means is if you signup as a students and bring in 3 other students, you are paid back your 60,000 which is the cost of the whole thing.
Both the courses and the 1 million pool are strong sales points. I was able to signup more than 10 students with 3 paid confirmations within 24 hours. That was like quick return of 100% on my investment:

5 – Is Joballo a legal business?
Legal recognition is very important for any business that wants to succeed in today's government driven societies.
One of the things I wanted to find out from the Joballo guys if they have a legal backing. Of course I was presented with official and authentic documents, proving the company was registered according to Cameroon's commercial law requirement.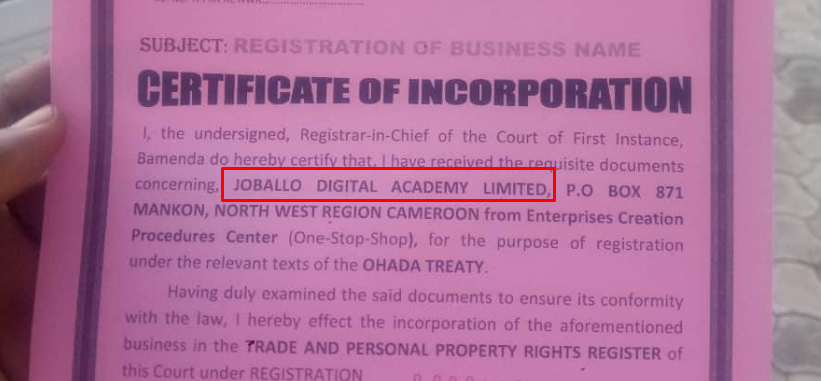 With offices located at Ndogbong in Douala, Littoral Region of Cameroon, Joballo stands as a solid alternative to most of the digital training centers in the space. However, they only offer on demand online training.
My take on Joballo Digital Academy
I'm very positive about this concept all together. However, a couple of points to note:
The affiliate Marketing option is only available to paid students. While this is awesome as it allows the students to raise more funds while helping the company go viral, they may at some point consider free accounts. This may not be a strong point though.
The 1 million funding pool absolutely depends on the growth of the platform as company depends on revenue to fund her students. The more new signups they have, the more everyone is funded. The reverse is simply true.
[thrive_link color='blue' link='https://enstinemuki.com/joballo' target='_blank' size='medium' align='aligncenter']Create A Joballo Account[/thrive_link]
I'd like to know what you think.