35
How to create visually animated and sticky blog posts!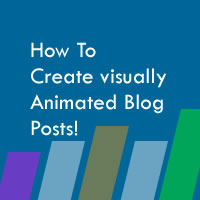 In today's post, I want to answer a question many of my readers have kept asking me. As a matter of fact, I promised I was going to write this post to give you more details how I'm able to animate visuals on my blog posts
We will see exactly how I animate images and other visuals, making my blog posts attractive to read. The effect of these animated objects on my blog has been a remarkable increase in average time on site.
More...
The last question I got from Emmanuel who wrote to find out how I add creative animations to my images:

I want you to notice something before we move further;
First, reload this page and take note the way this image (the screen shot) above loads. It has a zoom effect right?
Secondly, mouse-over it. You'll have a Tooltip with text "Question from Emmanuel,one of my readers!"
Thirdly, click it. Anytime you click the image, there will be a rotational effect.
Three different animations have been added to that object.
Let's see something different. I'm going to create a Content Box and add another animation to it:
ANIMATED CONTENT BOX
This content box is animated. I can add any text in here. I can even add images to it. Click the box to see the animation!

Did you see the way these buttons below are loaded? Click any of them to see the effect again:

Here are some more interesting data-related animations:

The examples are just unlimited. The more you think of, the more you can get. But the question from many of you is How are these objects animated?

How to animate blog post visuals!

Now, this is no flash animation or animated gif images. What I use is the content builder called Thrive Content Builder
NB: Here is why I bought this plugin

Animated data elements...

Let me start with the animated data elements I used above because those are quite simple to deal with. All you do is drag the element to your content area and add the data.
Drag and drop each element to the position you want it to be. Once on your page, click it to edit the data. Note that these elements have inbuilt animation that cannot be changed. All you do is simply add data.

Animated images and other objects!

Now, let's see how you can animated images and other objects on your blog posts.
First, there are three animation triggers with Thrive Content Builder. These are things that should happen for an object's animation to be played. Here are the triggers:

When the object is

clicked

When the

mouse goes over

the object
When the object

c

omes

to viewpoint
Once you have your object dragged and dropped on your page, click it. Look for the Event Manager button. If this button is absent, that means you can animate the object.

Once you click "Event Manager", this will pop up a window like this:

Under the Trigger tab, select the event that should trigger the animation. And under the Action tab, simply select Animation.
The next window should look something like this:
You can play around with the different animations and select the option that's good for you.

Click "Save Event" and that will be it.
So you see with Thrive Content Builder, it's quite easy to animate your blog posts. Note that many other content builders allow this.
Get Thrive Content Builder for free
Thrive content builder is not a free plugin but you can get it for free and even make more money. This is exactly what I have done;
First, buy it and setup on your blog.
Join the Affiliate program
Tell your readers you've bought it. Link to it on your affiliate link.
Do tutorial posts like this one and teach your readers how to use it.
The this product converts quite well in the blogging niche. If you have bloggers reading your blog, chances are very high to sell copies.
You get paid 50% per sale. That means for just 2 copies sold, you will get back your money. That's some sort of a refund that legally allows you the license.
Time to act. Don't sit and complain.
Let me also know what you think about this in the comment box below