Who else wants to make money with a brand new blog in 2019?
If you're looking for the BEST ways to make money from blogging, this post is for you.
Let's get straight to the point: the key to making money with a new blog is mindset. If you've got the right mindset, you'll start investing both your time and money into building a profitable blog that makes money in the long run.
If you don't have the right mindset, you'll look for shortcuts and fail miserably. Let's discuss some of the best ways to make money with a new blog in 2019 and beyond without much ado.
[page_section color='#2c3e50′ textstyle='light' position='default' padding_bottom='on' padding_top='on']
5 PROVEN Ways to Make Money With A New Blog!
[/page_section]
#1.Pick one platform and grow your audience
Majority of the bloggers fail to make money from their blogs because of one reason: they don't follow a proper strategy to grow their blog audience.
Without blog audience, your blog will die sooner or later. It's important for you to know how to build blog audience from scratch by focusing on ONE platform at a time.
Did you know that sports celebrities like Ronaldo, Messi charge insane amounts of money (between $500,000 to $1 million or more) per every sponsored post they share on their Instagram accounts?
Yes, that's true and that's how the brand value works. If you want to make money with a new blog, instead of trying to get active on every social media platform you find, pick one platform and really stick with it.
It's better if you focus on spending most of your time on a platform where your target audience mostly active. For example, fashion bloggers can spend their time on Instagram or Pinterest. Likewise, marketing bloggers can spend their time on Twitter or Facebook.
Pro tip: Just pick one platform, grow your audience, connect with the influencers – then, you'll find a ton of ways to leverage that single platform to make money from your blogging efforts.
#2. Make money with affiliate marketing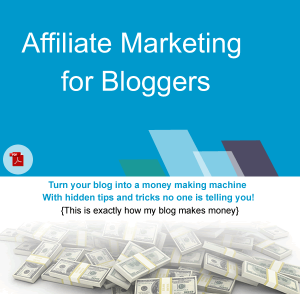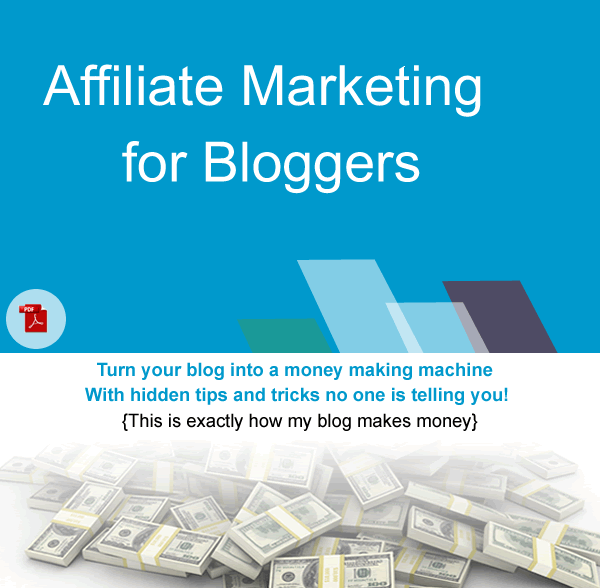 Affiliate marketing simply means you make money whenever you refer a successful sale of other product
(using your affiliate links). A successful affiliate sale is when someone buys a product using your links.
Your affiliate commission depends on how many successful affiliate referrals you're getting in every month. The commission varies from product to product and depends on the industry you are in.
You can also use affiliate marketing platforms like (to make money);
Commission junction
ShareASale
ClickBank
Amazon
eBay etc
You can use the above platforms to find the relevant products that fit your audience needs and promote those products using your affiliate links to start making money. That's how affiliate marketing works.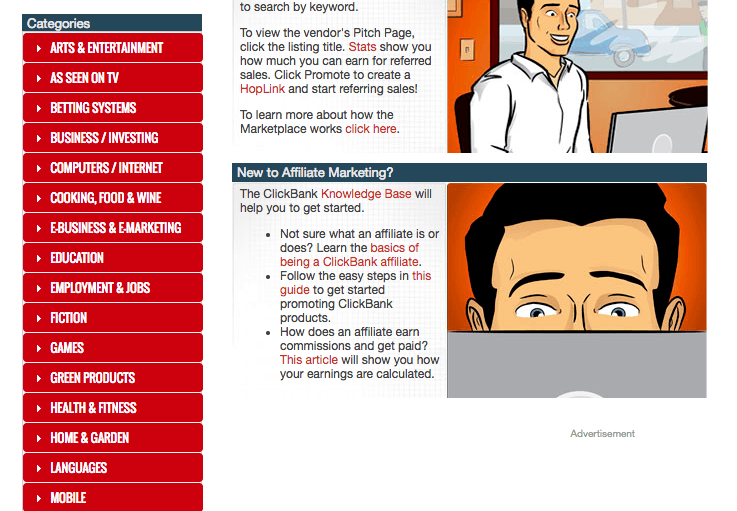 In the above screenshot, you'll see a ton of products related to various topics on ClickBank.
Affiliate marketing is an incredible way to make money from blogging even if you're just starting out. The key here is finding and promoting the right products. You can use product reviews, case studies, video tutorials etc to promote your affiliate products to earn more commission.
Pro tip: It's essential for you to know the best performing affiliate programs before you even start your affiliate marketing journey. Pick the right products and promote it to the right audience to make more commission.
#3. Start selling services through your blog
Hands down, selling services is the fastest way to make money from a new blog. If you find a client, you can start promoting your services through your blog and make money from day 1 of launching your blog. It's as simple as that.
These services can range from;
Freelance services (like writing, programming, designing etc)
Consulting business or
You can even offer coaching or 1 on 1 training to teach your expertise
Just make sure to follow the simple yet most effective tips mentioned below if you want to make money by selling services.
Create a portfolio. As soon as you start a new blog and decided to make money by selling services, create a portfolio which works like a killer social proof to attract more leads and high paying clients. When you are starting out, you can start offering your services to others for free to get testimonials in return.
Offer your services for free to top clients, products or websites in your industry. This can give you a HUGE momentum and acts like a great social proof that you can use forever to grow your business.
You can also use platforms like Fiverr, UpWork etc if you don't have any audience or customers (to start making money through services like writing, design etc).
Pro tip: Interact with other bloggers who are monetizing their sites through blog services. Connect with them on email, social media or blogging forums to build rapport and to get more ideas on how you can effectively promote your own blog services to make money.
#4. Ads are still viable
Google AdSense is still used by millions of bloggers worldwide (although it gives you peanuts for the clicks you generate for their ads). Although Google AdSense is not as lucrative as it was several years ago but a great choice for new blogs and websites.
Even if you're vlogging on YouTube, you can still use AdSense to make money but you need to put your ads in the right spots.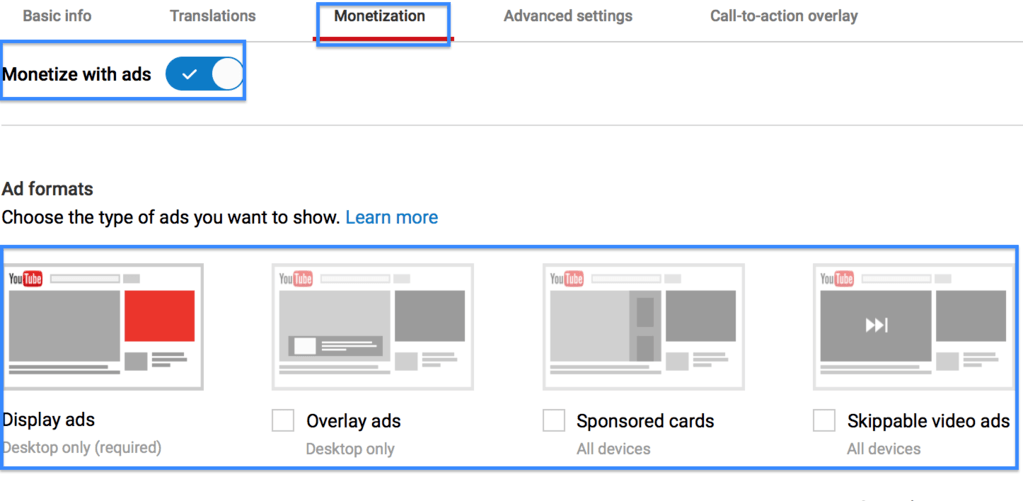 Besides AdSense, you can also consider alternatives like Media.net, Chitika etc if you want to make money through your visitors clicks. If you don't want to make money using these ad generation platforms, you can simply sell banner ads on your site using platforms like BuySellAds.
You need to bring quality and targeted traffic to be able to sell your banner ads to other people at higher rates. Otherwise, you get peanuts for the ads that you place on your sidebar.
Pro tip: Make sure to define your target audience and niche before jumping into advertising. If you're running a technology, entertainment related blog, Google AdSense is a viable option because you'll be frequently updating your blog with a ton of blog posts, reviews etc.
#5. Sell your own products
Once you start getting some applause from your blog audience, other bloggers and people, you can consider creating and selling your own products where you've most expertise. Selling your own products take less time and money but can fetch you great profits.
The products you sell can be a lot of types;
Photos (yes, you can sell photos, wallpapers, natural, animals etc)
eBooks
Plugins
Themes
Tools
Online courses and so on
The idea behind making money by selling digital products through your blog is to make more profits by building a brand and authority for yourself. See, no one buys from a stranger, so you've to build your reputation first before you start selling your own products.
So if you're in a hurry, selling your own products without any audience or email list can be a daunting task for you to make money. Also make sure to analyse your competitors to see how they are promoting and selling their own products or services to make money from their sites.
Pro tip: Conduct interview with the bloggers in your industry who are already making money by selling their own products or services online. That way, you can ask questions about the strategies they are using to make money selling their own stuff. Interview posts are also great for growing your audience and building relationships with other bloggers.
How long does it take to make money with a new blog?
It took me 8 months to make my first few dollars when I started blogging back in 2010 (8 years ago!). Now I can launch a blog and start making money from it from day 1 or even before the launch of it (expertise you know).
So how long does it usually take to make money from a new blog?
It really depends on several factors that include;
Your blog's topic or niche
The amount of time you spend on your blog (content creation, promotion etc)
Your marketing skills (if you've zero knowledge about selling, it'll take time)
Your blogging schedule
Your website's traffic and your SEO strategies
Your income generation strategies (making money from selling your own services is faster than making money by selling your own digital products)
So there's no definite answer on how fast you can make money from a new blog. As I said above, it depends on your selling skills, your income strategies, blogging schedule etc.
But if you still want a random number from me, I'd say: it would take anywhere between 6 months to 1 year to start making money from a new blog. So don't get disappointed if you don't make money within a month of launching your new blog!
If you want to quickly make money from a new blog: start putting more hours every single day on growing it and start selling your services (writing, designing, SEO etc).
Final thoughts about making money from a new blog
Making money from a new blog or website is NOT hard as you think. It takes some time to understand how blogging works but if you're consistent with your efforts by publishing great content and driving more traffic, you'll start making decent income.
So what are your thoughts? Did you like this post? Share your views in the comments below.