In this Hostinger review post, we are looking at something I think is a solid web hosting performance at a very affordable, craziest price ever.
Sounds too good to be true? It's too good, yet, it's true. Hostinger is the real embodiment of the former axiom.
Loved by almost thirty million happy users in forty languages across the globe, Hostinger has become one of world's most popular web hosting providers at the moment. The company started modestly in 2004, and, without any major financial backings, established a full-scale global expansion starting from 2011 up until now.
So, what's so special about Hostinger?
Stick ahead, let's talk everything cool about their plans and features.
Why Hostinger? Great Web Hosting Features at The  Lowest Price Possible
Although only offered free web hosting plans at the beginning, Hostinger now boasts itself as an affordable premium web hosting provider. It's so affordable that you won't remember spending pennies to host your website.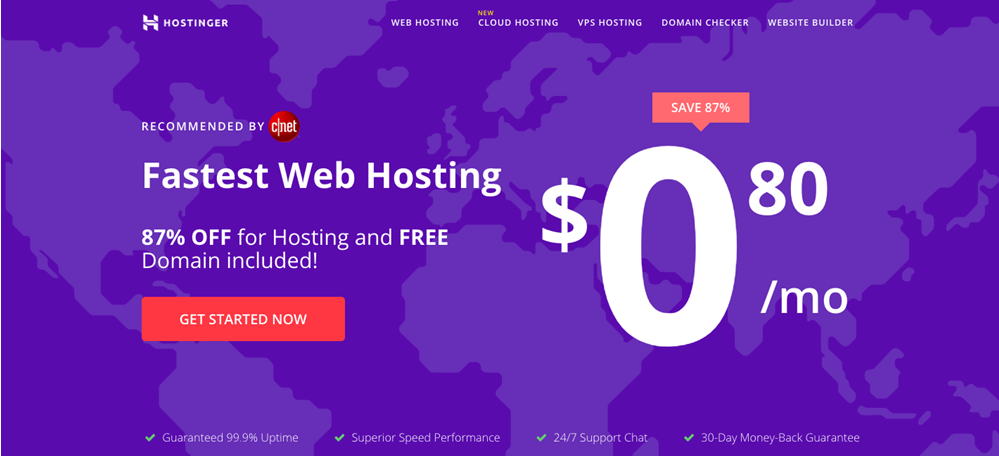 That's true, you get to spend only $0.80 per month for a well-facilitated web hosting plan. It sounds gimmicky, but Hostinger really offers their Single Shared Hosting plan by that price.
The plan is more suitable only for one small website with an email address. A 10GB SSD disk space and 100GB bandwidth limit can be yours to manage.
Unlike the previous entry plan that's very limited in terms of resources, Premium Shared Hosting plan offers more satisfaction.
Starting at $3.49 per month, unlimited bandwidth and unlimited disk space are packed in your arsenal. It definitely is a bargain because the plan also includes a free domain name.
If you are up for the best in line, perhaps Business Shared Hosting may be more fitting. All benefits from the Premium plan are included.
What's more, twice the price at $7.95 per month, free SSL certificate for your website and daily backups are also featured. You only need to set up your website and you're good to go!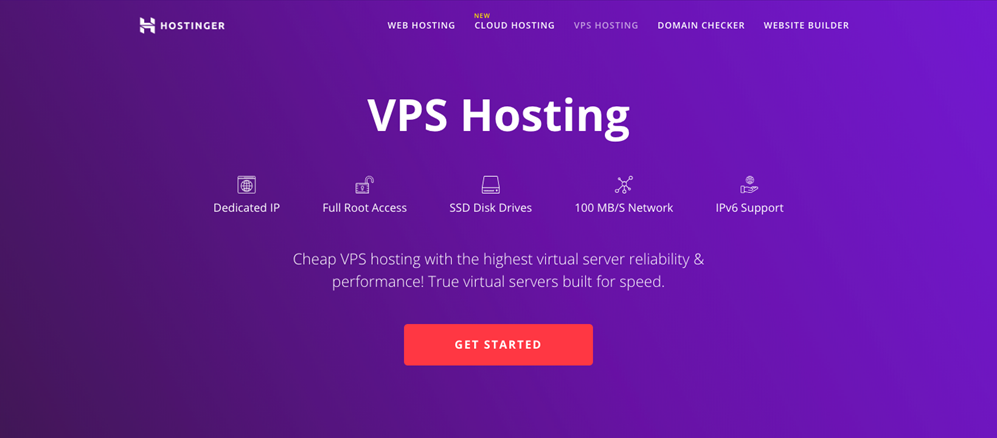 Built for performance, Hostinger Virtual Private Hosting plans can be crucial for your website's blinding fast speed. The plan, that works on a 100 MB/s network infrastructure and SSD disk drives, currently has six server setups to offer.
Entry-level users may choose the lowest server setup of 1GB memory, 2.4GHz CPU, 20GB SSD storage, and 1000GB bandwidth capacity at $3.95 per month price tag.
In the meantime, more serious users can benefit from its $37.95 a month server setup that's powered by 8GB memory, 14.4GHz CPU, 160GB storage, and 6000GB bandwidth capacity.
Hostinger makes available a range of operating system templates so that you do not have to worry about server management. The much-popular CentOS, Ubuntu, Scientific, Fedora, Open Suse, and Debian are available within the plan. That means you can install your operating system of choice anytime by only a few clicks away.
Hostinger Review – Fully-Managed Cloud Hosting
Hostinger offers a great alternative should you be interested in creating a better-resourced website. As the name suggests, Cloud Hosting, the plan offers web hosting service with cloud infrastructure. The sophisticated technology allows a solid website performance, three times faster than Hostinger's shared hosting plans.
Now you can take advantages of dedicated resources for your website, just like owning your own web server. But this time, you won't need to worry about the backend stuff because Hostinger's team of professionals manage it for you.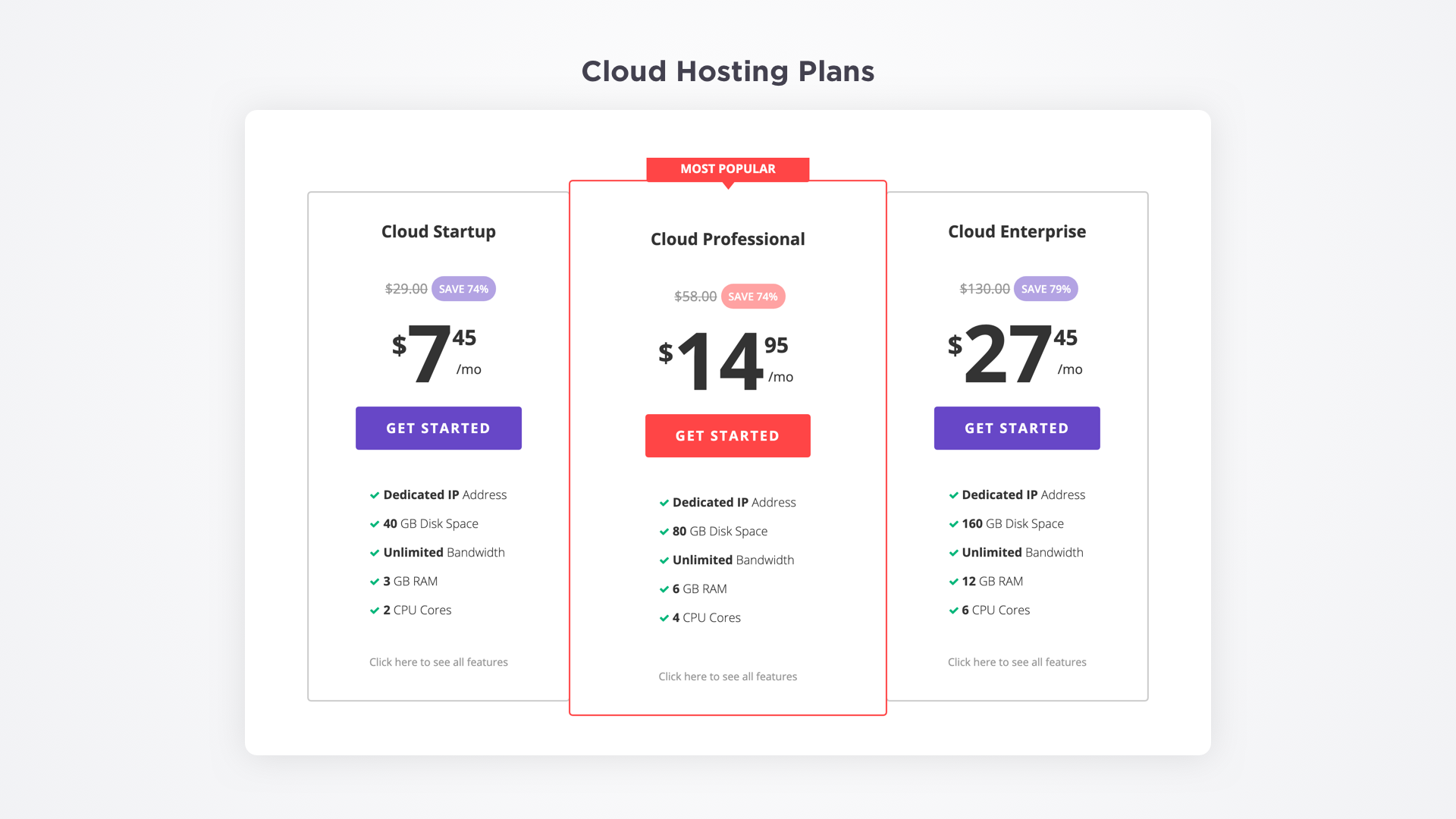 Cloud Startup, Cloud Professional, and Cloud Enterprise took the center stage. Just like other plans in Hostinger, you have the freedom to pick any plan that suits your needs. A lot of features are similar to one another.
The one that differs is its technical specs: disk space, RAM, and CPU core of your plan. Thus, as a result, each plan is offered at different price levels.
Cloud Startup starts at $12.98 per month. Your website will be powered by 3GB RAM and 40GB SSD on a two-cored CPU. Twice the price, Cloud Professional is available at $24.95 a month. A 4-core CPU with 80GB disk space and 6GB RAM resources can be yours to create a website.
Should you need better-performing plans, you might want to look at Cloud Enterprise. It offers 160GB disk space and 12 GB RAM that run on a 6-core CPU server.
Undoubtedly, this is the most outstanding plan by Hostinger that you can get at the moment. With the price of $45.95 per month, Cloud Enterprise may fulfill your dreams of having a very solid web performance!
All plans in this line of service already include 'staple' features such as CloudFlare integration, cache manager, free dedicated IP, free SSL certification, 1-click auto-installer, and so on. Further information regarding Hostinger cloud hosting plan can be seen in here.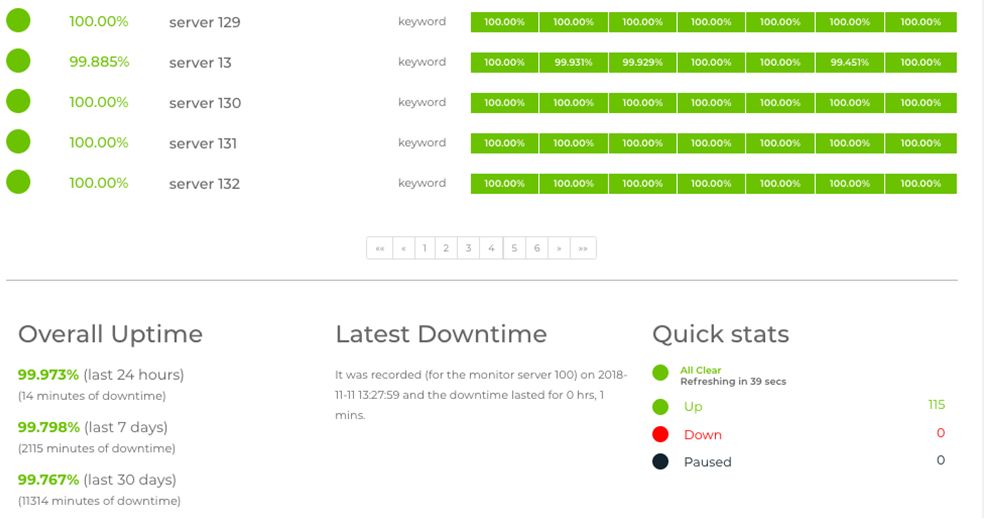 Speaking of performance, Hostinger's uptime attribute is impressive. It's affordable, I know, but the overall performance is not disappointing. You can check their uptime status by yourself at Hostinger status monitor if you are not sure enough.
As far as I look, in the last thirty days prior to the making of this article, Hostinger's overall server uptime reaches 99.767%. Not bad for an affordable web hosting, right?
Another thing that makes Hostinger stand out of the crowd is their 24/7 customer support. After Hostinger decided to leave the old-fashioned ticket system and migrate to the much-favored platform called Intercom, their service quality enhances significantly.
The chat responses (yes, Intercom is a live-chat app) are blazing fast! You do not have to wait for too long to get your issues solved. Plus, everything is handled at the moment that you can track the progress in real time.
The availability of a concise knowledge base and tutorial pages is something that should be appreciated. Users can find a ton of related guides to their website easily so that they can help themselves out without even reaching out the support team.
All Hostinger's hosting plans, however, are assured with the 30-day money back guarantee. That means you can stop using Hostinger anytime, during your first thirty days upon activation, without any strings attached. Your money will be refunded to your account in full. It definitely is a no-risk investment!
Conclusion
When you are looking for an affordable web hosting service, Hostinger should definitely be in your shortlist. It's very affordable, yet such low price plans still have something to offer. Even with Hostinger's most entry plan, you can create a nice, simple website for your own.
Other choices like Cloud Hosting and Virtual Private Server plans are more suitable for advanced users who need better server resources. Cloud hosting, their latest innovation, offers superb performance with amazing simplicity.
It's going to be a nice catch for you since the price level is even slightly lower than VPS's similar plan (cloud hosting starts at $12.98 per month, while VPS' mid-range plan with similar resources starts at $16.95 per month).
Can't do programming? No problem! Cloud hosting is fully-managed by a team of professionals so that you won't need to worry about backend configurations.
Still, what's missing from Hostinger is the presence of more sophisticated plans such as dedicated server hosting plan. While cloud hosting and VPS are more than enough up to some level, the availability of a dedicated server would definitely skyrocket Hostinger's global reputation amongst web geeks.
The 24/7 Intercom-powered customer service along with their 30-day money back guarantee can become very beneficial for you. Got website problems? Ask their support team anytime! Dissatisfied with the service? Reach them and your money will be fully refunded!