GetResponse and Aweber are top email marketing tools and leaders in the industry. Though we have a plethora of these marketing platform in today's online business, these two have won the interest of many marketers because of a number of factors.
The money is in the list…
Before we get into examining their uniqueness, permit me to mention here that as bloggers and online marketers, Autoresponders and email marketing tools are essential if you really want to create a booming online business.
We've been told the money is in the list. This has been the true statement that has gone through ages without being challenged.
As a list owner, I can also underline the fact that your list is an unfailing source of traffic. Each time you mail your list, watch as your traffic swells.
If you are not building a list, I encourage you start working on that right this moment. While we look into the differences between these two platforms, I'm sure you are going to be able to make an informed decision.
GetResponse Vs Aweber!
Ok here we are:
Let's start by looking at some unique features with GetResponse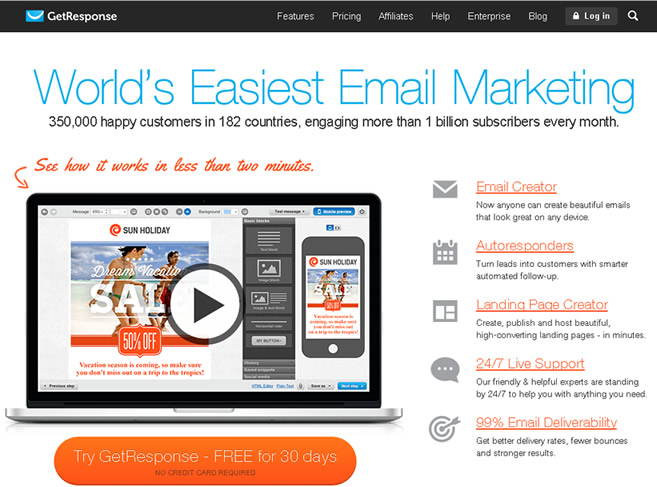 GetResponse offers a free trial that does not require the use of a credit card or billling information. Signup is quick and easy.
GetResponse has free list building guides, courses and webinars.
GetResponse users can choose to use single opt-in for their campaigns.
GetResponse's sleek and easy to use interface dwarfs the clunkiness of AWeber
GetResponse's website is not only easier to use, but is better looking and more engaging for users.
GetResponse also has more free resources for all users including GR University, Blogs, and GR TV.
While Aweber tends to appeal more to those with developer knowledge who can do a lot more on the tech side, GetResponse is much more user friendly.
If you are just starting with a list under 1000 subscribers, GetResponse is the winner. While Aweber cuts up to $29 off your wallet, GetResponse stands at $15 monthly.
GetResponse allows you to create and manage landing pages. These are web pages that are designed to help you capture emails.
What about Aweber?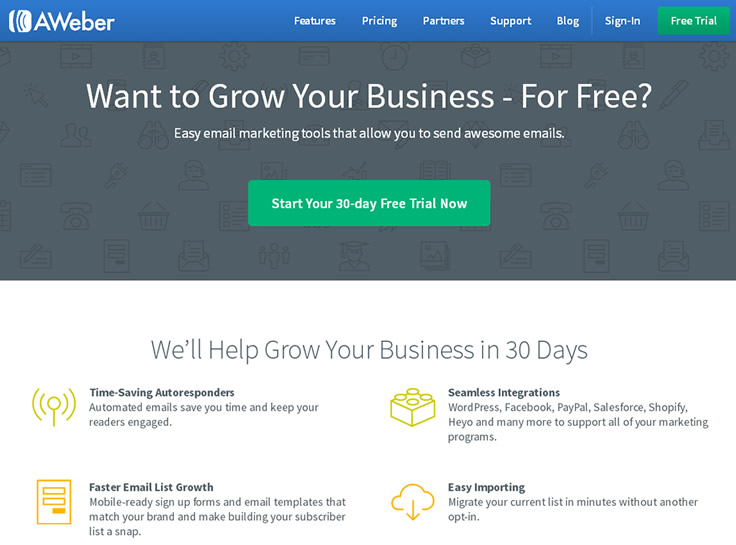 Aweber has more integrations with Apps, which will appeal to developers.
Money back guarantee could be tipping point for people on the fence about signing up.
Student discount offered on monthly billing
It seems like Aweber lean towards discounts and monetary rewards because their product is difficult to maneuver.
Aweber has a rather good webform editor, which is easier to use than GR
Both Platforms also have something in common
Though these platforms have some remarkable differences, they both have a couple of things in common that make them complete email marketing tools:
They have Autoresponder functionality which allows you to send automated e-mails at pre-defined intervals to subscribers after they sign up.
They have statistics on the number of subscribers who open our mails, click on links or unsubscribe from your lists.
User-friendly message builders that allow you to create and edit newsletters without coding.
A wide range of pre-designed newsletter templates.
Easy-to-use web form wizards that allow you to generate html form tags that you can insert on your site or social media profiles to capture email addresses.
Both allow affiliate links in your campaigns
Aweber Vs GetResponse – Practical experience
Now, I want us to practically see how these two platforms function. This practical demonstration may throw more light on some dark areas.
Getting Setup
One of the first things you do when you signup to a platform is to carry out some basic settings. Email marketing Platforms allow you to pre-configure some aspects of your account to avoid some cumbersome repetitions during an exercise. These are things like from email, from name, reply-to email, etc.
Basic Setup With GetResponse 
Once you signup, I recommend you check the email address and name my messages are from. GetResponse lets you add multiple email addresses which you can use to customize the  from field.
Click the My account link in the upper right corner of the web page and choose Account details>>From email addresses.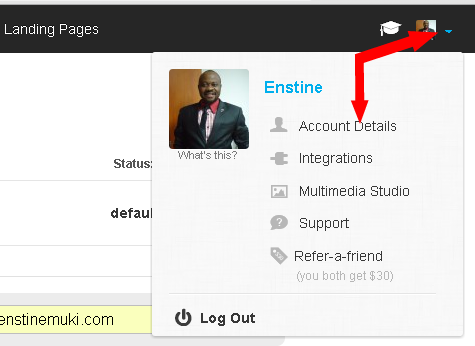 On the Account Details Page, click From Email Addresses. You can modify and add as many different email addresses and names as you want

What about the confirmation email?
When someone signs up to your list, that persons receives an automatic message telling him "Welcome!"
I think this is something you have to setup before doing any activities for people to signup to your list.
Welcome messages are list depended. (In GetResponse, lists are known as campaigns) So to set a welcome message, you need to have a campaign in place.
Locate the Your current campaign field in the upper-right corner of the screen and click the down arrow to display the drop-down list. Click the settings gear icon to the right of the campaign you wish to adjust the confirmation message for

In the Permission tab scroll down to the Customize confirmation message. Click this button to choose the body template, add your own text and signature. In the Confirmation message select the From field and subject (or create custom one).

Note that while the subscriber is receiving a confirmation message in his inbox, GetResponse will have to redirect him to a Confirmation page. There are 2 options to set a Confirmation page;
Allow GetResponse to use the default page.
Use your own custom page.

The custom page option allows you to get more from your subscriber. This could be promoting another offer that can only be found on that page. The ideas are limitless.
What about Custom Signature?
The only way I found to add a custom signature to GetResponse is by creating a predefined field. This will generate a short-code enabling you to append your signature to the end of your messages.
Basic Setup With AWeber
Once you signup to AWeber, the first thing is a call to get your account setup.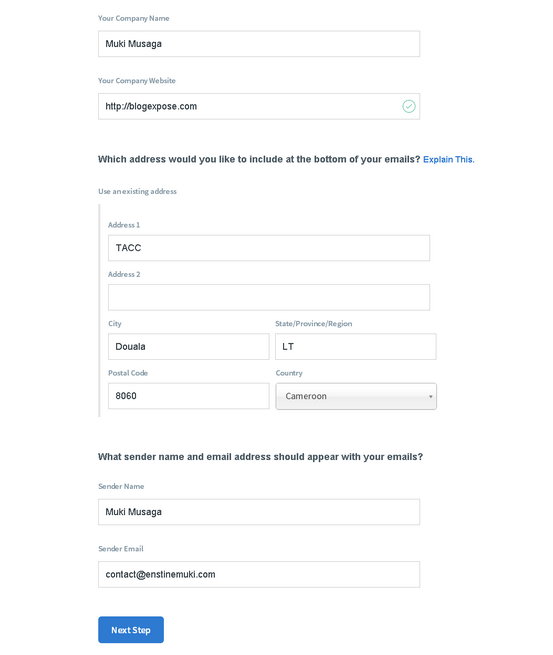 As shown on image above, before you even get started, you are able to set the From Name and Email addresses and your address to be included at the bottom of your messages.
On the next step, you can instantly set your confirmation message. This will be sent to your subscribes once they signup to your list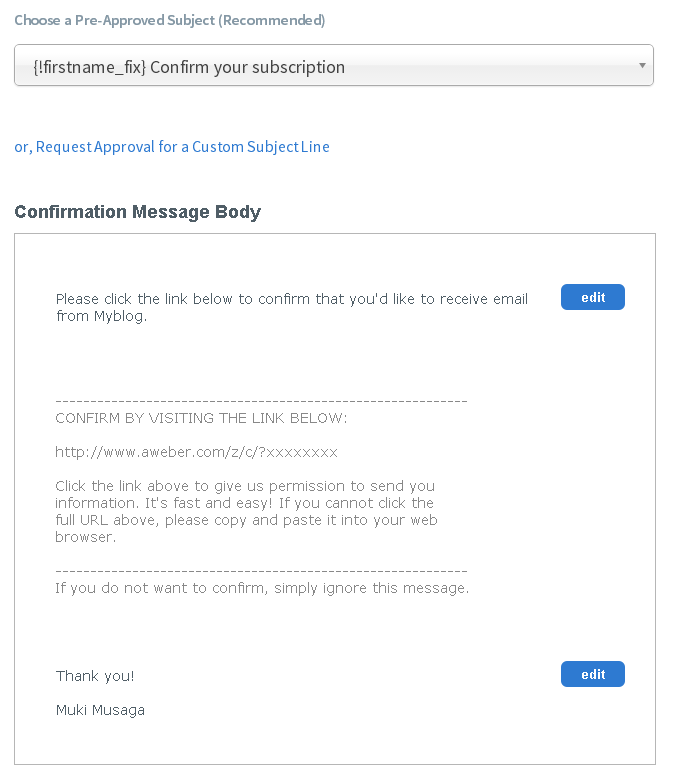 Once you have these settings in place, Awber allows for modification.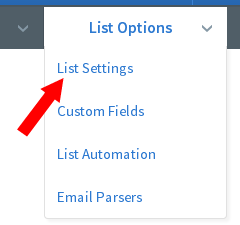 Once people confirm their subscription, send them to a confirmation page. Like I mentioned above, this could still be some promotional page.
On the list Settings page, click Confirmed opt-in to get to the following page.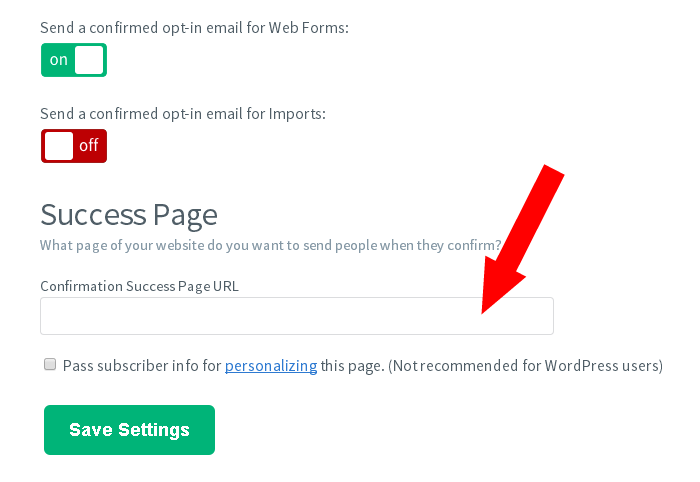 To set a customized signature on, while on the list settings page, click Personalize your list. There you have an option to create a signature you can use on all outgoing mails.
GetResponse Vs Aweber Basic Settings – Verdict!
While we may all differ in opinion, I give it to Aweber at this point. Guiding the new user through friendly steps to have his account fully setup makes it friendly.
From another platform to  GetResponse!
One common thing today is that people keep moving from one platform to the other. The problem with email marketing platforms is that once you switch to another platform, you'll often find it difficult carrying your subscribers along.
These are simply measures put in place to avoid people harvesting email addresses from here and there and importing them into email platforms. That's simply spam action that's highly condemned.
However, moving to GetResponse from another email marketing platform is simplified.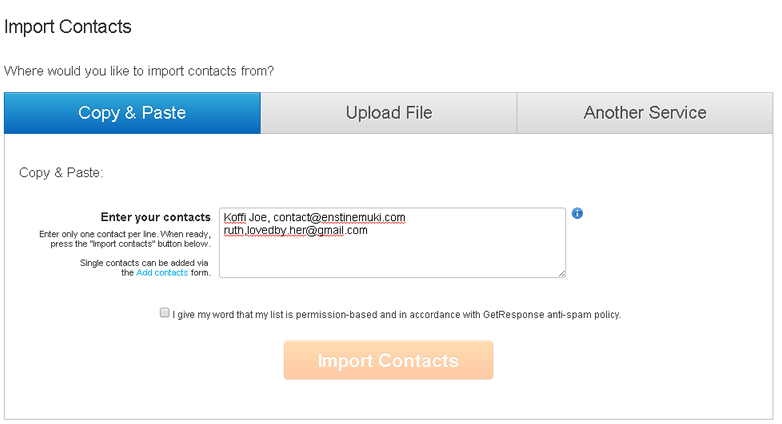 GetResponse allows you to simply paste your emails in a simple html form, upload a file ( or connect to another service and directly import your contacts.
Once your contacts are imported, you can instantly go ahead and start mailing. No further verification or double opt-in in the importation process.
From another platform to  AWeber
Like GetResponse, Aweber also allows you to copy and paste contacts or upload a simple file (XLS, XLSX, TSV, CSV, TXT).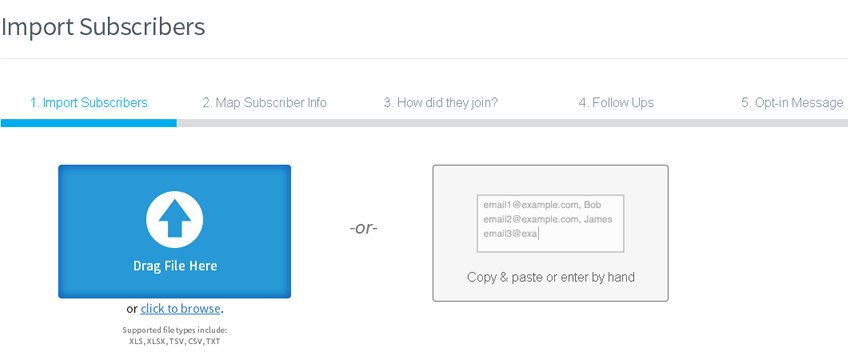 After mapping subscriber info, you're expected to furnish more information on how you got your list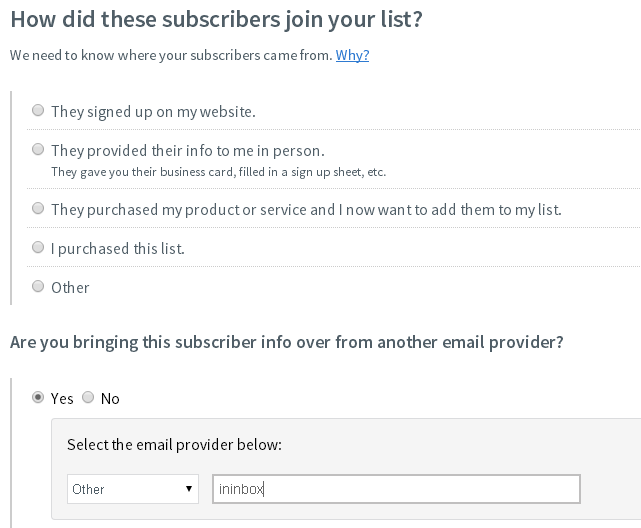 Once you are through with importation, you will have to wait for approval 😉
So here is what I think …
While GetResponse makes it visibly easy to move to from other email marketing platforms to it, that opens up for a lot of spamming. I don't know if they have some other measures to make sure spam lists are not imported but from my little experience, their openness may lead to real spamming.
AWeber makes it more stringent. At the tail end, this should be able to maintain the quality of mails sent through that system.
What's your opinion on this?
AutoResponders on  GetResponse!
AutoResponders are core features of email marketing platforms. What they do is simply automatically send mails to subscribers who fulfill certain conditions.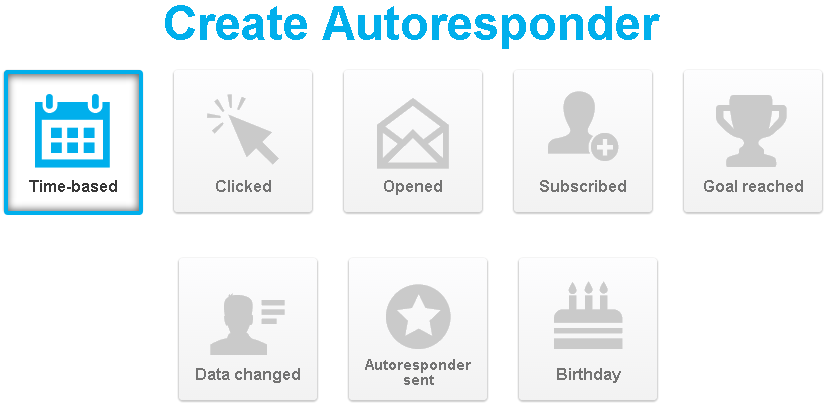 GetResponse gives you a wide variety of choices, allowing you to automatically mail your subscribers who signup to a particular list, click a click in a certain campaign, open a certain campaign, etc.
It also allows you to automatically send a birthday mail to your subscribers on their birthdays.
Traditionally, autoresponders send a series of messages to subscribers to a certain list. Depending on your business, you are able to set the system to send mails on x days, x day and x day.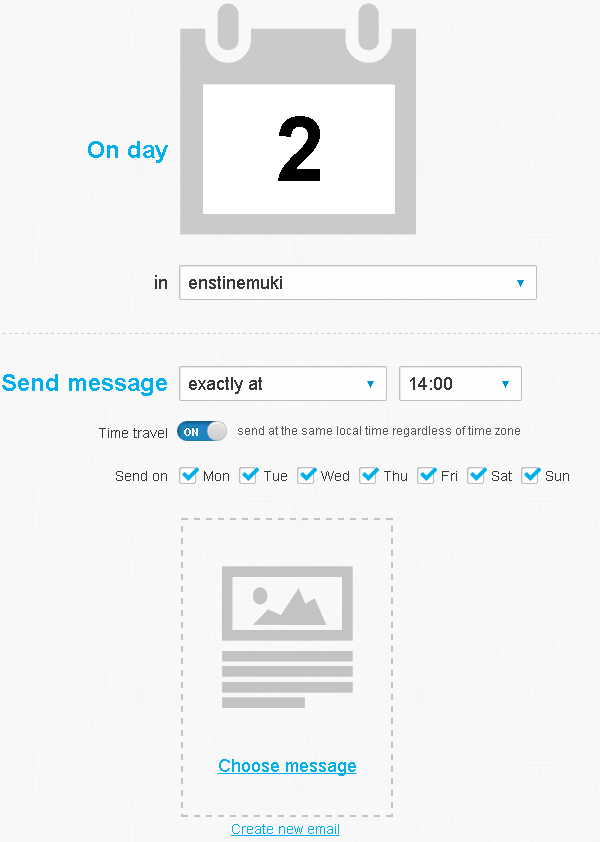 For each autoresponder type you choose on GetResponse, you may see different options.
AutoResponders on AWeber!
AutoResponders on Aweber are known as Follow Up Series. These do practically the same thing.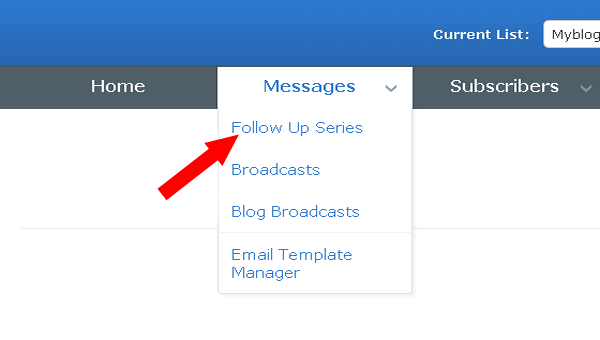 Aweber only allows you to create and send follow up messages to people who subscribe to your list.

You simply set the interval by indicating the day to send a specific follow up message from when someone signs up.
Here is what I think!
Both platforms have different approaches to generating almost the same results. While GetResponse has more flexible options allowing you to get much more results, AWeber is quite simple and straight to a single point.
Automation on GetResponse!
One of the most exciting features of these Email Marketing tools is Automation. This allows you to automatically shift subscribers from one list to the other, automatically remove members from one or more lists based on their actions.
For instance, you can remove subscriber A from a temporal list to a final list if that subscriber confirms his phone number.
In another case, you can shift a subscriber from Free Member list to Buyers' list if he makes a purchase on your site.
There are more possibilities and things you could do with automation feature.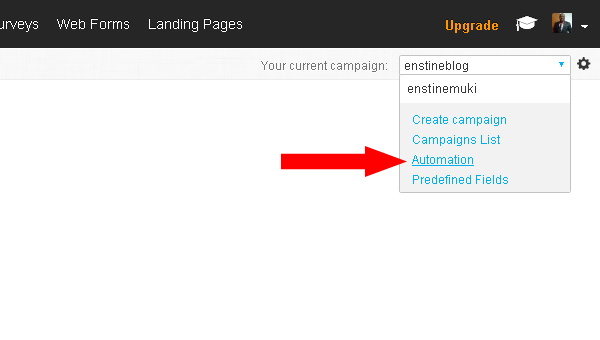 Once on the Automation page, GetResponse allows you to set up simple Automations
Automation on AWeber!
You can access the automation feature on Aweber by simply pointing to List Options top right and click List Automation.
Both systems make it quite easy to create and manipulate Automations.
Creating WebForms on GetResponse!
Webforms are simply the forms you find on most website asking for your first name and email address. Once you submit your information, you will be signed up to a list where you regularly get sent some messages
GetResponse has a wizard that easily allows you to create and design webforms from hundreds of pre-made templates.
You can also create your form from scratch using the webform creation wizard.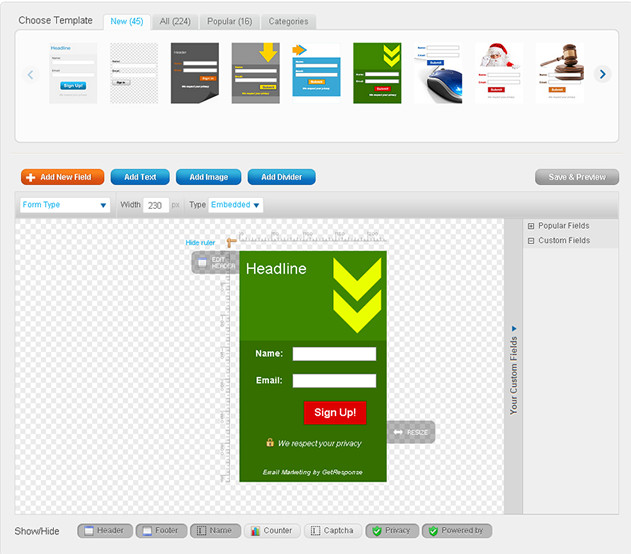 Creating WebForms on AWeber!
AWeber too has a wizard that walks you through as you try to design forms for your campaigns. On AWeber, these are known as Sign Up Forms.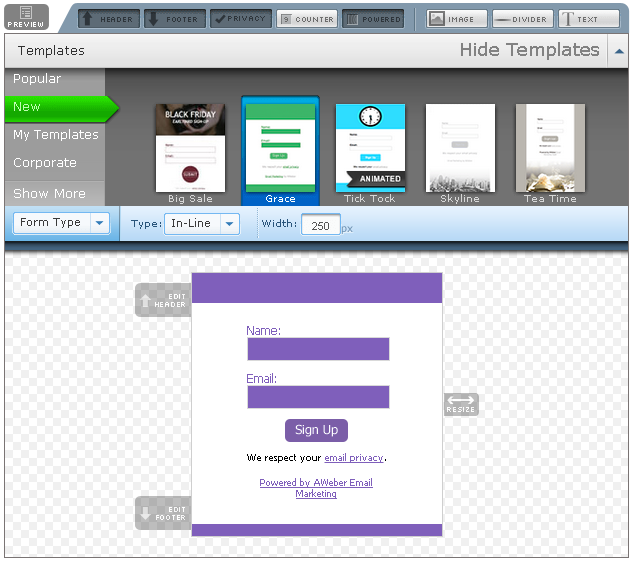 These wizards on both platforms allow you to fully customize your forms to your taste. You can import custom images, change form sizes, remove and add text, etc
I think for a newbie, these are quite friendly.
A/B Testing on GetResponse!
A/B testing is a technic that allows you to test different campaigns or different areas of a single campaign in order to determine what works best.
To run a split test or A/B test on GetResponse, you'll have to create a new message and enable the split testing option. Now, Get response allows you to test different areas of your campaigns.

There are a couple of things that affect the effectiveness of your email campaigns. GetResponse allows you to test these areas.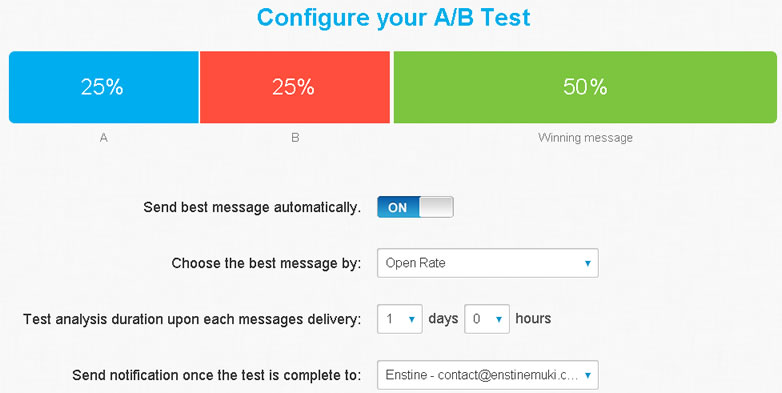 A/B Testing on AWeber!
On AWeber, if you have less than 100 subscribers, you will not be able to run an A/B test. At the moment of creating this post, my AWeber members are below this figure so I won't be able to show you any exercise by way of screenshots.
Other Common Features
---
Let me remind you that we are talking about top email marketing platforms. Both are expected to have every feature you need for any marketing campaigns.
However, differences may come at the level of different steps in getting some results. Now, here are some more features and functions you'll find on both tools;
a) Email Templates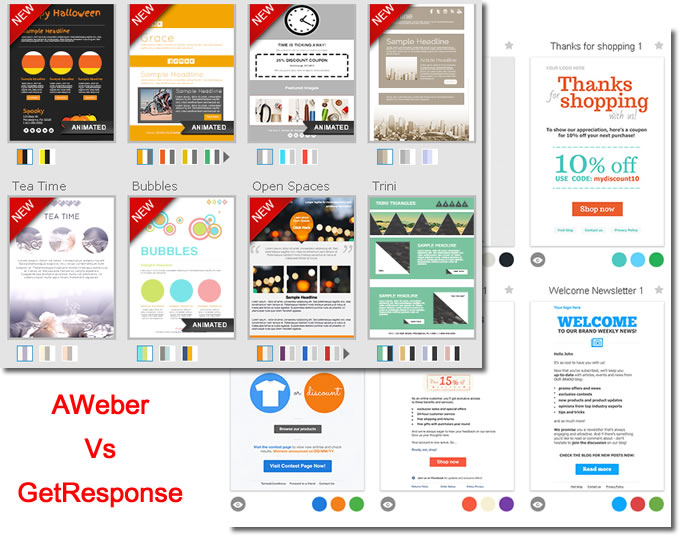 One thing that's common with these 2 email marketing giants is the fact that they both have hundreds of professional responsive templates. This may be an attraction to users who love playing around with attractive email designs.
The templates on these platforms are all categorized. This makes it easy to pinpoint the design that will perfectly fit in your business.
I personally don't go in for pre-made designs as I have always gotten more results with very simple designs.
My opinion is, both platforms have what it takes to get top quality email templates.
2 ) Broadcastor Newsletter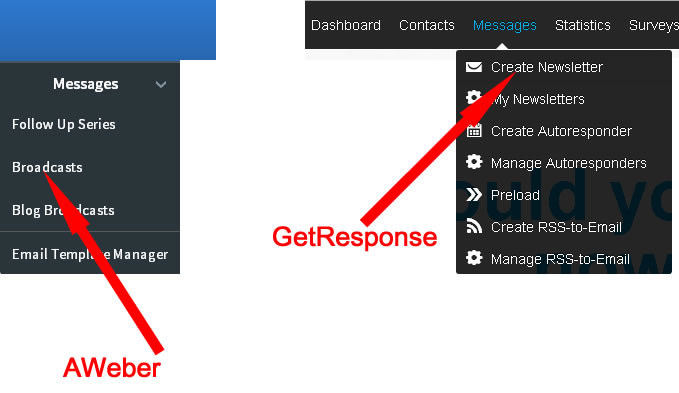 One thing you might have noticed on these platforms are differences in terminologies. What AWeber calls 'Broadcast', GetResponse refers to as 'Newsletter' As a matter of fact, they all point to the same thing. This is what I call Mass Mail.
You simply compose a mail and send it to one or more lists instantly or schedule to be sent at a later date.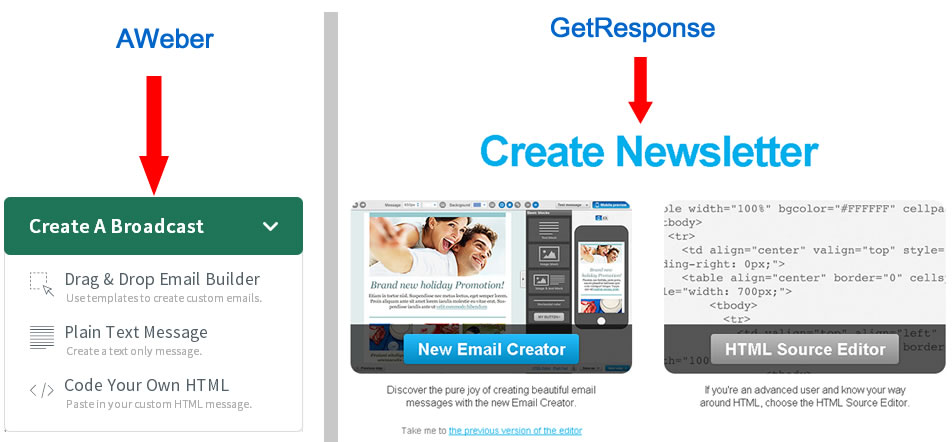 Both platforms give you the possibility to do a simple text message or use their inbuilt message builders. For the most advanced users, you can get into some HTML coding to come up with the design you want.
Building from a pre-made template can just be the simplest thing for most users on Aweber or GetResponse. The message builders on both tools allow you to simply drag and drop objects and modify at will.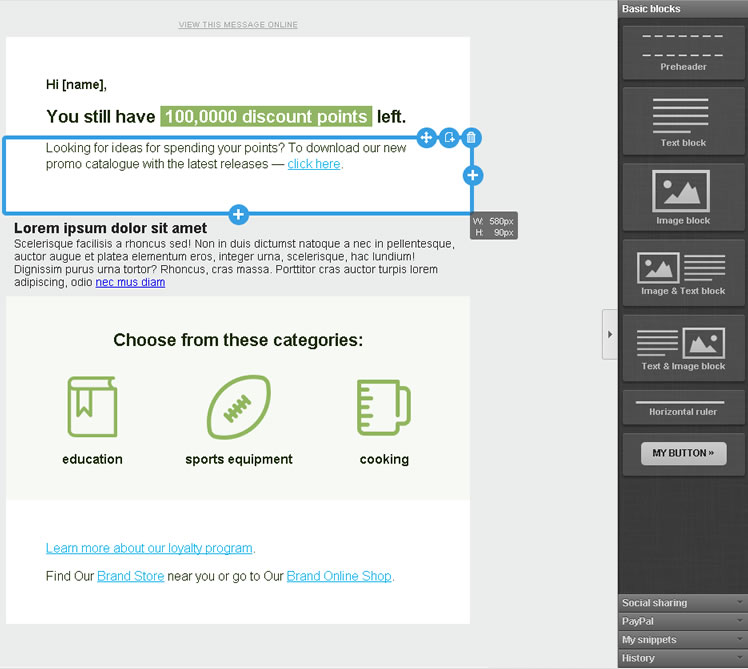 Here are other features you will find on both platforms
Feed Broadcaster 
This feature  allows you to quickly and easily convert your latest blog posts into broadcast messages – an effective way to generate new email content and stay in touch with your subscribers.
While AWeber refers to it as Blog Broadcast, GetResponse calls it RSS-to-mail. They all do practically the same thing – converting your blog post into broadcast message.
List Segmentation
List segmentation is simply the ability to group members on a certain list who fulfill some conditions. An example is to group subscribers of list A who did not open the last broadcast.
Segmentation allows you to deal with some subscribers separately. You may want to create a segment of subscribers who subscribed to your list on a specific date and send to them something unique.
Both platforms allow for list segmentation.
Final Words – GetResponse Vs Aweber !
These are all great platforms. Having gone through this comparing post, you know exactly what you want.
However, GetResponse seems to have an edge over AWeber in a couple of things;
1 – Customer support
Customer service is the backbone in every successful business. If your business doesn't have facilities to allow your customers around the globe to easily reach you, then there is a communications problem.
GetResponse quickly got this and brought up the Live Chat facility. This makes is easy for customers to quickly get help without having to rely on the traditional mail exchange exercise which sometimes take hours or days to get replies and solutions.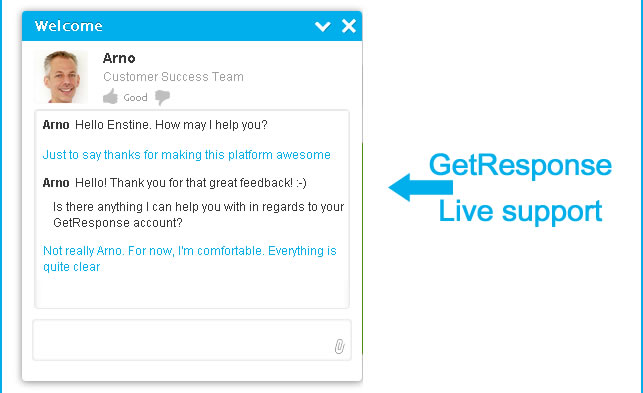 2 – Landing Pages
The next thing I found that makes GetResponse more attractive is the ease to create professional landing and sales pages.
This is a mighty move towards making it easy for their members to grow their lists.
GetResponse allows you to create profession landing pages from pre-made templates in over 8 categories.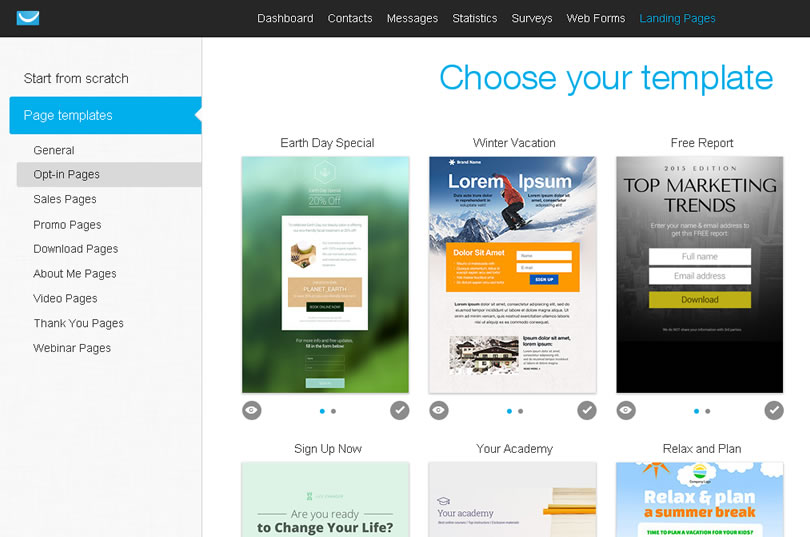 3 – Surveys
GestResponse members don't have to worry about acquiring any third party tool to manage surveys. With a very flexible and friendly drag & drop Survey Tool, GetResponse stands as an excellent email marketing tool to give a try.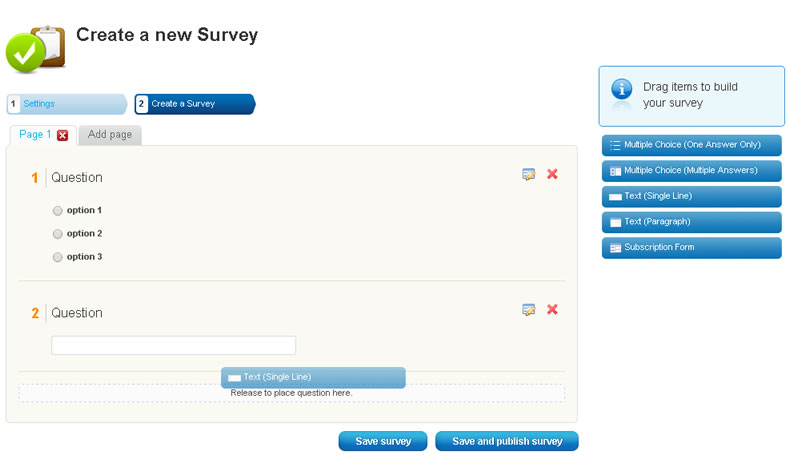 These are some of the major differences that exist between these 2 platforms. While AWeber is a great platform, GetResponse seems to be giving more to its users. Try Getresponse for free for 30 days. No credit card required.