Today is Thursday! It's the weekday I normally talk about someone awesome. But this week, I'm not going to talk about one blogger. I'm talking about 215 bloggers – awesome men and women on the list generated by this free plugin.
These are bloggers who despite being busy, created some minutes to read my articles and drop at least one comment in the month of May 2016.
There was a total of 417 comments (not counting my replies) and I must underline here that in the month of May, I was less active online. But I'm not surprised I got this number of comments from my wonderful readers.
Free plugin generates 215 commentators with 417 comments!
Before we see the list of commentators, I want to mention a word here about the Free plugin I use to generate this list.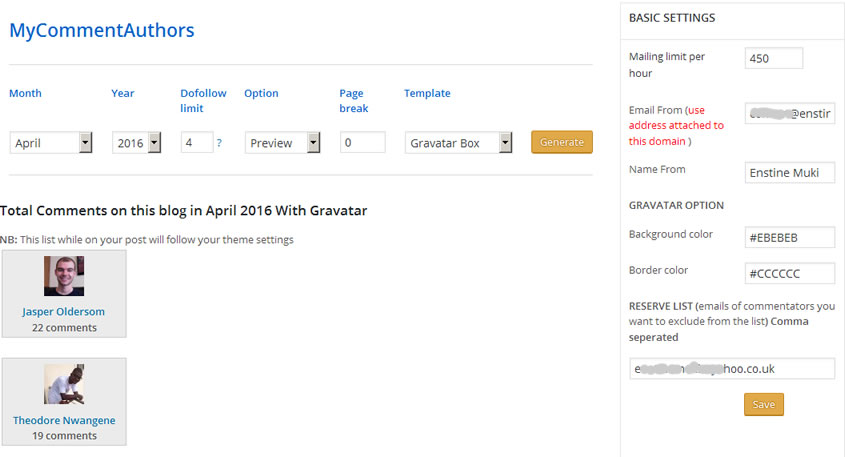 It's MyCommentAuthors. You can download from WordPress here.
I created this plugin purposely to allow those of you on WordPress who care about comments to be able to reward your commentators in another way.
By generating and publishing a list of your comment authors, your do a couple of things:
Give them a contextual backlink (dofollow/nofollow)
Give them a citation
Make them feel important and appreciated
Strengthen your relationship with them
Using the plugin is extremely easy…
Select a couple of options
Click the button to generate the html version of the list
Click the Text tab on your WP editor and paste the html code
Remember to add some introductory text before publishing.
It also allows you to send a friendly mail to the commentators on the list. Note that you cannot use this function to send just any mail. I have hard-coded the email subject so you can change it. Any message you want to send here must be a Thank You mail. I have given details on This article on how to email your commentators list.
215 commentators with 417 comments in May 2016
Hi, My name is Sourav Saha.
I made 13 awesome comments.
Hello, My name is Hai Tran.
I dropped 13 awesome comments.
Hi, My name is Muhammad Tabish.
I made 11 awesome comments.
Hello, My name is Mukund Madhav.
I dropped 11 awesome comments.
Hello, My name is Sourav.
I dropped 9 awesome comments.
Hello, My name is SY Abuzar.
I dropped 8 awesome comments.
Hello, My name is Francis Quarshie.
I dropped 7 awesome comments.
Hello, My name is stefany.
I dropped 6 awesome comments.
Hello, My name is Shahzad Saeed.
I dropped 6 awesome comments.
Hello, My name is Santanu.
I dropped 6 awesome comments.
Hello, My name is Sherman Smith.
I dropped 5 awesome comments.
Hello, My name is Sakshi.
I dropped 5 awesome comments.
Hello, My name is Kim Willis.
I dropped 5 awesome comments.
Hi, My name is Gurunath.
I made 5 awesome comments.
Hi, My name is Donna Merrill.
I made 5 awesome comments.
Hi, My name is Dev Narayan.
I made 5 awesome comments.
Hi, My name is Tola Korede.
I made 4 awesome comments.
Hi, My name is Shamsudeen Adeshokan.
I made 4 awesome comments.
Hello, My name is Hezal.
I dropped 4 awesome comments.
Hello, My name is Saeed Ashif Ahmed.
I dropped 4 awesome comments.
Hi, My name is Adeel Sami.
I made 4 awesome comments.
Hello, My name is Hadharm Hiidee.
I dropped 4 awesome comments.
Hi, My name is Amit Deb.
I made 4 awesome comments.
Hi, My name is Max.
I made 4 awesome comments.
Hi, My name is Debdeep Biswas.
I made 4 awesome comments.
Hello, My name is Manidipa Bhaumik.
I dropped 4 awesome comments.
Hello, My name is Hemant Kumar Arya.
I dropped 3 awesome comments.
Hello, My name is Fakharuddin.
I dropped 3 awesome comments.
Hi, My name is Davinder Bisht.
I made 3 awesome comments.
Hello, My name is Emebu.
I dropped 3 awesome comments.
Hello, My name is Mohinder Paul Verma.
I dropped 3 awesome comments.
Hi, My name is Madhavi.
I made 3 awesome comments.
Hello, My name is Gaurav Verma.
I dropped 3 awesome comments.
Hello, My name is Lisa Sicard.
I dropped 3 awesome comments.
Hi, My name is Robin Khokhar.
I made 3 awesome comments.
Hi, My name is Eichie Abdul.
I made 3 awesome comments.
Hi, My name is Ankur Dey.
I made 3 awesome comments.
Hello, My name is Issac Paul.
I dropped 3 awesome comments.
Hello, My name is Siddaiah Thirupati.
I dropped 3 awesome comments.
Hi, My name is lh.louis.
I made 3 awesome comments.
Hi, My name is Asif.
I made 3 awesome comments.
Hello, My name is Peter.
I dropped 3 awesome comments.
Hello, My name is Nikola Mihailovic.
I dropped 3 awesome comments.
Hello, My name is Deynn.
I dropped 2 awesome comments.
Hello, My name is simranjit singh.
I dropped 2 awesome comments.
Hi, My name is Al Mamun.
I made 2 awesome comments.
Hello, My name is Joy Healey.
I dropped 2 awesome comments.
Hello, My name is Ashvin.
I dropped 2 awesome comments.
Hello, My name is Rama Krishna.
I dropped 2 awesome comments.
Hello, My name is Ernest.
I dropped 2 awesome comments.
Hello, My name is Luqman.
I dropped 2 awesome comments.
Hello, My name is Rahul.
I dropped 2 awesome comments.
Hi, My name is Saurabh Tiwari.
I made 2 awesome comments.
Hi, My name is Jasper Oldersom.
I made 2 awesome comments.
Hello, My name is Ben.
I dropped 2 awesome comments.
Hi, My name is Hakeem Shah.
I made 2 awesome comments.
Hello, My name is Hans van Zanten.
I dropped 2 awesome comments.
Hi, My name is Peter Beckenham.
I made 2 awesome comments.
Hello, My name is Sheila.
I dropped 2 awesome comments.
Hi, My name is Nisha Pandey.
I made 2 awesome comments.
Hi, My name is Karan Bhagat.
I made 2 awesome comments.
Hello, My name is Monna Ellithorpe.
I dropped 2 awesome comments.
Hi, My name is zeshan sadiq.
I made 2 awesome comments.
Hi, My name is Naveen Kumar.
I made 2 awesome comments.
Hello, My name is Maria.
I dropped 2 awesome comments.
Hi, My name is Jerry.
I made 2 awesome comments.
Hello, My name is Lorraine Reguly.
I dropped 2 awesome comments.
Hi, My name is Ron Killian.
I made 2 awesome comments.
Hello, My name is Saminu Eedris.
I dropped 2 awesome comments.
Hello, My name is Josh.
I dropped 2 awesome comments.
Hello, My name is Rocco Msing.
I dropped 2 awesome comments.
Hello, My name is Varun.
I dropped 2 awesome comments.
Hello, My name is Himanshu Gupta.
I dropped 2 awesome comments.
Hi, My name is Toby Nwazor.
I made 2 awesome comments.
Hi, My name is ISEENLAB.
I made 2 awesome comments.
Hello, My name is Souvik.
I dropped 2 awesome comments.
Hello, My name is Emmanuel Uzoezie.
I dropped 2 awesome comments.
Hi, My name is Ryan Biddulph.
I made 1 awesome comment.
Hello, My name is Odira.
I dropped 1 awesome comment.
Hello, My name is Patti H2.
I dropped 1 awesome comment.
Hi, My name is salman noorani.
I made 1 awesome comment.
Hello, My name is Yogesh Shinde.
I dropped 1 awesome comment.
Hello, My name is Adrienne.
I dropped 1 awesome comment.
Hello, My name is D Roy.
I dropped 1 awesome comment.
Hi, My name is Shiv Kumar Gupta.
I made 1 awesome comment.
Hello, My name is Joydip.
I dropped 1 awesome comment.
Hi, My name is Rahul Rajput.
I made 1 awesome comment.
Hello, My name is Dhuval patel.
I dropped 1 awesome comment.
Hello, My name is Sameer.
I dropped 1 awesome comment.
Hi, My name is Harshwardhan Singh.
I made 1 awesome comment.
Hello, My name is Alize Camp.
I dropped 1 awesome comment.
Hi, My name is tas kerja.
I made 1 awesome comment.
Hi, My name is Istiak Rayhan.
I made 1 awesome comment.
Hi, My name is vishal fulwani.
I made 1 awesome comment.
Hello, My name is Ankit.
I dropped 1 awesome comment.
Hello, My name is oreo.
I dropped 1 awesome comment.
Hi, My name is Aswini Vadapalli.
I made 1 awesome comment.
Hello, My name is Faiz Israili.
I dropped 1 awesome comment.
Hi, My name is Lawrence.
I made 1 awesome comment.
Hi, My name is Santhosh.
I made 1 awesome comment.
Hi, My name is Philip Verghese Ariel.
I made 1 awesome comment.
Hello, My name is Psychic Nest.
I dropped 1 awesome comment.
Hello, My name is Suresh Khanal.
I dropped 1 awesome comment.
Hi, My name is Anirudh Singh.
I made 1 awesome comment.
Hello, My name is Karan.
I dropped 1 awesome comment.
Hello, My name is Yvonne I. Wilson.
I dropped 1 awesome comment.
Hi, My name is Shaik Ameer.
I made 1 awesome comment.
Hi, My name is Riya.
I made 1 awesome comment.
Hello, My name is Eli Seekins.
I dropped 1 awesome comment.
Hi, My name is Saulo.
I made 1 awesome comment.
Hi, My name is rahul gupta.
I made 1 awesome comment.
Hi, My name is Vineet Sinha.
I made 1 awesome comment.
Hello, My name is Shakhawat Ahamed.
I dropped 1 awesome comment.
Hi, My name is Smachizo.
I made 1 awesome comment.
Hello, My name is Nikhil.
I dropped 1 awesome comment.
Hello, My name is Arpit singh.
I dropped 1 awesome comment.
Hello, My name is Yasin Rishad.
I dropped 1 awesome comment.
Hi, My name is Corinne Kerston.
I made 1 awesome comment.
Hello, My name is darrell.
I dropped 1 awesome comment.
Hello, My name is Hadi Surahman.
I dropped 1 awesome comment.
Hello, My name is Britanny.
I dropped 1 awesome comment.
Hi, My name is MMairaj.
I made 1 awesome comment.
Hello, My name is Alice Wright.
I dropped 1 awesome comment.
Hi, My name is Sabih.
I made 1 awesome comment.
Hello, My name is Bren Pace.
I dropped 1 awesome comment.
Hi, My name is Babs.
I made 1 awesome comment.
Hello, My name is Venish.
I dropped 1 awesome comment.
Hello, My name is Swadhin Agrawal.
I dropped 1 awesome comment.
Hello, My name is Frederik.
I dropped 1 awesome comment.
Hello, My name is Hamim.
I dropped 1 awesome comment.
Hello, My name is Bonire Abdulrahman Femi.
I dropped 1 awesome comment.
Hello, My name is Sasidhar Kareti.
I dropped 1 awesome comment.
Hi, My name is Paul.
I made 1 awesome comment.
Hello, My name is mide.
I dropped 1 awesome comment.
Hi, My name is Brent Jones.
I made 1 awesome comment.
Hello, My name is Daniel Palmier.
I dropped 1 awesome comment.
Hello, My name is Joseph Ybholy.
I dropped 1 awesome comment.
Hello, My name is Bruce mesnekoff.
I dropped 1 awesome comment.
Hello, My name is Pritam Nagrale.
I dropped 1 awesome comment.
Hello, My name is Raphael Udonna.
I dropped 1 awesome comment.
Hi, My name is Joseph.
I made 1 awesome comment.
Hello, My name is Alie Pinto.
I dropped 1 awesome comment.
Hello, My name is Abdul Eichie.
I dropped 1 awesome comment.
Hello, My name is Makkoy.
I dropped 1 awesome comment.
Hi, My name is Pranay Khatri.
I made 1 awesome comment.
Hello, My name is SY Abuza.
I dropped 1 awesome comment.
Hi, My name is Gayatri Mantra.
I made 1 awesome comment.
Hi, My name is Remsun Debbarma.
I made 1 awesome comment.
Hello, My name is Smach.
I dropped 1 awesome comment.
Hi, My name is Tauseef Alam.
I made 1 awesome comment.
Hello, My name is Shalu Sharma.
I dropped 1 awesome comment.
Hi, My name is Prabhat Jani.
I made 1 awesome comment.
Hello, My name is Suprabhat.
I dropped 1 awesome comment.
Hello, My name is Babanature.
I dropped 1 awesome comment.
Hello, My name is Kiran Kumar.
I dropped 1 awesome comment.
Hi, My name is John.
I made 1 awesome comment.
Hi, My name is Promise Excel.
I made 1 awesome comment.
Hello, My name is Remsun Db.
I dropped 1 awesome comment.
Hi, My name is Mugianto.
I made 1 awesome comment.
Hello, My name is Vishal Jain.
I dropped 1 awesome comment.
Hello, My name is Abishiekh Jain.
I dropped 1 awesome comment.
Hi, My name is Vipasha.
I made 1 awesome comment.
Hi, My name is Nick Carter.
I made 1 awesome comment.
Hi, My name is Mohd Arif.
I made 1 awesome comment.
Hello, My name is Rahul Ashok.
I dropped 1 awesome comment.
Hello, My name is Rishabh sharma.
I dropped 1 awesome comment.
Hi, My name is pASCAL.
I made 1 awesome comment.
Hello, My name is Amit sahi.
I dropped 1 awesome comment.
Hello, My name is Chandrangsu Biswas.
I dropped 1 awesome comment.
Hello, My name is charan.
I dropped 1 awesome comment.
Hi, My name is Naveed Ayub.
I made 1 awesome comment.
Hi, My name is Sirish Paudel.
I made 1 awesome comment.
Hello, My name is Noble.
I dropped 1 awesome comment.
Hello, My name is praneet thakur.
I dropped 1 awesome comment.
Hi, My name is Disha Agaarwal.
I made 1 awesome comment.
Hi, My name is Muhammad Mairaj.
I made 1 awesome comment.
Hello, My name is Harmandeep.
I dropped 1 awesome comment.
Hi, My name is David J Parker.
I made 1 awesome comment.
Hello, My name is Ha Bui.
I dropped 1 awesome comment.
Hello, My name is Narinder.
I dropped 1 awesome comment.
Hello, My name is Srimanta.
I dropped 1 awesome comment.
Hello, My name is Cynthia.
I dropped 1 awesome comment.
Hello, My name is Abhijit Mahida.
I dropped 1 awesome comment.
Hello, My name is Satnam Singh.
I dropped 1 awesome comment.
Hello, My name is Reji.
I dropped 1 awesome comment.
Hi, My name is Adam Joshua Clarke.
I made 1 awesome comment.
Hi, My name is debnath.
I made 1 awesome comment.
Hello, My name is Anna.
I dropped 1 awesome comment.
Hi, My name is aziz.
I made 1 awesome comment.
Hi, My name is Aysha Roy.
I made 1 awesome comment.
Hello, My name is baljeet.
I dropped 1 awesome comment.
Hi, My name is Ruby Rani.
I made 1 awesome comment.
Hi, My name is Varun Khatri.
I made 1 awesome comment.
Hello, My name is shahinur.
I dropped 1 awesome comment.
Hi, My name is Gurpreet Singh.
I made 1 awesome comment.
Hi, My name is Haroun.
I made 1 awesome comment.
Hello, My name is Abhilash PS.
I dropped 1 awesome comment.
Hi, My name is Nishadha.
I made 1 awesome comment.
Hi, My name is samba siva.
I made 1 awesome comment.
Hi, My name is Marzan Chowdhury.
I made 1 awesome comment.
Hi, My name is Soma Mridha.
I made 1 awesome comment.
Hi, My name is Nikhil Ganotra.
I made 1 awesome comment.
Hi, My name is Mairaj.
I made 1 awesome comment.
Hello, My name is Priya.
I dropped 1 awesome comment.
Hi, My name is Abid khan.
I made 1 awesome comment.
Hi, My name is Kişisel Blog.
I made 1 awesome comment.
Hi, My name is Justin abraham.
I made 1 awesome comment.
Hello, My name is Raj.
I dropped 1 awesome comment.
Hello, My name is Joseph Chikeleze.
I dropped 1 awesome comment.
Hello, My name is Utsav.
I dropped 1 awesome comment.
Hi, My name is Sharer Vu.
I made 1 awesome comment.
Hi, My name is myshaadi wale.
I made 1 awesome comment.
Hi, My name is appkodes.
I made 1 awesome comment.
Hello, My name is Jaidayal Saraswat.
I dropped 1 awesome comment.
Hi, My name is Mazahar.
I made 1 awesome comment.
215 comment authors with 417 comments in the month of May 2016

This list was generated by MyCommentAuthors