For some weeks now, kingged.com has not stopped sending targeted referral traffic to my blog. When I checked my Google Analytic stats this morning, I was so excited with what I saw. So I decided to make this post to share with you exactly what I do on this exciting community platform.
Though I'm not the most active on kingged.com, I still strongly believe this site can send huge traffic to your blog.
There are many new bloggers asking questions every day about where and how to get free traffic to their blogs. I keep telling them if you are not doing well to get enough traffic from search engines, be very active on the blogosphere – joining communities, voting and commenting, etc.
Social media of course is not left out but the problem with it is that you have to build a follower base first and that only comes with time.
There are many free blog traffic platforms out there but kingged.com is really beginning to be their king. Checkout this traffic stats: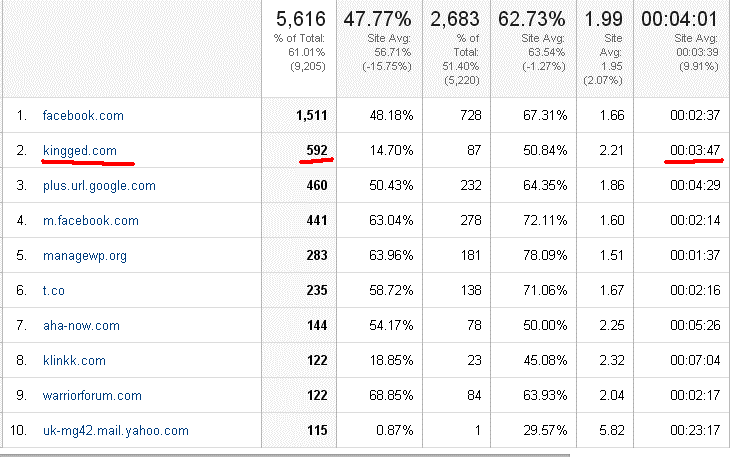 While kingged.com is topping, I want you to notice the input from Klinkk and ManageWP. These are all communities you should checkout.
I have been in private contact with the brain behind kingged.com and he spoke a few words to my ears. I can say without tremor that a lot is being done to make this site a real traffic pump.
Before I show you my steps on kingged.com, let me briefly mention here that kingged.com is running a revolutionary contest where you make money commenting on blogs. That's it! Never read or heard somewhere. Check out details here
Do you really want to own a very popular blog?
Everyone wants to be owner of popular blog right? I have written this article on how to build a very popular blog in 90 days. You need to check it out
Free blog traffic from Kingged.com in 3 steps
One point I want to underline here is that using kingged.com is absolutely free and the back-end community is so responsive. That's what makes the beauty of the platform.
These are the 3 things I recommend you start doing on kingged.com for a sure flow of traffic to your blog:
1 – Join the platform: If you are not a member yet, the first thing you should do of course is to create your free account. Be sure to fill your profile info and add a real picture. This will help members know you are real – not spammer.
2 – Be active on the site: This is crucial if you want the benefits of traffic and community building. There are basically 7 ways to be active here:
Submitting articles to the community (Not only limited to yours)
Voting (kingging) articles submited by others.
Commenting on articles on the site
Replying to comments on the site
Hooking up with others as friends
Engaging with others in private messaging
Following others on board
3 – Be active on article source blogs:  Articles aggregated or shared on kingged for the most part are quite interesting articles on the blogosphere. What you should do is visit these articles on their original blogs, leave comments, share, tweet, like and gplus them too. This will tremendously expand your reach and bring you closer to many more bloggers.
Time to get to work
Now stop sitting there before your screen and asking questions on traffic. Go over to kingged.com. Give it a try for a few days. I'm sure you'll have a story to tell.
Have you been on kingged.com?
Tell us your story. Leave a comment and let me know your experience. If you love this post, please share it on social media.