There money is still in your list and Email Marketing is still a powerful marketing instrument. I don't see it going anywhere (except getting stronger) in the next decades.
People allover the world are still stuck to their email addresses. As a matter of fact, it's the cheapest and efficient way to get directly to someone with an Internet access.
With smartphones and email apps, it becomes even quicker to get any information of any size to someone on the go. Gone are those days when folks needed to logon to their personal computers to access their message through some standalone or web-base email clients.
Inbound marketing and building an Email List
Businesses have found emails to be the most cost-effective way to build a community and keep in touch more frequently. It's easier to compile email addresses of existing customers and clients into an email list. But there is a problem with getting the contacts of someone who is just around to read a piece of content on your site.
With Inbound Marketing, we get to attract potential customers who are scouting the net for some information. Once these scouters are on your website, you will be looking for a way to get their email contacts.
That's because you want to keep in touch and always get them back to your website or try to turn them into buying customers or clients, so utilizing a survey campaign management and exploring the satisfaction levels of your subscribers grants you with valuable data that can dictate the future of your advertising efforts.
Folks on your website are not just going to drop their contacts on your hands for you to walk away with. There are different things you must do to get your site visitors submit their emails to your signup forms.
Let's look at two very important factors that attract visitors' email contacts to our email lists and how this impacts out email marketing business.
1 – Trust factor
If there is something you should focus on as a marketer, it is building something that will earn trust from your community.
Trust is what makes your readers believe what you say is what they get by following you. It's a force from within them to see you as the answer to their questions.
But the truth is that trusting is hard. But knowing who to trust is even harder. This means you have two phases of the coin to work on:
Make it easy for readers to trust you
Let them know you are the person to be trusted.
When people know you to be unreliable, they won't trust you. When they know you to be reliable, they will trust you.
There are two reasons why we don't trust people. First- we don't know them. Second- we know them.
Customers buy from people they trust. The more they buy from you, the bigger your email list. A email list of buyers (The Buyers list) is the best list for any online entrepreneur. But if what they bought from you didn't provide the results they wanted, you lose the trust.
How do you earn trust from your visitors?
In a recent study, 73% of respondent said they trust a given brand because it delivers good quality products or services: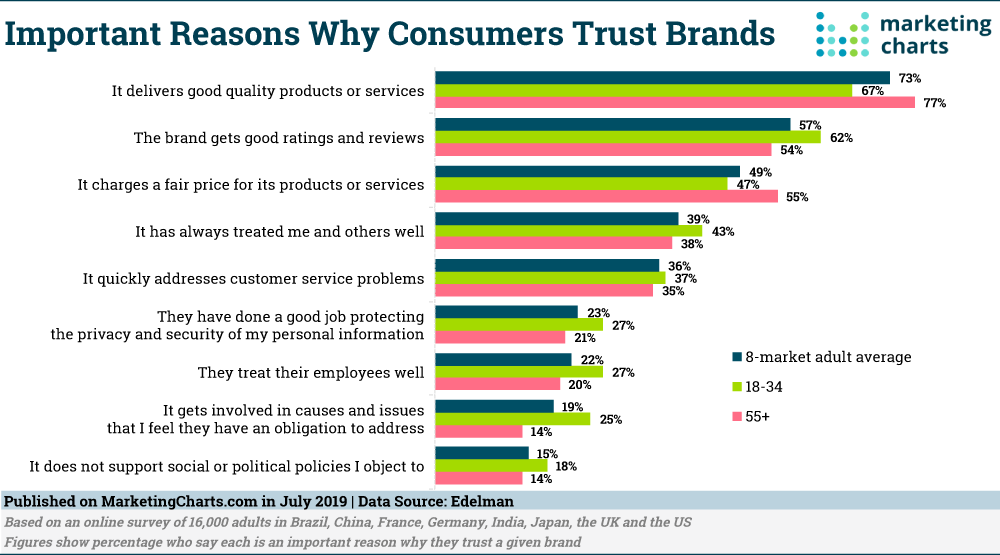 Some other points you should note from this research to earn trust from your readers:
Treat them well
Have a responsive and highly qualified customer staffs
Take your privacy policy serious
Charge a fair price
Don't be biased
Etc.
Once you get trusted by visitors and readers, they may not require any bribe or bait to signup to your list.
Advantage: You get to build an authentic list of subscribers who can answer at anytime
Disadvantage: It could be really slow for the list to grow except you have a massive influx of readers
2 – Free gift (opt-in incentives)
The free gifts is what many online entrepreneurs rely on to build an email list. As a matter of fact, the more important your opt-in incentives, they more your list grows.
These free list building offers could be:
Free downloadable ebook (short report, white paper, etc)
Free course
Free membership access
Discount code
Some attractive data
Content upgrades
Etc
There are usually different spots on your website to place your signup elements:
Sidebar
Above Content,
Within Content
Below Content
Content Upgrade
Exit Intent
Popups
Welcome Mat
etc.
But then, how this converts depends on the value of what is locked behind the form. Popups and Welcome Mat may end up annoying some of your readers away.
The main advantage of using free gifts is the fact that it allows you build a big list quick.
Free Gift's negative impact on your email list
There are a couple of questions here:
Is everyone signing up to grab your free gift a subscriber worth keeping?
What happens after they've gotten access to the free item?
Is the presence of these freebie mongers harmful to your marketing?
I wanted to know from Internet users why they signup to email lists offering something interesting. So I got to them with a simple question: Why do you signup to email list that offers interesting free gift?
Here is a graphical representation of the answers:

A whooping 42.3% of respondent said they just to get the free gift and quit anytime. Now, this isn't good news at all for everyone giving out a free item to encourage list signup.
9.6% said they just want to jump on board with no importance attached to the free item. Now, this is about the readers who have known and trust you.
However, 44.2% want to get the free gift, then hand around if you are actually giving out something valuable to them.
But I'm troubled with these subscribers who make up 42.3%. They are those I call freebie mongers. But why worry about them?
Once they get the freebie, they may never open your campaigns again. This affects your open rate.
They may hit the 'spam report' button, sending negative signals to ESPs about your marketing
They are the ones quick to hit the 'unsubscribe' button. This suggests to your ESP that you got their contact without their consent.
Etc
Now, if you are a conscious email marketer, you'd know that every activity by your subscribers send a live signal to your ESP and other email systems online. Once these freebie mongers begin triggering negative signals:
Your spam score begins to rise,
This will bring your sending IP closer to being blacklisted,
Your sending reputation begins to diminish,
And to completely kick you, your inbox deliverability starts witnessing a serious drop.
Some marketers have thought it's not important to deal with freebie mongers yet they tear their hair, wondering why their results are among the best from the bottom.
How do you handle freebie mongers to build a sane email list.
Now, freebie mongers have valid email addresses. So they'll go through your double opt-in procedure without any hitches. Some of them use secondary (not-so-important) valid email addresses. Once they get the free products, they are off.
Dealing with freebie mongers is a real brain teaser. But I have made it a child's game with my Email Marketing Video Course.
What this course does is it teaches you to build an intelligent filtering system that will shift every freebie monger from entering your active list to a pending list. So these won't hurt your marketing in any way.
You have step-by-step videos, over my shoulders how to click here and there to construct this smart 'robot' using your Email Service Provider's automation system. The filtering system does not allow any new subscriber to your list without doing some scanning to determine if that subscriber means business or not.
With this in place, you are going to build a steady list of real subscribers whose activities won't hurt your overall experience while guarantying excellent results including over 70% open rates;

Right on this blog, I have a free report showing you how I doubled my SEO traffic without publishing additional articles. In the past few weeks, hundreds had signed up and most definitely,  a majority are freebie mongers.
The automation filtering agent has removed over 50 freebie subscribers
96 are being processed by the agent
33 have been processed and confirmed to be authentic subscribers. The proof is the open rate which rises above industry standard.
Please note that this list has not been processed with the smart filtering system from day 1. But the results are so powerful that I won't create any list without the robot.
While the course isn't all about building the smart robot to get rid of freebie mongers, it lays some points on some overlooked aspects of list building and email marketing.
Should we stop giving out freebies?
Not really.
Keep your freebies but take a closer look at how to filter the mongers out. They are still important because your free gift (like an ebook) is a strong marketing tool. Use it to reach out to these freebie mongers.
Adding to this, the way the filtering system functions is such that some freebie mongers end up being transformed to faithful subscribers. It's a trick you need to learn.