Do you have a content strategy for your business? Do you want to create a content marketing strategy that'll help you propel your business several folds? If yes, this article is for you.
In a recent survey, experts found an unpleasant trend among marketers. They revealed that only 37% of marketers have a documented content strategy.
And for the rest of 63%, some do not have a strategy in its entirety. But those who do, have failed to document it. Consequently, while 37% are seeing significant ROIs, the rest are experiencing business failures.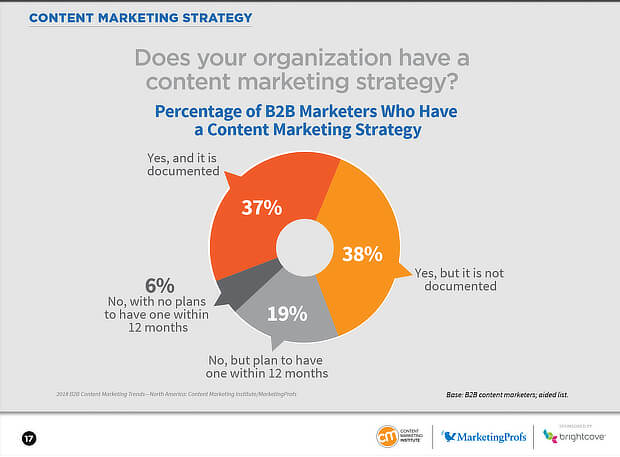 Moreover, quite often, I see marketers using content marketing strategy and content plan interchangeably. Although they have a striking comparison in meaning, they are different. 
For example, a content plan involves the techniques that'd enable you to set-up and program the information that you want to offer your target audience. But content strategy deals with the planning and managing aspects of content across channels.
It includes harmonizing content to the buyer journey, business objectives, analysis, etc. It covers the following areas: 
Creation

Progression

Presentation

Distribution

Assessment

Proportion 

Etc.
You can see that without a viable content strategy, it would be difficult to survive the competition. Your content marketing strategy will help you create and distribute useful content that will attract influencers to link to and promote.
However, you may wonder; why do some marketers avoid having a documented content strategy? Why are others using content plan and strategy indifferently? 
The reason may be that they do not have a workable strategy that binds all their content marketing efforts into a unified and consistent plan. Also, they do NOT know what vital questions to ask before getting started with content strategy.
Therefore, consider these six questions before creating a content strategy for your business.
1: How Long Will It Take to See Positive ROI?
There is no marked timetable for when you'll start seeing positive results for your efforts. However, highly-informative content will engage your buyer persona, attract more website visitors, and drives targeted organic web traffic.
So it makes sense to ensure that your blog content is well researched and useful to the reader. It will help to increase your website traffic. But don't expect to see an immediate rise in organic traffic. It will take a couple of months before you start seeing outstanding results from your content marketing strategy.
So consider it a long-term project which gradually progresses into a full-fledged profitable money-making blog. The more quality content you produce, the more targeted traffic you'll drive back to your site. It will help you to increase visitors'average time on page significantly and generate more leads.
2: Who Is My Target Market?
Your content marketing strategy will never succeed without a buyer persona. You must have a target market that will always engage with your posts. And to do so, you need to define and understand your target audience. 
When you identify your ideal reader, you will have a profound knowledge of the type of content that engages him. You will know posts that connect with him and those that put him off. This information is essential to the success of your content marketing strategy.
You can compare not knowing your target reader to a sailor who travels without a compass. He will surely get lost in the sea. But with a compass in place, you have a roadmap to reach your destination.
Similarly, understanding your target market will aid you in creating compelling essay pieces that capture their attention from the beginning. The impact will make them become loyal readers and eventual customers.
3: What Are My Objectives for Creating a Content Strategy?
Drafting a content strategy without a defined goal is a no-no in business. It is a marketing blunder which several marketers (particularly new content marketers) are making. Your objectives will let you determine when you reach your goals, and how well your efforts are ranking up.
So ask yourself:
Why are you producing blog content frequently? 

Why are you spending time creating different content materials? 
The answer to those questions rests on your content strategy objectives. Therefore, to develop a formidable content strategy, you should determine your goals. Write them down somewhere visible to motivate and inspire you.
Seeing your goals right in front of your regularly will aid you to achieve your objectives. Did you now? Marketers who list their business goals are more likely to achieve them than their counterparts who did not. That is, according to CoSchedule.
The survey further reveals that businesses that set marketing objectives are 376% more successful, and over 70% of those who set goals attained their objectives. So it makes sense to say that your success is hanging on mere luck if you do NOT have a content strategy.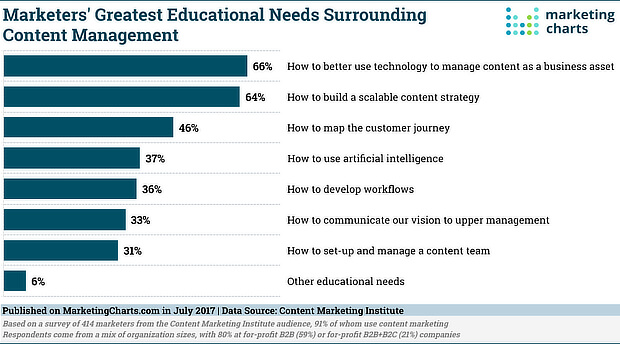 That is why over 60% of marketers say their creating a comprehensive content strategy is their most significant education need.
4: What are The Best Marketing Channels for My Content Strategy?
Having an energetic content marketing strategy is only part of the puzzle. You also need to pinpoint the best marketing channels for executing your strategy. How? Don't fret; it is a natural process. What you need to do here is to find where your buyer persona is consuming content.
To help you out, ask yourself, "Which social media sites are my target audience using frequently?" They could be using Facebook, Twitter, Instagram, or any other social media platform regularly.
When you find where they are on social media, you can use those channels as your primary marketing platforms for content distribution. In that way, you can reach your ideal readers where they are with your posts.
5: Who Are My Competitors, and What Are They Doing to Win Leads?
Do you know your competitors? It is essential to define them since they expand beyond your direct competition. Your direct competition is marketers who are taking clients from you. They are selling the same product or services to the same clients as you. 
However, you have other opponents you're not aware. They are your indirect competitors. Indirect competitors are those whose products or services are different from yours. But if their services can satisfy your buyer needs, they are your indirect marketing contenders.
So you need to identify them as well. Why is that important? Because it helps you figure out their strengths and weaknesses, what they're doing behind the scenes to win customers. This approach will give you a competitive advantage over them because the information you collect will assist you in improving your content marketing strategy. 
6: How Can I Quantify My Content Marketing Performance?
Marketers fail in business primarily because they don't know what metrics to monitor. They're busy tracking the wrong marketing KPIs. For example, if you focus on monitoring social media shares, can you say you're following the right metric?
These numbers can not translate to sales. So you're on the wrong path. Put differently; they are vanity measurables that can not convert into profits. So you must find the best key indicators to monitor that will help you determine the performance of your content marketing strategy.
Nonetheless, it may not be easy for you since it requires frequent evaluation and optimization. But several tools can help you streamline the process. Google Analytics is one of the best in the market, and it's free for use. It allows you to see what content is performing well and those that are not working for you.
The resulting data will help you make a better content marketing decision. You will be better equipped to create high-quality content that attracts more website traffic.
Wrapping Up Questions to Ask Before Creating a Content Strategy
Content marketing is a robust digital marketing asset that has transformed into a dominant marketing tactic. But you cannot succeed without a reasonable content strategy in place. Your approach is a roadmap that lets you scale your business seamlessly with outstanding results.
So before you start developing your content strategy, ask yourself the questions above to help create a comprehensive content marketing strategy that will take your business to the next height. Do you have some more ideas? Tell us below!