I love making money online and I have proofs that you too love the thing. The first indisputable proof is your presence on this blog post.  Yes! If you are not interested to make money online, I wonder what you are doing on this $100 cash prize giveaway  blog post 😉
You have your chance to get this whole sum sent straight to your Paypal account. There are lots of things you can buy with 100 bucks. This will not make you rich though. However, its value cannot be neglected.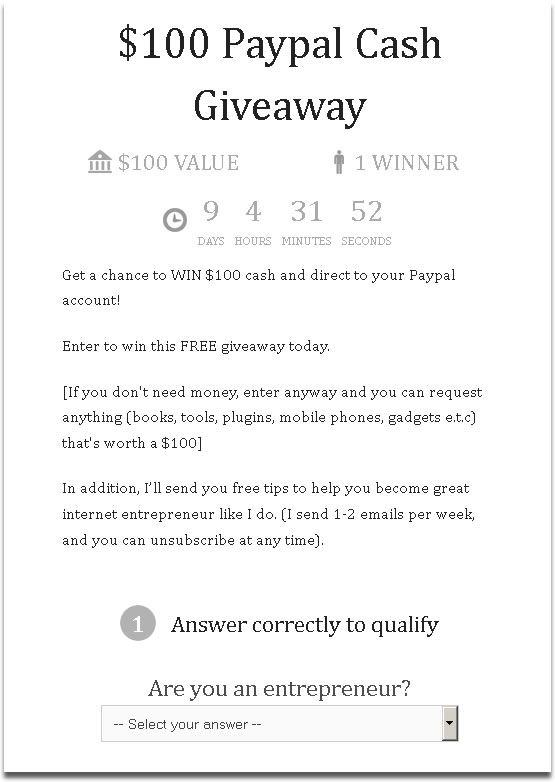 This giveaway is being done by my friend Oloyede Jamiu. Last month, in his September income report, he promised  this giveaway. It's good to note that he has kept to his word.
Entering this giveaway is quite simple and straight to the point. Oloyede has clearly put everything on this post on his blog. I don't want to repeat what he has laid out.
>> Click here to see details <<
Oloyede is using the kingsumo WordPress Giveaway plugin to run this contest. I personally have used RaffleCopter and Punchtab for most of my giveaways. I never tried kingsumo before.
KingSumo has however an interesting feature that can add more to your chances of winning. As a participant, you will be generated a unique "Lucky" url. With this, you can promote the Giveaway, earn more points and stand a better chance to win. For each you participant who comes in through your unique URL, you earn 3 points. The more your points, the more your chances to be picked winner.
You can share your url on Facebook, Twitter, LinkedIn, etc. You can even post about the giveaway on your blog and link to it using your unique url. There are more ways to promote your link on Oloyede's blog so go check that out.
Let's talk
Now tell me in the comment box below what you will do with $100 should you be picked as the winner. I'll be glad to hear from you 😉