A WordPress theme is a collection of files (graphics style sheets and codes) that determine the general appearance of your website or blog. Themes can affect everything from the layout of your website to the colors you use for your hyperlinks. It's easy to see themes as a "skin of your site's design; however, they're much more effective than this.
Instead of just providing an appearance and feel to your site, using themes lets you manage the appearance of your blog. Let's say, for instance, you write about food; however, you also run an online shop. The best theme can present the blog's posts in a particular way and also provide a different design for the pages of your store.
So, it's important to choose the best one for your niche. Here are the best WP themes for students.
Masterstudy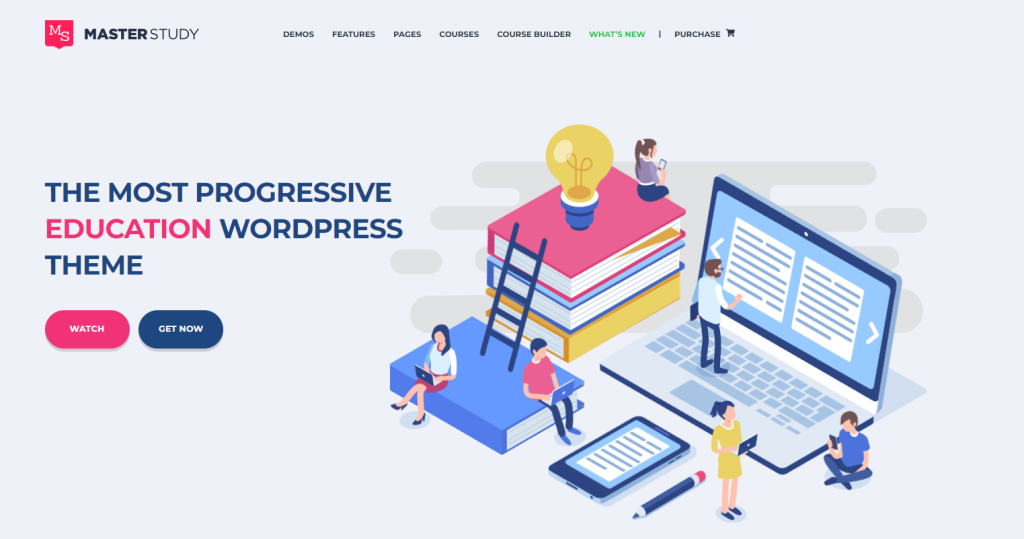 Masterstudy is a stunning education theme loaded with premium plugins that can be easily integrated to help you save money and provide an excellent experience for teachers and students.
This theme manages to be equally helpful and visually appealing. The theme's primary focus is online courses, whether for tutors and individuals, as part of a larger educational institution such as an elementary school or a four-year research university.
The integration with the top WooCommerce plugins lets you list courses with ease and also allows you to arrange classes in a variety of categories. Three different layouts for listing courses – grid or listing and the single course enable you to showcase your studies in the way you like.
A countdown-style calendar provides a sense of urgency to time-sensitive classes and seminars, which can increase the number of signups.
Divi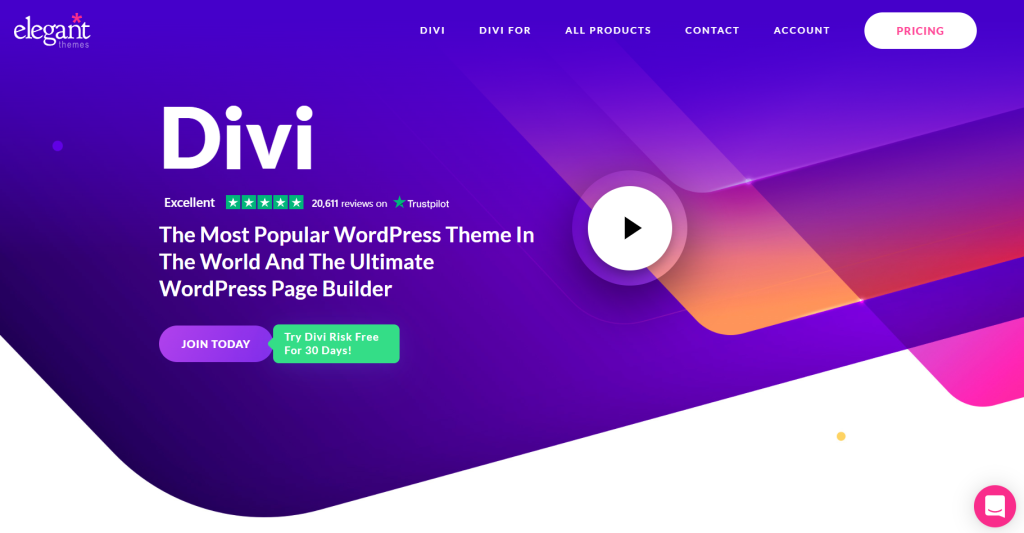 Divi is one of the most well-known WordPress educational themes, with more than 1 million users worldwide. When creating a website for education, you must ensure that it is visually appealing, engaging, and instructive.
Divi is a WordPress theme that can meet every goal. It has a wide array of flexible features and an extremely mobile layout. Students can continue their reading by traveling, as it is a fact Divi is can be used with any operating system, device, and web-based browser.
Divi transforms site elements into visual blocks, making modifying your site's page easy. No coding or web development knowledge is necessary, as Divi's process is highly intuitive.
Astra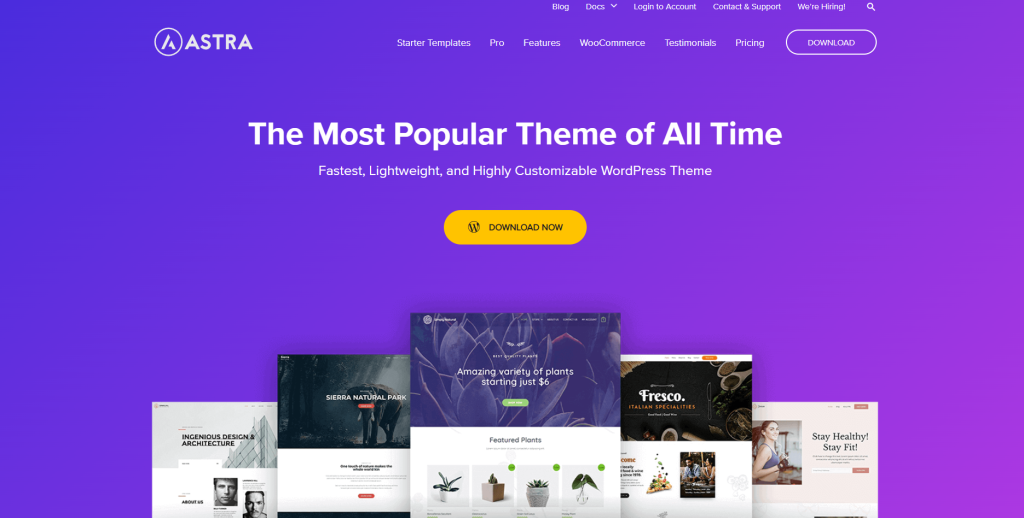 Astra is among the top-selling WordPress themes around the globe. It is partly due to the high quality of their demo sites and customizable page elements, and it's also due to their ease to use and use of drag-and-drop page builder plugins. You could create a professional-looking website in just a few hours without knowing the smallest programming detail.
Astra offers a variety of educational WordPress themes that cover the majority of uses. Some themes are specifically designed for schools and colleges, while the other is intended for online learning. The music added to courses works with the LearnDash LMS, which can be integrated effortlessly into your design.
Coursemaker Pro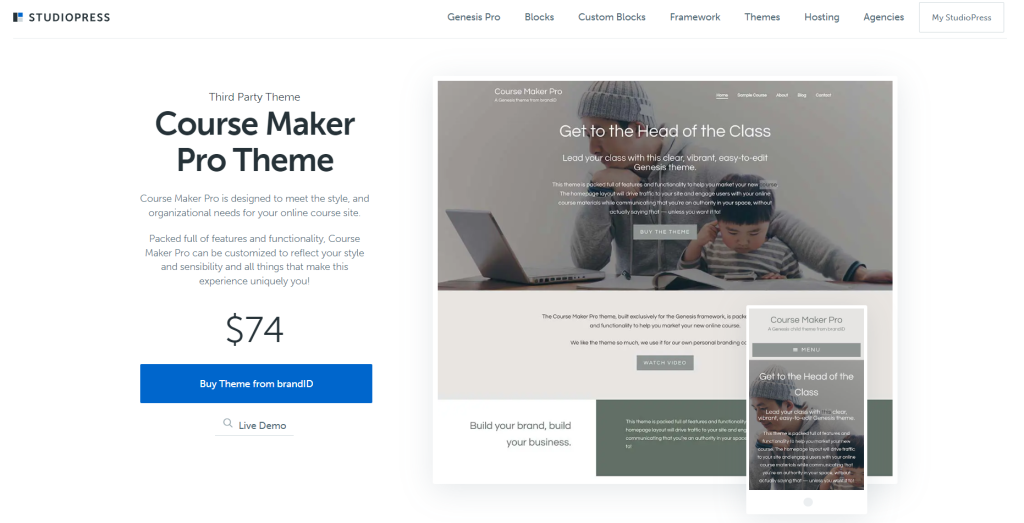 Coursemaker Pro is a modern version of the online course. It's a greyscale style, features a cute header image, and has a calm feeling. The mix of grey elements and soft hues creates a tranquil feel as the layout flows through the content effortlessly.
This Sample Course page offers an idea of how to develop the website with your courses while keeping the contemporary look and feel. It's a highly well-crafted, distinctive design for all the right reasons. With the support from The Genesis Framework, you can do plenty with this theme.
Jevelin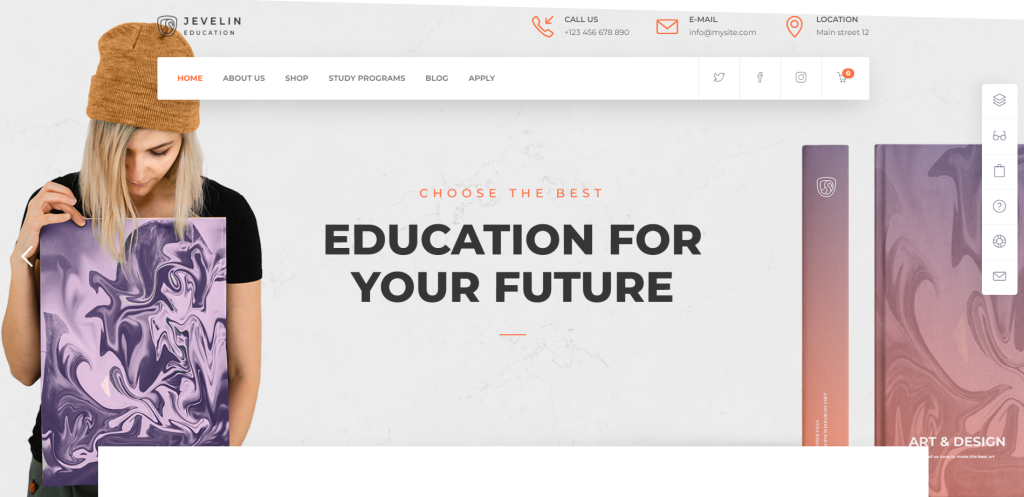 Jevelin is among the most popular themes for online education and courses, plus it has a unique demo for educational websites. It is also loaded with unique features and resources. Creating a webpage for your university, online courses, and other learning sites has never been simpler.
Jevelin is here to help you with technical issues while you play around with all the fun things in organizing and enhancing the design of websites.
Education WP (Eduma)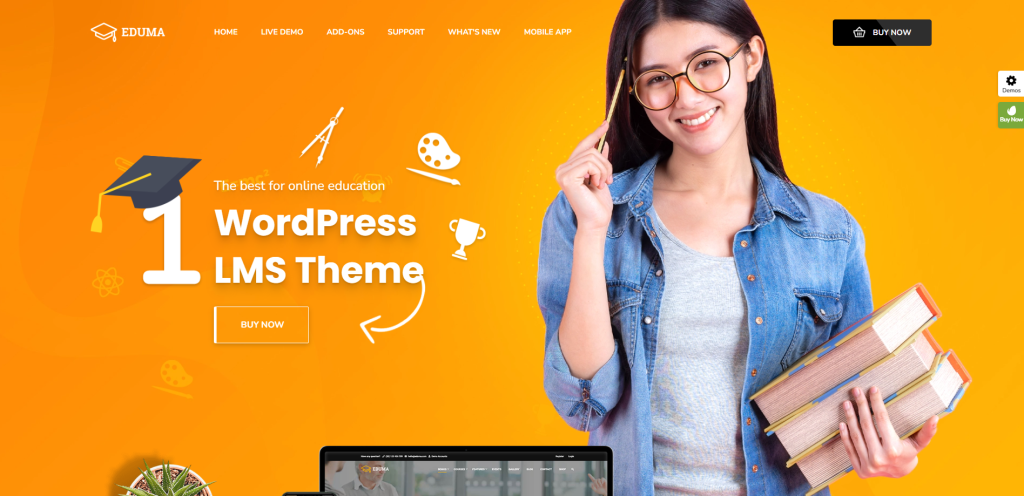 The design of Education WP is simple and inviting. Its default accent color is yellow, which helps to create a feeling of warmth. There are 9 demo layouts that you can choose from and use. However, any of the demos can be customized further with the included Site Origin Page Builder plugin.
While there are plenty of additional plugins in Education WP, top marks are given for its LearnPress plugin. It is available free on the WordPress.org plugin directory. However, with various premium add-ons available, it offers its rivals a run for their money.
The add-ons can assign co-instructors to classes and award certificates and provide "content drip"-style courses.
Courselog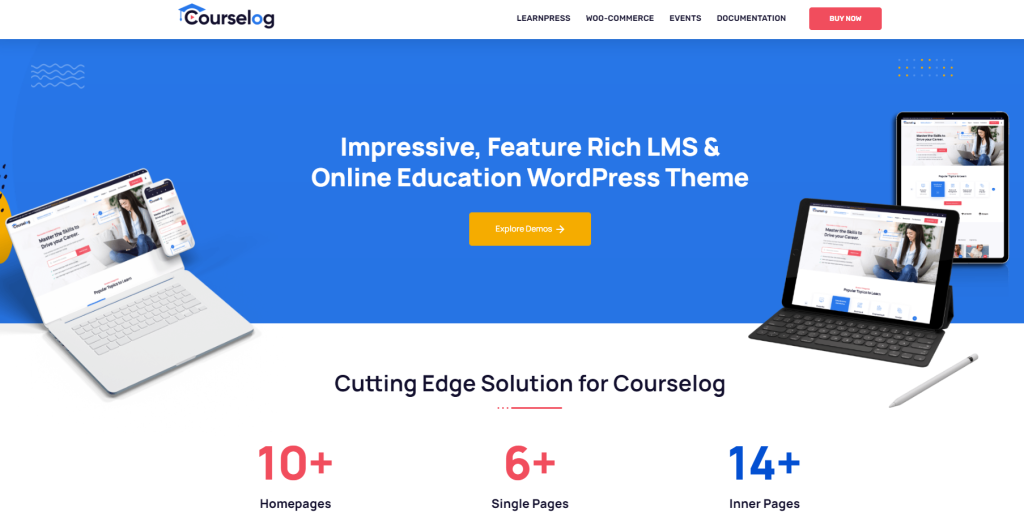 Courselog is a stylish LMS and an online education theme. Designed for educational institutions, Courselog has over 10 homepage templates that will aid you in making your website look perfect. Additionally, 14 internal page templates are available to help you create your site.
The examples include designs for university, kindergarten, and instructor-specific websites. If you're sharing educational content in conjunction with an institution that is formal or by yourself, Courselog should work well for your endeavor.
It also offers templates for building a site with just one course and sites with several courses. But, if you start using the single course template, you'll be able to increase the size of your site if you decide to add additional ones.
Conclusion
The variety and range of options available with these education WordPress themes is astounding. The same is true for the high-quality design and the functionality of every one of these themes.