Atomic Email  Hunter Review: Find, extract relevant email addresses, send mass mails and manage huge email lists, all these done easily.
You know how important it is to build an email list for your online business  – to find prospects that are interested in which products and services you have.
And you also know how difficult it can be to build an email list in this highly competitive digital world.
The common way is to build a blog, regularly post quality content on it, slap an opt-in form there and hope for the best. But what if you need to be a bit more proactive? What if there is a more aggressive way to build your targeted e-mail list?
The above-mentioned content marketing method is a good one. But sometimes, you need to diversify your efforts. And this is where a good email extractor can simplify your process of building an email list.
[thrive_link color='blue' link='https://enstinemuki.com/atomicemail' target='_self' size='medium' align='aligncenter']Atomic Email Hunter[/thrive_link]
It Isn't Unethical
First things first.
I know what you must be thinking, and let me clarify it.
No, it isn't unethical.
It's only immoral and unethical when you spam random people that aren't even interested in what you have to say. It's unethical when you steal other people's information and misuse it.
But it's definitely not unethical when you have something so good that can massively improve your prospects' lives. Is it?
Imagine this.
You have a brilliant product that your prospect doesn't know about. But the product has the capabilities to improve her life, double her business, sales and income. You should contact that person and inform her about your product.
This is how you should be using an e-mail extractor. And this is how you can use Atomic Email Hunter to great effect!

Atomic Email Hunter Review
Atomic Email Hunter makes it extremely easy and simple to find relevant email addresses and collect.
"Keyword research" is probably the best feature of Atomic Email Hunter.
You type in a few relevant keywords and the software starts searching for websites that are ranked on search engines (like Google) for those keywords.
The software then searches the website, finds the email addresses, extracts them for you and saves the addresses for future reference and use.
Or if you have a particular website in mind, where you can find a lot of targeted e-mails, simply insert that website's URL into Atomic Email Hunter. The software will run a thorough search, and all the emails from that particular URL will be presented in a nice and clean format.
Moreover, to improve the results you get, you can also specify a few words that you don't want to be included in the search. For example, you can add words like, "feedback", "no-reply" to avoid all such e-mail addresses from your end-results.
Furthermore, you also have the options of exporting your newly generated e-mail list to multiple formats. For instance, the same e-mail list can be either saved to your computer or exported to a Microsoft Word file or a Microsoft Excel spreadsheet. You can also add a relevant name for each e-mail address that the Atomic Email Hunter collects for you.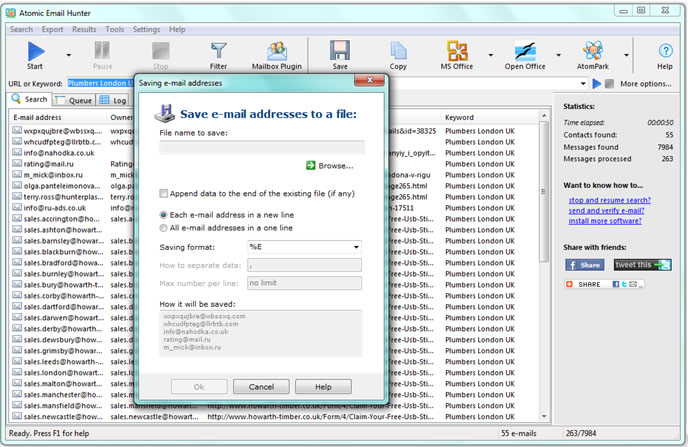 There are simply tons of different features in this little gem of a software. It is, without any doubt, one of the most powerful and action-oriented e-mail marketing tools. It is then up to you to decide its application and practical use.
But any internet marketer, who uses it wisely and efficiently,will always have a distinct advantage over other marketers who don't.
Check out the Atomic Email Hunter in live action in this following video, and get your own copy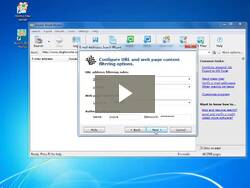 [thrive_text_block color="light" headline="Atomic Email Marketing Tools"]
Atomic Mail Sender : Flexible direct mail delivering and newsletter sending program
Atomic Mail Verifier  : A must-have email verification program if you manage mailing lists.
Atomic List Manager :In-house and independent studies show that using this mailing list manager increases ROI up to 15-25%…
[/thrive_text_block]
Now, I think in this Atomic Email Hunter review post, I have led you to a powerful tool to help you create a huge list. All you have to do now is try it.
Effective email marketing
In the email marketing industry today, one of the first things you need is an email service provider. This will make available to you marketing software for bulk mailing. Any bulk email software should allow you send bulk email with a good deliverability rate.
There are generally 2 ways to create your list of email addresses. First is to allow readers submit their contacts through a signup form.
The second method is to use an email harvester or email extractor software. There are many of these software out there. While using a free email extractor is good, there is no way you can be sure of the quality of the addresses collected by the harvester.
If you want to use mass mailer for your bulk email marketing, my recommendation isn't to rush for free untested apps. Web scraping or email harvesting can really mess up your email marketing campaign.
Some marketers download free mail software. Some will get the paid app and use an illegal key generator to get the serial key. Using a keygen shouldn't be a method you want to use for a long term business success.
Using the right email marketing software
You can use Internet search engines to search for any mailing software.
But any email address extractor you want to use should be highly researched to make sure you are not buying a software that will get your IP address blacklisted when you send bulk emails to bad addresses.
How to succeed in mass email marketing
Harvesting and creating a large list of addresses is one thing. But getting an email autoresponder that will accept that list is the hard side of the business. I have used Mailgun but a certain degree of satisfaction.
But you may want to use popular search engines like Google and Bing to find the best email marketing application or platform that will not limit your business.