Let's start by setting the scene right: You are in a bit of a time-pinch to find the information you desperately need at the moment.
You could be in a foreign city and you are lost. It's raining heavily, and you've lost an umbrella. You Google your hostel, and it pops right on top of the Search Engine Results. You click on it, and then…
…you end up on a 404 error page.
Can you feel the frustration of this imaginary situation? Even though the situation around it isn't so dire, whenever someone lands on a 404 page, the feeling is the same. And if you are running a website and trying to make a living out of it, you can't afford 404 pages on your site.
Still, 404 pages are pretty common, and yes, they will happen for a multitude of reasons. There is no point kicking yourself about it. What you should do is fix it and guide your traffic to another spot on your site that contains the information your visitor was looking for in the first place – the address of a hostel, maybe?
You might have moved the page to another URL already, but the link the visitor followed was not updated. Or, you could have created a new and updated one, but visitors are still hitting the old one. You need to change that, for sure, but how do you do it, though?
You do it by setting up a 301 redirect. Let's get into more detail before you start panicking.
What is a 301 Redirect?
301 Redirect is a technique that will allow you to guide your visitors to another location instead of a non-existing one and 404 page that shows as a result. If the 301 Redirect is done right, your visitors will not notice as it guides them to the spot that they wanted to reach in the first place.
By definition, 301 redirects are used when a site, page, or post has moved permanently from one URL to another. This definition might leave you wondering why you would be using it in the first place.
The reasons are plenty, some of them already mentioned above, but it could also be the result of changing a domain name, merging content together, or even starting fresh, so you want your visitors to end up on your new "Coming Soon" page, instead of the old HTML website.
The point is in the fact that you want to keep your visitors even though you are moving. You want them to find what they were looking for on your original URL in the first place instead of 404.
They could have gotten to the page or post from various places – a guest post, link on a page that lists websites in the niche, and much more. If you have moved the content from that page, what these visitors will see is a 404 page. The dreadful, horrible 404 page. The chances are, those people won't look all over the web for you – they will move on, and you will be losing visitors and sales.
Since you can edit those original links, because just finding them would take ages, you should simply set up the redirect for the page those links lead to, and have those visitors end up on a new page. Moving while keeping your visitors is the only smart move here, and you can do it easily with 301 redirects.
How do I set up a 301 redirect?
If you decided to set up your website on WordPress, which is still one of the best CMS out there available, you could simply set up your redirects with the right plugin. If you go ahead and search for the 301 Redirect in the WordPress plugin base, you will find one with a name to match – 301 Redirects.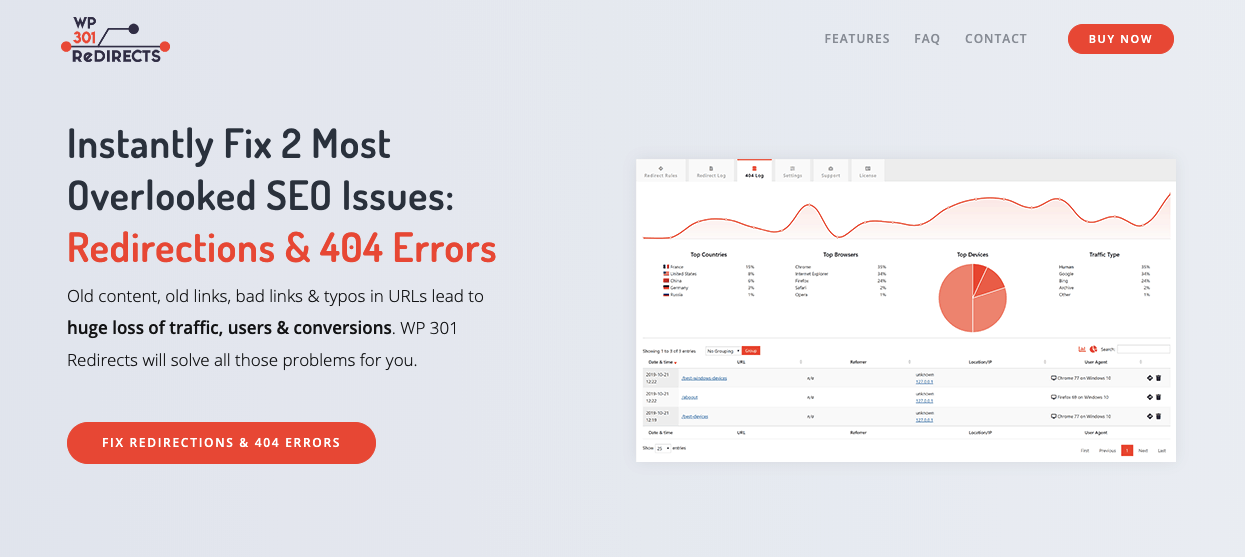 This simplistic plugin is all you need to set up and manage all your redirects. No fluff included no slowing down your site, no complicated navigating through your .htaccess file, and typing code no one really understands.
301 Redirect is just a straightforward plugin that you can use to set up redirections in no time. Don't leave your guests out in the rain, when all it takes for you is to copy and paste two URLs. It will take you just a couple of seconds with this plugin. Let's see how.
How to use the 301 Redirects plugin?
As mentioned, you can effortlessly find it by searching for the plugin in the "Plugin" section of your WordPress site. Install and activate it so that we can get to work!
Once the plugin is activated, you can find it in your "Settings" section. From there, everything is pretty clear, isn't it? The first provided field stands for the Requested URL that is currently a 404 page that your visitors can see. Simply paste the "requested URL" into the field.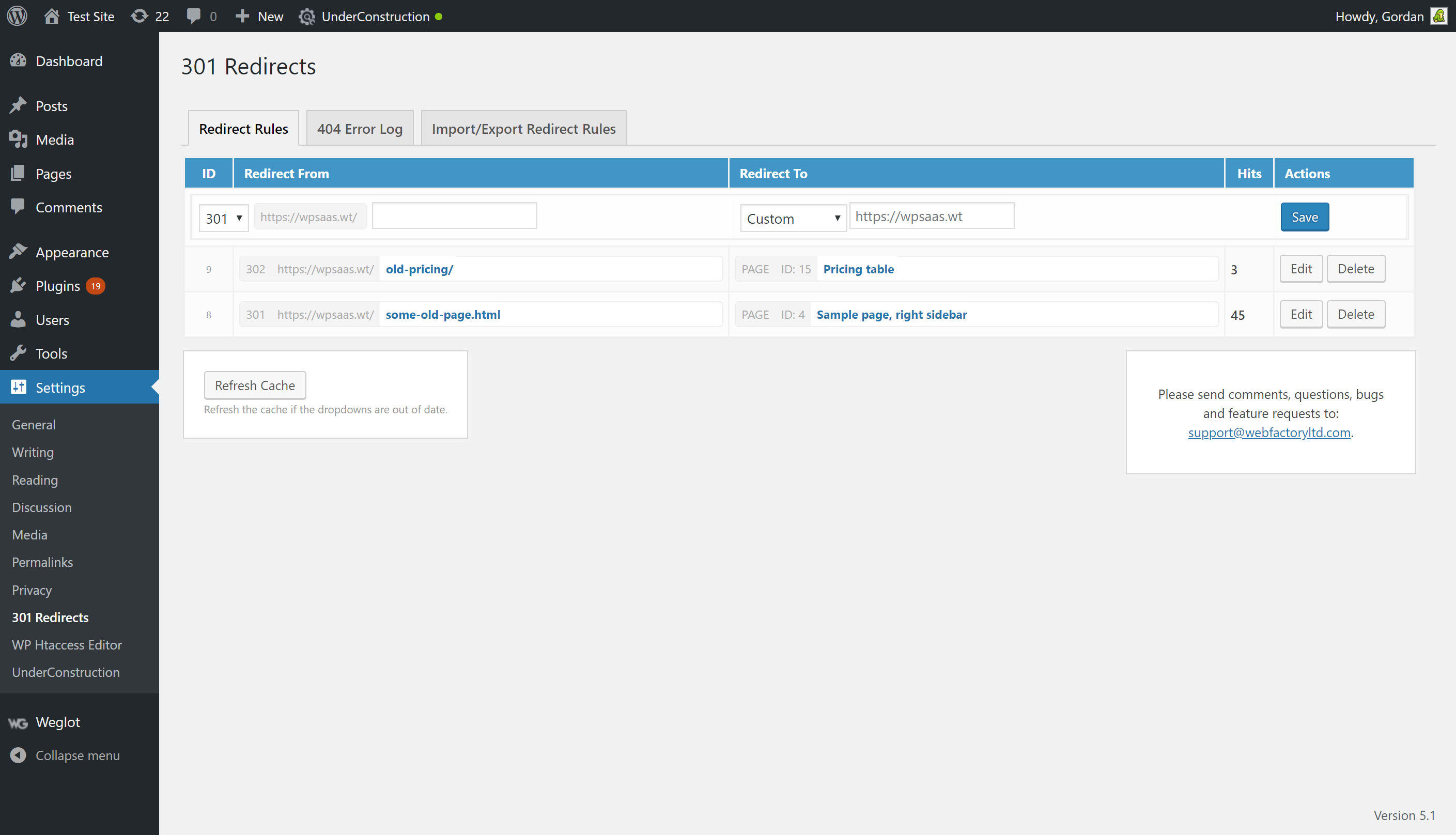 The next field is for the new page you want your visitors to see, also known as the "destination URL". You can set it up by using either a dropdown menu, from which you can select the Destination URL, or you can also paste the URL of your choice. Click Save, and that's it! The redirect is created!
You will be able to see it right under, as this plugin lists them in an easy to preview way. You can further edit or delete your redirect if you don't need it anymore. Add as many as you would like or need.
There's more!
Apart from allowing you to create redirects effortlessly, the 301 Redirect plugin allows you to add redirects in bulk, in case you have an existing CSV file with redirects you need. All you have to do is upload the file – the plugin will do the rest and set up your redirects in no time. You can also take advantage of the "Export" option, which can export all your redirects into a CSV file, in case you need them elsewhere.
What you can always rely on when it comes to the plugins from the WebFactory team is excellent support, and 301 Redirect is no exception. In the "Support" tab, you will find all the ways you can contact the team to get the help you might need.
Last but not the least important thing to mention is the "coming up" feature, which will free you of those pesky 404's on your website forever: the 404 error log! Finding 404's on your site is not as easy as it may seem unless you go ahead and regularly check your website for one. To speed up this process, the 404 error log is in process. This feature will allow you to see if there are any 404's on your site with a single glance and help you establish a 301 redirection in an instant – saving you a bunch of happy visitors.
Overall
Happy customers are your goal if you are trying to make a living online. Trust is paramount to making a sale. If your customers are looking for your address in the rain, and you are handing them a 404 page, you're probably not making much. You need to provide your visitors and customers with the information they are looking for, and you need to keep them with you in case you move. In short, this is why 301 redirects are important.
It is said that "The best investment is in tools of one's own trade", so if your trade is online, then the tool you must have in your toolbox is 301 Redirects plugin. Considering that it is entirely free and that it takes seconds to set up a redirect with it, it is surely one of the best investments you can make!