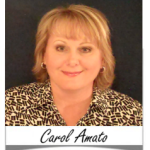 Yesterday we celebrated my 2nd Anniversary which was very exciting, so thank you for the kind words and well wishes – you truly made this milestone memorable, and I appreciate you!

Today is a new day, and I have a special treat for you. I'm featuring Carol Amato. She has come up with an awesome gift for my readers so please jump on it!

Why should I feature Online Entrepreneur Carol Amato?
I recently met Carol online and was immediately impressed by her giving spirit and genuineness as she truly wants to help others make money online. … Continue Reading …