Presenting a tested Speech to text service that effectively handles any audio transcription (audio to text) in over 10 languages. Forget about voice recognition software and meet highly qualified professions who are ready to deliver excellence while respecting deadlines.
There are many reasons people may want to transcribe their audio recordings. Some do the transcription themselves with errors, some look for speech to text software and others try to hire professionals.
I think the best choice to move your audio recordings from voice to text is to get it done by trained professions. Here are my few reasons;
Trained professions are humans so they have brains to reason, while transcribing in clean verbatim (removing speech errors and filter words) or full verbatim (text transcribed exactly as it sounds, including all utterances of the speaker)
Humans can listen more keenly and try to get the words even in a poorly recorded audios.
Dealing with humans opens room for corrections should there be errors.
Human can easily adapt in different languages.
Etc
Why Speech To Text Service ?
Let's start by hearing what some clients have to say

Speech To Text Service is a U.K.-based company with a global staff of professional transcriptionists and editors. With services that were recently extended to cover more international languages, Speech To Text Services has become a leading audio transcription company in the industry.
Here is a list of languages covered:  
| | | |
| --- | --- | --- |
| Arabic | Bosnian | Chinese |
| Croatian | Dutch | English |
| Filipino | French | German |
| Hindi | Italian | Japanese |
| Lithuanian | Macedonian | Polish |
| Portuguese | Romanian | Russian |
| Serbian | Shona | Spanish |
| Turkish | | |
What this simply means is that if you have an audio file in any of these languages and you want it transcribed by professionals who respect deadline, check out Speech To Text Services
Here are more reasons to be confident with them;
There will be no grammatical mistakes.
Professional transcribers carry out all transcriptions.
Professional editors check all transcripts thoroughly. The transcriptions are 99% accurate.
Transription specialists have a wide range of experience and are capable of dealing with industry-specific terminology, from medical to financial.
Speech to text pricing!
The table below shows how incredibly low their prices are. With less than $25, your 30 minutes long audio can be transcribed by professionals.
In addition to this, if you are a loyal customer, you get up to 20% discount on your orders.
A superior transcription processes allows them to offer the best prices on the market.

Here is the point:
If you just recorded a Webinar and you want to  transcribe and give it more exposure, stop messing around and wasting your time trying to do it yourself. Outsource the transcription to Speech To Text Services while you focus on developing your business.
You may think these guys are limited to some industries! No.
Do you have any legal audio to transcribe for attorneys, lawyers, court proceedings, judges, solicitors, court clerks and police? Here is what they cover;
| | | |
| --- | --- | --- |
| Bankruptcies | Court Proceedings | Contracts |
| Advice | Adjudication Panel Hearings | Witness Statements |
| Legal-Medical Reports | Wills | Leases |
| Probate Forms | Affidavits | Instructions to Counsel |
| Disciplinary Hearings | Tribunals | Draftsman Bills |
Speech To Text Service has got expertise in the medical sector with tested abality to transcribe for odontology, endocrinology, oncology, hematology, medical expert witnesses, private medical consultants, nephrology, cardiology, psychology, psychiatry, pediatrics, general medical practitioners, etc.
They cover even more categories including interviews, religious, commercials, etc.
Basically, Speech To Text Service is the audio to text transcription service that covers an extremely wide range of industries in different languages.
Johnatan Chase is a journalist. He has this to say
Here is how Speech to Text Services works!
You have your audio file on your computer (mp3, wav, wma, wmv, avi, flv, mpg, mp4, m4a, mov, ogg, webm, aiff, amr, 3gp). All you do is click to browse, locate your file. and then click to upload. Note from the image below that you can upload multiple audio files at once.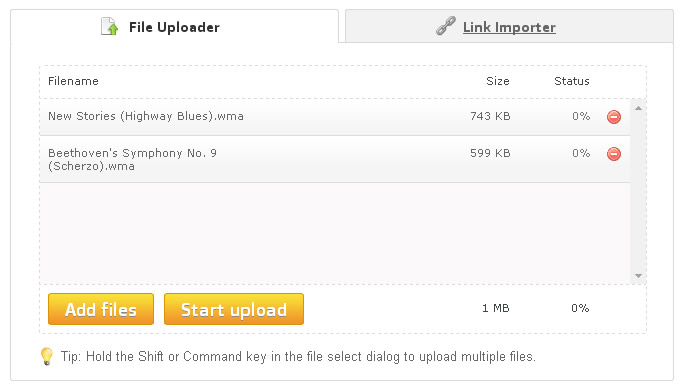 NB: If your audio file is somewhere online, just click "Link Importer", enter the url where your file is located and the system will import it to your account.
Once your audio files have been uploaded, you are able to enter transcription instructions on individual files.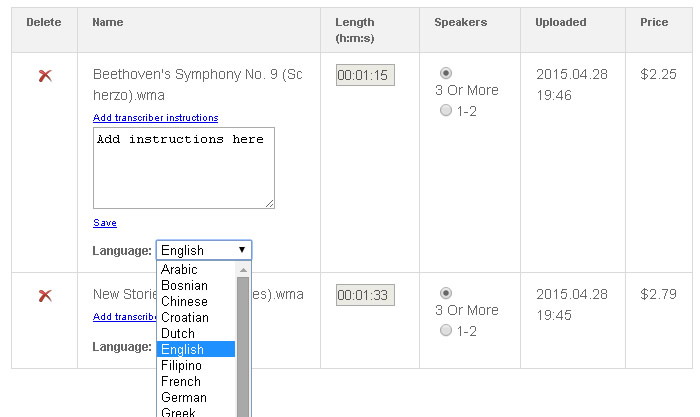 Speech to Text Service is incredibly simple to use. No complex software. No confusion procedures. After making payment (Paypal or Credit Card), your transcribed text will be delivered notably in MS Word within specific time frame. However, if you have another option, just  mention it in the description box
Speech to Text Service Coupon Code
I'm pleased to let you know that a unique coupon code has been generated for my readers.  Use this code to cut off 10% on your invoices.
Here is the coupon: enstinemuki10
Click to signup and start your free trial today!
Please show some love and share this post on social media. Drop a comment as well and let me know what you think.