If you want to be more successful in your business and build an online presence, you've come to the right place. Your public campaigns can be much more successful if you're using the right tools for social media management. The main goal of these tools is to narrow down your target audience to specific types with personalized and focused messages.
Each of these tools is different. However, they can help you create, publish, schedule, and plan social media content at the right moment, which will complete your marketing strategy.
Buffer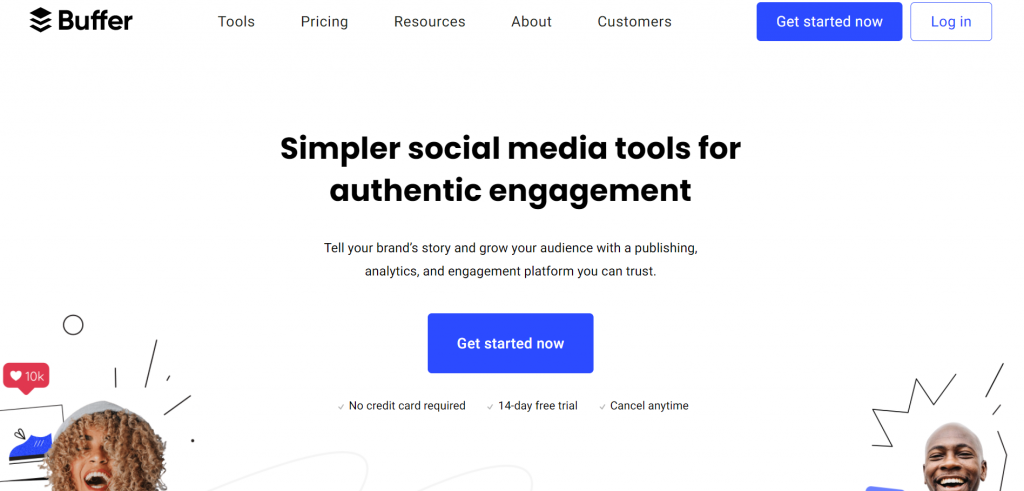 Buffer is one of the best social media management tools you can choose. It provides its users with everything they need in order to achieve their business goals. The main advantage of Buffer is that it allows users to manage their social media account across multiple channels at the same time.
There are tons of options you can choose to create, schedule, customize or edit your posts, as well as assign different assignments and permissions to your team members, etc.
Some of the best features you get with Buffer are:
informative social analysis
multi-media format sharing
social profile sharing
RSS feeds connectivity
fully customizable scheduling
standard buffering
Sprout Social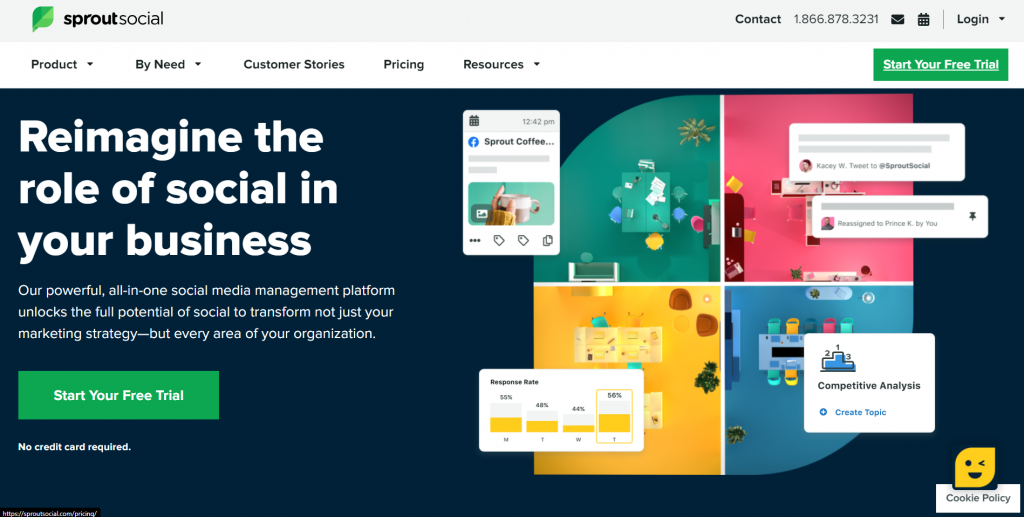 This is the next social media management tool that is the most effective among other free publisher software. One of the biggest advantages Sprout Social has to offer is its ability to use a seamless publishing system for posting across different social media platforms at the same time.
In addition, this tool provides detailed insight into analytical reports that allow you to monitor and measure your overall performance. Overall, this tool is the most efficient for your social media strategy as well as the best tool for tracking monitored keyword searches.
Key features that come with this tool are:
account structure
easy publishing tools
detailed analytics report
social CRM
smart inbox
Agorapulse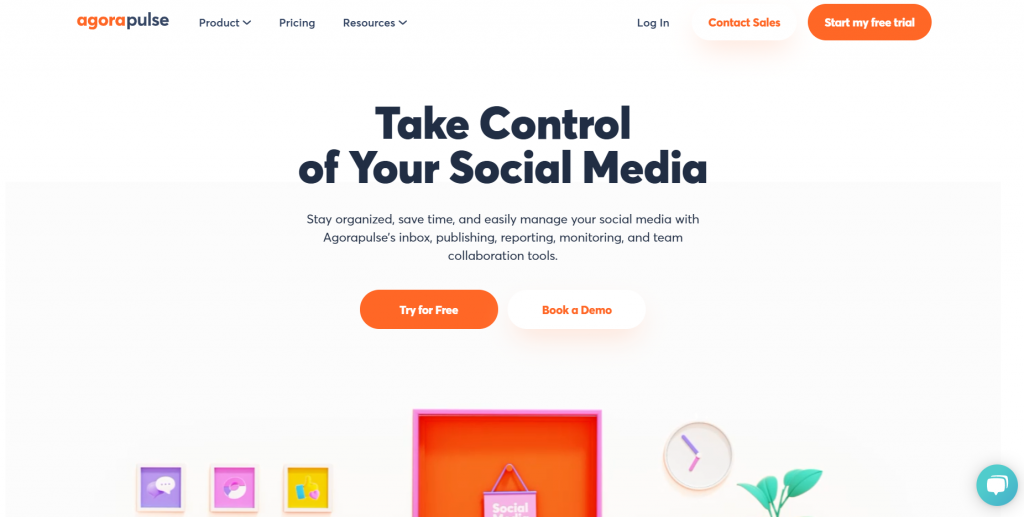 With this tool, social media management has never been easier. Since social media content needs to be updated on a regular basis, this tool is all about it. It allows the end-users to use the social media inbox option to keep their content fresh and updated.
Besides the fact that you can sync all of your accounts in real-time, what makes this tool great is that it saves old conversations and allow users to retrieve that information at any time. Most businesses use this to ensure that they don't miss any relevant content.
Agorapulse is a great tool for social media management that allows the user to easily track progress and even get customized reports in PowerPoint.
Key features are:
Instagram monitoring of hashtags and brand's username
advanced CSV reports
advanced scheduling options
Facebook analytics
team options
advanced PowerPoint reports
Sendible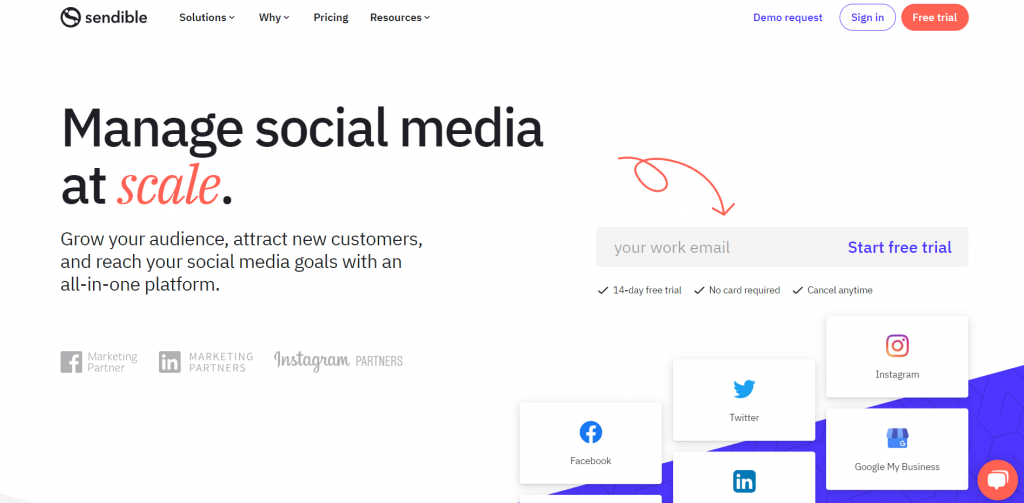 This tool was specifically designed for a brand that has multiple clients that need to increase brand awareness. Sendible is a fully optimized tool, mostly aimed at digital marketing, but it has all the features one brand could possibly need. By far, the best thing Sendible has to offer is its pre-built functionalities that support multiple users at the same time.
Any team members that are working on a client's account can have access to create and publish relevant posts. Another great option you get with this tool is boosting customer service, after which you can finally see if your strategies are providing the desired results.
Additional features this tool offers are:
360-degree brand building
lead generation
schedule posts
integrated analytics and tracking options
social media publishing across multiple channels
eClincher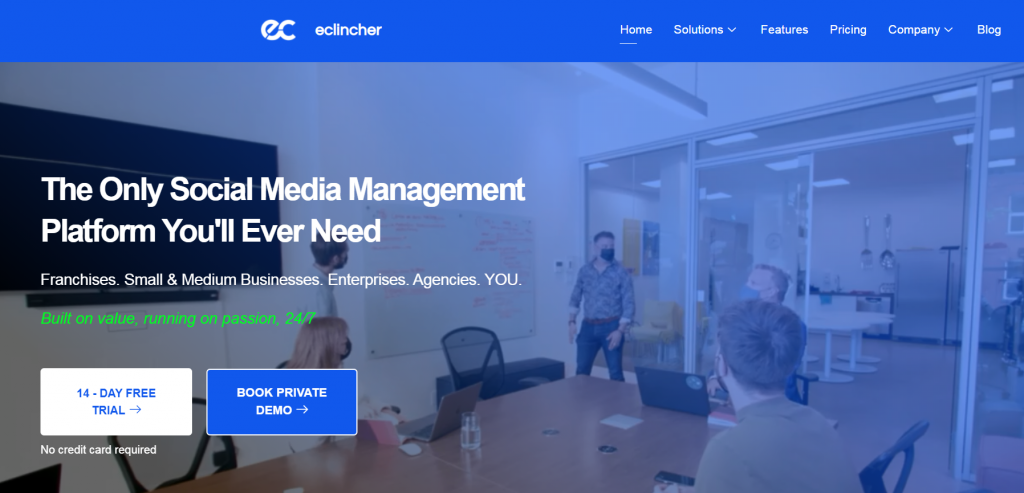 If you're struggling with heaps of work and growing your brand, especially if you're on a limited budget, then eClincher is the right choice for you. This tool allows small businesses and companies to manage social media groups, accounts, and pages across several platforms in the most efficient way.
eClincher is fully compatible with YouTube, Pinterest, Facebook, Twitter, Linkedin, and Instagram, so you don't have to worry about publishing across several platforms anymore.
Other features it offers are:
advanced publishing
auto-post with queues
content recycling
detailed web analytics
social media reports
Conclusion
Nowadays, running a business requires many different skills, techniques, and tools in order to achieve your goal and outstand your competition. Social media management tools are a vital part of your business, especially when it comes to planning, scheduling, and posting content. If you're not sure which tool to use, we hope these five tools will narrow down your choice.