In this PublicityClertks Review post, we are looking at a platform that's proven to be the go-to site for bloggers and webmasters who want to monetize their properties and advertisers who want targeted exposure and traffic.
Let's face it, advertising networks are popping up these days and BuySellAds has been leading the industry for pretty long. But things are soon changing as the leader itself has set rules that fight its growth, making way for competitors to gradually gain a reasonable portion of the market.
Getting approved on these platforms is tough. These is simply because there is need for quality. Sometimes though, things happen that cannot be explained. Whatever the case, let's take a closer look at PublicityClerks.
PublicityClerks Review ~ The best BuySellAds Alternative!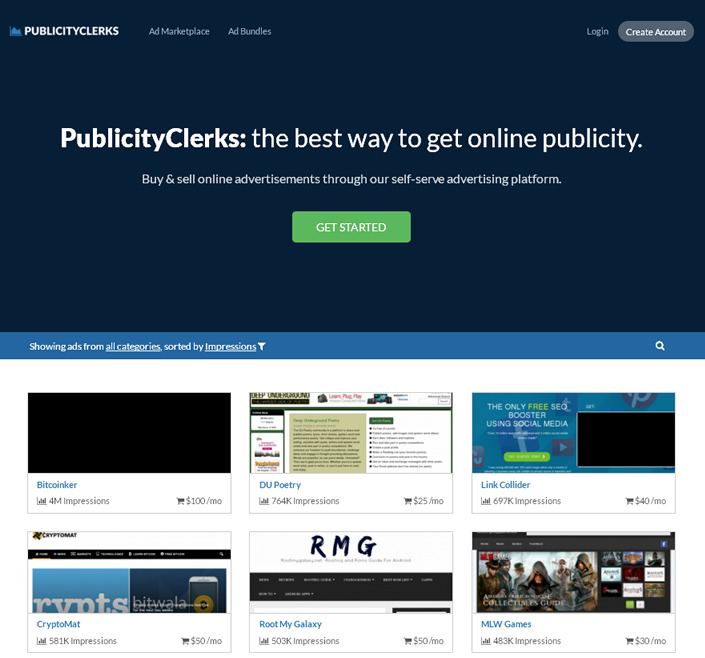 People today are looking for BuySellAds alternatives probably because they have been kicked out of it a couple of times. The simple truth is that BSA is strict on what they want and that helps in their quality. I'm not saying in this post that PublicityClerks is a dumping ground. Far from it.
You are also going to face tough times with them especially if your site is amateurish or less active. The simple truth is that they are a BSA alternative  and you are going to get pretty same results, whether it's monetizing or getting traffic to your offers.
At the moment of writing, the community has over 10,000 active members, publishers and advertisers. That's like something that will catch my attention, and it's the reason I'm talking about it today.
PublicityClerks Review -> Publishers!
Publishers are website owners who want to sell banner space on their sites. If you have a website (blog, forum, news site, etc), you have three banner options:
Banners to promote your own products
Banners to promote affiliate products
Banners from Ad networks – direct sales
We want to focus on point 3.
Once you signup, be sure to go to the settings page where you are required to enter some basic personal data, including your Paypal email to cash out.
The next step is to add your website to the directory in order to be found by advertisers.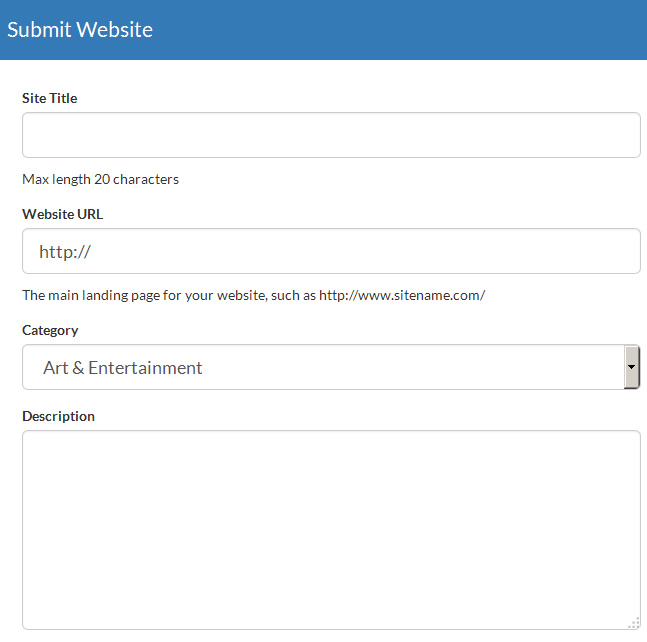 Pay close attention to the Site title and Description as these will help a lot to attract attention to your listing.
You will have to wait a bit, generally, less than 24 hours for your site to be moderated. Note that the admin on PublicityClerks care about their advertisers. That explains why your site will have to go through a screening phase.
Here are some basic requirements as stated in on PublicityClerks:
Your site must be live, finished, with fresh content
Greater than 100k impressions per month (sites with less than this may be considered based on advertiser demand)
Moderate to minimal advertising currently
High-quality website design
But if your site falls within any of the following points, you should consider not even submitting because you rejection is what you will get:
Your site is not on your own domain (i.e. you have a *.blogspot.com URL)
Your site is in another language different from English
You have too many ads or pop-up's
Your site is not complete or updated frequently
Your site is adult oriented or illegal / questionable content
Low quality design or UI/UX
Ok.
If everything goes well and you get approved, congratulations! A big round of applause!
You will now have to link your site to the new ad network by creating ad zones. So head over to "My Websites" and click on Zones:

If you are just starting on this platform, you are certainly not going to see any Ad Zones. So click the "New Ad Zone" button.
Fill the form properly and submit. A piece of code will be generated for you to copy and paste on your site where you want that Ad to appear.
Make it easy for your advertisers with On-Site Cart!
PublicityClerks gives you a facility that takes away the hard work off your head. The On-site Cart feature (Click Cart on the image above) will allow you to generate a piece of code to paste on a page (Advertise Here page for instance) on your site.
This will load the different ad slots available on your site, making it easy for advertisers to purchase that space. The On-Site Cart wizard allows you to customize the UI of the ad listing elements to match the theme of your site: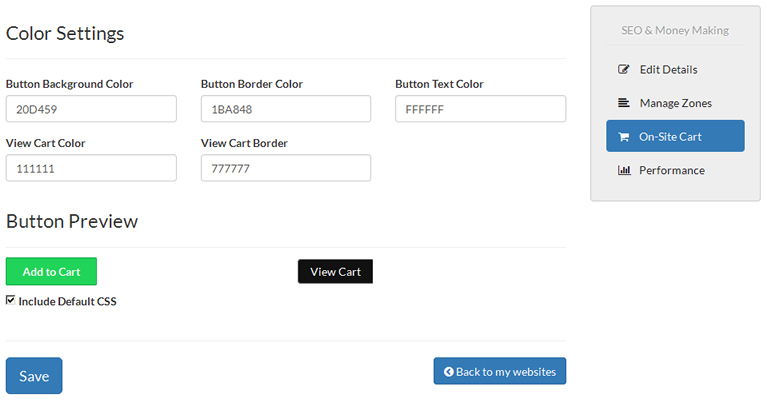 PublicityClerks Review -> Advertisers!
Sites I have found on this platform are pretty active which is an evidence of top quality. Despite the high traffic, most of the properties are priced low, making it accessible for all categories of advertisers.
The admins have made it easy for advertisers to browse through relevant categories and pick websites that fit their budget and exposure needs.
How to buy ad space on websites through PublicityClerks
There are generally two ways to find sites and purchase space on them. One of these is to go to the marketplace and choose from a list of websites in different categories.
Once you've located a property that attracts your attention, click to its details, where you can then buy the appropriate spot: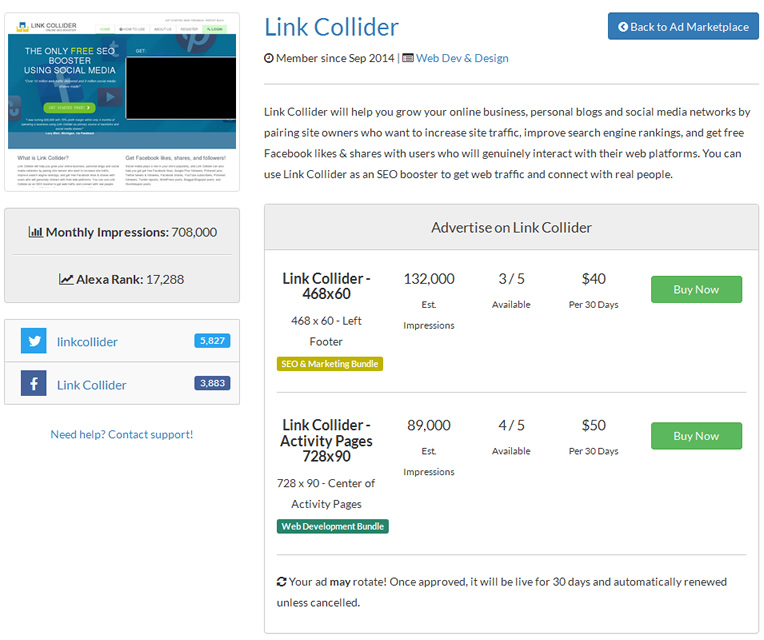 Another way to buy ad space through PublicityClerks is to use the Ad Bundles feature.
Ad bundles are categories created buy the admin. Each bundle contains pre-selected niche relevant websites, allowing you to purchase space on many more sites at once. This helps reduce the time needed to go through different categories, buy space one after the other.
Once you open a bundle, you have the option to buy space on all properties in that category or opt out of some. Here is what it looks like: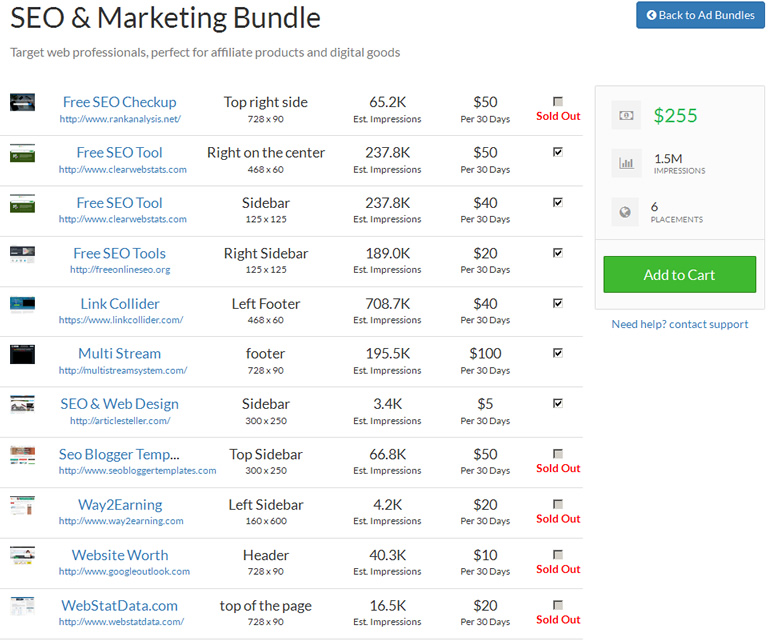 Here are a couple of things to note:
After payment validation, your ad may not instantly go live on the website. The reason is that some publishers have chosen to approve ads before they are published. If they are not satisfied with the quality of your banner or the product/service you want to advertise, they may just go ahead and reject the offer.
Secondly, at any moment, you can monitor your campaigns and track their performance. Go to Advertisers -> Campaigns: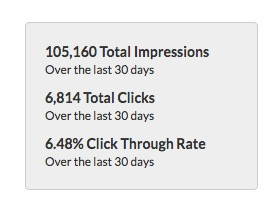 Time to take action
Whether you are publisher or advertiser, I think it's time to give PublicityClerks a try. You will need just one account for both.
Click here to sign up for free.
Also drop your comment below and let me know what you think about PublicityClerks and one of the best BuySellAds alternatives.