If you own a business of any kind, you need people to be able to find you. Having a Google Map on your website is a must nowadays, but getting it and having it work often can cost you a lot of time, anxiety and money.
Almost everyone who had tried adding the map on the website themselves had a nerve-wracking experience. At the moment, almost all of the plugins you could use to add your map are either outdated or keep bugging themselves, and you, too. So, until now, hiring a developer to do it for you was a costly but unavoidable budget spill.
Luckily, now we have Google Maps Widget that will help you place a map on your website that won't make your hair go grey in the process.
[thrive_link color='blue' link='https://enstinemuki.com/gmapwidget' target='_blank' size='big' align='aligncenter']Try out GoogleMapsWidget here[/thrive_link]
Google Maps Widget is the solution many website owners were looking for because it allows them to have the right map on their website in a matter of minutes. And you know what – you can get it for free!
Why is this widget different from all others?
This widget has a couple of useful features that will have you love using it to get this task done. Let's go over them now, so you can see how easy it is to get a map with this widget.
No nonsense
Install this widget, and get to work. It doesn't need any additional setups but is actually up and running from the moment it is installed.
In the blink of an eye
One of the biggest concerns that arise while planning whether or not to have maps on your website is the question of speed. Is having the map worth waiting for ages for the website to load?
If you are using this widget, there is no point in asking yourself this question. Unlike other maps, with the maps created with this widget, the website loads as it would without a map at all!
Never get lost again
With GMW, its speed and efficacy, you can create as many maps as you need on your website. There are no limits to the number of maps you can create.
Keep pinning
Just like with maps, there is no need to refrain yourself while pinning locations on the map. You can create as many pins as you would like – no questions asked.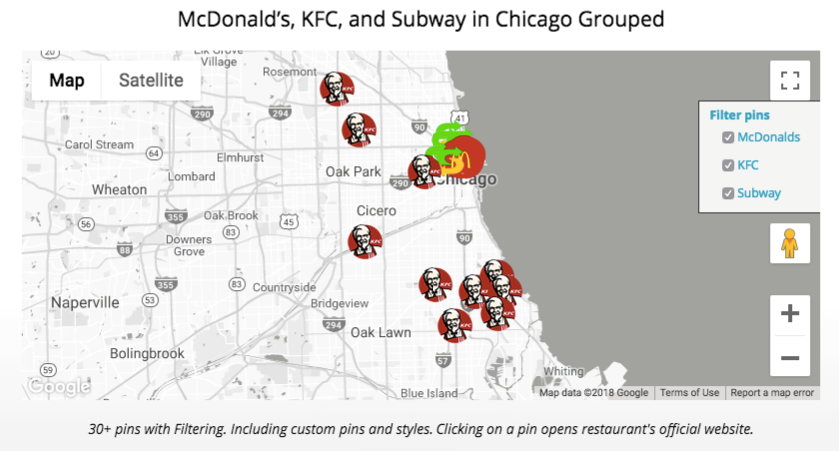 If you have a big number of pins on your map, then the ability to group them, that this widget provides, comes really handy. It makes the whole map look effortless and eye-pleasing, while still showing the important information to the customer.
Is there a PRO version?
Yes, there is. If your business relies heavily on the map, then you will love the additional features Google Maps Widget PRO provides.
With the PRO version, you can add an interactive and easily customizable map, containing all the features of your regular Google Map. Let's break them down in detail.
All familiar Google Map features
With PRO version, your customers are not limited to zooming in. It allows direction, search, view and also enables Google street view.
Customize the journey
Some maps work and some of them get you lost. With this widget, you can customize your maps to match your overall style of the website. Choose the map size that works best for the spot on the website, both height, and width.
You can pick the type of Google Map that you would like to have. Mountains are more important to you than roads? Choose a terrain map and you are good to go. Check the live examples to see different types of maps.
Furthermore, you can not only pick a style of your map, but you can also additionally customize each color of it, and edit it to perfection. A nice way to spend the day!
Give directions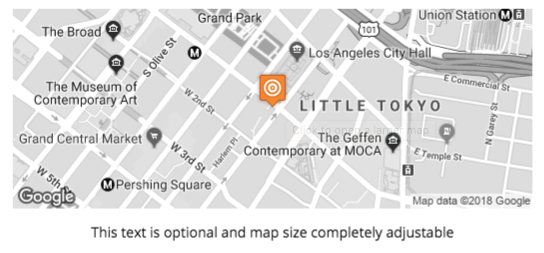 With PRO version, you can change the language of the map, which works amazingly if your business operates, or will operate, around the globe. If you have more than one map, use header or footer to give your customer additional details about how to find you.
No need to do it manually
Importing pins was something we all wished for. Especially if you need over 20 pins. That small number is manageable, however, anything more is a tremendous amount of manual, time-consuming work. With the latest update to this widget, simply import the whole list of addresses and save yourself the time to play with customizing the maps.
It won't get tangled up
With some maps that contain a lot of pins, things can get messy very quickly. The map can look overwhelming and be a cause of frustration, instead of being helpful.
The PRO feature allows your pins to work for you. Regardless of the number of pins you add to the map, these pins can guide your customers to your doorstep.
Custom mark each pin with its description. No more guessing games – make sure they know what each pin is. You should know and what it does. It can do nothing, or it can open a pop-up description or take someone to another link.
Cluster your pins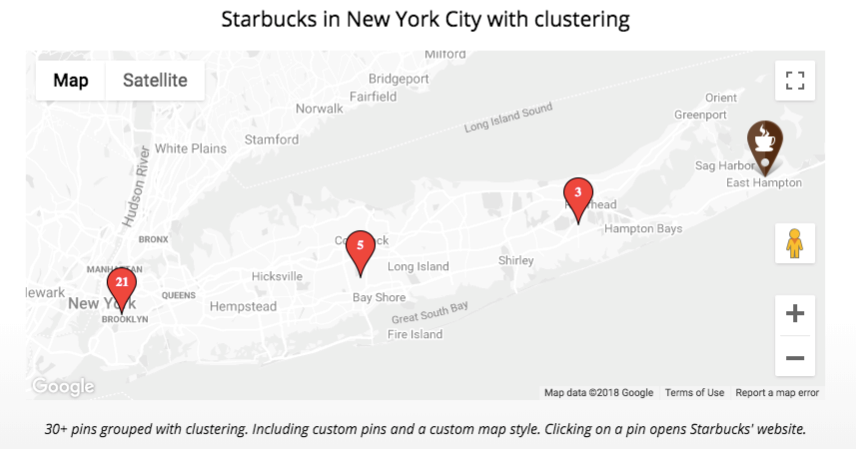 This is great if you have a lot of pins in a close vicinity of one another. If it looks overwhelming, cluster them, and replace with a number. When the customers zoom in on a specific number, they can see the needed information.
How much for additional features with the PRO?
You can get the PRO features in multiple options. First, the cheapest is on yearly basis, for which this widget costs $18.99.
If you are looking for a long-term map partner for your website, you can choose PRO Personal Lifetime for $39. This option covers 3 of your websites, makes premium support available, and gives you access to pro features that are available now, and that will be available in the future.
For those that want to add maps to their client's websites using this widget, PRO Unlimited Agency is the recommended option. It costs $79, contains all the options as PRO Personal Lifetime, but for an unlimited amount of websites!
[thrive_link color='blue' link='https://enstinemuki.com/gmapwidget' target='_blank' size='big' align='aligncenter']Try out GoogleMapsWidget here[/thrive_link]