The month of January has been quite busy here.
143 of my readers engaged, leaving a total of 235 comments, excluding my replies.
This is quite important to me and I'm excited about it.
So I have generated this list of comment authors to say thank you for making the first month of the year awesome. I'm using MyCommentAuthors, a plugin I created some few years back just for this purpose.
If you are running a WordPress blog, you may want to give the plugin a try. It absolutely has no front-end load impact on your blog. What it does is generate a TEXT list of your comment authors for a given month. So you just copy and past in your blog post.
How does MyCommentAuthors boost traffic and engagement?
The idea behind this plugin is simple:
Say Thank You to your comment authors (with a dofollow/nofollow backlink) and get them back to your blog.
I have written details about it here. Check it out so to know how it can help your engagement.
Save on Pinterest for later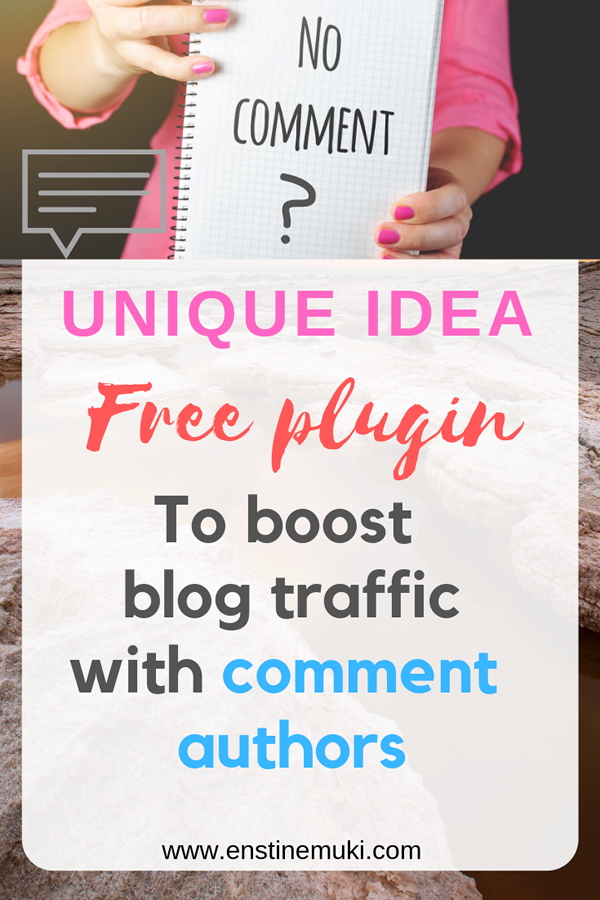 Here below is the list of commentators for last month. If you want to be on the next list with a backlink, drop a comment below.
I will be excited to have you here. And for my regular commentators, a million times Thank You.
Total Comments on this blog in January 2019
Nikola Roza made 16 comments
Jennifer Dagi dropped 13 comments
Arfa Nazeer dropped 11 comments
Philip V Ariel dropped 10 comments
Vineet Saxena made 8 comments
Ryan K Biddulph dropped 8 comments
Fernando dropped 5 comments
Lisa Sicard dropped 3 comments
Lorraine Reguly dropped 3 comments
Cristina dropped 3 comments
Lily made 3 comments
Divya Bhardwaj made 3 comments
Babs dropped 3 comments
James Michael dropped 3 comments
Juan Carlos dropped 2 comments
Ronald Segura made 2 comments
ALLI ABIOLA dropped 2 comments
Donna Merrill dropped 2 comments
sidharth dropped 2 comments
Subha Malik made 2 comments
mithilesh dropped 2 comments
Muhammad made 2 comments
tracy collins made 2 comments
ali made 2 comments
Darshan Nagekar dropped 2 comments
Vivk dropped 2 comments
Paul dropped 2 comments
Henry Ifeanyi dropped 2 comments
Anna dropped 1 comment
Mohd Zaid Mansoori dropped 1 comment
Linkpak dropped 1 comment
Amber Temerity made 1 comment
parveen made 1 comment
Saiprakash dropped 1 comment
jack made 1 comment
john richard dropped 1 comment
Nick made 1 comment
Arnab Goswami made 1 comment
Anishad made 1 comment
Chin made 1 comment
Kyra Rodriguez dropped 1 comment
Surjeet verma made 1 comment
Aman Singh dropped 1 comment
Joseph dropped 1 comment
Veer dropped 1 comment
Ashutosh Singh made 1 comment
Rashel Ahmed made 1 comment
Nia Jax made 1 comment
Abdullah Nasir dropped 1 comment
Suresha B dropped 1 comment
Jan dropped 1 comment
Hitesh verma made 1 comment
Jimcy Johnson dropped 1 comment
John Bravo made 1 comment
Arfa | Shemeansblogging dropped 1 comment
Vishwajeet Kumar dropped 1 comment
Shawon made 1 comment
ers made 1 comment
Robin made 1 comment
Brad Lindsey made 1 comment
vivek dropped 1 comment
Alisha Ross dropped 1 comment
Abhinay dropped 1 comment
George made 1 comment
Sunny dropped 1 comment
Bhawna dropped 1 comment
samar pahwa made 1 comment
Joy Healey dropped 1 comment
Jane dropped 1 comment
McKinzie dropped 1 comment
Michelle made 1 comment
Awaish made 1 comment
Alex Cole dropped 1 comment
Richa Verma dropped 1 comment
Daayur made 1 comment
Anant Vijay soni made 1 comment
Umar craig made 1 comment
Raju da dropped 1 comment
Richa Agrwal made 1 comment
Janet Travis made 1 comment
Shan dropped 1 comment
Adelina Adell made 1 comment
Namithaa K dropped 1 comment
Manju Rai made 1 comment
kashif khan made 1 comment
Moss Clement dropped 1 comment
Kavleen Kaur dropped 1 comment
Pascal made 1 comment
Nirvana Guha dropped 1 comment
Rachel Kieran dropped 1 comment
Hassaan Khan made 1 comment
Dale made 1 comment
Gaurav Kumar dropped 1 comment
Nimra Yousafzai made 1 comment
Olivia Smith dropped 1 comment
Liza koli made 1 comment
Dewaani Raja dropped 1 comment
Aliha made 1 comment
Pedro made 1 comment
Martha Chapman made 1 comment
Anil Verma dropped 1 comment
Rupesh Joshi made 1 comment
Thaha made 1 comment
Sandy Halliday made 1 comment
chery schmidt dropped 1 comment
danyel naq made 1 comment
Mitch Mitchell dropped 1 comment
Adugba chukwuebuka dropped 1 comment
Adeel Inam dropped 1 comment
Neil made 1 comment
prakash dropped 1 comment
Amna Sheikh made 1 comment
Usman Ghani made 1 comment
Rida dropped 1 comment
Bikram Kalsi made 1 comment
Bhawna Kaushik made 1 comment
Nimra Yousaf made 1 comment
Abhishek Dharmik made 1 comment
Foskaayforum made 1 comment
Mary Fernandez made 1 comment
Bikram made 1 comment
Ohana dropped 1 comment
John dropped 1 comment
Pedro Okoro dropped 1 comment
Papa made 1 comment
Sathish Arumugam dropped 1 comment
Beena made 1 comment
Hassan Mard made 1 comment
Michael Pozdnev dropped 1 comment
Jackson Joseph dropped 1 comment
Adithya Shetty dropped 1 comment
Lily Ugbaja dropped 1 comment
Shamsudeen Adeshokan made 1 comment
Arohi made 1 comment
Pedram made 1 comment
Emery Ocampo made 1 comment
Joseph Chikeleze made 1 comment
Jan Verhoeff dropped 1 comment
Tanyi Melvis Bechem dropped 1 comment
BestNigeriaForum dropped 1 comment
Michela made 1 comment
Usman made 1 comment
Oskaaay dropped 1 comment
143 comment authors with 235 comments in the month of January 2019
This list was generated by MyCommentAuthors