Do you remember the last time you lost some crucial data? It's such an awful moment, seeing that some vital information has just been deleted from your PC or flash disk.
Maybe you formatted or partitioned your storage organ and you are now thinking all is lost. Well, the good news is that you have here the best free data recovery software to recover deleted, formatted or lost data from PC, laptop or removable device and this can be done so easily and quickly.
EaseUS is a powerful file recovery software that allows you to recover files from PC, laptop, hard drive, memory card, digital camera, SSD, USB, etc. Now, let's see step by step how you can scan, locate and effective get back your lost files in minutes.
First, download EaseUS for Windows or Mac. Next, install it.
Recover your lost files with EaseUS Data recovery software
Now you've downloaded and installed the software.
NB: Do not install it on the partition or organ you want to recover your data from. If you do, those lost files and data will be overwritten and completely lost.
Start the software and select a location to start finding data from: Desktop, Windows Libraries, Existing partitions, Lost partitions, external devices, etc.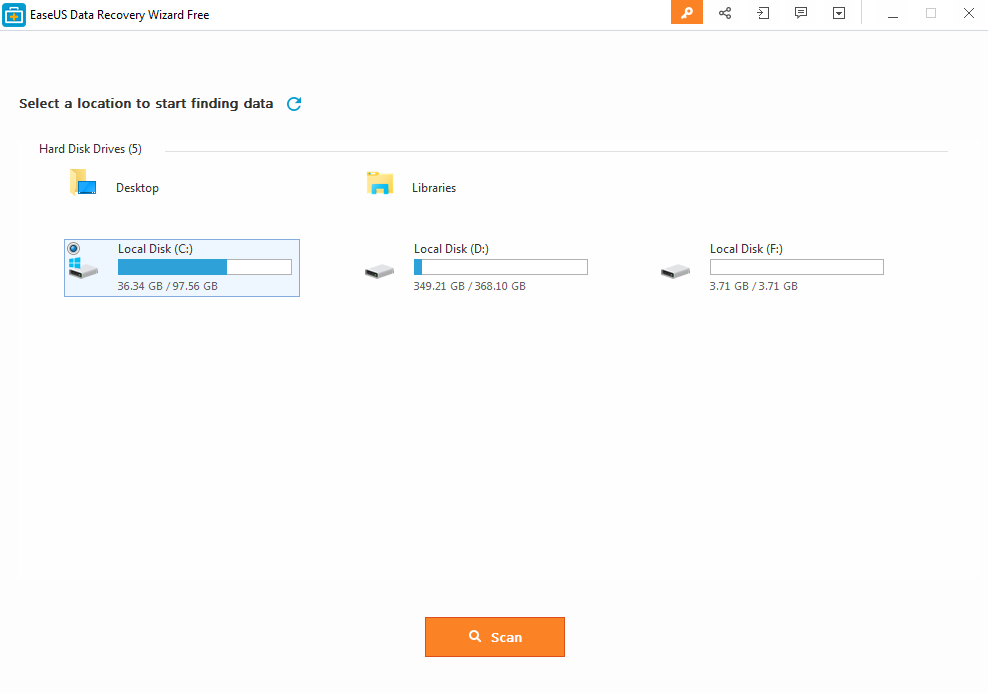 Click the "Scan" button and the software will start the recovery process.
The first scan is going to be very quick. EaseUS will do a rapid check and list files that were simply deleted or cleaned from recycle bin.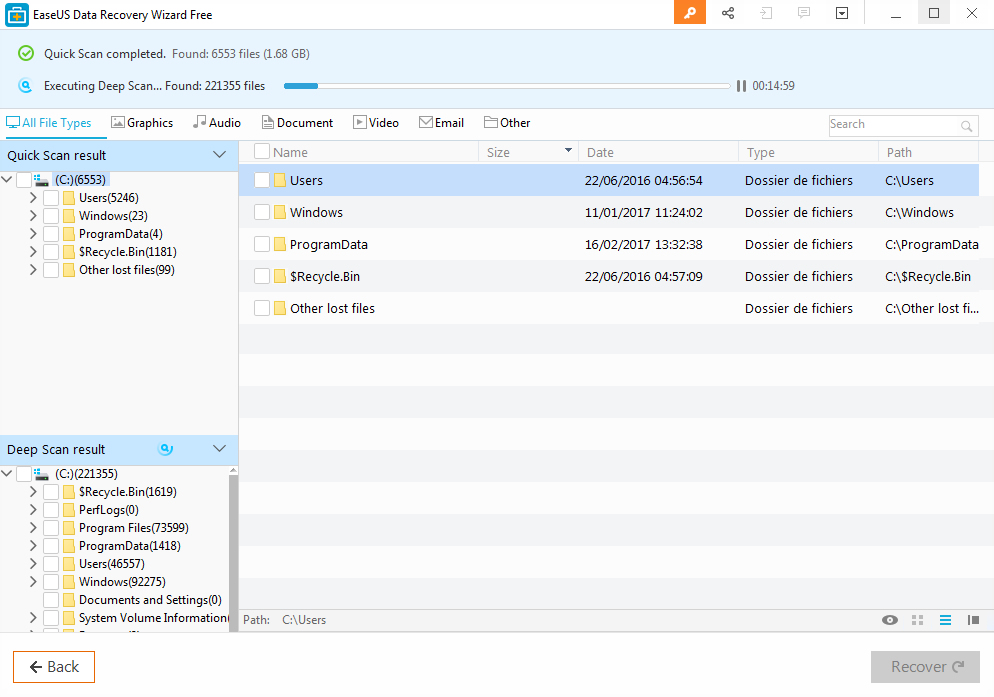 After the quick scan, EaseUS will automatically start a sector by sector scan. This takes longer and you will have to wait for it to complete.
Once the scan is complete (though you can stop it any time), You will have to select the files you want to recover.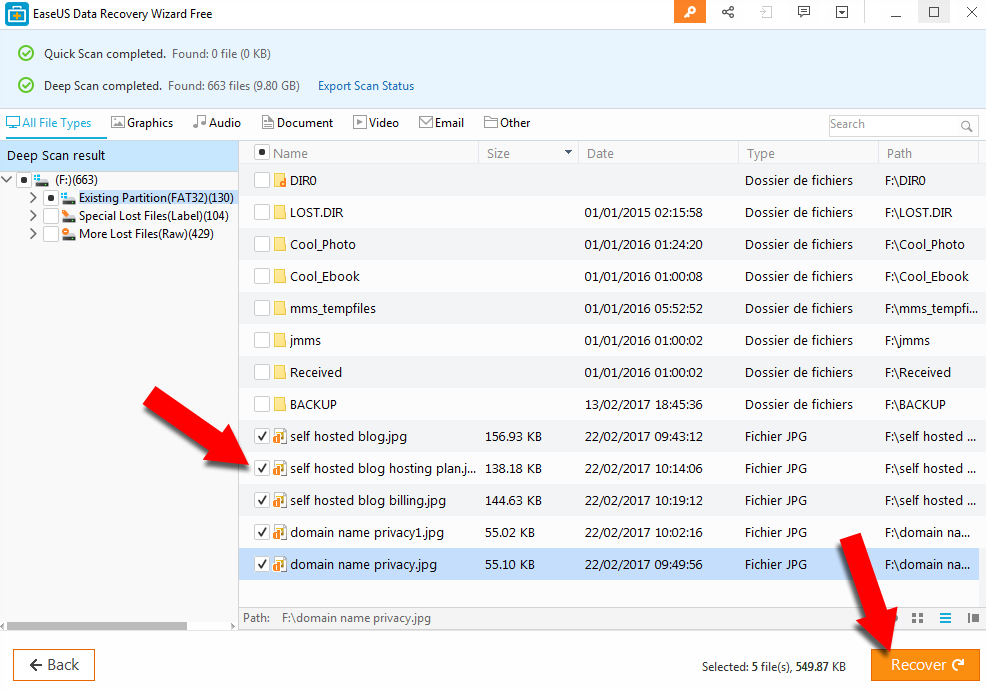 You click an element on the Directory Tree list on the left. This will pull up a list of recovered files on the right. Select the files you want to recover and click the "Recover" button. This will bring up a dialog box allowing you to select device where to store the recovered files.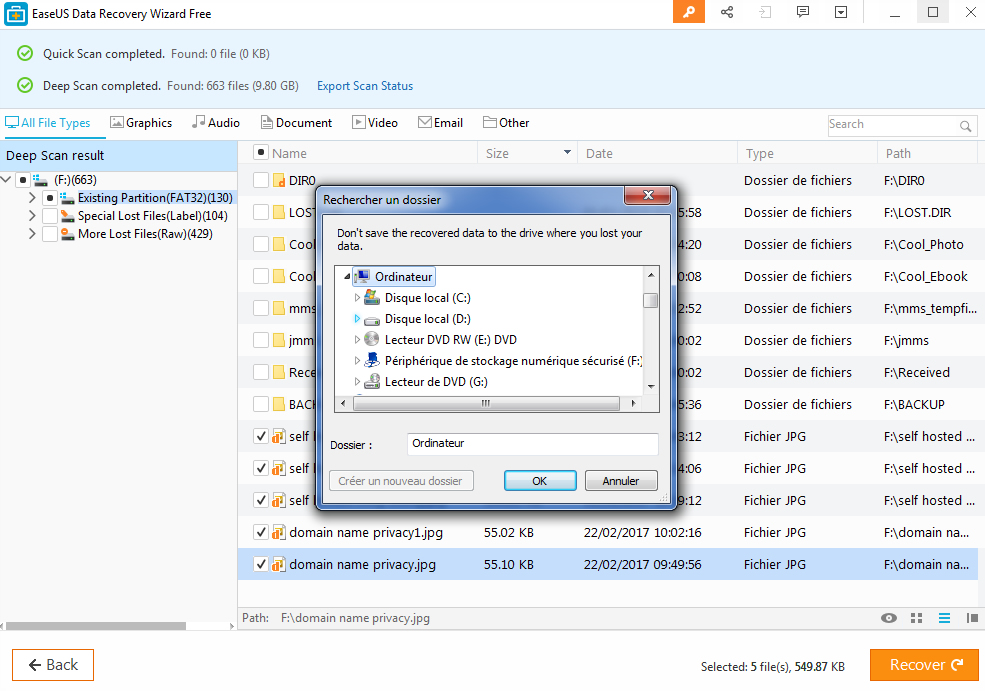 NB:  DO NOT save the files into the drive or device you are recovering from.
Sometimes you may not be able to identify and save all the recovered files at once. What you do is save the scan result by clicking Export Scan Status. You can always come back to import it each time you need to recover more files without performing another time consuming scan.
File Types Supported by EaseUS data recovery software
EaseUS file recovery software supports all types of files you need to restore. These include:
Document: DOC/DOCX, XLS/XLSX, PPT/PPTX, PDF, CWK, HTML/HTM, INDD, EPS, etc.
Graphics: JPG/JPEG, TIFF/TIF, PNG, BMP, GIF, PSD, CRW, CR2, NEF, ORF, SR2, MRW, DCR , WMF, RAW, SWF, SVG , RAF, etc
Video: AVI, MOV, MP4, M4V, 3GP, 3G2, WMV, MKV, ASF, FLV, SWF, MPG, RM/RMVB, MPEG etc.
Audio: AIF/AIFF, M4A, MP3, WAV, WMA, APE, MID/MIDI, RealAudio, VQF,FLV, MKV, MPG, M4V, RM/RMVB, OGG, AAC,
Email: PST, DBX, EMLX, etc.(from Outlook, Outlook Express etc.)
Other filesSuch as Archives(ZIP, RAR, SIT, ISO etc.), exe, html, SITX etc.
Storage  Devices Supported
EaseUS allows you to recover lost data from a huge number of different devices and technologies:

System and Hardware Requirement: WINDOWS
Operating System:
Windows 10/8.1/8/7/Vista/XP
Windows Server 2012
Windows Server 2008
Windows Server 2003
Flie System: FAT(FAT12,FAT16,FAT32), exFAT,NTFS,NTFS5,ext2,ext3,HFS+
CPU: at least with x86
Disk Space: 32MB minimum space for EaseUS Data Recovery Wizard installing
RAM: at least 128MB

System and Hardware Requirement: MAC

Operating System
macOS 10.12 (Sierra)
Mac OS X 10.11 (El Capitan)
Mac OS X 10.9 (Mavericks)
Mac OS X 10.8 (Mountain Lion)
Mac OS X 10.7 (Lion)
Mac OS X 10.6 (Snow Leopard)
Flie System: HFS+, HFS X, FAT (FAT16, FAT32), exFAT, NTFS
CPU: at least 1GHz
Disk Space: 32MB minimum space for EaseUS Data Recovery Wizard.
To download EaseUS data recovery software, click here
Drop a comment let me know what you think about this software.