Blog commenting is a very profitable blogging exercise.
When I got into blogging, I was quickly introduced to it and it worked so well for me. I was able to quickly grow my community by reading and dropping engaging comments on other blogs.
I can vividly remember those my early days when commenting was a huge networking tool. Of course it still works today if properly practiced.
One of the reasons blog commenting works so well for me is because I do not comment for the sake of backlinks. I comment for 2 main reasons:
Create relationships.
Expand my community.
I have had links in the exercise as well. But the relationships I have created through blog commenting have been more rewarding. Many of the friends I'm connected with have given uncountable contextual links, signed up to my lists, bought my products, etc.
As a matter of fact, one of the strategies I teach my students to build an engaging blogging community is "commenting that works"
But it came a moment when I thought of a simple way to quickly generate a list of everyone that has dropped a comment on my blog within a given period. There was no plugin to help with this. So I created one called MyCommentAuthors.
Using MyCommentAuthors to create a list of commentators
What this does is amazing. With a few clicks, it allows it users to generate a list of comment authors on their WordPress blogs for a given month.

Here are a few options you should know about:
Dofollow limit: The list generated is made up of the commentator's name linked to his url and comment count. This option allows you to control who gets a dofollow link and who doesn't based on the number of comments made. In this case, if someone made 20+ comments on this blog in the month of April 2019, the link will not have the nofollow tag
Option – Get HTML or Preview: This allows you to preview the list within the dashboard or simply generate the HTML code to add to your post.
Page break: If the list generated in too long (meaning you had many comments), you may one to break the page after X number of comments.
Templates: There are three different templates. Let me demonstrate them below: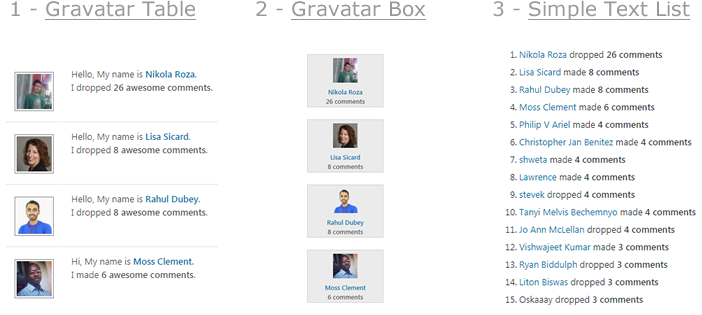 The Gravatar Table template will create a nicely styled table of commentators with their gravatar pictures pulled from Gravatar.com.
The Gravatar Box will simply display nice boxes with gravatar pictures while the Simple Text List will create a simple list of linked names with no pictures.
It's all your choice which of these to use on your article.
MyCommentAuthors General Settings
Now, there are some options you should set before using the plugin. This applies to the plugin in general, your blog theme and web host's mailing settings: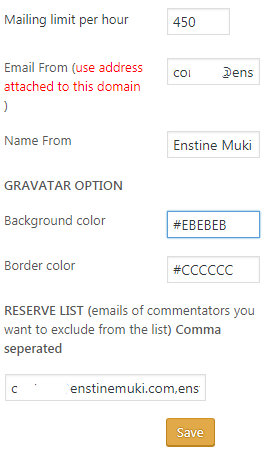 Mailing limit per hour: If you are hosting on a shared server, it's important to set this to the maximum number of mails allowed per account per hour. Contact your host for this information.
Email From: You must set a valid email address created on the domain where the plugin is installed. Without this, your host may not be able to deliver the mails sent from the plugin.
Gravatar: Use this option to set the gravatar box color. This should be set to match your entire theme design.
Reserve List: You need some users removed from the list of commentators. These are administrators and maybe your blog editors. Just add their emails here, separated by commas.
What to do with the list of commentators.
Now, you are able to generate the list of your comment authors monthly. What do you do with it?
I didn't want to provide a system that will allow bloggers spam their commentators. So I made sure there is no function to download their email addresses. There are only two things you can two with the list. These are just two but powerful enough to keep your blog busy month after month:
1 – Publish a Thank You post on your blog:
Being thankful is the quality of someone who wants more. So by generating and publishing the list of your commentators, you actually thank them for coming to your blog and dropping a comment. Below is the list (Simple Text List) of my commentators for the month of April 2019 just to tell you guys Thank You.
First, select the month and other options accordingly. In the Option select field, select Get HTML and click Generate. You will get this: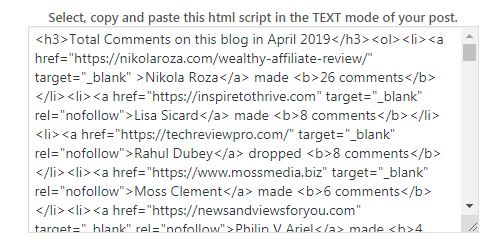 Copy the html code as it is and paste in the TEXT view of your post composing environment. You must switch from the Visual composer to Text for the code to be interpreted not simply displayed as text.
Once this is done and everything else added to the article, hit the publish button and your list is published.
2 – Send a friendly mail to your commentators
There is a mailing option that allows you to send a simple mail to your commentators to Thank them for being active on your blog.
This must not be used for any other reason on earth else it may be considered as spam.  To oblige bloggers not to misuse this function, I hard-coded the subject of the mail to"You made X comments in XX. Thank You!"
I'll recommend you send the mail with the link to the Thank You post after you've published it. This way, they will be called back to your blog, adding more counts to your repeat visitors.
To send the mail, click the "Mail This List" button under the HTML generated text in step above. This will bring you to the mail form: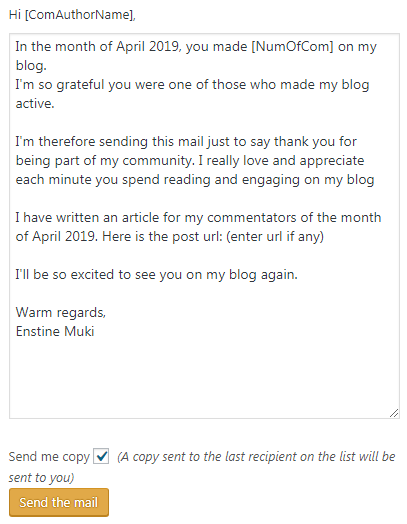 You may want to tweak the content of the mail. However, the placeholder [NumOfCom] should be used to include the commentator's comment count. Make sure to read more on the mail page before sending your first ever Thank You mail.
Comment Authors on this blog in the month of April 2019
Last month was equally active. Though I spent more time working on eFAAH JOBS, there were 128 comment authors who did make 223 comments.
I want to say a big Thank You to everyone, especially my friend Nik who spent quite much time on my blog. You all rock:
Nikola Roza dropped 26 comments
Lisa Sicard made 8 comments
Rahul Dubey made 8 comments
Moss Clement dropped 6 comments
Philip V Ariel made 4 comments
Christopher Jan Benitez made 4 comments
shweta dropped 4 comments
Lawrence dropped 4 comments
stevek dropped 4 comments
Tanyi Melvis Bechemnyo made 4 comments
Jo Ann McLellan made 4 comments
Vishwajeet Kumar dropped 3 comments
Ryan Biddulph made 3 comments
Liton Biswas made 3 comments
Oskaaay dropped 3 comments
Dalene Ekirapa made 3 comments
Ryan K Biddulph made 3 comments
Maxim Dsouza dropped 3 comments
Jamiu Oloyede made 2 comments
Designatude dropped 2 comments
danutz made 2 comments
Lily @ FindingBalance.Mom made 2 comments
Shreya Rane dropped 2 comments
Arfa Nazeer made 2 comments
Smith dropped 2 comments
MD. Al amin dropped 2 comments
vervelogic made 2 comments
Nirmal Kumar dropped 2 comments
Annette Brigiotta dropped 2 comments
Aakash Patel made 2 comments
Adrina dropped 2 comments
talha rana dropped 2 comments
Pankaj Mondal made 2 comments
Dexter Roona made 2 comments
Nirav Dave dropped 1 comment
Silvester Shuro dropped 1 comment
Mike Jones made 1 comment
Donna Merrill made 1 comment
Monna Ellithorpe made 1 comment
Samuel made 1 comment
Gaurav Jain made 1 comment
Malik Mubashir made 1 comment
Malik dropped 1 comment
Oan Mohammad dropped 1 comment
Javed Hussain dropped 1 comment
Pankaj dropped 1 comment
Mark Newsome dropped 1 comment
Kufre made 1 comment
Dan Goldman dropped 1 comment
Tricia made 1 comment
Hannah Lagdameo dropped 1 comment
mithilesh dropped 1 comment
Mathew Shields dropped 1 comment
Brad Lindsey made 1 comment
Mahmudul hasan dropped 1 comment
Alli Abiola dropped 1 comment
Gaurav Kumar dropped 1 comment
Gyan Ranjan dropped 1 comment
Jibade made 1 comment
Joy Healey dropped 1 comment
kufre Ekpo dropped 1 comment
arsalan6370 made 1 comment
Puran Mal Meena dropped 1 comment
kosigro made 1 comment
Dasho Partners dropped 1 comment
Nirvana Sharma made 1 comment
shan dropped 1 comment
Arumugam Rangasamy made 1 comment
Malcolm McNeill dropped 1 comment
Mitesh made 1 comment
Ankit Main made 1 comment
manisha made 1 comment
Athar made 1 comment
James Stuklin dropped 1 comment
Chester Loke dropped 1 comment
Nidhi dropped 1 comment
Robin Khokhar made 1 comment
Vlad Nikolskiy made 1 comment
Hassaan Khan dropped 1 comment
Abigale Smith made 1 comment
Bhawna made 1 comment
Ronit Sharma dropped 1 comment
Andrew dropped 1 comment
Marai Zvinca dropped 1 comment
hannah william dropped 1 comment
Tim Halloran dropped 1 comment
Make money made 1 comment
Railway jobs dropped 1 comment
CHARLES dropped 1 comment
Daniel John dropped 1 comment
Casey Adams made 1 comment
Augusta dropped 1 comment
William Lane dropped 1 comment
Vicky Joseph made 1 comment
Arun Kumar B made 1 comment
Akash Kumar dropped 1 comment
Joydeep Mandal dropped 1 comment
Amelia Warner made 1 comment
Abhay Gautam dropped 1 comment
Boniface Kisina made 1 comment
Dimitri made 1 comment
Robiul islam dropped 1 comment
Albertin dropped 1 comment
Arfa dropped 1 comment
Jassica dropped 1 comment
Faith Taylor made 1 comment
Joddy Edwards made 1 comment
Kaushal Dhawan made 1 comment
Lorraine Reguly made 1 comment
Arnab saha made 1 comment
ARNAB dropped 1 comment
Siya Calra made 1 comment
Mary@intranetbee.com dropped 1 comment
Onam Sharma dropped 1 comment
iitjam made 1 comment
John Steven made 1 comment
umair ansari made 1 comment
Jignesh dropped 1 comment
Gurunath dropped 1 comment
Supriya dropped 1 comment
Mathew dropped 1 comment
Shamsudeen Adeshokan made 1 comment
The 'Staunch made 1 comment
Sajid Bashir dropped 1 comment
Sumit Sao dropped 1 comment
John William made 1 comment
Dexter Roonaif dropped 1 comment
Oshin Kamble dropped 1 comment
This list was generated by MyCommentAuthors
Thanks for dropping another comment to be listed on the next Thank You post.