Staying on top of your brand reviews online is vital when it comes to building your brand presence. Users are more likely to trust reviews left by real people with unbiased opinions than what a company promises on its website. It's time to roll up your sleeves and get to work, as an astounding 88% of consumers are more likely to trust online reviews than advertisements.
Today, we'll be giving you an overview of Grab Your Reviews, a tool that can assist you in gathering testimonials from more than 50 platforms. Without further ado, let's jump right in and see how this tool works and how you can use it to improve your brand image!
Gather Feedback From Over 50 Different Platforms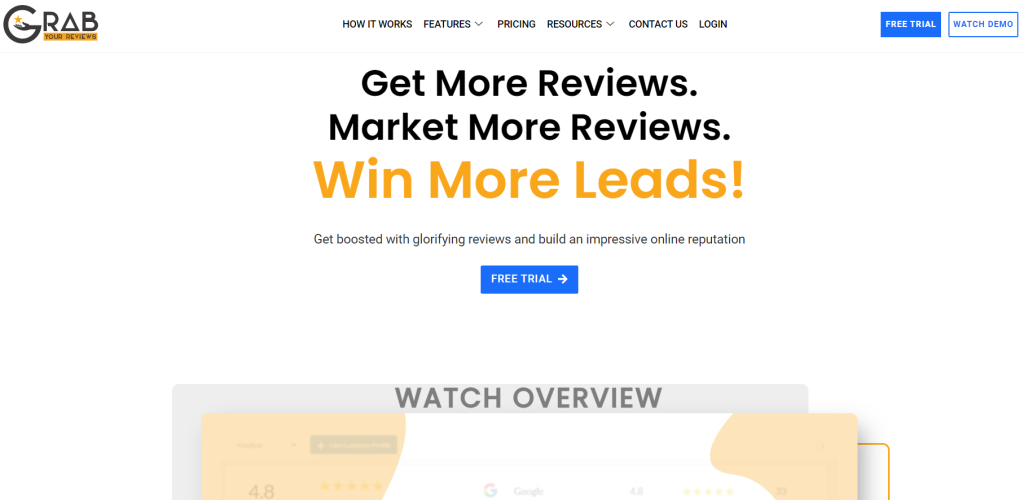 So, what are some of the main features of Grab Your Reviews? To begin with, it truly grabs your reviews by crawling over 50 platforms. You can specify which platforms you want this tool to scout, and Grab Your Review will deliver the most recent reviews to your dashboard automatically.
Once this tool has collected your reviews, you can go over each one individually and respond directly from the Grab Your Review dashboard. This tool is perfect for marketers who already have a lot on their plate because it significantly reduces the time you would otherwise waste looking for and responding to reviews. Another benefit is, it help remove negative reviews, which makes it easy for any brand to maintain online reputation in most organic way.
Display Customer Reviews on Your Website
Apart from the ability to respond directly to reviews, Grab Your Reviews also allows you to display any review on your website using one of their 7 customizable widgets. By displaying reviews that portray your brand in the best light and hiding and assessing those that do not, you ensure complete control over your brand perception.
You can also choose not to display reviews without text, as no one looks at star ratings without a valid explanation for their feedback.
Share Access to Your Customized Dashboard With Your Team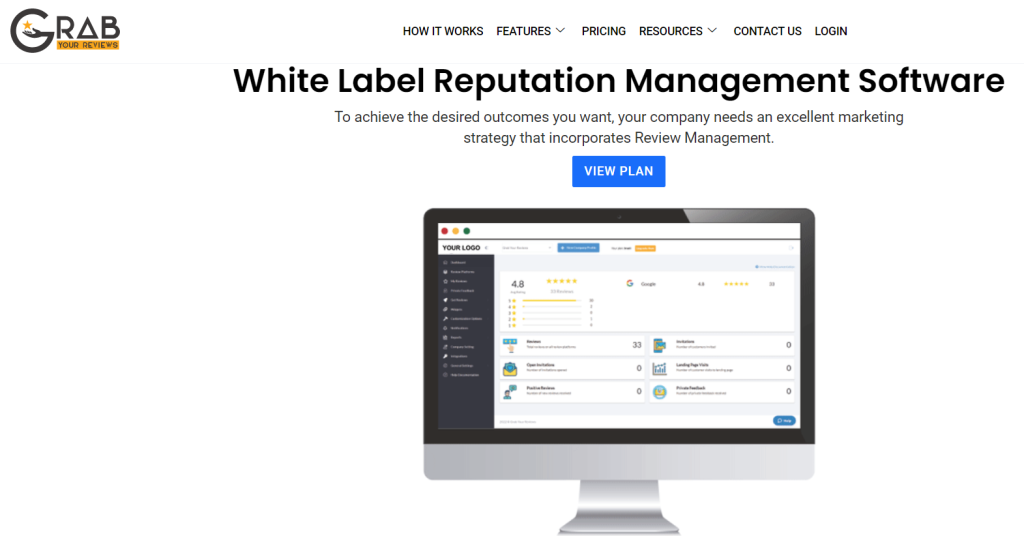 Another great feature of this tool is the ability to rebrand your dashboard by adding your own logo, brand name, and other tweaks. Because Grab Your Reviews allows you to create your own subdomain, custom URL, and email sender domains, you can quickly achieve that polished brand look with your customers, as well as your clients and team members.
This leads us to the next point: Grab Your Reviews allows you to share access to your dashboard with team members, making it easier to collaborate hassle-free. Everything is handled via the tool's centralized dashboard, including direct responses to reviews from all over the Internet!
Encourage Users To Provide Feedback
Grab Your Reviews has you covered once again when it comes to encouraging customers to leave feedback. Create custom SMS and email funnels to receive and respond to feedback directly, reinforcing your image as a brand that values customers' opinions and concerns.
You can also invite multiple customers to leave reviews by sending personalized messages at a predefined time and frequency.
Plans and Pricing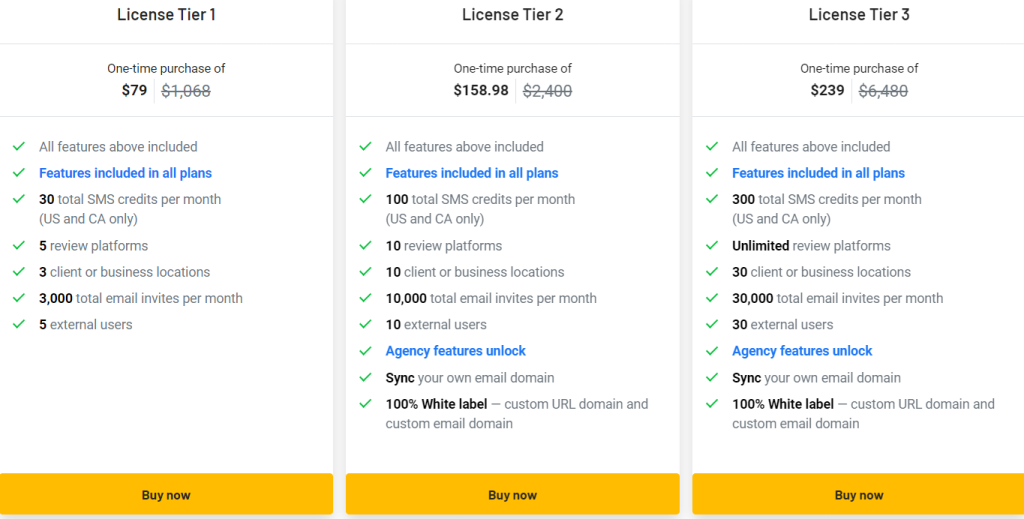 After we've covered the fundamentals of this brand management tool, you may be wondering, "How much"? Grab Your Reviews currently offers three license tiers, and you can choose based on the size of your business. However, all tiers provide lifetime access to all current and future features and an unlimited number of reviews.
The main differences between the three license tiers are as follows:
License Tier 1, a one-time purchase of $69, offers 30 total SMS credits per month, 5 review platforms, 5 external members, three client locations, and 3.000 total email invites per month
License Tier 2, a one-time purchase of $139, offers 100 SMS credits per month, 10 review platforms, 10 external members, 10 client locations, and 10.000 total email invites per month
License Tier 3, a one-time purchase of $209, offers 300 SMS credits per month, unlimited review platforms, 30 external members, 30 client locations, and 30.000 total email invites per month
Conclusion
If you want to keep track of your reviews (which you should), using a tool like Grab Your Reviews will be a game changer. Controlling how your brand is perceived online fosters trust and loyalty among prospective and existing customers. Don't waste any more of your time, and get started today!