Screen recording is a very easy task these days. Having your screen recorded can be especially useful if you are demonstrating something to someone or you just simply want to save yourself the trouble of being stuck in an email thread that could have been a simple video call.
Screen recording is a way of sharing your screen with others while giving instructions and allowing users to see information in the same way as the person recording the video.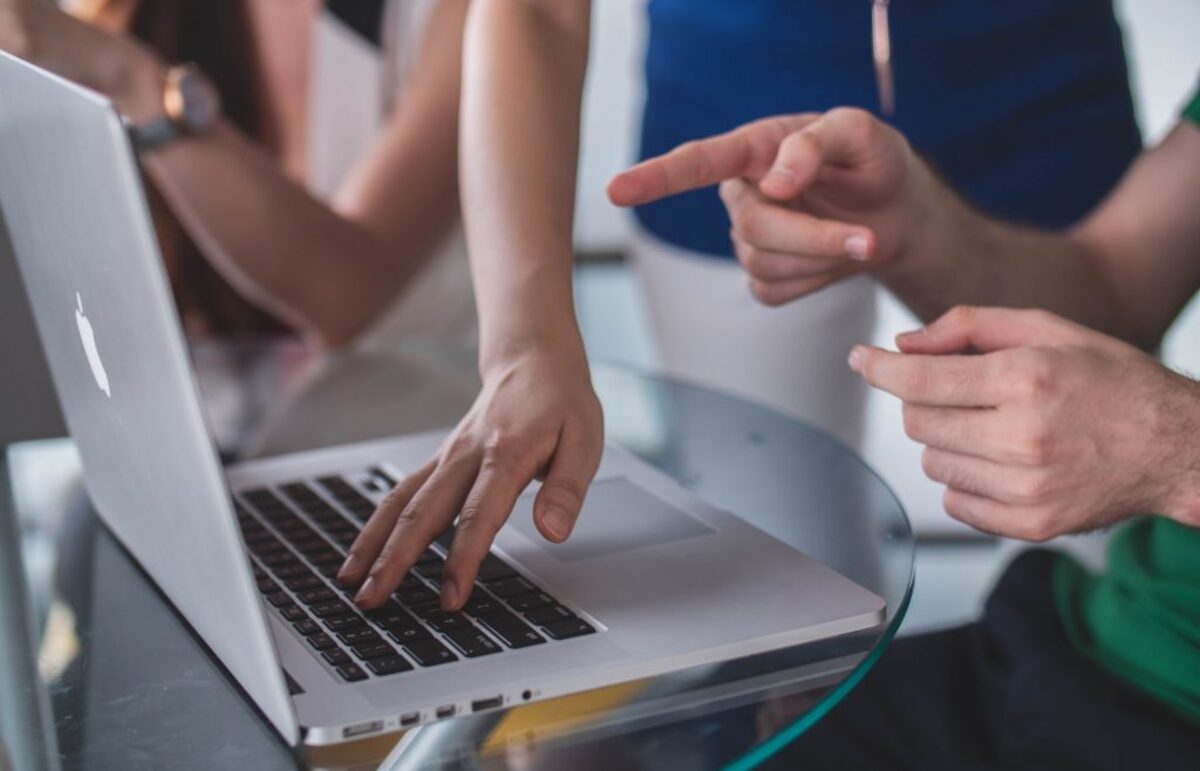 Businesses have a high demand for sharing information with their clients, customers, or partners. Sometimes the most effective way of doing that is by showing something as it is, how it is happening on your screen.
These days, we live in a world of social distancing, which means that we can't have presentations face to face as we used to. That's why it is useful to have a screen recording tool that will help you create and edit videos or presentations for your clients and team members.
The most popular tool of this kind is Loom. Unfortunately, it comes with a hefty price tag.
So, to help you find a tool fit for your needs, we compiled a list of the top 7 screen recording tools that can be great alternatives to Loom.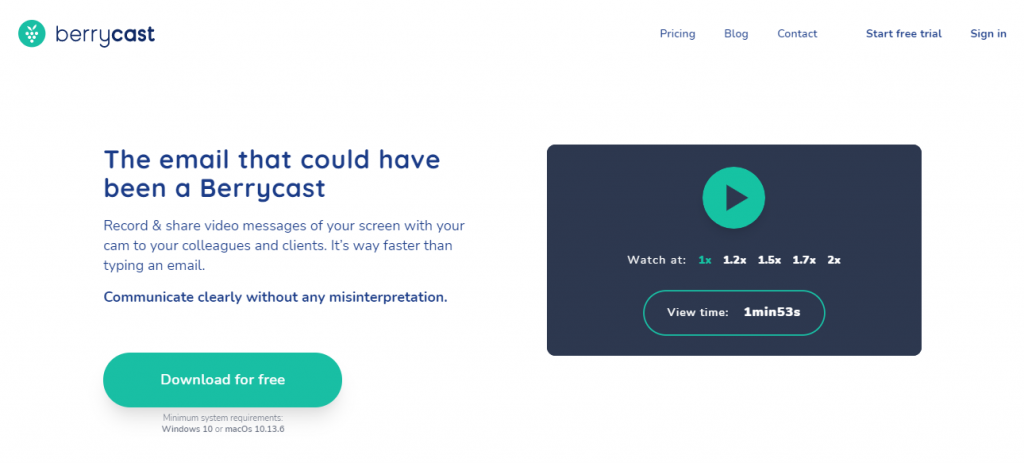 If you are tired of having endless email conversations over something that could have been solved in a second, say hello to your new best friend, BerryCast! BerryCast allows you to record your screen, camera, and audio simultaneously and communicate clearly without having any misunderstandings. It combines screen recording, internal and external audio recording, and cam recording to get your point across.
No matter what you are trying to do with your recordings, for example, explain complex concepts, create tutorials, or just give your emails a little extra spice, you can do it with BerryCast.
Once you have recorded your video, you can easily share it through Outlook, Microsoft Teams, or your BerryCast URL. Don't worry about not being skilled in tech; with this tool, you can simply record content and send it away easily.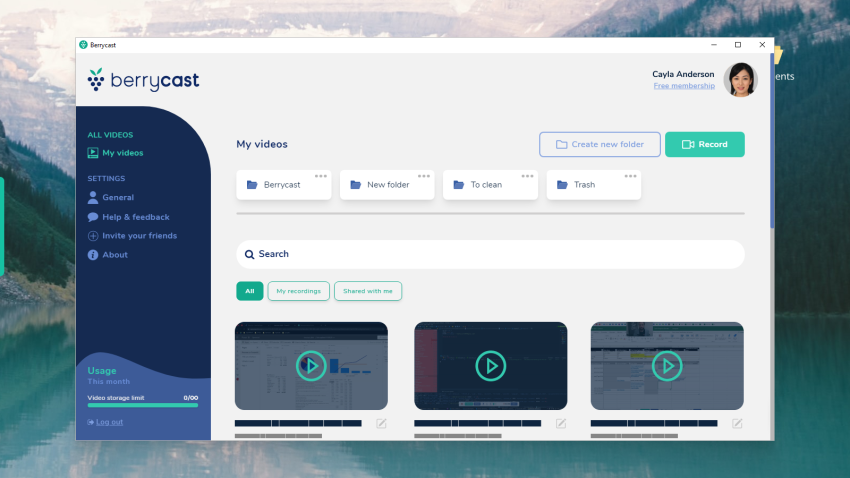 You can provide personalized updates on important projects and give your clients all of the answers they are seeking. Give them their own personalized tutorial for your product or platform. Screen recording is also very useful if you are doing a sales pitch and want to take it to the next level.
BerryCast is a perfect tool for you if you are a teacher or a lecturer since with it, you can deliver full lessons, assignment solutions, and explanations, as well as offer visual and verbal feedback to your students.
BerryCast is especially helpful in times like these when you can't have a presentation in person since it gives you the ability to do presentations in a distanced manner.
Plus, even though you can record video, audio, and your screen, you can also easily turn off the front-facing camera and only record your screen if you are camera-shy.
BerryCast is very easy to use and allows you to give your emails and presentations a more personal touch which can't be done as much these days. You can also add your own logo and colors to create a unique viewing experience.
You will get notified when your screen recordings have been viewed, and you can also restrict viewing by adding password protection.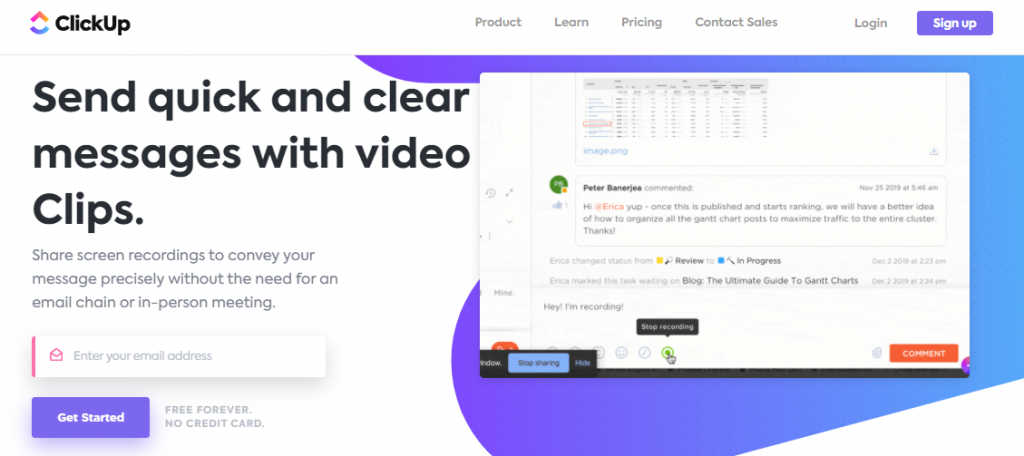 Clip is a screen recording tool by ClickUp, which is a highly rated project management tool. Of course, with Clip, you can easily record your computer screen and audio as well as video messages from different devices through the Chrome or Firefox browser. It doesn't matter whether you are using Mac, Windows, or Linux; you can record on anything.
Once you have recorded what you wanted and are happy with how it turned out, you can easily share it with your team. You can download it and make it instantly shareable using a link. Your team members can access your video and give you their feedback on it. Talk about team effort, am I right?
Also, you can integrate the tool with services such as YouTube, Giphy, Google Drive, and more. Another great part of this tool's free version is that it comes with unlimited tasks as well as unlimited members.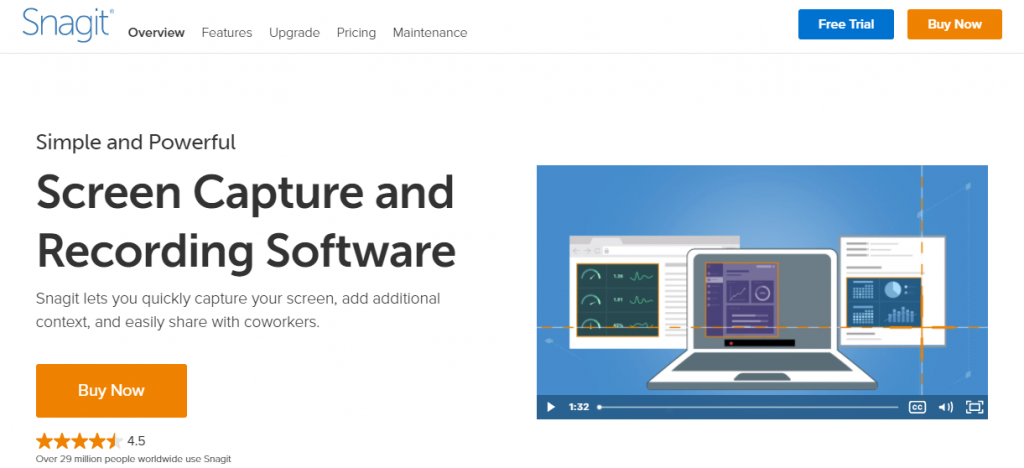 Snagit lets you quickly capture your screen, add some additional context to the recording, and share it with your coworkers. Your first step is capturing your screen to show your customers and coworkers how to do something with appropriate screenshots and videos. Then you want to mark your screenshots, trim the video or use a template provided to create visual instructions and guides. The last step is sharing your recording as an image, video, or gif.
There are over 15 sharing outputs and a built-in library with lifetime access. Some of the supported applications include Microsoft Powerpoint, Microsoft Word, Google Drive, Dropbox, Slack, and much more.
Snagit has a big number of features to offer that will help you get your ideas across. With it, you can capture your entire desktop screen, a part of it, a window, or a scrolling screen. Snagit makes it simple for you to grab vertical and horizontal scrolls, infinite scroll webpages, and long chat messages.
When adding text to your recordings, you can simply extract the text from a file and then copy and paste it. Other useful features include favorites where you can keep all of your most valuable tools, pre-made layouts you can use, and stamps to personalize your screenshots.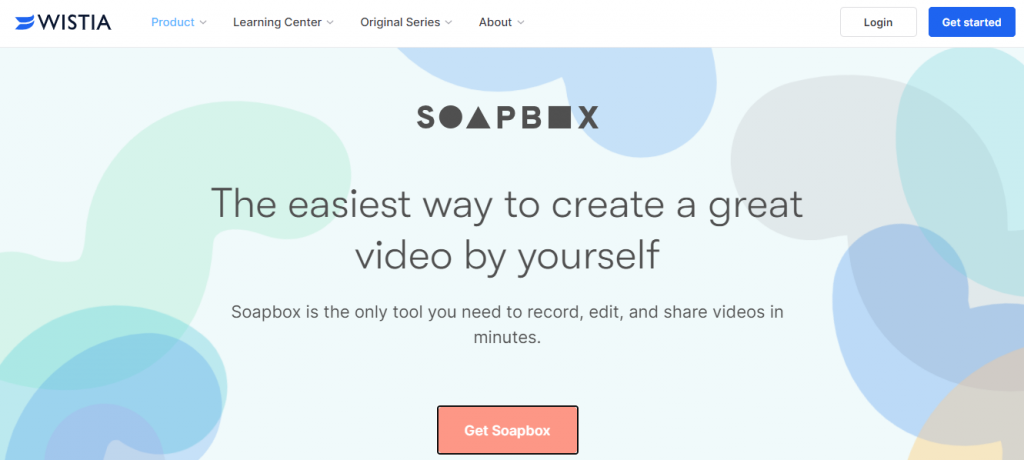 Soapbox gives you the easiest way to create a great video all by yourself. The great thing about this tool is that you only need to have a Chrome extension, a webcam you can record on, and yourself. Just hit record, share your webcam, screen, or split-screen, and lastly, edit your video.
You can have your video in any style that you like, such as the talking head style with a screencast. You can also add presentation elements that you can use to build your own library of content.
Export your videos and share them with your audience and team members. Plus, if you want, you can add the video to your social media with or without some transitions.
Upgrade your email marketing by adding creative thumbnails, which will give you higher click-through rates. Add gifs, text overlays, or both. Having great videos will help you with product marketing, content marketing, and your outreach.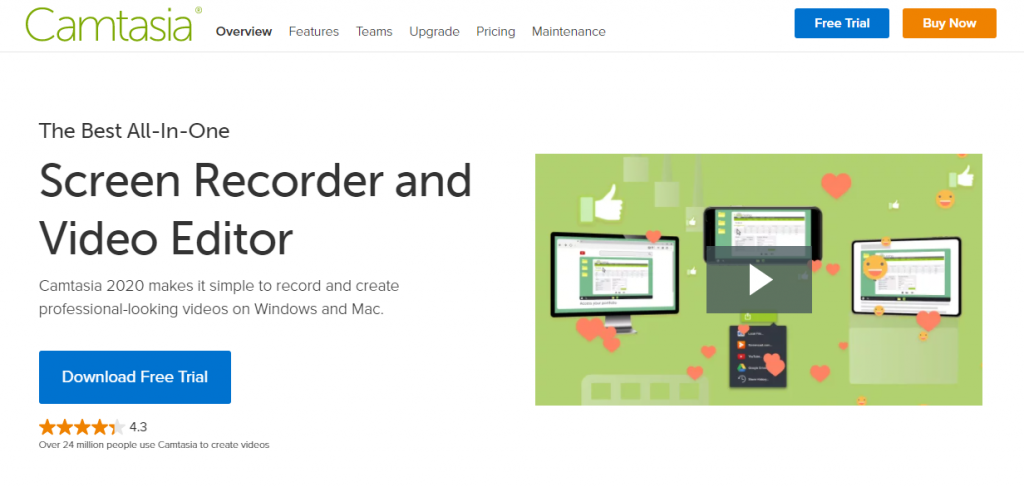 Camtasia makes it simple to record and create highly professional videos; plus, it can be used on both Mac and Windows. It is great because it is easy to use, and you don't need to have a big budget or video editing skills. You can start with a template or simply record your screen with cool effects. It doesn't matter if you are a beginner or an expert in the field; you will find that Camtasia has everything you might need.
You can record anything that is on your screen, whether that is a website, software, video call, or a PowerPoint presentation. You can add creative effects such as drag-and-drop text, transitions, and more.
With the built-in editor, you can add, remove, trim or move parts of your videos. When you are done, instantly upload your video to YouTube, Vimeo or Screencast.
You can do a lot more to your videos, such as highlight, magnify, spotlight, or smooth the motion of your cursor, replace backgrounds, insert footage, and add music and sound effects to your recordings.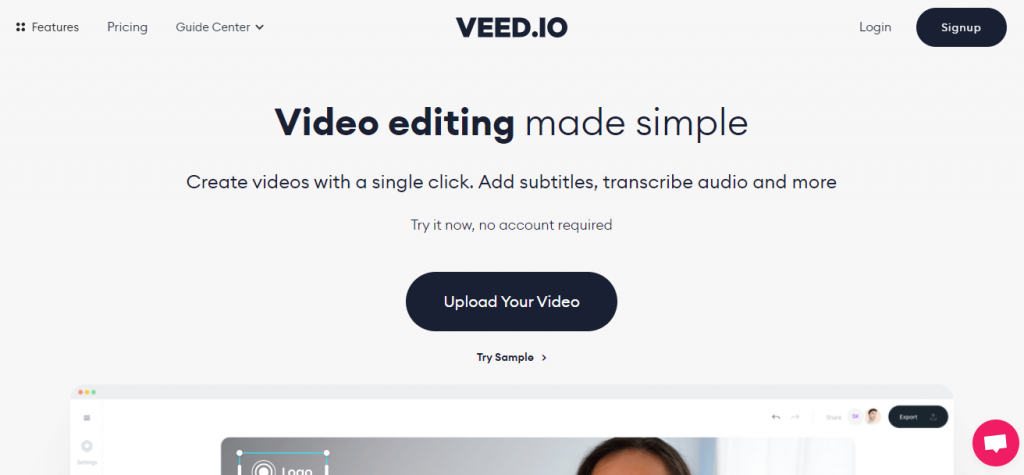 With VEED, you can create videos with a single click, add subtitles, transcribe audio, and do much more. You can add subtitles to your videos manually, automatically, or upload the subtitles. Don't worry if you are not very skilled in tech; this tool is very easy to work with, and in case you have any questions, the support team is always there to help you.
VEED offers you multiple layouts to record videos in split-screen and with webcam insert, background swaps, and more. There is also an editor in the tool that you can use to crop videos, remove background noise, include video effects, and do much more.
VEED is a great workspace where you can organize your content, logos, fonts, color palettes, and more. It is for beginners and professionals alike.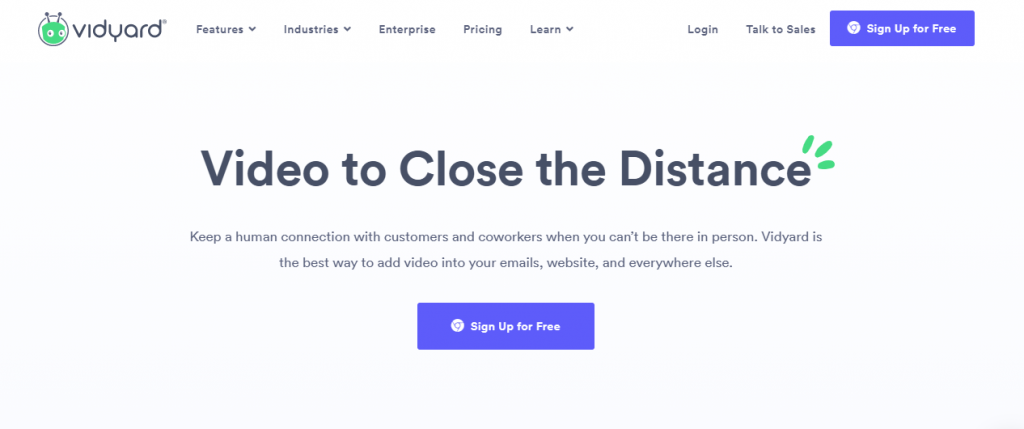 Vidyard is another free screen recording Chrome extension that allows you to turn your communication, customer presentations, and team updates into creative videos that will help you get your message heard. Vidyard offers you unlimited video creation and hosting with no bandwidth caps. It allows you to easily share your videos through email, gives you the option to control your content, and has no in-video or on-page ads.
You can upload an existing video or record your own with the Vidyard screen and webcam recorder. You can then easily share your video through email or on social media and embed it into your website. You also have the option to get notified when your video has been watched, as well as see who watched it and for how long.
Once you finish your video, you will be automatically taken to your video's page. You can also go into your video library and find all of your videos there.
The recording limit is 1 hour per video, but you can upload as many videos as you want.
Final thoughts
As you can see, screen recording can be very useful in your workspace. With it, you can create tutorials, presentations, and simple videos.
Out of them all, BerryCast is the tool you want to have if you need to record your screen, audio, and video to have your voice heard and your message received. Be sure to check it out!