If you want to find the email addresses of the people you want to connect with but are having a hard time doing just that, the following solution will greatly help you. Tomba is a service that provides its users with an easy and fast way to find professional email addresses from any website in seconds.
Tomba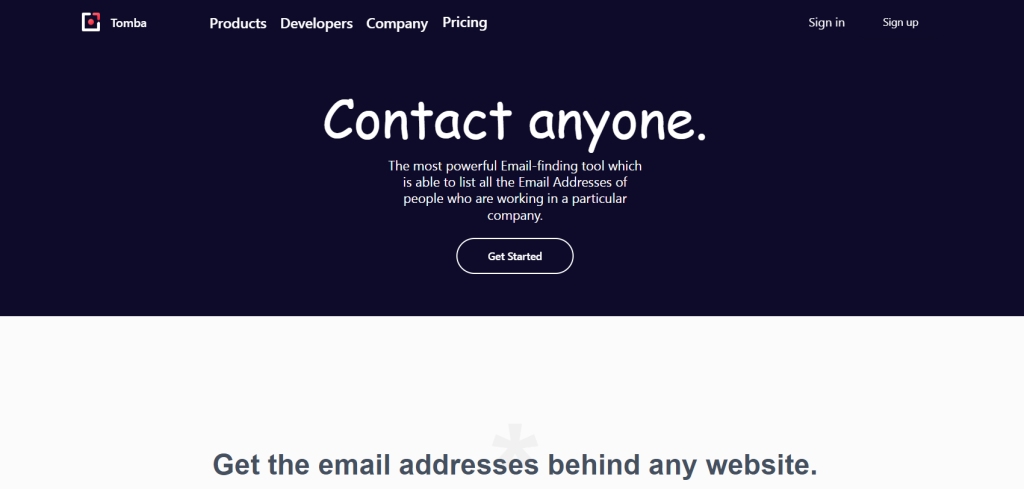 Use cases
There are multiple different areas of use that Tomba can be helpful in. For example, Sales departments can use this tool to bring in new customers. Tomba's lead management tools allow users to search 150+ million contacts and filter results for only the most qualified prospects.
Recruitment teams can utilize Tomba to source the best talent and ensure a steady stream of candidates. You can optimize your workflow with CRM and API integrations to seamlessly collect powerful data. Lastly, you can create a team in Tomba and share your subscription with colleagues.
Features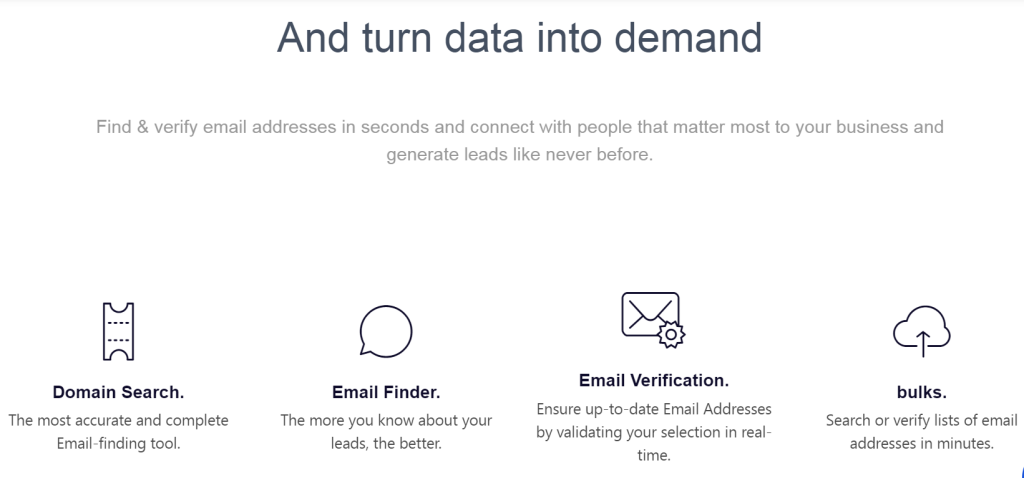 The features list is quite extensive and includes features such as the domain search, email finder, email verifier, phone finder and verifier, enrichment, author finder, technology data, bulk tasks, team management, lead management, Chrome, Firefox, Edge, Opera, and Safari extensions, Google Sheets and Microsoft add-ons, CRM integrations, API, and webhooks.
The Type filter allows you to list only the personal or role-based email addresses (e.g., "contact@"). Email pattern helps you get the most common email format used in the organization. You can also search for someone by name and get the most likely email address of the person.
When verifying an email address, you will receive a confidence score on the correctness of the email address. Along with other features, there are multiple integrations available. You can automatically save your leads in Airtable, Hubspot, Mailchimp, or Pipedrive.
With Zapier, you can instantly connect Tomba with 2000+ apps, Pabbly offers 600+ apps, and Integrated offers more than 525 apps.
Pricing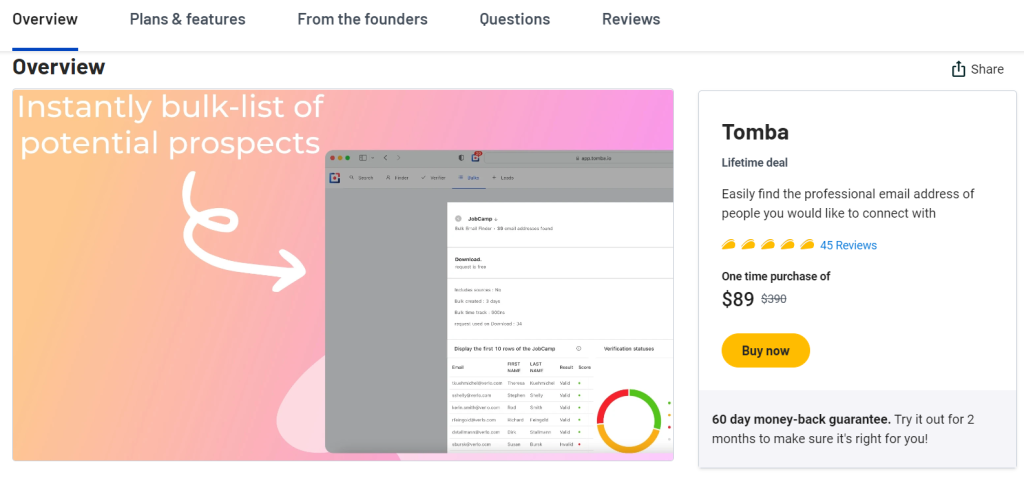 With the special offer, you can purchase a lifetime subscription to Tomba for only $89. This plan gives you access to 400+ million B2B contact details databases, 500 search requests, 100 phone verifications, and 1000 verification requests per month, domain export, email finder, email verification, enrichment, author finder, bulk searches, 2 team members, and other features.
Additionally, you can stack 3 codes total to upgrade to the following: 2500 search requests, 500 phone finders, and 5000 verifications per month, with 5 team members. Stacking five codes gives you 10000 search requests, 1000 phone finders, and 20000 verifications per month, with 10 team members.
If you do not find this tool useful for any reason, a 60-day money-back guarantee is offered to keep you covered. Also, the plan provides you with all future Tomba Plan updates with lifetime access to the platform.
Conclusion
If you ever find yourself needing a service that will help you gather email addresses for prospects, potential candidates, or business partners, Tomba will make the job easy for you. With the rich features we mentioned earlier and regularly updated data, you will always receive up-to-date information that is fresh and clean.
On top of all, Tomba is 100% GDPR compliant, so you do not have to worry about how the data is collected in the backend. Tomba also does not store any credit card information, with all payment processing being handled by a PCI Level 1 certified service provider.
And with the highest security standards, the use of SSL encryption for data, carefully chosen hosting providers, and strong software, Tomba will keep all of your and everybody else's data safe.