The purpose of data protection is the protection of private life and other human rights and fundamental freedoms in the collection, processing, and use of personal data. Data protection is essential in every segment of our online life. It is not uncommon to hear that hackers have attacked the entire system to steal the most valuable thing, which is unquestionably data.
Whether it is personal or business, protection is just as important. Large companies are certainly more concerned about data protection. Although it should not be like that – we should all be worried about it. Remember that every piece of data is valuable.
If you have been thinking about the importance of data protection for some time and were weighing the best choice – you are in the right place. We tried to find that one valuable drop in the ocean, and that is Sealit. And what Sealit offers – let's see below.
What is Sealit?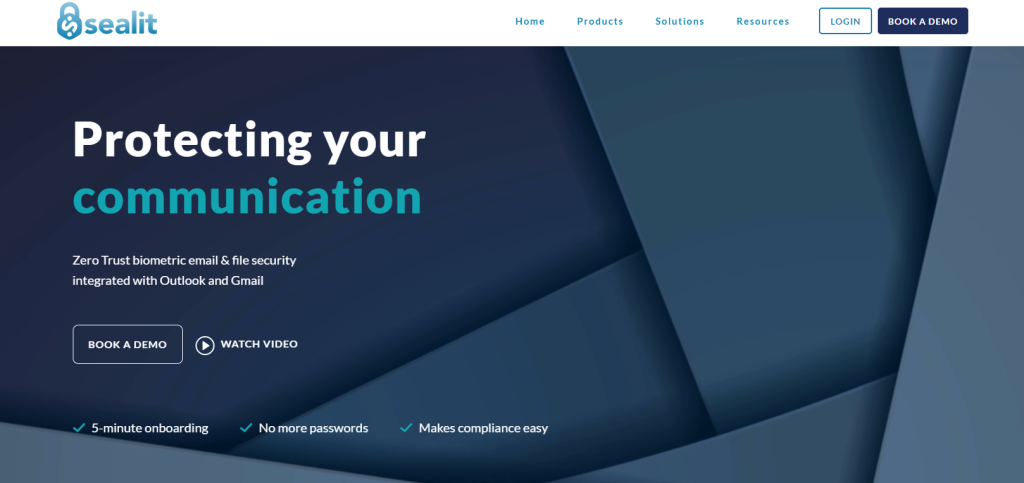 Using Sealit, you can protect all sensitive data in files and e-mails. When your device is compromised, your data will be safe because this software will save it. Sealit can be integrated with Gmail and Outlook.
This integration allows users to send encrypted e-mails. Also, there is intelligent e-mail protection. With this feature, you will be notified and alerted if you send an email to the wrong address.
It is also available as an app for Windows and iOS, so access will not be a problem for you either. Secure with Sealit is an option that allows users to encrypt files of any format with one click. Drag and drop editor allows users to encrypt files up to 200MB. With Sealit, sharing files with other users or business partners will no longer be a problem, even if the files are encrypted.
We have already mentioned that Sealit-e also comes as an app, so there are even more possibilities and conveniences. Using biometrics, you will be able to decrypt any file or e-mail. If you use Sealit as a mobile application, Face or Touch ID will make it easier for you to open encrypted files.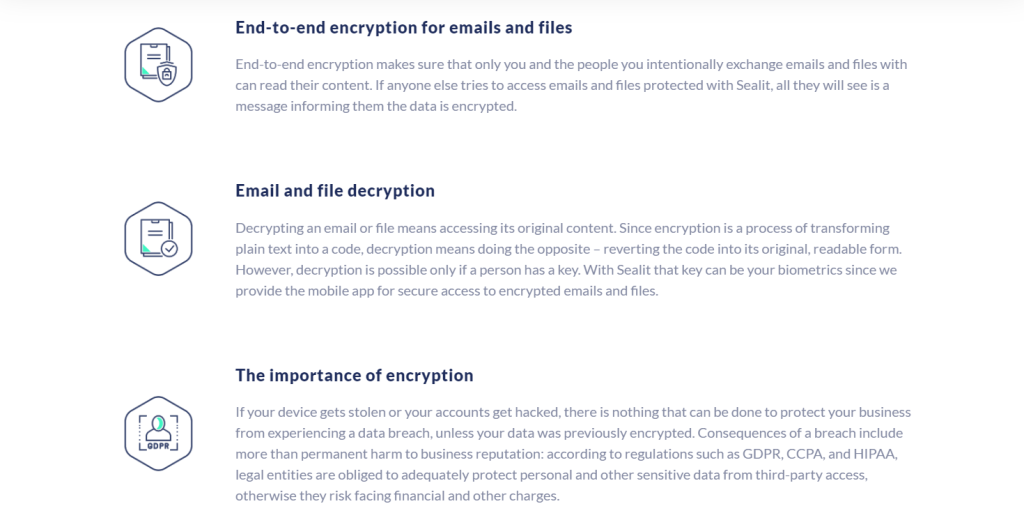 Also, one of the best features is tracking data access and even who is accessing data from which location. If there is a problem, you will immediately receive a real-time alert. With all these security measures, the best thing is that there is no more constant password typing. So sharing data, files, and email is now easier and faster than ever.
Sealit plans
Sealit comes in three different versions. However, all three versions share certain features and functions. These are personal biometric Sealit ID, file encryption and decryption, email protection, integrations, security monitoring, protection of files of any format, and CCPA and HIPAA compliance.
All listed prices refer to a one-time purchase. If you are unsatisfied with the purchased version, Sealit offers a 60-day guarantee and money back.
Sealite tier 1
The price of this tier is $79.
Features: Ten users, unlimited file and email encryption, unlimited accounts linked to a Sealit ID, and full analytics tracking.
Sealite tier 2
The price of this tier is $158.
It has all the features of the base plan and tier 1. Except that using this plan, 25 users are allowed instead of 10.
Sealite tier 3
The price of this tier is $237.
The main difference is in the allowed number of users, which reached 100 users with this plan.
Final Words
Although a lot of people neglect personal safety and the security of all data in the online world, if you have read this article – it is time to change that. In all serious companies, security and protection are in the first place, and it is also the first condition of clients for doing business with companies.
However, pay attention to the protection of personal data on social networks as well. We have presented you with one of the best software solutions, and you will certainly not find a better one for a long time.
With all these protection measures, your data will be safe. Also, forget about wasting time constantly entering passwords. Sealit is here to provide you with everything you've been dreaming about for a long time.