If you want to build a profitable website that actually makes money, you need one thing: lots of search traffic. There's no way around it.
The more you attract search engine traffic to your sites, the better and easier it is for you to make more money. It's as simple as that. But here's the thing: increasing your search traffic isn't easy as it sounds.
There are Google updates like Panda, Penguin. Then there are so many other challenges like what type of content to create, how to optimize your content, how to satisfy both readers and search engines.
If you're struggling with search traffic, this post is exclusively for you where we'll discuss about some of the most effective ways to improve your website's search traffic within 30 days. Are you ready? Let's jump into the details without much ado.
#1. Create 10x content that connects with people
I've been implementing a ton of SEO practices for over a decade now and one thing is never changed and that is "timeless content beats all".
Your content should be so good that even your competitors want to link back to you. Focus on creating 10 times better content than your competitors.
Here's what happens when you create 10x content;
You'll start attracting backlinks to your content naturally from other sources (such as blogs, forums etc)
You'll attract more social shares (in-depth and highly informative content gets 10 times more shares than the average)
You'll attract thoughtful comments
Your website's search traffic increases (along with dwell time, reduce in bounce rates, average sessions and so on)
You'll be perceived as an expert in your industry
Above all, you'll see an improvement in your website conversion rates and sales, so start spending quality time to craft timeless content that's useful even after 3 years.
If you're wondering about how to create 10x content to increase your website's search traffic in next 30 days, here are few quick tips for you.
Make sure to know different types of content such as;
Informational intent (where people are trying to find information on a particular topic)
Commercial intent (where people want to buy something and looking for more information by doing research before making a purchase online, for example, you can use special days like black Friday to cover commercial intent keywords)
You should focus on creating a combination of both informational and commercial intent content if you want to increase your search traffic and also sales.
Write detailed content as Google gives more importance to long form of content (which is of over 2000+ words) over short articles. So if you're trying to rank for highly competitive keywords, the best way to do that is to create in-depth content by covering A to Z information about the topic.
Show some love and share this on Pinterest
#2. Start finding better keywords
One of the biggest reasons most bloggers don't get much organic traffic to their sites is they either don't do keyword research at all or do it all wrong (by targeting highly competitive or vague keywords).
If you want to increase your search traffic within 30 days, here are few keyword research tips for you.
Find more keywords for top ranking posts: Go to Google analytics and find out the top 10 pages that are sending you the most traffic from search engines. Then, start exploring all the keywords that are bringing you the traffic from search.
That way, you can find LSI keywords (also known as relevant long tail keywords) that you can include within your top performing blog posts. You can use tools like Ubersuggest, SEMrush, Keyword Planner etc to come up with great keyword ideas to insert into your top ranking posts.
Make a list of keywords for future posts: Don't publish another blog post without finding highly potential keywords. Make sure to build a list of keywords that you want to rank for. Find primary and secondary keywords for every blog post that you want to publish in the future if you want to attract long lasting traffic from search engines.
Look at search intent: Finding keywords to rank for is one thing and knowing your searcher's intent is another thing. If you're simply finding low competitive keywords without actually for the intent of the searchers, you won't get much conversions or sales.
Find out if someone's looking for the brand "Apple" or fruit apple. Knowing searcher intent can literally make or break your website's success.
Long tail keywords are golden: Long tail keywords contain 4 or more keywords (for ex: "best ways to improve traffic" is a 5 word long tail keyword). They are easier to rank for when compared to short tail keywords (for ex: "increase traffic").
Use tools like LSI Graph to easily find a ton of long tail keywords that you can use to increase your website's search traffic. They are not only easier to rank for but they can get you faster results as you'll be ranking for multiple keywords. Here's a great illustration by SEMrush about long tail vs short tail keywords.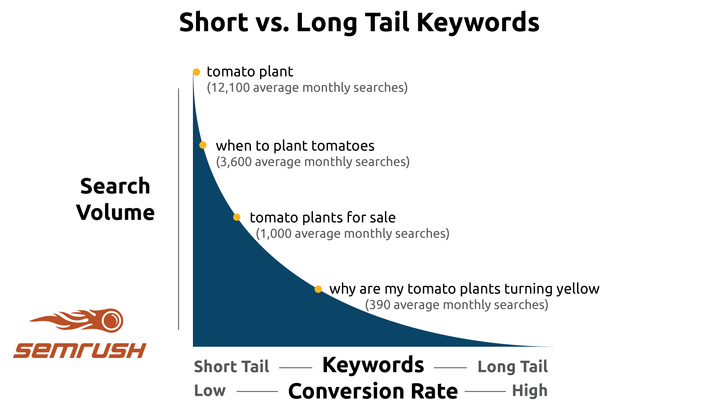 #3. Learn how to use tags effectively
Most people don't use meta tags effectively while optimizing their contents for search engines like Google. Whether you know it or not, meta tags play a key role in improving your website's search traffic really quickly.
Here are few essential tags you must use to improve visibility of your website in search engines.
Heading tags: Heading tags include H1 to H6 tags which are really important. Although you don't have to use all the headings tags from h1 to h6 but make sure to use h1, h2 and h3 tags in almost every blog post you write.
Just remember that you should use H1 tag only once within a page and make sure to include your primary keyword within your H1 (also known as title tag) tag to increase your search rankings for that keyword.
Alt tags: Alt tags define what each of your images of whole website all about. You can include the primary or secondary keywords within alt tags to be able to rank for the keywords you're aiming at.
Canonical tags: Canonical tags on each URL of your website to show identity on Google and you can use these tags to tell search engines to prevent problems caused by identical or duplicate content appearing on multiple URLs.
#4. Your website speed matters a lot
Your website speed matters a lot. It plays an important role for both your website visitors and also search engines. Search engines like Google always strive to give better user experience so they always prefer giving top search results to those pages that load faster.
If you're ignoring your page speed, it's going to cost you a lot in terms of traffic and sales, so work on improving your site loading times to improve your search traffic.
As a rule of thumb, your website should not take more than 3 seconds to load. Here are few things you should implement while working on improving your website performance and user experience.
Accelerated Mobile Pages (AMP): The AMP is built on top of existing web technologies to enable blazing-fast page rendering and content delivery for mobile, you can easily enable AMP by using few WordPress plugins like AMP for WordPress (which is also free to use and helps with all posts on your site to have AMP-compatible versions).
Mobile Responsive: Whether you know it or not, upwards 80% users worldwide are using mobiles to browse information online so your website should be responsive for all devices including PC, laptops, tablets, androids, iOS devices. If you're on WordPress, you can use plugins like WPTouch to instantly make your site mobile responsive.
Website Speed Insights: You can easily find out how your website is performing with the help of few tools like Google page insights and GTMetrix as they offer you all the insights you need to improve your website loading times and performance.
Make sure to install caching plugins like W3 total cache to minify your page loading times, browser caching and so on.
#5. Work on your website's technical SEO
Are you struggling to increase your search traffic even after posting quality content regularly on your blog?
Do you know why your website is not attract as much search traffic as it deserves even after building links from other blogs? It might be mainly because of your website's poor technical SEO.
Technical SEO is all about making your website search engine friendly both crawling wise and eliminating all the website technical related issues like duplicate content, lengthy title tags, missing alt tags and so on.
Most of the bloggers are not aware of technical SEO and they often struggle to increase their search traffic just because of it.
If you're not a tech savvy, it's really difficult to manage and find all the technical related issues of your website, so I highly recommend you to give a try to tools like SEMrush which helps you with site audit feature.
Using site audit feature, you can easily find and fix all the technical issues of your site as it gives you a list of all the potential problems and threats that your site might have. These include;
Missing sitemaps
Crawling issues
Missing alt tags, title tags, meta description etc
Broken links
Toxic links and so on
#6. Competitor link and content analysis
Last but not the least: perform a thorough competitor link and content analysis so that you'll have a better idea about their strengths and weaknesses.
Here are few things you can do for competitor link analysis.
Compile a list of 10 to 20 competitors websites in your industry that cover almost similar topics. Use tools like SEMrush to find out the top performing posts of your competitors and see if you can create better content around those topics to attract more search traffic.
Make sure to find out all the backlink sources of your competitor websites. You can easily do competitor link analysis with the help of tools like SEMrush, Ahrefs and so on. Also find out if they've any broken links and email them to replace with any of your best articles.
Find different opportunities where you can acquire the links that your competitors already have. You can give a try to things like broken link building, email outreach, influencer marketing, guest posting, infographics and so on for claiming quality links.
No matter what industry you are in, by doing competitor analysis, you can quickly find better opportunities to create great content, generate more traffic and sales to your site.
Final thoughts about increasing your search traffic quickly in 2018
Increasing your search traffic is not easy even if you're creating quality content as there are so many ranking factors search engines like Google take into consideration to rank a website.
That's the reason why you need to focus on multiple things such as creating better content, building quality links, improving your technical SEO and so on. Hopefully the tips mentioned here will be helpful for you to boost your organic traffic really quickly.
Show some love and save this on Pinterest
Thank you!
Do you've any more questions? Share your thoughts in the comments below.