Android is an operating system for mobile phones that is run by the tech giant, Google. Google bought Android Inc from the company that developed the software in 2003.
The first Android OS was initially released in 2008 and the latest version is Android 7.0 Nougat. Android 7.0 Nougat was released in August 2016. Android is one of the most popular mobile operating systems in the World.
Based on data from May 2017, Android currently controls almost 64% of the market share in the mobile phone industry. Suffice it to say, Android is a powerhouse because of its great features, easy-to-use user interface, and flexibility in terms of device use.
However, most Android users have features that they have never, and might probably never hear about or used before. As an Android User, Did you think you know all about your Android device? It will be probably NO. But if you think you know all about your device, some features I am about to tell you about will blow your mind. Keep reading to see what features I am talking about here.
Silent Mode Problems
When you have your phone on silent mode and don't remember where you have put it, your day can turn into a disaster because these days you need your phone for virtually everything; to check your calendar, to call people and book or cancel appointments, etc. With Android, you don't have to worry about finding your phone. Just find a computer or another phone, and type in 'Find My Phone'. You will be given the option of locating your phone's location on Google maps or your phone will ring so you can locate it if you lost it in the house or office.
To use this feature you first have to activate it in your settings >> security. Just go to Settings >> security, under Device Manager click on Android Device Manager and give the permission for your phone to be unlocked or for the password to be changed remotely. This is a one-time setting so every time you use this feature you will have to activate it again. Your phone will, however, need to be connected to the internet for this to work.
Note that not all Android device has this feature. So if yours didn't have I have an alternative way for you. Alternatively, you can use an application called Ring My Droid. Your phone need not be connected to the internet, but it does need to be connected to a mobile network. Once you've downloaded the app, set an SMS phrase in it which you will send to your phone via another one when your phone gets lost and your phone will ring.
Recovering Lost Notifications

If you have accidentally deleted your notifications on your phone, don't worry. You can easily recover them by going to your home screen and long pressing any empty space on the screen. Tap on 'Widgets' and scroll to the 'Settings Shortcut Widget' Long press on this until you see your home screen and then drag the widget to your home screen of choice. After this, tap on the Notification log and, you will have access your history.
Text-to-Speech
This feature can be enabled on your Google Play store or downloaded as a separate application. Text-to-Speech enables applications to read the text on your phone screen aloud. The Google application for this can read over 25 languages and can be very handy for moments when you cannot or do not want to look at your phone. You can have books read to you or even your messages read to you. Other applications that can convert text to speech on your Android phone include Voxdox and Voice Aloud Reader.
Magnify Your Screen

Magnifying the screen on your Android phone is as easy as going to Settings >> Accessibility and then on Magnification Gestures. You can either zoom in or out when you triple tap your screen when this feature is on. This feature is excellent if you need to make your screen bigger or smaller. It, however, does not work for the keyboard. Under the same 'Vision' tab you can click on the option for your device to read out your password to you.
Use Your Face as a Mouse
Though we have different android apps out there with an application called EVA Facial Mouse you can go hands-free and use your face like you would a computer mouse. This application tracks the movement of your face through the front camera. This way, you can use your hands to do other things. Your face controls a pointer on the screen through your front facing camera.
Turning on Guest Mode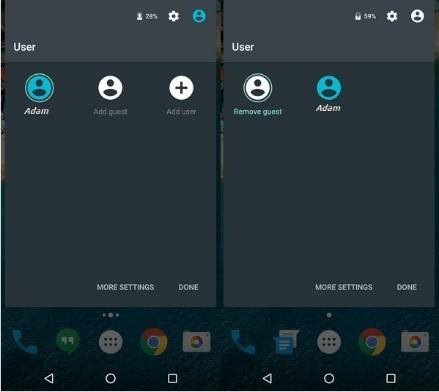 You can turn on guest mode when your friends need to use your phone but you need to protect your files so they won't snoop around. Do this by swiping down from the top of your screen. Click on user and 'add guest.' On this mode, all your files are safe from prying eyes. Do the same to deactivate.
Android Smart Lock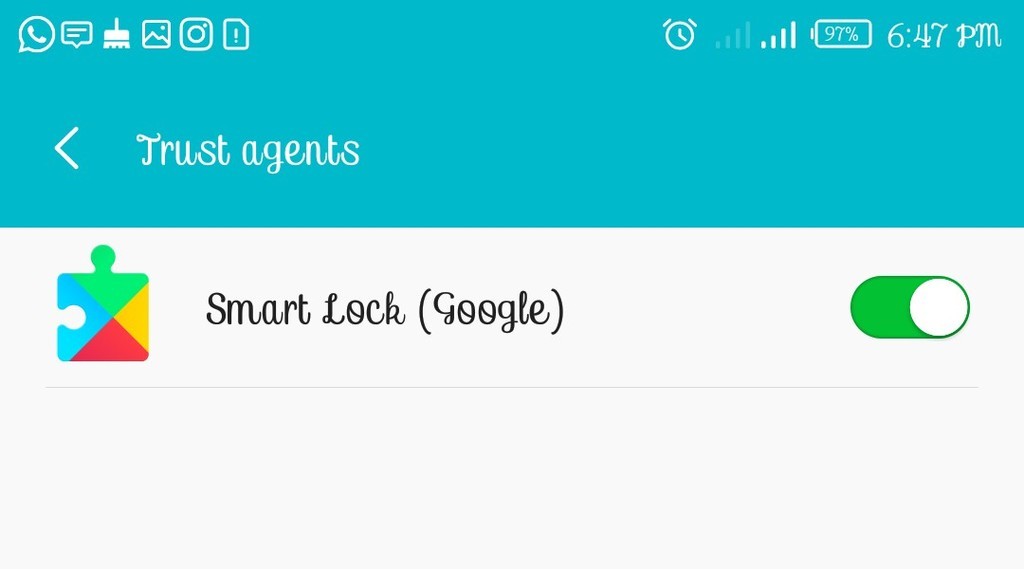 This feature automatically unlocks certain applications in some circumstances when you do not want to input your password. Open Settings, click on Security, then Trust Agents. Click on for Smart Lock and then enter your unlock password/PIN. After this, you can set the circumstances when your device can automatically unlock, for example when it is connected to a certain Bluetooth device or when it is in a specific location.
Google Voice Search
This is a handy application by Google that lets you give instructions to your phone orally. You can turn this on in your Google app menu and from there when you say, 'Ok Google' your phone will listen to you and do as you command. To activate this you must have launched the Google app on your device before. Anytime you want to search, you will just say Ok Google, followed by your search keyword. E.g. OK Google Enstinemuki.com
Multiple Keyboard Function
Android supports a number of keyboards so if you want more emojis or just a different interface then you can choose your preferred keyboard. The Google Play store has a number of keywords in it which can be used seamlessly on your Android phone. You can also have multiple keyboards at once and choose your preferred one anytime you wish.
Android is Customizable
Android is Open Source which basically means developers can build on it to customize their own Android systems. This is one of the best features of Android.
I hope you got something new here to do on your Android smartphone. Let me hear what you think in the comment box.