Nowadays, technology makes our lives very easy, practically from any electronic device connected to the Internet we can order food, buy furniture, clothes, perfumes, pay for services, etc., but how about designing a logo quickly and easily online?
Let's admit it; not everyone can make a logo. To create one, it requires a professional graphic designer who can do it based on the idea we give but may spend more than $ 100 for each logo.
Fortunately, there are tools that can help us create the logo we want so much for a business card, a website, a social profile, a mobile application, a shirt, etc., without requiring much design knowledge.
That's why today we review an application called DesignEvo, which focuses on creating logos very easily and quickly.
DesignEvo is available on several platforms, but this time we test the web version, that is, the one that runs directly on the browser without having to install anything.
DesignEvo Review ~ Design Your Logos Easy and Fast!
From the first moment you enter DesignEvo, you can create your first logo for free.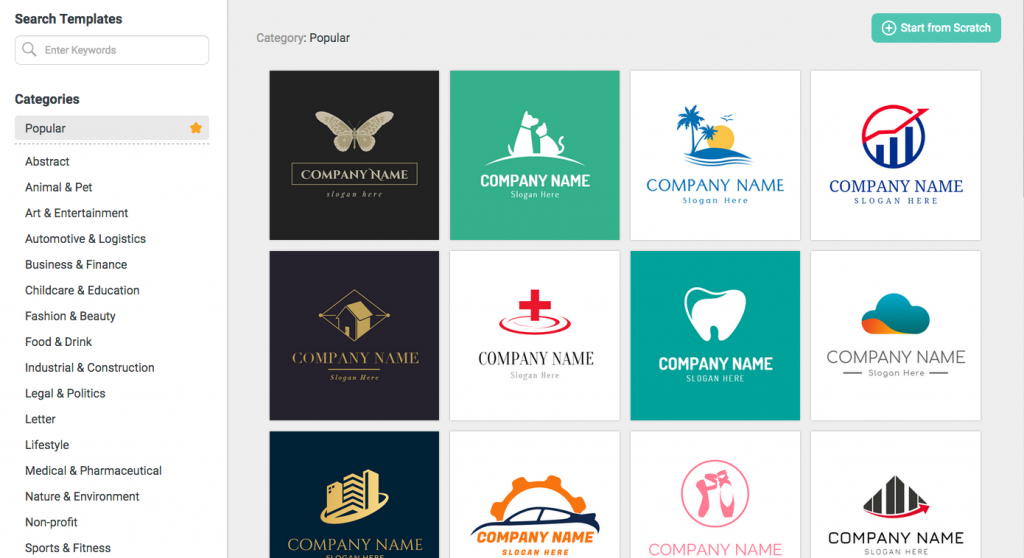 You can start to create your logo from a predefined template, which will save you a lot of time because the service has more than 4000 templates ready to choose. You can even filter the templates by categories and choose the one you like the most. Immediately afterward you can enter the name of the organization and a slogan to have half the work done.
Once entering the online application, you can see that it is quite clean and minimalist, at least not as intimidating as other environments where you do not know where to start.
We recommend that once ready to create a logo; you go to set the size of your canvas at the bottom of the work area (middle of the blank space).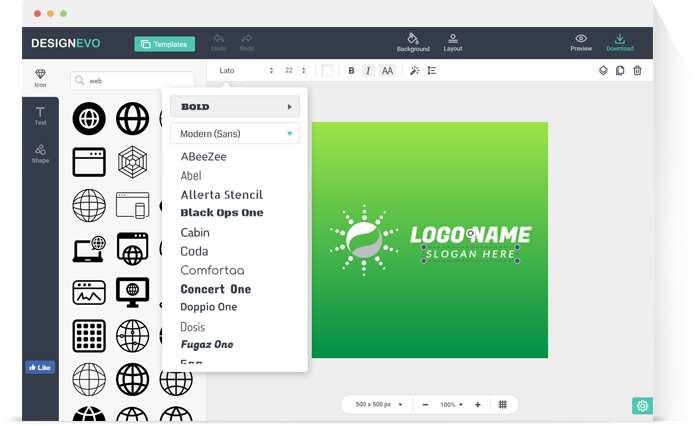 On the left part of DesignEvo, it has three large blocks: Icon, Text, and Shape. When you click on Icon, a panel opens where you can access millions of clip art ready to add to the workspace.
By clicking on the Text section, you will have the option to add text, choose from dozens of fonts between Classic and Art. Whatever you choose, you can customize them to the maximum thanks to the toolbar that appears above.
One of the advantages of DesignEvo is that you can manage layers and go combining text elements and graphics very easily. If you make a mistake, you can go to the Undo or Redo arrows (Ctrl-Z and Ctrl-Y work perfectly).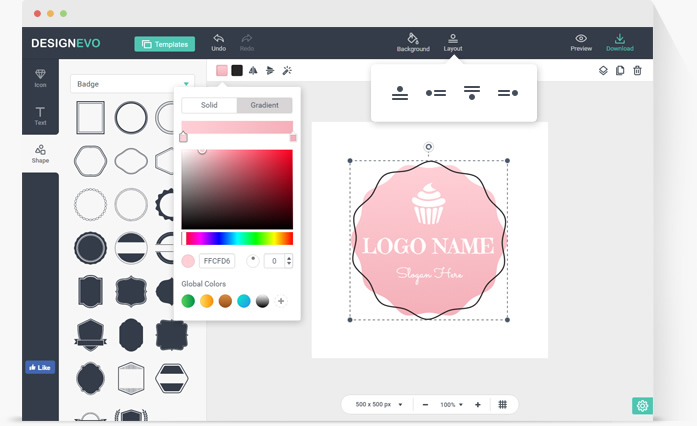 After having the text ready and customized, you can choose to include some additional shapes to your logo. When you click on the Shape section, 7 categories appear: Badge, Decoration, Line, Solid Shape, Outlined Shape Banner and Symbol. In each one of them, you can select the shapes that you want to adapt them to meet your own needs.
Another advantage of DesignEvo is that if you do not finish your logo, you can save it by clicking on the little cloud icon in the upper toolbar and then return to edit it anytime you want.
Similarly, you can preview your logo to see how it would look like, for example, as a business card, in a blog, shirt, etc.
If you create a free logo, you can download it in JPG/PNG format and with a size of 500 x 500 px. If you want to have your logo at full resolution and in vector files, you can take advantage of having an account and choosing a paid package starting from $ 19.99.
There are no pretexts to create your own logos, now thanks to this tool you can do them in a short time, saving you a good money.
DesignEvo is available for use in the web browser, MacOS, iOS, Android and soon in Windows.
Access DesignEvo here https://www.designevo.com/