MemberPress is a WordPress membership site plugin that lets you handle access to digital and physical products and their payment with ease. It is developer and user friendly, fast, and easy to set up.
You can do anything from creating and managing memberships to analyzing the data you collected to see how well your business is doing. It has a lot of great features, but it still might not be your cup of tea. That's why we created this list that contains the best MemberPress alternatives, their features, and pricing, so it's easy for you to decide which one to choose.
Without further ado, here is the list of the 7 best MemberPress alternatives.
1. Brilliant Directories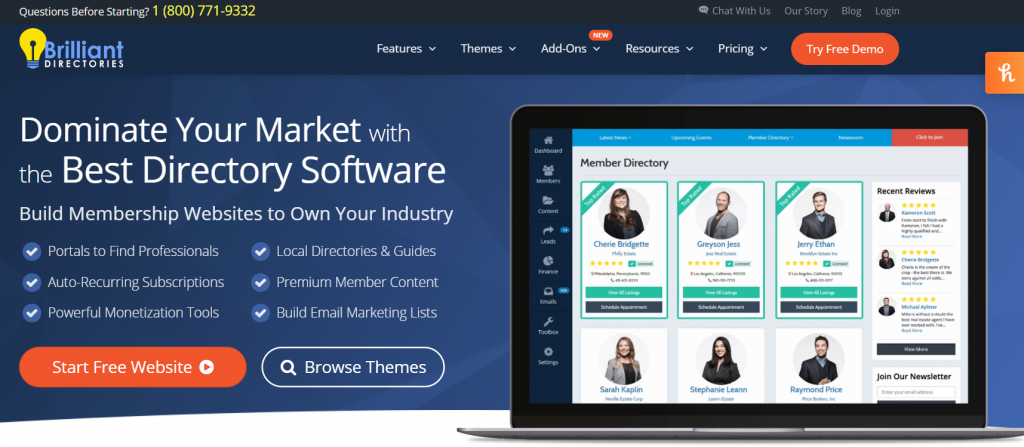 Brilliant Directories is a directory software that helps you design and manage a membership website. You can launch, manage, and monetize your membership website, all from one place. It is simple to use and has a lot of great features.
Features:
Lifetime access to the Brilliant Directories website plan
You can simply choose the plan you want, there is no need for coding
GDPR compliant
All future updates are at your disposal
60-day money-back guarantee
You can use a discount code that is valid throughout 2021
All products with a monthly or annual subscription retain a 75% discount for life.
Tiers 3+ include a 75% discount code for additional purchases
You can upgrade/downgrade between license tiers anytime
You are obligated to activate your license within 60 days of purchase
Pricing(one-time purchase):
$89.00/250 members
$199.00/1,000 members
$299.00/10,000 members
2. Memberful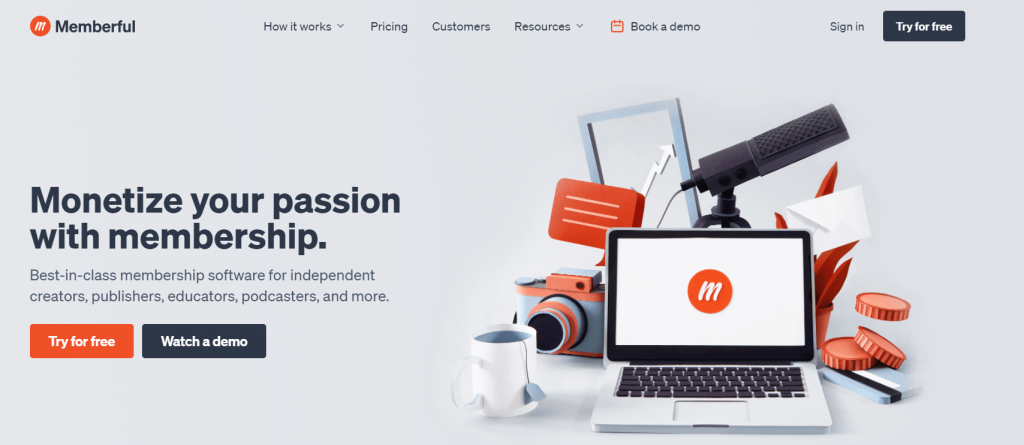 Memberful helps you sell memberships to your audience. It's a simple three steps process, you design a plan, create a buy link, and then a customer can sign up. Memberful can only be used as a payment platform.
Features:
The ability to create any subscription plan needed
You can manage members easily
Available in 12 languages
Integrate it with WordPress, Google Analytics, MailChimp, Discord, Zapier, API & Webhooks, and many more
You own your data
Works great with Stripe
Conversion analytics and activity metrics
Pricing:
STARTER – $0/ month + 10% transaction fee
PRO – $25/month + 4.9% transaction fee
PREMIUM – $100/month + 4.9% transaction fee
3. MemberClicks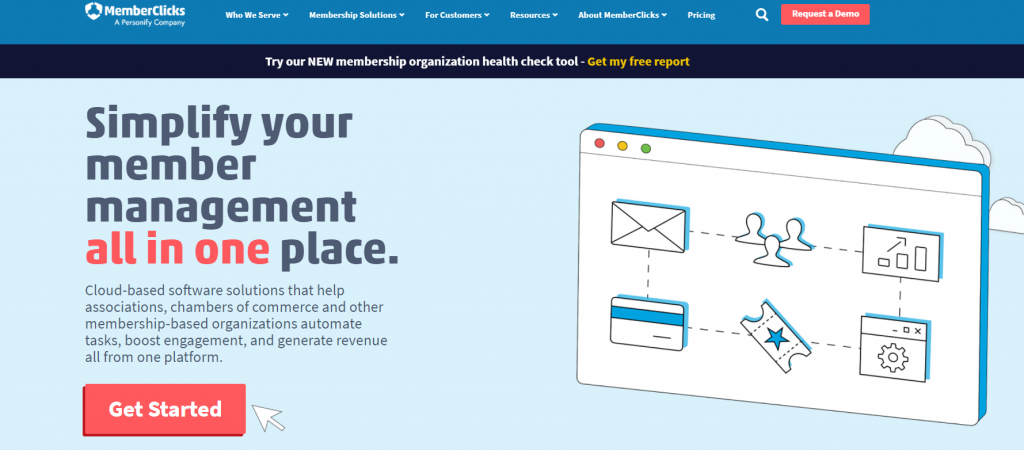 MemberClicks is a cloud-based software that helps you boost engagement and generates income. The solution can be tailored to the specific needs of small and medium businesses. It can work as an independent platform or integrated with an existing website.
Some of the main features are:
Membership Management and database
Accounting and payment processing
Event registration and management
Community created for members to interact
Integration with Google Analytics, WordPress, HubSpot, Higher Logic, OpenWater Abstracts, and Salesforce
Pricing:
Level 1 – $299/monthly
Level 2 – $379/monthly
Level 3 – $469/monthly
Level 4 – $579/monthly
Level 5 – $689/monthly
4. Restrict Content Pro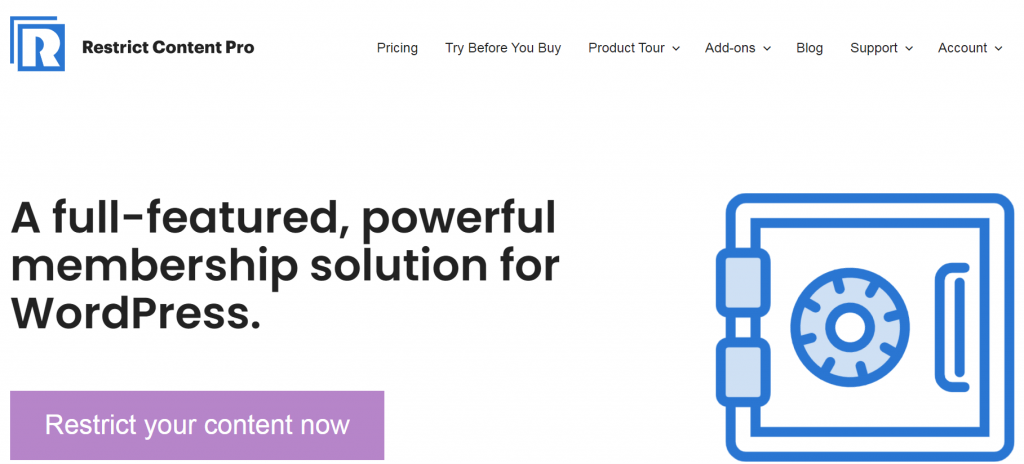 Restrict Content Pro is a powerful membership solution for WordPress. Restrict Content Pro is a complete plugin for creating a website with paid content, with the function of restricting content only to paid users.
Some of the main features are:
Unlimited memberships support
You can create an unlimited number of discount codes
It supports payments from Stripe, Braintree, 2Checkout, Authorize.net, or PayPal
You can see everyday reports so you can check how well is your business performing
Generate a CSV of every payment
Import your users from a different membership platform
An unlimited number of subscription packages are at your disposal
You can send welcome emails, email payment receipts, and email reminders
Pricing:
Ultimate(unlimited sites) – $525 as aone-time payment
Professional(unlimited sites) -$245 for the first year
Plus(5 sites) – $154 for the first year
Personal(1 site) – $91 for the first year
5. MemberMouse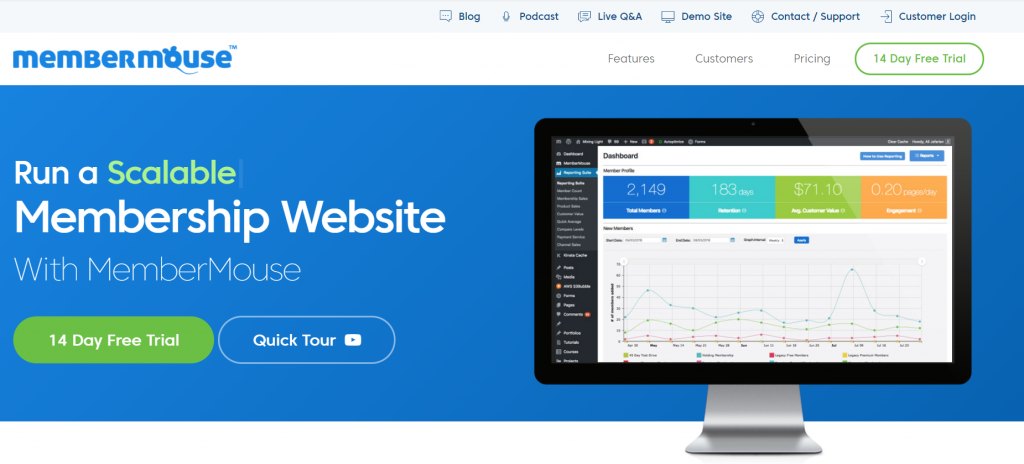 Users generally opt for MemberMouse instead of MemberPress because of its advanced reports, monthly plans, and excellent website support. Still, there's an even better WordPress membership plugin out there for you, if you look for it carefully.
Features:
Easy to install and use, so you can focus more on your business rather than the little things that would take your precious time
You can sell any kind of products, from memberships and courses to physical products
Get different membership levels and make sure the content is protected
Built-in member management
You can integrate your member support and marketing with MemberMouse tools
Displayed dashboard of reporting and analytics
Pricing: 
Builder – $29 per month
Advanced – $79 per month
Premium – $199 per month
6. Tendenci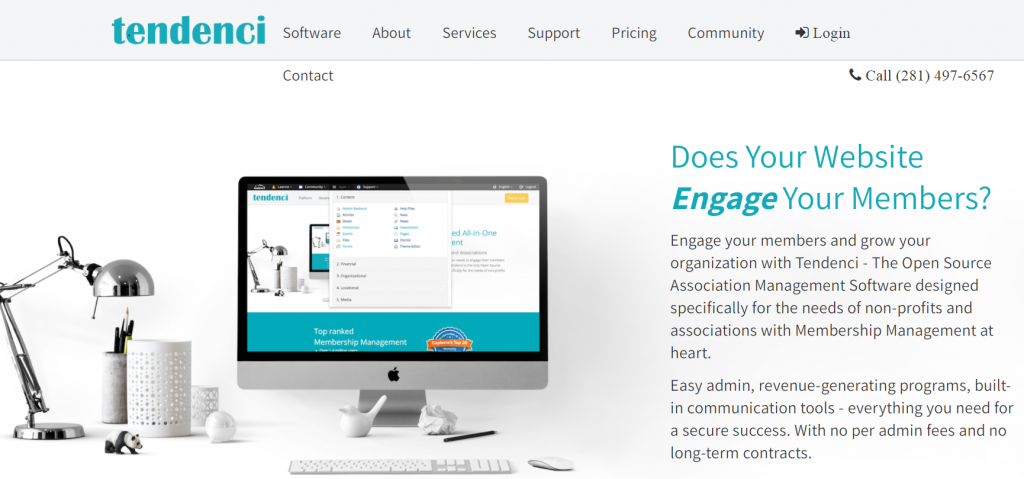 Tendenci is association management software with more than 1.4 million users. With Tendenci, it's easy to handle a large number of individuals.
Features:
Membership, content, and event management
Easily customizable themes to match your existing theme
Membership application and data import
Integration with Newsletter, Mailgun, and your Merchant Account
Ability to measure your success through Google Analytics
A great platform for Nonprofits and Foundations, Festivals & Events, Universities, and Educational Organizations
Organize your members into special groups to make handling them easier
Pricing:
Bronze – $199 per month best for small organizations (up to 1.000 active members)
Silver – $249 per month best for mid-size organizations (1.000-5.000 active members)
Gold – $399 per month best for large organizations (5.000+ active members)
7. WooCommerce Memberships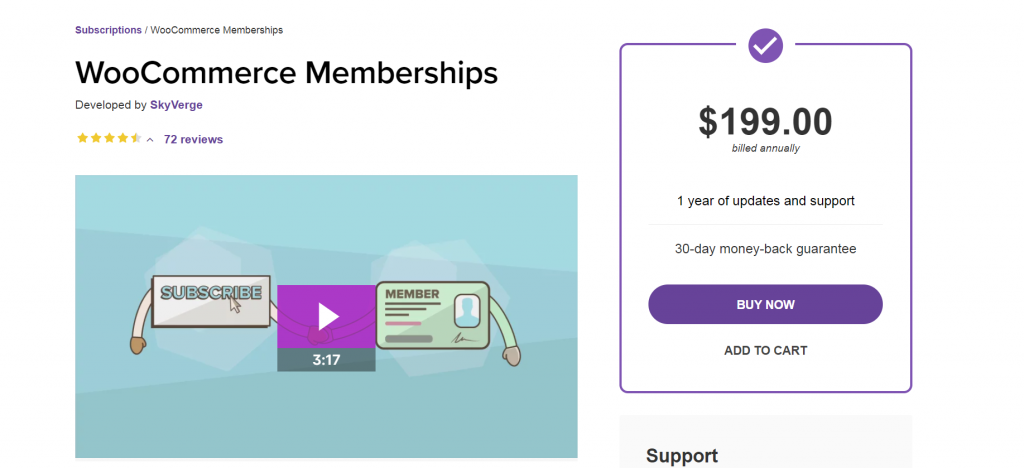 WooCommerce Memberships will help you grow relationships with your members and help create strong communities. If you just want to sell WooCommerce products then this plugin is for you. Although it is just an extension of the WooCommerce plugin, you can still get a lot out of it.
Features:
Several types of memberships; sell it as a stand-alone product, make it as a part of a product purchase, same membership from serval products, or assigning memberships manually
Set access rules for a customer before and after they become members
Offer perks to customers to encourage them to purchase regularly
Reward customers with special discounts
Manage members with ease
Pricing:
$199.00 – billed annually
Conclusion
You always want to make sure the plugin is accountable and flexible like Brilliant Directories; for example, it will help you dominate the market.  Brilliant Directories makes managing members look easy and does it so effortlessly across all screen sizes. When you're going through choosing a membership plugin, make sure that you choose one that can grow with your business.