These days, more and more retailers are moving to the online sphere, always trying to find a new way to market and sell their products. While the process of setting everything up online might be arduous and tiring in its early stages, choosing the right tools is of big help. A WordPress theme is definitely one of those, as it achieves more than just getting your page to look visually appealing.
Of course, we cannot forget about plugins when talking about the right tools. Plugins such as WooCommerce Order Export and WooCommerce Table Rate Shipping are crucial pieces of online stores and here is why.
WooCommerce Order Export – If you need to keep your WooCommerce order data in check, this is the tool to install. Using this plugin, one can automatically, as well as on a schedule, export order data. This data, in the form of reports, is then delivered through FTP or to a specified inbox. Each report consists of columns that can be reordered and is in CSV format. And as if this was not enough, the plugin enables copying exports between stores. Amazing, right?
WooCommerce Table Rate Shipping – People do not calculate shipping manually anymore. At least not the people who have the WooCommerce Table Rate Shipping plugin. With this plugin, shipping is determined based on weight, destination, cart total, and more in seconds. Plus, the plugin comes with features that allow you to include handling fees, hide/import/export shipping methods, make use of shipping classes and shipping method names, forcibly use shipping methods and do much more. Put simply, this is your go-to for creating the perfect shipping rate plan.
On our handpicked list of the best eCommerce WordPress themes, you are sure to find a theme that's going to make your online shop not only look stunning but also run as smoothly as possible.
1. Jevelin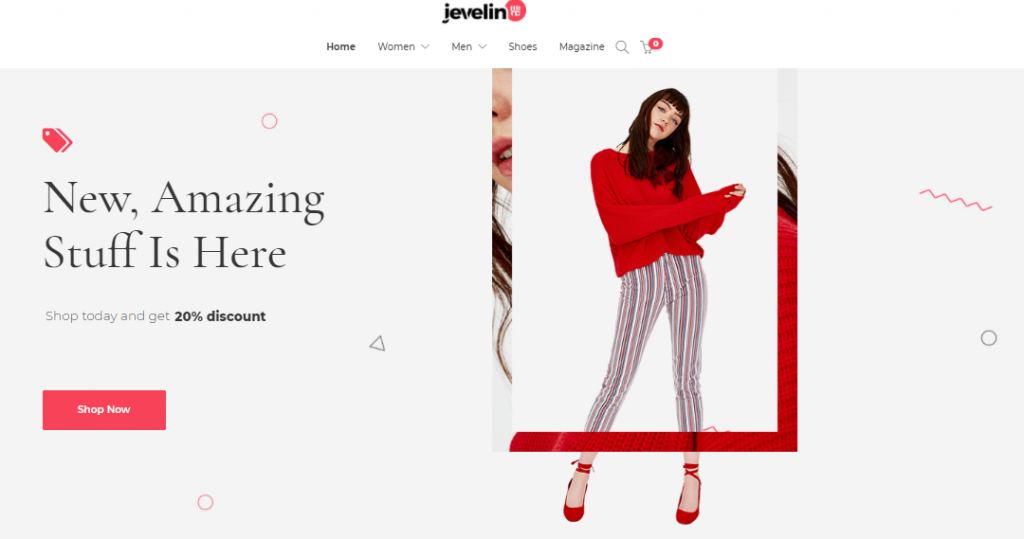 Jevelin is a very popular eCommerce WordPress theme that makes building a functional yet elegant online store easier than ever. It's completely mobile-ready and comes with the WooCoomerce plugin already built in.
Installation is extremely easy (all it takes is one click), and so is page-building with useful and intuitive interfaces featuring a drag-and-drop builder. In case you're an absolute beginner, Jevelin even offers multiple video tutorials.
Fees: You can get this theme for $59 if what you need is a regular license.
2. HONGO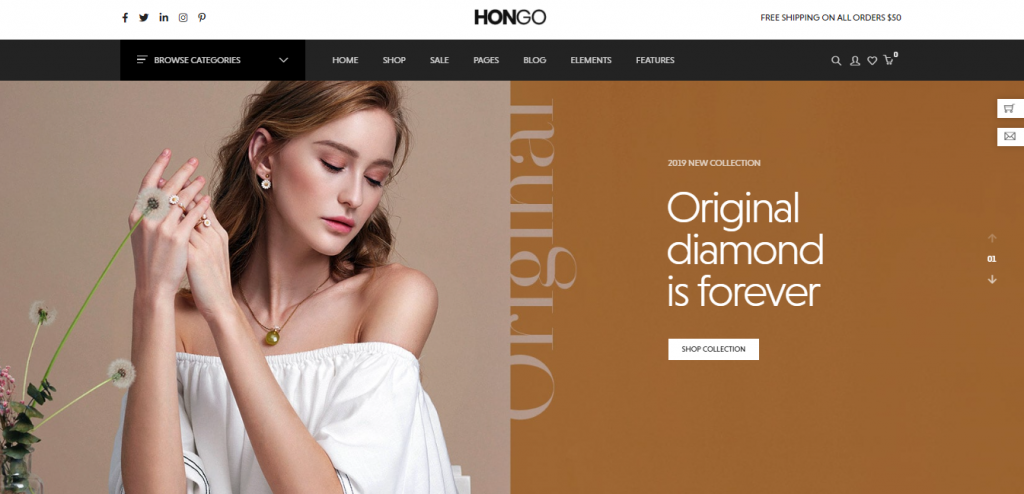 HONGO has many pre-built store templates, which enables it to work for pretty much any type of store. Along with the pre-built templates, this theme also includes seven different product style pages. There are plenty of blogging templates as well, so if you need to announce something new on your store, HONGO is here to make it easy for you.
Fees: Priced very similarly to Jevelin, you can get HONGO (a regular license) for $59.
3. Webify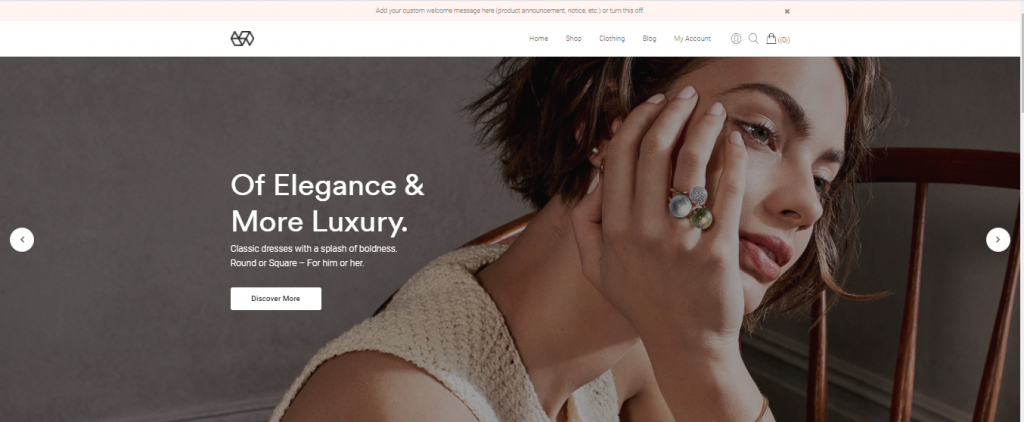 This WordPress theme comes with a myriad of features for building elegant and sophisticated stores. At a glance, it's perfect for fashion or jewelry stores, but it can easily be tweaked to suit any type of store you'd like with just a few short clicks.
Webify comes with a vast collection of customizable footers and headers to make sure your page stands out when it comes to the visual aspect.
Fees: A regular license for Webify costs $59.
4. Shopkeeper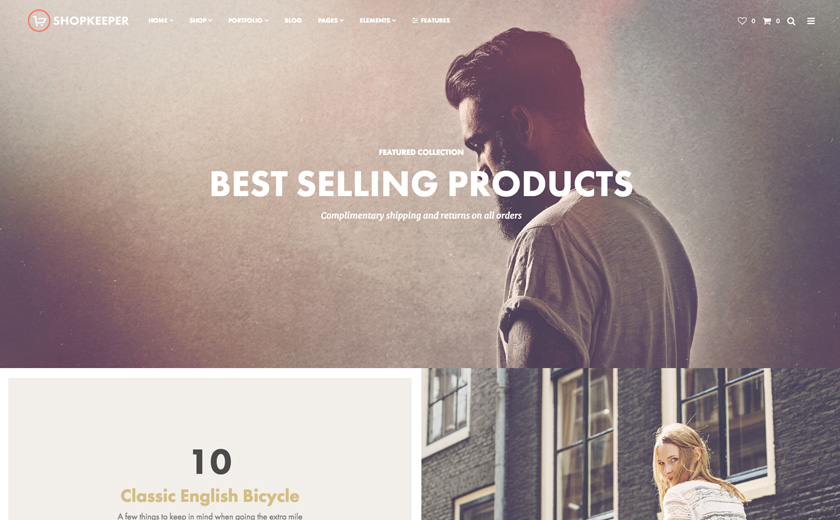 This is a sleek and bold WordPress theme with a clear aesthetic appeal. The Slider Revolution plugin comes included with the theme and provides more than a few bold, full-screen sliders.
Shopkeeper is also integrated with the WooCommerce plugin, and it supports translations.
It's regularly updated, the support team is there when and if you need them, and the entire theme is light and low-maintenance. You can run it on any device!
Fees: A regular license for Shopkeeper is going to cost you $59.
5. Depot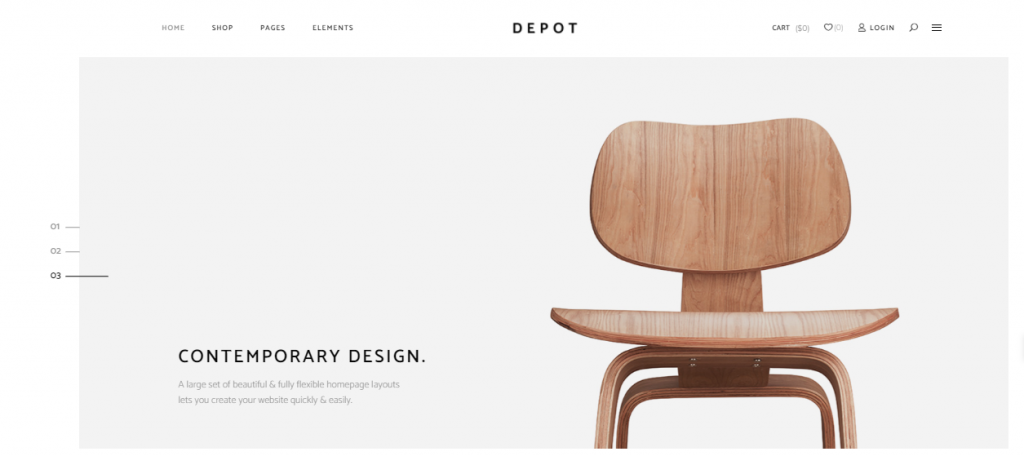 Depot is a super useful WordPress theme that will help make the launch of your online store quick and painless. The reason for that is the fact that Depot comes with over 20 demos, and you can just copy any element from there and drop it into your design. The theme itself and all the demos are visually striking with an extremely minimalistic design.
Fees: Depot is a tad pricer than other themes on this list so far, but considering what it offers, it's well worth it. A regular license for this theme costs $75.
6. Atelier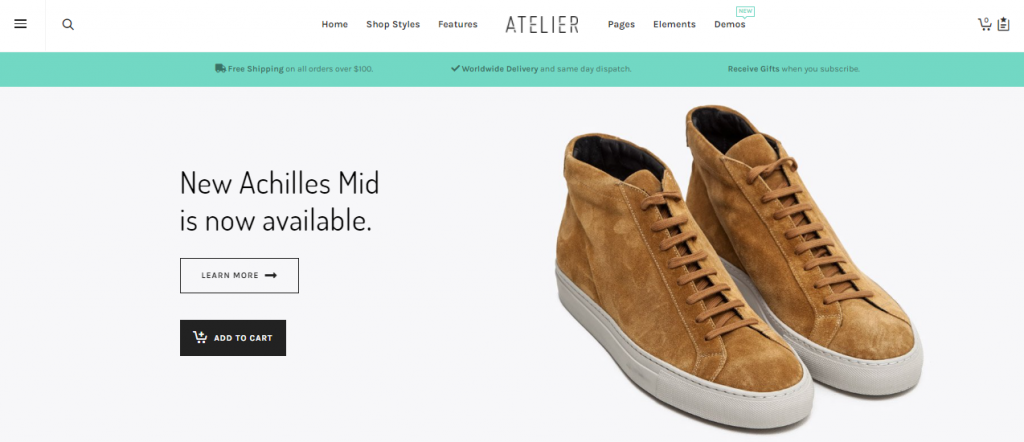 Aimed at shop owners with an artistic streak, Atelier is a WordPress theme designed to impress. It's equipped with an abundance of tools you can use to create the site of your dreams. Atelier comes with and supports many useful plugins such as BuddyPress, Slider Revolution, Go Pricing, and many others.
Despite its quality, this theme is really light, and its page loading times are spectacular.
Fees: Quality sometimes comes at a lower cost, and Atelier is proof of that as a regular license for it is going to cost you only $53.
7. Divi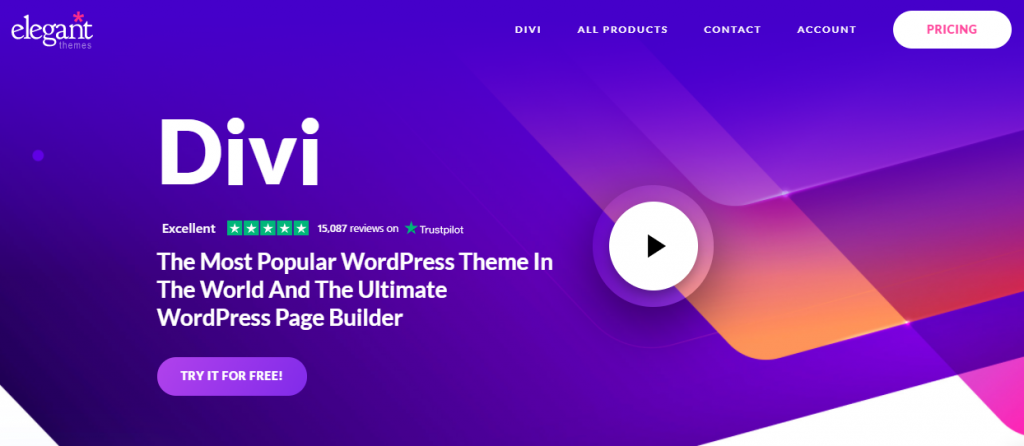 The best part about Divi is that it comes with the Divi page builder, which features loads of unique, easily customizable content. This theme is particularly useful when used as an eCommerce theme, as it supports or has pretty much any plugin you need to run your store the best way you possibly could.
There's also a plethora of demos to base your site around if you're low on ideas, featuring product pages, sliders, dynamic filtering, and anything else you could need.
Fees: Yearly access to Divi costs $89, and if you're absolutely sure about Divi being the right theme, you can always get lifetime access for $249.
8. Metro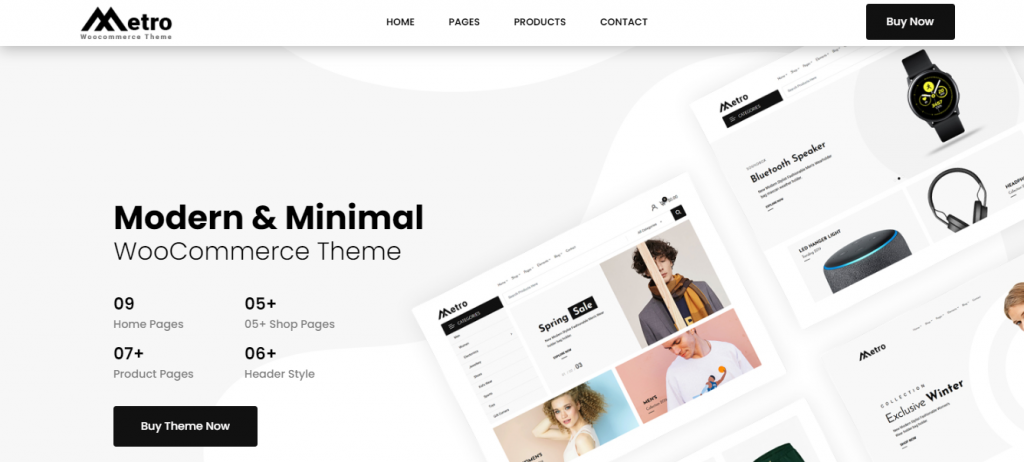 If you're in the market for a sleek, minimal WordPress theme, Metro could be just the thing you need. Despite its simplicity, it works remarkably well for all kinds of stores. Metro is built with Elementor, a fantastic drag-and-drop page builder, and also offers over 20 custom add-ons.
It's optimized for different screen sizes and mobile devices, as well as fast loading speed.
The theme also comes with two premium plugins Variation Swatches for WooCommerce Pro and Variation Images Gallery for WooCommerce Pro.
Fees: Metro is currently offering a special discount for first-timers, making the cost of their regular license only $29.
9. Aurum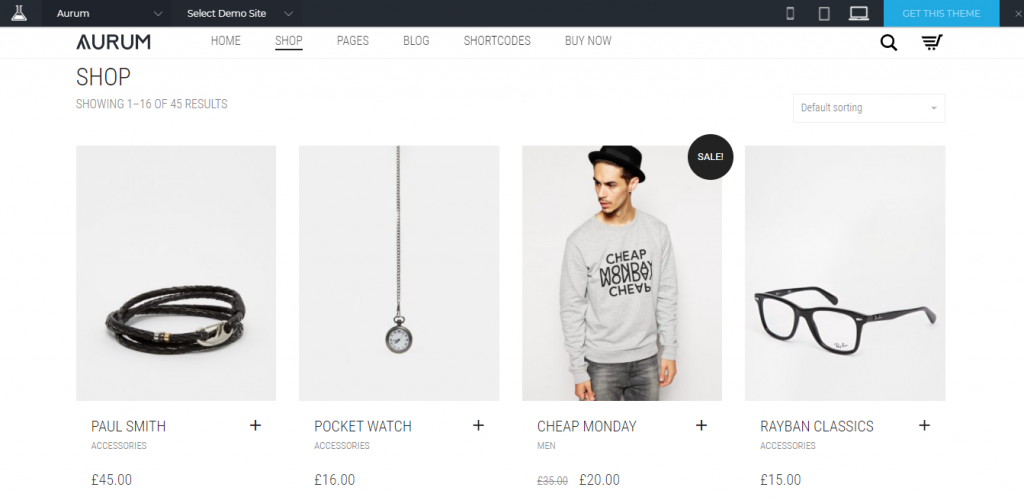 Where this theme shines is showcasing your products in the best way possible. Aurum lets you highlight the best you have on offer right on the front page by using content blocks. The theme is very flexible and allows for varying levels of customization; plus, it has more than a few pre-done demos that are ready to be used. It's clean; it's bright; it's minimalistic; it puts your products to the fore.
Fees: A regular license for Aurum is going to cost you $59.
10. Walker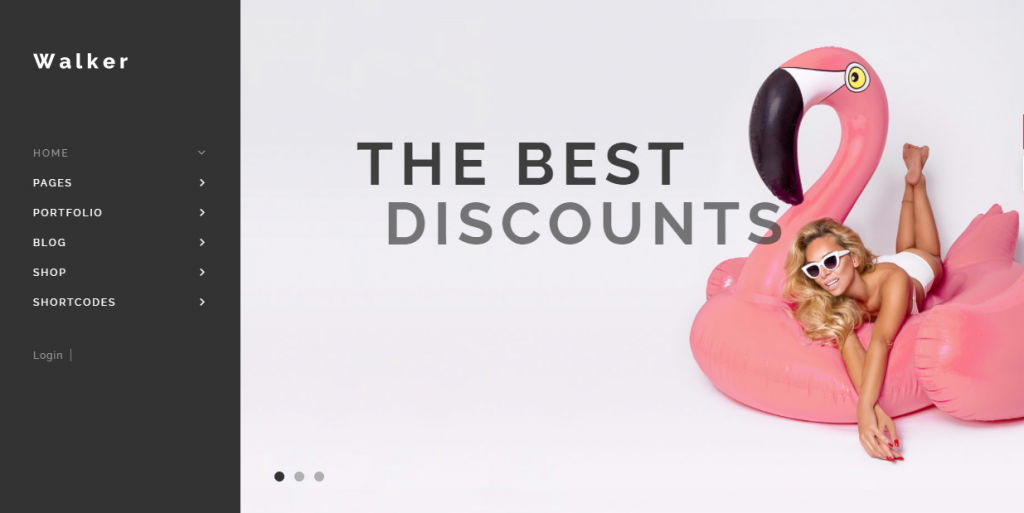 Walker is a dynamic theme with a crisp, modern look to it. It comes with 15 trendy homepages and offers beautiful product layouts.
A neat feature of this theme is certainly the zoom-in; once a customer clicks on a product they like, they can hover over any part of it to zoom in and observe it better. There are loads of header styles and blog options to choose from for showcasing your new products.
Fees: Once you've decided that Walker has the right look for your shop, you can purchase a regular license for $69.
Conclusion
We sincerely hope that you found this list helpful and saw the eCommerce WordPress theme best suited for you. Until next time!