If you're planning on running a successful WordPress website, many different elements must fall into place. Of course, the first two things you need in order to get started are passion and drive, but just that isn't going to be enough to build a strong, engaging website.
When it comes to the technical side of things, step number one in making your website visually-appealing will be acquiring and learning how to use a good website builder.
One of the best website builders on the market currently is Elementor; it comes with many beginner-friendly features as well as more advanced ones. But fear not, you'll be able to get the hang of it rather quickly.
Another convenient thing about this website builder is that its core version is entirely free, making it an even better option for you, especially if you're only starting out.
But, after you've been working with it for a while, you'll probably want to update it a little bit and add some extra addons to make it better suited to your website-building process. These additional addons are quite handy and are bound to make the process better than it was before.
In this article, we will present you with a bunch of addons for Elementor we believe everyone should have.
For those who don't know how Elementor works, we'll first make sure to elaborate on the whole thing. As for those who do, remember, it never hurts to do some revision.
So, let's get started!
What Exactly Is Elementor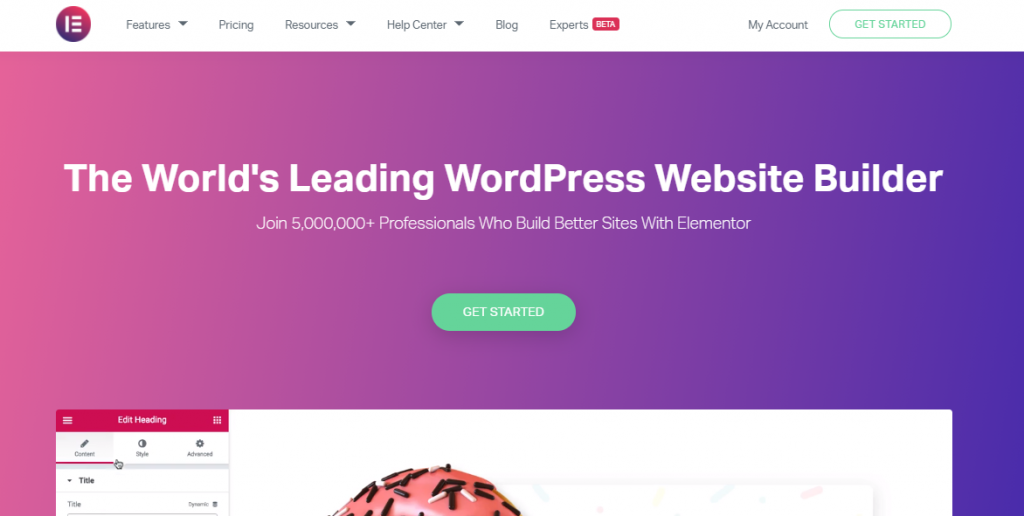 Elementor is a free WordPress website builder and your number one assistant in creating stunning websites. The builder offers endless design possibilities, many of which are already included in the core version, but quite a few more can be acquired through addons and widgets (but more on that a little later).
An extensive template library comes with Elementor, and to accompany the library, the developers also put in a stunning drag-and-drop editor.
The basic idea behind Elementor was to replace the default WordPress builder with a top-notch tool that allows you to work on your site without ever switching between edit and preview mode. Basically, it makes the creation of stunning pages/websites possible without knowing a lick of code.
The website builder is compatible with most WordPress themes; plus, you can always customize it to your needs right from the moment you get it by adding widgets and addons.
How to Add Elements to Elementor
If you need some extra elements for Elementor, the process of obtaining them is quite simple. Go to the official Elementor site, find the addons section, and choose the one you want to add to your website builder. After doing that, to add the new element, click on download.
Next, you need to put in your email address, and soon enough, a zip file will be downloaded.
Then, in the WordPress dashboard, go to Plugins > Add New and click Upload Plugin. Choose your zip file (do not unzip it), install it, and activate it. And that's it; you're done.
ElementsKit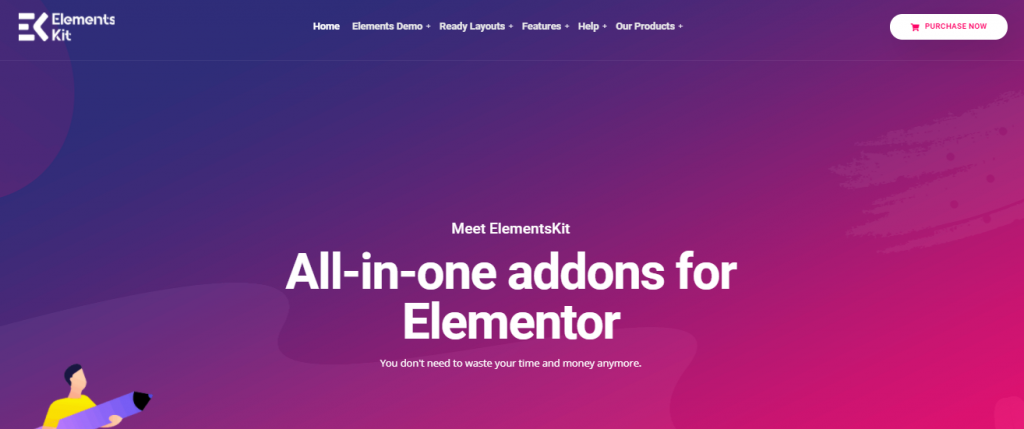 Once you've worked with Elementor for a while and wish to kick it up a notch, ElementsKit is most definitely worth checking out. This particular plugin is sure to make your site eye-catching as it comes with over 55 custom widgets that allow your wildest design dreams to finally come true.
Central Features
The Header and Footer builder: It comes with an option to include a logo and/or menu and allows you to choose which page you want either of those to show up on. You can also turn them on or off whenever you want.
The Megamenu builder: This handy builder is exceptionally customizable and available in a vertical and horizontal version. This is a must on any larger website or one aspiring to become large because it's the best way to navigate it. Just one click and a gorgeous drop-down menu will appear to guide your visitor wherever it is they want to go.
Sticky content: There's an option to add a sticky element either at the top or the bottom of your page, depending on your preferences. This particular widget helps your visitors focus on an element of your choosing.
One-Page Scroll: If you're in the market for more elegance with simple and more fluid scrolling, this is the feature that will wow you. It's going to give you the feeling as if you are scrolling on a mobile device, on a desktop, and you get to have that experience with 15 different navigation styles as well.
Other Features
Advanced Widget Builder – Some site owners are the creative type, and if you happen to be one of them, then ElementsKit is tailor-made for you. It comes with an advanced widget builder that doesn't require you to know how to code at all. By using this particular feature, you can quickly develop whatever you want. Along with this comes a layout library kit with 30 templates and 600 widgets you are free to tinker with. So to use this builder, the only thing you'll actually need besides creativity is knowing how to click on a layout icon and insert it.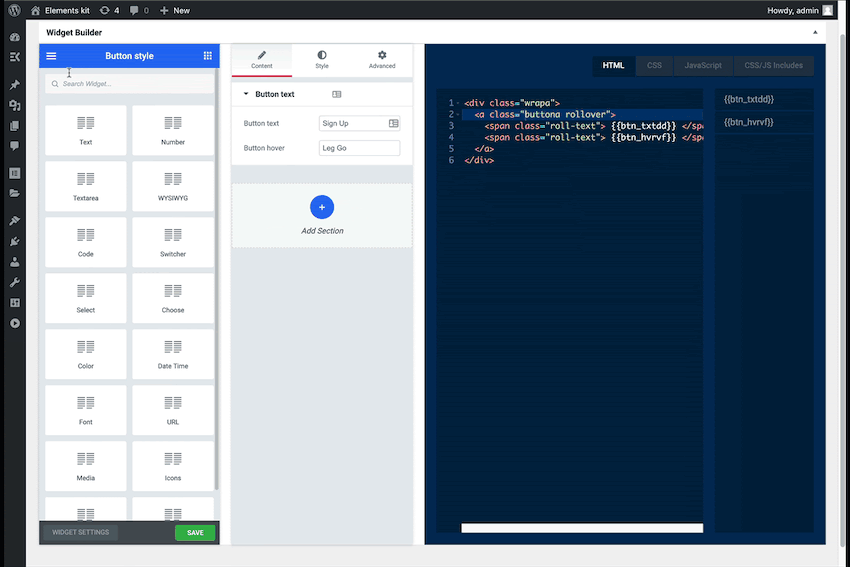 Parallax Effects – Just in case you didn't know, a parallax effect is a design technique where background elements you're scrolling through fade slower than the foreground content. This makes your site more dynamic and engaging. As it serves the purpose of site enhancement, ElementsKit, of course, has this; there's even an option to add animations so that you can take full advantage of everything this feature has to offer.
Social Media Platforms – Benefit from your online presence by adding feeds from Facebook, Twitter, or/and Instagram straight onto your website. Or, add reviews of your business published on sites such as Yelp or Trust Pilot. If that's not enough for you, when using ElementsKit, you are also provided with more than a few WooCommerce widgets such as mini cart and category list.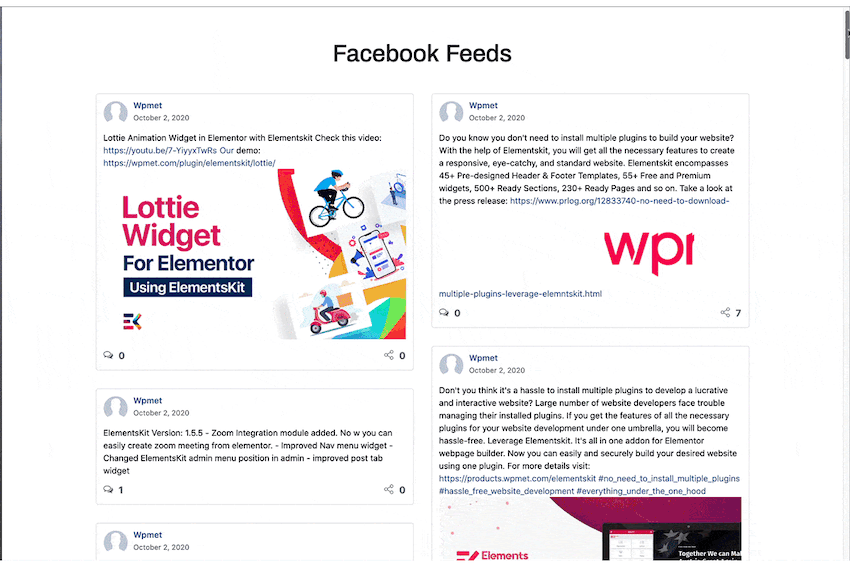 FEES: AppSumo is currently offering a special discount on ElementsKit. There are three different versions of the product available. The Single version with a license for five sites can be yours for $49. The Double version with a license for 20 sites will cost you $98. And in case you are the insatiable type, the Multiple version valid for an unlimited number of sites will cost you $147.
Other Addons We Recommend
ACF Frontend for Elementor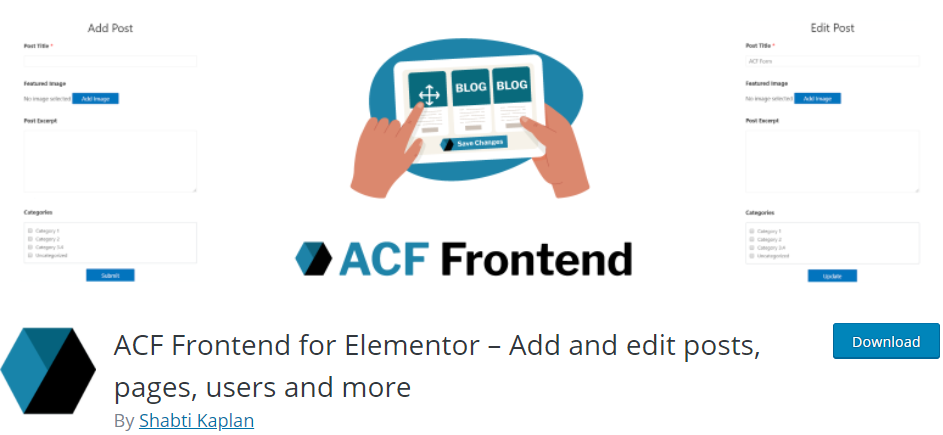 As its name would suggest, ACF Frontend for Elementor lets you create forms in Elementor. And just like with ElementsKit, no coding knowledge is required for use.
This plugin's most rudimentary task is to give your end-user the best content management experience on the web. Using this fantastic plugin, you can let your users edit, delete, or add posts without accessing the WordPress dashboard.
But, if you're not in dire need of this, you can also use this tool to create registration forms, add them to your site and choose who gets to see those forms based on user roles or even the specific user.
Happy Addons for Elementor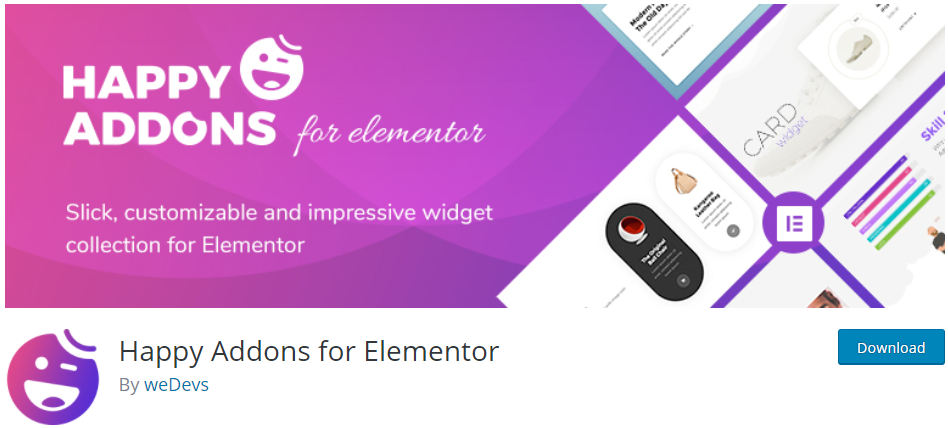 Happy Addons for Elementors comes with plenty of widgets to tinker with, over 30 of them, so for the sake of brevity, we'll be mentioning only a few.
The first two will be Info Box and Icon Box. These make your site more fun and approachable, as they allow you to transform the usually dull elements into slick and appealing ones.
After that comes the Review widget, which adds a review section to your site. This not only strengthens the sense of trust in your existing users but can also be very effective in attracting new ones.
People trust those they know. So, feel free to take this even further and create a section for your team members where you can proudly showcase their photos and socials.
ToolKit for Elementor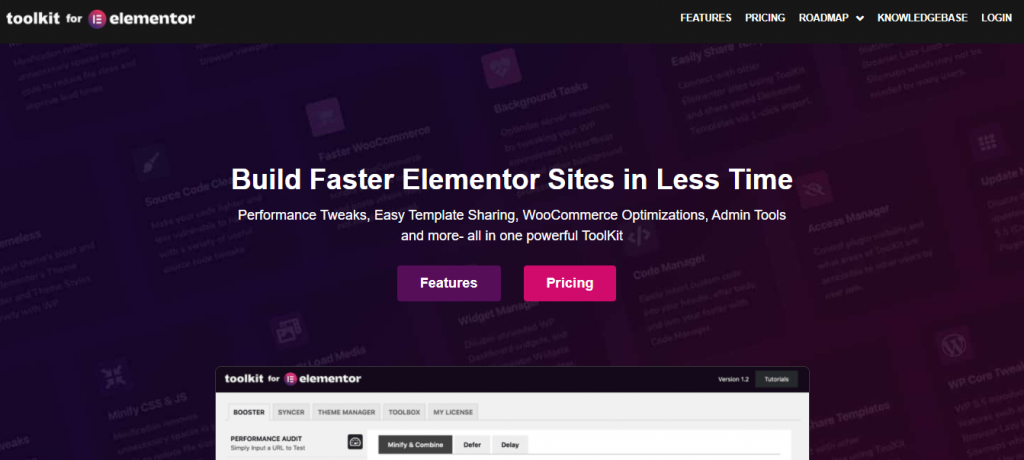 If what you need is something more technical and rather admin-focused in nature, then ToolKit For Elementor is definitely worth checking out.
Its Booster feature helps your site load faster, and its Syncer feature connects to your other Elementor sites with ease and saves any templates in a heartbeat. Plus, its Theme Manager provides quite a unique option of going themeless or even customizing your Admin dashboard.
The last of the main features is called Toolbox and makes life easier by helping you navigate the tasks that come with running multiple WP sites at once.
TL;DR
Elementor is a unique website builder that allows the user to create a beautiful WP site without knowing code and utterly free of cost.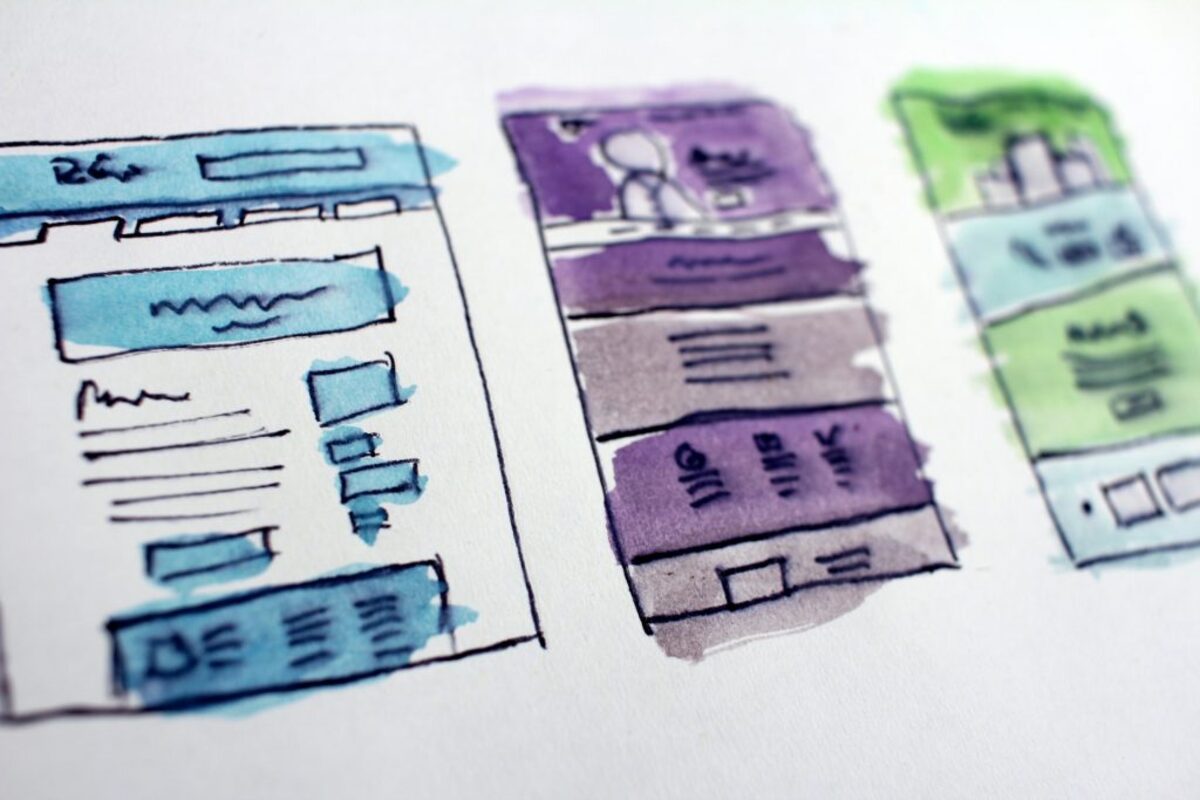 If you wish to work with something Elementor doesn't already have, the process of remedying that shortcoming is relatively easy. All there is to do is install some addons intended for the tasks you can't complete just yet.
ElementsKit: comes with a header and footer builder that is easy to use and customizable. It also lets you build your own widgets and add social feeds to your WP site.
ACF Frontend for Elementor: you can use it to create various forms and let your users have more control.
Happy Addons for Elementors: lets you create fun and slick infoboxes with plenty of design tools that are sure to fit any style, as well as add a reviews section to build more trust in your business.
ToolKit For Elementor: allows you to have more control over your multiple WP sites, make them run faster as well as sync with other sites, and save custom themes.
Final Thoughts
Building your site with Elementor is going to make it look sleek, modern, or adorable; no matter what you want, this stunning website builder has got your back. However, nothing is perfect, and neither is Elemetnor. That is why third-party developers keep coming up with extra widgets and addons that could fix anything you might see as an imperfection of Elemetnor.
While there are many widget bundles you can choose from to improve and thoroughly polish your WP website building experience. We recommend you get ElementsKit, unless you already have it, of course.
This particular option comes with many useful widgets that anyone can use to improve their site, and it's currently discounted. So as if it wasn't already well worth the money; with the discount, it's basically a steal.