27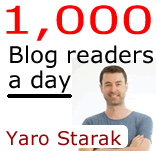 Blog Traffic For Beginners is an ebook by Yaro Starak. It reveals a sep-by-step formula to build your blog from zero to 1,000 daily readers.
If your blog does not get traffic, you are as good as not having one. Traffic is the highway to success. It is the answer, or at least the tool you use to find out the answers.
However in-depth or exciting your content is, if there are no readers, your blog is worth nothing.
1000 daily readers is enough traffic to turn your blog into a money generating machine. With this kind of traffic, you can make huge affiliate commissions promoting affiliate products, sell ad space for smiling price, earn nice with Adsense, build your list relatively quick, etc. Continue reading