3 HOT ways OptinMonster boosts List Building and Sales with Lightboxes.
There are four things in this post:
List Building.
Sales.
LightBoxes.
All these put together will give your business a massive boost. I will show you exactly how to use their combination to improve conversion and profit.
If you are a blogger or you run an eCommerce site, you've got to read more except you are not concerned about more income from your site.
1- OptinMonster Conversion optimization tool
OptinMonster is not an email marketing platform. It's a list building and conversion optimization tool. If you are building a list or running a eCommerce site, this will be a strategic tool for you.
This smart tool will connect your email marketing platform and your business website, creating a smooth flow of data from intelligent signup forms on your site to your email lists.
Intelligent because this isn't the traditional lead capture forms you find on websites. OptinMonster's brain uses conditional statements to trigger lead capture elements on your blog or eCommerce sites.
If these conditions are not met, no visitor will be shown a signup form. This brings the idea of targeting to near perfection.
List building is simply creating a marketplace that's completely yours. It's the complex process of collecting readers' email addresses so as to keep in touch.
List building is not by any means simple. It principally has to do with how to convince readers to consciously submit their personal data to you.
Any other means you use to collect user personal data without their consent is decried. But it's not limited to consent.
There are other things that come to scene so strong:
Send your subscribers just what they opted to receive.
Never sell the emails to third parties.
Give your subscribers a quick means to hop out of the list.
Without these parts put together, you are a spammer.
There are two categories of list building tools:
Collection of personal data (Emails, names,etc)
Storage of personal data and management of campaigns.
Most email marketing platforms out there will provide facilities to help you collect the addresses, store them and manage your different marketing campaigns.
OptinMonster is purely a data collection tool. That's what makes its excellence and smartness. By being able to track readers' activities and interpret their intent, OptinMonster provides facilities to enable you come in timely to tell your readers "hey you want to do this but I think this other step is cool"
Lightboxes are advanced popups.
Click here to see what it looks like
A  lightbox is a website overlay that has some pieces of marketing content. These may include:
Sign up forms
Coupon codes
Phone numbers
Videos
Images
Etc
These are containers for website owners to bring something to the attention of the reader.  There are six main events that trigger lightboxes on any website:
Time
Mouse Click event
Page load event
Exit
Scroll
Mouse over
Are lightboxes annoying?
Yes and No!
But it all depends on a number of factors. Let me ask some questions that may help:
What triggers the box ?
When does the box show up ?
What's the content of the box ?
Some lightboxes really annoy your readers and drive them away fast. Some keep the readers smiling and thanking their gods.
So it's up to you depending on the content and reason of your box. If you are able to rightly use list segmentation, you will help yourself with creating lightboxes that don't annoy your readers.
The target for every business is SALES. This is the channel through which profit comes in.
Generally, the more the sales, the more your profit. Whether you are eCom site owner or doing any form of business online, OptinMonster has the features to help you boost sales.
People who read your blog posts or visit pages on your website have something they are looking for. A huge portion may quit without hitting the objectives.
The aim of this conversion optimization tool to help visitors discover what they want and drive them towards making the most sort-after buying decision.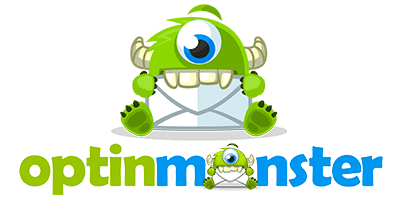 How does OptinMonster Boost your list building with lightboxes?
OptinMonster has several ways to help you boost your conversion rates:
Reducing shopping cart abandonment,
Encouraging your readers to read more of your content.
Offering some bride to allow readers sign up.
Etc.
These are 3 quick ways to implement the tool on your blog and see an outstanding result in list building:
1 - Create a 'Welcome Back' Lightbox for returning or new readers.
There are two types of readers on your website:
New readers who have just discovered your site.
Returning readers who are coming back.
This technique will help you give specific message or offer to the different groups of visitors. I encourage creating a box for returning visitors.
These are visitors that are already showing some interest in your content. That's probably why they are coming back.
Create a lightbox that recognizes they are coming back
Make sure the box only pops up if they have not signed up before.
Point two is the power of OptinMonster. It's able to know if the returning reader has signed up to any of your forms already or not.
The display rules are flexible enough to allow users set when to display the box: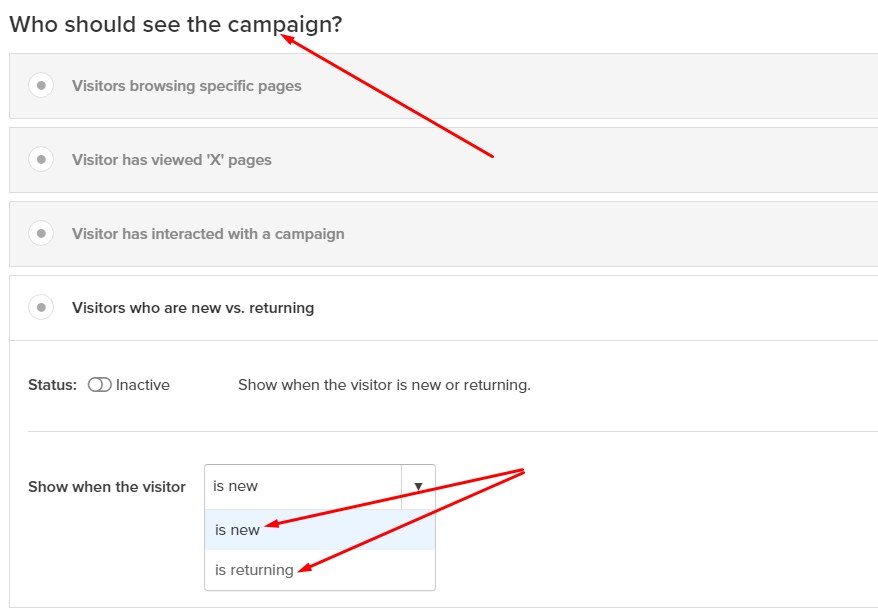 There is a complete step-by-step guide on how to create a popup for returning visitors. Click here to read it.
2 - Open a Lightbox Popup From a WordPress Menu Custom Link
One exciting feature I found with OptinMonster is that which allows you to attache a  lightbox to a WordPress menu item.
If you are using a heatmap tool, you are going to find out that the top menu of your blog receives the highest views and clicks. So depositing an attractive item here will surely improve conversion.
We have an example on this blog:

Click the HOT 3-P menu item above and see the result.
There is a step-by-step guide on how to attache a lightbox to a menu item. Click here to read it.
3 - Page-Level targeting with content upgrades
The most excellent page-level targeting technique is content upgrade.
Page-Level targeting is simply creating optin forms for specific pages. This is different from generic sidebar forms that appear on all pages of your blog.
With page-level targeting, the lead capture elements could be forms on sidebars, before, within and after contents, click triggered forms, etc.
But what makes it page-level targeting is the fact that the sign up elements are only visible on the targeted page.
Content upgrade is the tactic that makes part of the content (Or the content in another format) only available to those who choose to signup. Here is a detailed post on Content Upgrade.
OptinMonster makes this very easy in many ways:
1 – Timed lightbox popup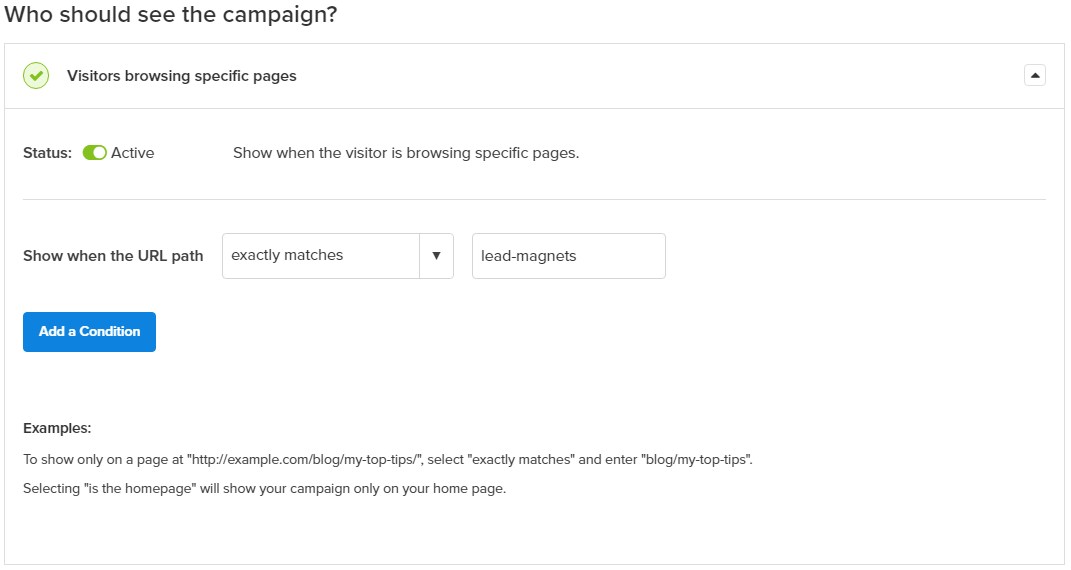 This technique allows you to create a lightbox that only pops up to readers on a specific url (Blog post, eCommerce product page, etc).
For better results,  you may want to delay the popup and allow it show after x seconds:

To know more about page level targeting, Check out this post
2 – User initiated popup
This happens when the user clicks on a link to trigger the popup. This happens to be the best approach to create a super targeted segment of your list.
Readers want to get something that's highly related to the current article so they click a link to find out how to get it. That's where a popup appears asking for their emails.
OptinMonster makes this possible with the MonsterLink feature.

To see how this works, Click here!
4 - OnSite Retargeting.
OnSite Retargeting with OptinMonster lets you interact and go a bit more personal with repeat visitors by targeting them with new promotions and offers based on their previous interactions on your site.
Quick: Read more about OptinMonster's OnSite Retargeting here
For eCommerce and online shops, this is something you are going to be excited about. We've seen this on big guns like Amazon.
Each time you leave and return to the site, you see customized display of items based on your previous clicks.
For content producers, this feature allows you to make specific offers to your readers based on what they have been reading on your blog.
For instance…
If a visitor has read this and that and that blog post, show him this option in a lightbox. It could be a friendly message to thank him for spending the time and reading those pages.
Signing off
There are lots of things you can do on your blog or eCom site to boost list building and sales with OptinMonster. Check out their blog here to discover some of these hidden goodies of the software.
Thanks for reading. If you feel excited, kindly share this post on social media and/or drop a comment below.